Dacia Sandero Stepway hatchback - Interior & comfort (2013-2021)
There's space for five adults in the Dacia Sandero Stepway, but the car leans too much in corners
Dacia doesn't so much cut corners as find ways to smooth them out. Luckily, this is reflected in how comfortable the Dacia Sandero Stepwayis – it's decidedly good for such an inexpensive car. Drive too quickly into corners and you'll definitely find yourself holding on as the car leans from side to side, but drive in a more reserved way and you'll find it can be quite relaxing.
Dacia Sandero Stepway dashboard
Dacia largely adheres to the 'everything you need but not everything you'd want' philosophy of dashboard design. You have all the basic instruments you need, such as a speedometer, rev counter, fuel gauge and temperature gauge, and there are switches for the lights, wipers and indicators, but there isn't a whole lot else. It's simple, but it's also easy to understand and, frankly, there shouldn't be that much to go wrong.
Given the car's low price, the interior actually feels reasonably robust. You'd never call it luxurious, but neither does it feel like it'll fall apart if you breathe too heavily on it.
A facelift for early 2017 cars included improved dashboard trim, satin chrome dotted around the passenger compartment and a '3D weave' upholstery, along with a redesigned four-spoke steering wheel with a softer finish in the top-spec car, which generally lifts the interior, although we found the latter felt a bit odd in the hand. Following customer feedback, Dacia has also moved the electric window switches to the doors, making them much easier to find.
Equipment
The addition of air-conditioning on the cheaper Essential model is a step in the right direction and you can still lower the front electric windows, of course. Rear-seat passengers will have to employ some elbow work to lower their manual wind-down windows, however. You'll be able to keep in touch with people, though, because even the lower-spec car gets Bluetooth phone connectivity as standard.
Special edition SE Twenty cars get unique 16-inch alloy wheels, black door mirror caps and blue striping on the bodywork. Inside, the seats are trimmed in 'SE Twenty' upholstery with blue mesh and matching blue contrast detailing on the dashboard. Additional standard equipment includes a rear parking camera and sensors, and electric rear windows.
If you go for the top-spec Comfort, you get all the comfort and convenience features that you could need, including a touchscreen sat-nav system, which is quite easy to operate. You also get an on-board computer, rear parking sensors, cruise control, electric heated mirrors and rear electric windows. For the additional £1,000 over the Essential trim level the Comfort offers good value for money.
Options
There are a limited number of options available, and most of them aren't really essential. Most people will be buying a Sandero Stepway because of its low price, so paying an extra £500 for leather upholstery makes little sense. However, you might want to pay the additional £495 for metallic paint as the only no-cost paint option is white and if you plan to go on holiday in your Comfort-trimmed Stepway, it would be worthwhile paying an extra £90 to add European maps to the sat nav, while a reversing camera is now a £200 option. It's also worth adding a spare wheel to any Sandero for £100.
Best new car deals 2021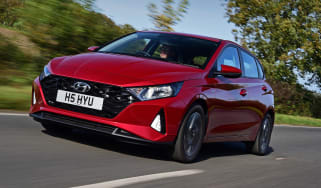 UK road tax rules for 2021 explained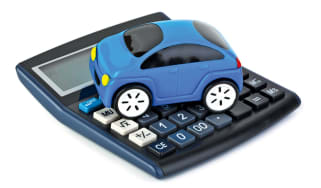 UK road tax rules for 2021 explained
New 2021 Porsche Macan nearing production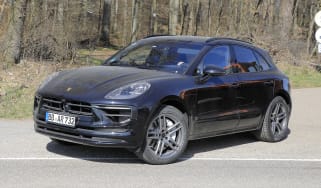 New 2021 Porsche Macan nearing production