Porsche Taycan saloon - Engines, drive & performance
Far from just a straight-line hero, the Porsche Taycan handles incredibly well too
Rather than a conversion of a car that originally had a combustion engine, the Taycan has been built from the ground up to be a high-performance electric model, and it shows. You sit low to the ground, it has a wide stance and the Taycan feels instantly agile thanks to its low centre of gravity. In fact, it doesn't feel too dissimilar to sitting in a Porsche 911 and the controls are precise and well-weighted. Four-wheel steering helps mask the Taycan's considerable weight, helping it to turn into corners and change direction very quickly.
This is especially the case when active anti-roll bars (called Porsche Dynamic Chassis Control and costing around £2,300) are fitted, giving the Taycan handling that's more communicative and playful than you'd imagine from a two-tonne-plus electric car.
The standard air suspension also ensures the Taycan remains composed over rough roads, showing control that helps the Porsche work impressively well on UK roads. Steering wheel paddles to alter the level of brake-regeneration would be welcome, but the Taycan is otherwise hard to fault.
Porsche Taycan Electric motors
All three Porsche Taycan models use two electric motors (one on each axle) to give all-wheel drive. The Taycan also has a clever two-speed transmission where most EVs only have a single forward speed. This means there's a shorter first gear designed to provide fierce acceleration and a longer cruising gear to improve efficiency at higher speeds.
Put your foot down at any speed and acceleration is gut-wrenching. The Turbo and Turbo S both develop 617bhp during normal driving, but with launch control engaged power increases to 671bhp in the Turbo and 750bhp in the Turbo S. This results in 0-62mph times of 3.2 and 2.8 seconds respectively, and Porsche is particularly proud of the fact that the car managed 26 consecutive runs in testing, showing performance doesn't quickly fall away or become electronically limited. This impressive endurance and cooling also allowed a Taycan Turbo S prototype to set a new Nurburgring lap record of 7:42 for electric four-door saloons.
There's nothing embarrassing about the performance of the 4S model, which produces 523bhp with the standard 79.2kWh battery. Upgrade to the 93.4kWh battery used in the Turbo and Turbo S, however, and the power gets bumped up to 563bhp. With the latter, you'll zip from 0-62mph in four seconds flat, but you'll need to consider whether upgrading to the bigger battery is worth £4,600.
There's an impressive consistency to the brake pedal for an EV, and drivers can choose between Range, Normal, Sport and Sport+ driving modes. The Range mode calms things down to ensure you can travel as efficiently as possible but the Taycan still feels fast. It can switch to front-wheel drive in this mode while cruising too to save more energy. Sport and Sport+ feel unnervingly fast at times, and the Taycan has an amazing ability to change direction for a 2.5-tonne car.
New for 2021 is a less expensive version of the Taycan. Unlike the rest of the range, it's only two-wheel drive, which makes the car a little bit more agile than the four-wheel-drive models. It still generates huge amounts of grip and feels very secure even on wet roads.
As standard, this model rides on 19-inch alloy wheels, and it's the only model to get steel springs instead of air suspension - it's hard to say what the standard setup is like as our test car had the air suspension fitted as an optional extra. A 5.4-second 0-62mph time is still great (the Turbo S' 2.8-second time is just phenomenal) and is absolutely enough for British roads.
Car dashboard warning lights: the complete guide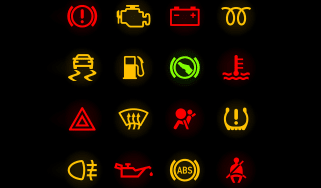 Car dashboard warning lights: the complete guide
Best new car deals 2021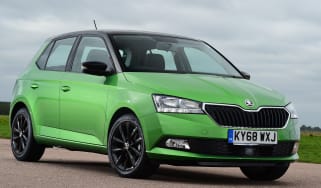 Facelifted 2021 Volkswagen Polo arrives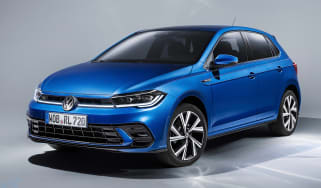 Facelifted 2021 Volkswagen Polo arrives