Best waterless car wash to buy 2020
If you want to freshen up your car, these waterless car wash sprays will do the trick
Waterless cleaners have now found their way into almost every car-care product range - with popularity spiking when hosepipe bans hit the UK.
Even when water is in ready supply, a bottle of waterless cleaner can be ideal for using in your garage, or even under an awning if you're a regular at car shows. Intended to give your car a quick spruce-up, they can be ideal if there's been a summer shower, or you've driven only a short distance between washes.
They can certainly be much faster than getting out all your cleaning gear, making the whole car soaking wet and applying wax, but used correctly, waterless wash can offer a good level of shine and protection. We opened a few packs of microfibre towels and headed outside with some of the best-sellers to find our pick of the bunch.
Verdict
None of the products we tried did a bad job, but the Meguiar's offered the biggest list of positives. The others couldn't match its ability to shift grime and achieve a gleaming finish with ease.
Read on for our list of the best waterless car wash products…
Meguiar's Wash & Wax Anywhere review
Price: Around £15Size: 768mlRating: 5/5
It wasn't miles ahead of the second-place product, but Meguiar's waterless wash did enough to win our overall recommendation. It simply doesn't get anything wrong, lifting dirt with ease and requiring very little effort to buff to reveal a pleasing shine – after which water is repelled with ease. Get some overspray on black plastic trim and it leaves no unsightly marks, while its trigger produces a fine mist that helps the bottle last longer before it's empty. Lastly, the price is competitive too.
Auto Curators Rapid Cleanse review
Price: £20Size: 1,000mlRating: 4/5
Created by detailing specialists Auto Curators, Rapid Cleanse is part of a range of high-end cleaning products aimed at home enthusiasts. It's designed to top up your car's shine and protection on top of any wax you've already applied. It's also not limited to paintwork, being compatible with glass and trim as well, while you can also use it as a rinse aid to reduce water spotting as a car dries.
It's versatile, then, and also works well as a waterless cleaner, shifting grime and covering a large area of bodywork with a fine mist each time you squeeze the trigger. Simply use two soft cloths, one to wipe away dirt and another to buff the paintwork. Like the Meguiar's, it leaves a water-repellent surface, albeit taking a little longer than the winner. It looks pricey, but you get a generous volume, making it decent value.
Triplewax Waterless Wash & Shine review
Price: Around £14Size: 1,000mlRating: 4/5
Considering you get a litre of Triplewax for less than half the cost of some rivals with a smaller bottle, this is the bargain of the test. Using the same technique of spraying on, wiping with one cloth and then buffing with another, it performed well enough, but wasn't quite as effective at removing dirt or creating a water barrier as the winner. The spray can be a bit thick in spots, but we think the bottle's claim of being able to clean 10 cars is feasible.
Eco Touch Waterless Car Wash review
Price: Around £9Size: 500mlRating: 4/5
This former test winner still comes highly recommended, delivering a wide mist of spray and impressive cleaning abilities. It actually matched the Meguiar's for shifting heavy grime, but water didn't bead on the finished surface quite as well. The formula is non-toxic and biodegradable – important if you're applying on a grassy field at a car show – and can be applied to wet or dry cars, so you could hose off the worst dirt first and then use Eco Touch to bring the car to a nice shine.
WOW Classic & Sports Box Kit review
Price: Around £11Size: 500mlRating: 4/5
With Out Water (WOW) has done well here in the past, and the Classic & Sports version claims to provide a higher gloss and better protection. Thanks to it being wax-free, you can use it on glass and it offered similar cleaning power to the winner, but water didn't bead as quickly. The pack also comes with coloured cloths so you know which you've used for cleaning and buffing.
Diamondbrite Waterless Wash & Wax review
Price: Around £7 (£15 with cloth included)Size: 500mlRating: 4/5
The Diamondbrite did a perfectly good job of cleaning our test car, with the same method of using one cloth for wiping away dirt and another for buffing the paintwork, proving to be the best technique. It smelt good, too – more like fruit drops than a cleaning detergent, and the nozzle produces a wide and fine spray. The bottle claims 500ml is enough to clean around five cars, and you can choose to spend extra to get a cleaning cloth too. This is a nice, large item, but we think it's a better idea to buy two separate microfibre towels to make the cleaning process simpler.
Celectro Trident Waterless Wash review
Price: Around £14Size: 500mlRating: 3/5
Trident's waterless wash works well, but we found it left us a little confused, so its packaging could do with some more information. Pitched primarily for use on motorbikes, the instructions don't make any mention of whether it can be used on glass or plastic trim. That's a pity, because it leaves a finish that quickly sees water beading on its surface. We'd prefer a nozzle and trigger that creates a finer mist, though, because it's easy to use too much. The Trident is also pricey considering you only get 500ml.
Dirtbusters Waterless Wash & Wax review
Price: Around £5Size: 500mlRating: 3/5
Dirtbusters doesn't contain any hazardous chemicals, just like Eco Touch, so it shouldn't harm the environment. It smells pretty good, too, with mint, cherry, coconut or summer berry perfumes available as you freshen up your car. It cleaned and protected the surface well, but this was a very close test and it was just behind the leaders.
PRO3 No Water review
Price: Around £8Size: 250mlRating: 3/5
Not only does the PRO3 come in a distinctive aluminium bottle with funky graphics, it also goes its own way when it comes to the application process. Unlike every other waterless wash we tried, there's no trigger spray, as the solution is meant to be put on your cloth and applied directly on to the paintwork. We'd only recommend this for very lightly soiled cars, because you'll need to be careful not to rub dirt into the surfaces and create small scratches. You'll also need to be quick to avoid the solution running off the cloth or body panel before you reach it. This tricky application and a high price see it lose points here.
Triplewax Shake & Shine review
Price: Around £8Size: 600mlRating: 3/5
The second Triplewax product on our list is designed to add a wax finish, where Wash & Shine is aimed primarily to clean the bodywork. This leads to its major issue, though: white overspray is left on plastic trim, which can be a pain to remove. It's a shame, because it shifted light grime well and produced a finish that saw water bead strongly. On a dirtier car, it needed more wipes than the best rivals.
Turtle Wax Waterless Wash review
Price: Around £10Size: 500mlRating: 3/5
There's a new bottle design for Turtle Wax's contender and you no longer get a microfibre cloth in the packet. The formula works well, though, with a top score when tackling a panel with just light dirt. It wasn't quite as convincing on thicker grime, but still made good progress.
Williams Waterless Wash n Wax review
Price: Around £10Size: 1,000mlRating: 3/5
The Williams' F1 team licensing gives this cleaner real pedigree, as does the packaging that claims carnauba wax is included in the formula. Despite this, it was the slowest to create a finish that beaded water, instead doing better for cleaning. There were no overspray issues like the Shake & Shine, but we found it difficult to get a fine mist spray, despite an adjustable trigger.
Updated Peugeot 5008 starts at £29,585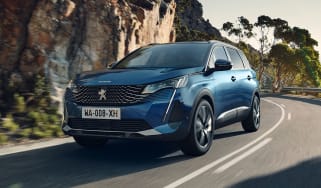 Updated Peugeot 5008 starts at £29,585
Cupra Formentor SUV review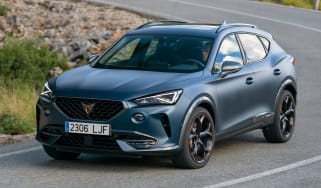 Cupra Formentor SUV review
2020 Volkswagen ID.3 hatchback: base model starts at under £30k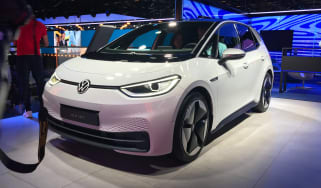 2020 Volkswagen ID.3 hatchback: base model starts at under £30k