Electric car charging stations: a complete guide
With the UK's charging infrastructure growing at a rapid rate, here's what you need to know about charging stations
The popularity of electric vehicles (EVs) has skyrocketed in recent years; according to the Society of Motor Manufacturers and Traders (SMMT) EVs are now the second most popular type of new vehicle, behind petrol and beating out both diesel and hybrid powertrains.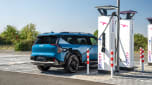 Fast charging or rapid charging? Your guide to electric car charger types
However, while it's easy to go to a petrol station and fill up your combustion-engined car, there remains much confusion when it comes to where and how you can charge an EV. It's not always clear how much it costs to charge at an electric car charging station, either. 
Our guide sets out what you need to know about electric car charging stations clearly and with as little jargon as possible. While it's aimed primarily for drivers of electric cars (EVs), the information contained here will be of use to those after a plug-in hybrid (PHEV), too.
What is an electric car charging station?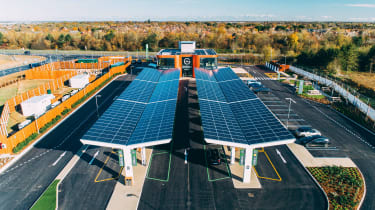 The term 'charging station' is a bit of a loose one; it can describe anything from a single charger in a supermarket car park, to a purpose-made charging forecourt – much like a traditional petrol station, but with eight or more chargers. 
Many retailers such as Tesco and IKEA have teamed up with chargepoint providers such as PodPoint and Gridserve to provide electric car charging whilst you shop. In some locations you'll find chargers on the roadside, be that single chargers sometimes fitted within lamp-posts, or a row of dedicated bollards with plugs for topping up your car.
On the other end of the scale are these charging forecourts we've mentioned. These are run by companies such as Shell or InstaVolt, and are essentially petrol stations where the pumps have been swapped out for electric car chargers. Gridserve has even designed its forecourts to provide things for EV owners to do while their car charges, with coffee shops, retail stores and even office pods for work or meetings.
How many electric car charging stations are there?
As of December 2022, there are currently 61,487 public electric car charge points in the UK, scattered across a total of just over 22,000 locations. While the majority of these locations comprise only a handful of chargers – in a petrol station or supermarket car park, for example – there are now a series of charging forecourts, too. Gridserve has pledged to build 100 of these sites across the UK in the next decade, while Shell has already made a significant start by opening its first dedicated EV hub in Fulham, South West London.
While 22,000 locations may seem impressive compared with the roughly 8,000 petrol stations in the UK, most petrol stations have more pumps than the average electric car charging station has charge points. However, it's worth noting that most electric car owners will charge their vehicles at home the majority of the time. According to research, the average UK driver covers just 20 miles a day, amounting to 7,400 per year. Public charging stations are typically only used on longer journeys, therefore.
Where can I find an electric car charging station?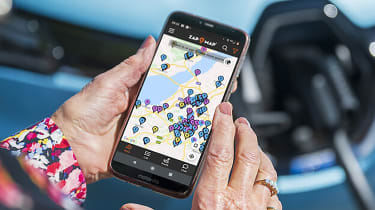 There are several ways you can find your nearest electric car charging station. Websites such as ZapMap allow you to plug in (no pun intended) your current location and will then search for and display charging stations in that area.
Partnership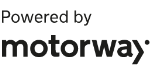 Need to sell your car?
Find your best offer from over 5,000+ dealers. It's that easy.
If you're on the move and running low on charge, many electric cars have a solution for this, too. Several models have functions built into their sat-navs which can pinpoint nearby electric car chargers and direct you to them. Many will even integrate stops at charging stations into your route if you don't have enough charge to reach your final destination.
If your car doesn't have this functionality, smartphone apps such as Wattsup and A Better Route Planner (ABRP) car provide routing, plus information on charger availability and pricing. These can also run through Apple CarPlay and Android Auto with a subscription.
How long does it take to charge an electric car at a charging station?
Given the variety of electric cars and charging stations, it probably won't surprise you to learn that the time taken to charge an EV can vary too. The length of time an EV's batteries take to recharge is determined by how many kilowatts (kW) the charging station can provide and how many the car can accept – the higher the wattage, the faster the charge. While we have a full explainer article on EV charging, here's a summary of the main four charging rates:
Slow charging – 3kW
Using a regular three-pin plug socket to charge your electric car will do so at a maximum speed of between 2 and 3kW. While this is perhaps the most straightforward way to top up your car, it's also the slowest, with the biggest-battery EVs taking up to 48 hours to reach full charge at these speeds.
Fast charging – 7-22kW
Fast charging points provide AC (alternating current) power at speeds of between 7-22kW. The majority of on-street public charging stations offer a rate of around 7kW, and you can also have a fast charge box installed at home. If you find a spot with three-phase electricity, this can ramp up the rate to 11 or even 22kW, which can dramatically reduce charge times – providing your car can accept this speed of AC charge. Select cars may even take an AC rate of 43kW, but this is very rare.
Rapid charging – 50-100kW
While rapid charging was a rarity a few years ago, now most electric cars are compatible with it and there are a growing number of charge points popping up across the UK. This method uses DC (direct current) and is far faster than the methods listed above.
Rapid chargers use a tethered cable, so you won't need to bring your own. They use a Combined Charging System (CCS) connector, which allows for much faster speeds. When charging at 50kW, drivers can expect a full charge in anything between 30 minutes to an hour.
Ultra-rapid charging – 100kW+
Once exclusive to Teslas and other high-end electric vehicles, ultra rapid charging has surged in popularity in recent years, with even some of the cheapest electric cars getting access to 100kW+ charging. At this rate, drivers can expect a full charge in anything between 20-40 minutes. While there are even some 350kW chargers out there that will deliver over 200 miles of range in just 10 minutes, there are very few available and even fewer EV models that can make full use of them.
How much does it cost to charge an electric car at a public chargepoint?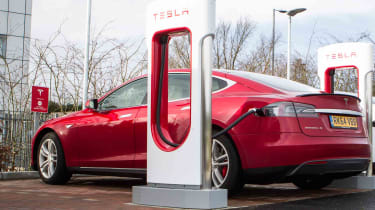 One of the benefits of owning an electric car is reduced running costs; on the average domestic energy tariff, charging your EV at home is typically significantly cheaper than filling up a petrol or diesel car – even with rising electricity prices.
However, charging your electric car at a public charge point is much more expensive and runs very close to the price of petrol. According to ZapMap, prices can vary for rapid and ultra-rapid charging from 40p-79p per kWh. This means, charging up an electric car with, say, a 60kWh battery could cost as much as £47.40. Of course, this cost will differ depending on the size of your electric car's battery and the provider of the chargepoint you're using.
If you intend to go on longer journeys and use charging stations frequently, there are ways to cut your costs. Many chargepoint providers offer subscription services with which you pay a small fee every month in order to get access to reduced charging rates. Several manufacturers such as Audi have also partnered with providers to offer exclusive low rates for owners of their cars.
Then there's Tesla, which owns an impressive network of charge points called Superchargers that are dotted across the UK in large numbers. While owners of early models are able to access these for free, most Tesla drivers will have to pay to use them. Again, subscription services can lower this price, and could make Supercharger fees cheaper than those offered by competitors.
Tesla has begun trials to allow owners of other cars to use its Supercharger network, but at a slightly higher cost than drivers of its own cars. Other brands such as Mercedes-Benz have had similar ideas and are planning to construct their own charging networks in the coming years.
Charging etiquette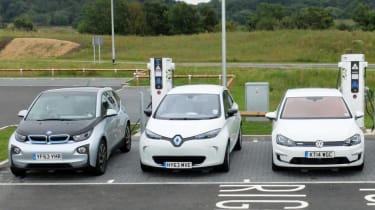 It's important to understand the correct connectors and charge rates for electric vehicles, but it's also a good idea to know the informal conventions that surround charging at public stations. The broadly accepted rules are as follows…
Keep an eye on your car's charge status
Once the batteries are nearly charged (or charged to 80%, an amount some consider ideal), it's best to unplug your car and move it from the charging bay so others can use it. This has a practical aspect as well, as several manufacturers such as Ford and Volkswagen suggest that for day-to-day driving, you should only charge your car to 80-90% to help preserve the life of its battery.
Plug-in hybrids should give priority to pure electric cars
If you're charging your PHEV and someone in a Renault ZOE needs your charging point, do the right thing. You've got a petrol engine to fall back on, whereas they may be stranded until they can recharge their batteries.
If the charger is occupied, make a note of any other drivers who might be waiting
One of the most important unwritten rules of public charging is to make sure that any EV driver who arrives before you is given first refusal when a charge point becomes available. It's often difficult to know who is waiting to charge, so if in doubt, ask, or signal your intent before plugging in. The last thing you want is a heated argument with someone who thought they were ahead of you in the queue.
Don't unplug someone else's car
If you're at a motorway service station and encounter an EV that's been left in a charging bay for a long time, ask if staff can make a tannoy announcement, encouraging the car's owner to move. Some consider it okay to unplug a car that's finished charging, but this isn't always easy to tell and may not be met with kindness. If you must do it, leave a note on the owner's windscreen, explaining why. Bear in mind some connectors don't allow you to unplug them when the car is locked.
Report any damage to charging stations to the network operator
The supplier's phone number will be on the charging point, and reporting any faults should ensure the connectors are fixed in a timely manner.
Offer to help
If you spot someone who's having difficulty with their car or charger, ask if you can be of assistance. Charging stations have become a lot more reliable over recent years, but problems still crop up from time to time.
Stow the charging cable neatly when you're finished
A loose cable can pose a trip hazard or be run over and damaged, so make sure you return it to the unit and don't leave it trailing on the floor.
Looking to make the step into the world of electric motoring? Check out our list of the top 10 best electric car