What is an electric car?
We explain the modern electric car (or electric vehicle/EV), plus how to charge it and what to think about when buying one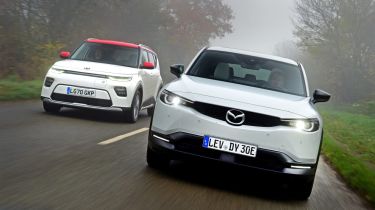 The car industry has changed considerably in recent times – one of the most drastic changes comes in the form of electric cars, which are now growing in popularity and, for now at least, appear to be the future of mainstream motoring. That's because electric cars emit zero tailpipe emissions, meaning that they don't pollute the air immediately around them, and the ban on petrol and diesel vehicles from 2030 means EVs are the most popular choice as an alternative.
In the past EVs were a niche proposition, and usually small, quirkily designed and not particularly useful. Now though, electric cars are more diverse than ever, with manufacturers selling all sorts of body styles, from nimble city cars to large practical SUVs, and with electric motors and batteries that can deliver usable range figures that seem to improve by the month.
Electric cars use a larger version of a battery similar to the one in your phone, which is connected to an electric motor that turns the wheels. The car's other functions such as the lights, climate control and stereo are all electrically powered too.
Electric cars need to be plugged in to charge the battery, unlike hybrid cars that have an engine under the bonnet that charges the battery using fuel. Plug-in hybrids are a kind of half-way house, with the ability to run either on petrol/diesel or battery power from the mains. Read our guide to hybrids, plug-in hybrids and electric cars to find out more about how they differ from each other.
Charging an electric car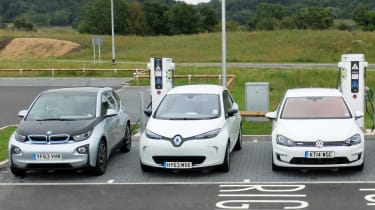 Unlike a traditional petrol or diesel car which you fill up with fuel, electric cars need to be charged much like how you'd charge your smartphone. While you have to stop at a dedicated fuel station to fill up petrol or diesel cars, most owners charge their electric cars at home, via a home wallbox charger, or occasionally through the mains in an emergency. Others charge their car at work or on the street outside. For longer drives, it may be necessary to charge at a public charging station.
Charging has become much quicker over the years, and most electric cars typically take around half an hour to be topped up to 80% at a public charging station – enough time to relax, grab a bite to eat or buy a coffee before heading off again. The charging speed of your car depends on how big the battery is and what sort of charging technology it's equipped with.
Driving an electric car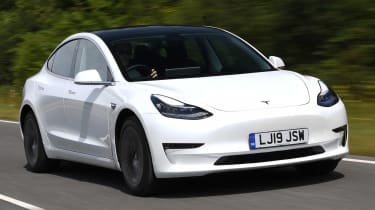 Electric cars tend to feel very nippy at low speeds, which makes them ideal for driving in towns and cities. When you put your foot down from a standstill you may be surprised by how quickly it takes off, especially as there's almost no noise from the electric motors. This will take a little getting used to; you'll need to be gentle with the accelerator when pulling away at the lights. The reason for this is that while a petrol or diesel engine needs to build up fuel and air inside to make power, electric motors always have full power available from a standstill.
Partnership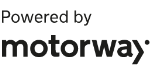 Need to sell your car?
Find your best offer from over 5,000+ dealers. It's that easy.
Electric cars tend to have just one forward gear, so instead of the stepped acceleration you get from a petrol or diesel car due to gearchanges, an electric car's power feels completely smooth and linear. You can't get an electric car with a manual gearbox, as there are no gears to change.
Slowing down and stopping feels different too, due to regenerative braking. As opposed to regular brakes, regenerative braking slows the car down by taking the energy no longer needed for the forward (or backward) momentum, using the electric motor as a dynamo to turn this energy into electricity that can be stored in the battery. While some energy-efficient petrol and diesel cars also have regenerative braking, in an electric car it can make the car slow down quite dramatically as soon as you take your foot off the accelerator.
You'll also notice how quiet electric cars are; the most noise you'll get at low speeds is a muted 'hum' from the electric motors. At higher speeds you may hear some noise from the tyres and the wind or air rushing against the car's body. In fact, electric cars are so quiet at low speeds that some manufacturers fit noise synthesisers to warn pedestrians of their presence.
What are the pros of electric cars?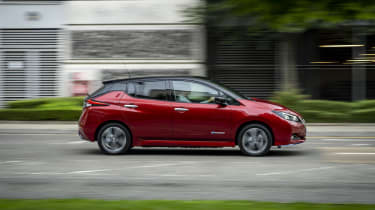 Electric car battery technology is rapidly improving, with increases in range and reductions in charging times announced on an almost monthly basis. This means that a newly launched electric car is likely to be significantly more capable than one that went on sale, say, 18 months ago.
Because of favourable tax breaks for electric vehicles as an incentive to get people to buy them, they cost less to run than petrol or diesel cars. It used to be that electricity cost significantly less than petrol or diesel, and while it's still cheaper, running an electric car isn't necessarily the bargain it once was, especially if you frequently use public charging stations. The benefit to an electric car is that you can charge it at home where the electricity costs much less.
The fact that electric cars have no tailpipe emissions makes them exempt from road tax. They also have free access to some congestion charge zones and sit in the lowest Benefit-in-Kind (BiK) company-car tax bracket, which is making electric cars increasingly popular as company cars. A Government grant of up to £3,000 is also available to private buyers to help with the purchase of electric cars; this is applied automatically to the price of the car.
You're also likely to save in terms of maintenance costs. Electric cars are significantly less mechanically complicated than a petrol, diesel or hybrid car, which means there's less to maintain and less to go wrong.
Electric cars that have been designed purely as electric cars often have more passenger space too. This is because they don't have a large engine or transmission to accommodate, and the battery is usually mounted in the car's floor, freeing up plenty of room. Often, the bonnet will lift up to reveal an extra luggage space, as there's only a relatively small electric motor up front to power the wheels.
Another advantage of electric cars is that they don't contribute to local pollution, although you'll need to be careful that the electricity that charges their batteries doesn't come from gas or nuclear power if you want to be as green as possible. A good solution would be to use an energy supplier that guarantees you're provided with sustainable electricity, or go one step further and invest in your own solar panels or wind turbine to help charge your EV.
And the cons of electric cars?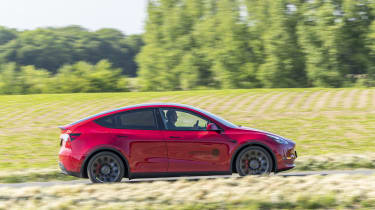 Despite the lower running costs, electric cars are still more expensive to buy than the equivalent petrol, diesel or hybrid car. This is because electric car technology is still relatively new, and there are high costs involved in development and production – particularly of the batteries. However, over time, the technology and the cars are likely to become significantly cheaper.
Another downside is what's known as 'range anxiety' – that's the driver's fear of running out of power before they've reached a charge point. Most mainstream electric cars have a maximum range of between 100 and 200 miles, so if you use your electric car only for short, local journeys, you won't have anything to worry about – especially if you plug your car in whenever you're at home.
As well as powering the wheels, the battery also has to power the car's lights, the air-conditioning, the stereo, sat nav, and various other electric systems. All of these systems use power from the battery, so if you've got everything on at the same time, this will have a significant impact on the car's range.
Even charging from home can be tricky, especially if you don't have off-street parking. Running a cable from your house across the pavement to your car is complicated, not very secure and could even be dangerous as it creates a hazard for pedestrians. There's also the problem of not being able to park close enough to your house to run the cable to the car at all.
While the charging network is improving, you'll need to plan ahead if you're going on a long journey to make sure you reach a service station with an electric charging point before your battery runs out. While many chargers now accept contactless bank or credit cards, some will require you to sign up and create an account – so it's worth doing some research and planning ahead.
Some people also have concerns about how many years the batteries might last and what happens once batteries need replacing. Due to the fact that electric cars are still relative newcomers to the mainstream car market, we still don't have a conclusive answer to many of these concerns.
The battery is the most expensive single component in an electric car and just about every new electric car includes a battery warranty. This is often much longer than the standard manufacturer's warranty, in many cases lasting up to eight years or 100,000 miles. If you intend to keep your car for only three or four years, this shouldn't be cause for concern.
However, once the warranty has run out, the cost of replacing a used battery falls to the car's owner. This is something to watch out for if you're considering a second-hand electric vehicle, as replacing the battery could run to many thousands of pounds – possibly more than the car is worth.
For this reason, some manufacturers, such as Renault and Nissan, gave owners the opportunity to lease a car's battery, which removed the responsibility for replacing it and reduced the purchase price of the car. You have to pay a monthly fee to lease the batteries, however, and this fee still applies to subsequent owners.
There are environmental issues surrounding the disposal of used batteries. They're filled with a variety of potentially harmful chemicals that are very difficult – if not impossible – to recycle or dispose of safely and without potentially harming the environment.
However, a whole industry is springing up with companies looking to reuse old battery packs. Just because older batteries can't hold enough charge to run a power-hungry vehicle, that doesn't mean they can't be reconditioned and used to store renewable energy and even act as a back-up supply for homes or businesses in the event of a power cut.
Finally, there are the concerns for pedestrian safety because electric cars are incredibly quiet, especially at lower speeds when they create little or no tyre or wind noise. This means pedestrians who are blind or partially sighted, or forget to look before they cross a road, could be in greater danger of accidentally walking out in front of an electric car. Manufacturers are tackling this problem, however, by including synthesised noise generators to alert pedestrians to a car's presence.
Click on the links to find out more about hybrid, mild hybrid or plug-in hybrid cars.