What is a plug-in hybrid car?
What is a plug-in hybrid, how can it cut pollution and costs and should you buy one?
In case you missed it, the Government has announced that manufacturers won't be allowed to sell internal combustion engine (ICE) cars running purely on petrol or diesel in the UK from 2040. While this will ultimately see lots more of us driving pure electric cars, plug-in hybrid electric vehicles (PHEVs) are also a major part of the plan.
You can think of plug-in hybrids as the vital stepping stone between the ICE cars the vast majority of people drive today and a zero-emissions future. For most owners, the fact plug-in hybrid models can save them money will also help them find favour, with the fact they're also designed to reduce pollution a happy bonus.
Read this guide and you'll understand not only how a plug-in hybrid car works, but also how choosing to drive one could reduce your motoring bills.
How does a plug-in hybrid work?
You may be aware of hybrid cars – the most popular being the Toyota Prius – that are fitted with a petrol or diesel engine and a small electric motor, assisting the engine and even allowing very short distances to be driven without using any fuel. Plug-in hybrids allow a greater distance to be driven on electricity alone.
A plug-in hybrid has a larger battery pack, which requires charging from the mains electricity supply. Once fully charged, the journeys you can complete in pure EV mode are much longer, before the fuel-powered engine has to turn on to help power the car.
Like most hybrids, a plug-in hybrid can operate using just electric power, just the conventional engines or a combination of both, providing extra power for times like overtaking or joining a motorway when extra acceleration is required.
Even though a hybrid's ICE engine will produce emissions when it is running, the car's overall emissions are low because the car will defer to electric-only mode whenever possible, at which times it produces no emissions at all. It generally does this at slow speeds, such as in city centres, stop-start traffic and car parks.
For faster speeds the conventional engine takes over, as the power required would drain the battery pack too quickly. It will also take over when battery charge drops below a certain level, even if only driving at slow speeds, and will charge the batteries at the same time until there's enough electric power available again.
What is a range-extender hybrid?
In many ways a range-extender hybrid is more comparable to an electric car than a hybrid. The best description of a range-extender is an electric car with an on-board power station. You use it in the same way as an electric car, charging it overnight as needed for use the next day. However, you're not limited to the range dictated by the level of charge in its battery pack. The power station – usually a small petrol engine – is on high alert, ready to charge the battery pack if its charge drops below a certain level.
Although range-extenders are typically classified as hybrids, the following distinction needs to be remembered. All hybrid cars will, at some point, use their conventional engines to provide propulsion, whereas most range-extender cars cannot. The only range extender currently on sale in the UK is the BMW i3 Rex – essentially an i3 electric car fitted with an auxiliary engine to provide electricity, increasing its range beyond the limits of its battery pack. Although the power station will needs its petrol tank filling from time to time to remain on standby, the car will mostly uses electricity alone to operate.
You can read more about range-extender cars in our separate guide.
Plug-in hybrid running costs
Company-car users in particular would be wise to consider a plug-in hybrid for their next car, and the reason for that comes down to a peculiarity in the way carbon dioxide (CO2) emissions are measured.
As you may know, company-car tax, or Benefit-in-Kind (BiK), is levied according to a car's CO2 emissions. The lower these emissions, the lower its tax liability. We go into greater depth in our feature that explains what fuel economy figures mean to you, but the upshot is that plug-in hybrid cars tend to do extremely well in fuel-consumption tests.
This is purely because a plug-in hybrid can be expected to run in electric mode for much of the official test cycle, and when using the power in its batteries, it produces no CO2 at all. This means that plug-in hybrid cars frequently emit less than 50 grams per kilometre (g/km) of CO2 in official tests, which is the upper limit of the lowest Benefit-in-Kind bracket of 9%.
The importance of this to company-car buyers can't be overstated. Put simply, a car in the 9% BiK bracket will potentially cost half as much in company-car tax as one in the 19% bracket.
Of course, BiK is based on the taxable (P11D) value of a given car. And, while it's true that a plug-in hybrid usually costs more than a petrol or diesel version, many qualify for a government grant to reduce this gap. In many cases, a plug-in hybrid will cost you substantially less in annual company-car tax than its purely petrol or diesel-powered equivalent.
If you're not a company-car driver, you could still be quids in if your usual daily drive largely consists of low-speed, urban motoring. Crowded city streets are where plug-in hybrid cars really come into their own – if your daily commute is made up of stop-start driving and totals less than 30 miles or so, you may be able to make the journey without using the petrol engine at all. This means you can rely on cheap electricity, rather than pricey petrol or diesel.
However, if you regularly do higher speeds and longer journeys, the more the petrol engine in a hybrid will be called upon. A long motorway journey in a plug-in hybrid may use more fuel than the same trip in a modern diesel car.
In conclusion, a plug-in hybrid's ability to save you money is skewed heavily in favour of company-car users, but urban-living low-mileage private buyers may well see the benefits as well.
Disadvantages of plug-in hybrid cars
While regular hybrid cars tend to be more expensive to buy than their petrol-powered equivalents, the same is even more true of plug-in hybrids. Much of the increased cost is due to a more powerful, higher-capacity or more advanced battery than those used in regular hybrids. There's also extra equipment required for charging directly from the mains and there may be higher manufacturing costs to produce the car in the first place. In short, the added technology and complexity of a plug-in hybrid will usually make it more expensive to buy than a normal hybrid.
For many drivers, though, the advantages of a plug-in hybrid will offset this extra cost. At present, if a plug-in hybrid car registered in the UK meets a certain threshold for its electric range and emissions level, it qualifies for a Government grant covering some of the price of the car. You can read more about this under the plug-in and Government grants section below.
It's worth remembering, though, that you'll need access to a mains supply or fast charger close to where you regularly park in order to charge your plug-in hybrid. Although the national electric car charging infrastructure is rapidly expanding, you may find overnight or daytime charging tricky to achieve if you find it difficult to park outside your house or office for more than a couple of hours
Plug-in hybrids: range
Just how far a plug-in hybrid car can travel – known as its range – in electric-vehicle (EV) mode alone varies from car to car. However, with the option to fully charge the battery from a mains supply before you embark on your journey, you'll be able to drive further than in a regular hybrid before the battery needs topping up, either from the engine cutting in or when you next plug it into a mains supply.
For example, the plug-in BMW 330e iPerformance has a range of around 25 miles in all-electric mode. This is enough to cover many drivers' morning commute, with the petrol engine boosting the battery in higher-speed parts of the journey and electric power alone in stop-start traffic. It's in these situations – traffic jams, or generally congested areas – where low emissions are particularly valued.
The difference between a regular hybrid car and a plug-in hybrid is highlighted when you look at the Toyota Prius. The normal Prius hybrid's all-electric range is only 0.6 miles. This doesn't sound like a lot but, if the Prius spends most of its life making low-speed urban journeys in heavy traffic – which is what its designers intended – its electric motor may be operating as much as 70% of the time.
With the Toyota Prius Plug-In, reliance on the petrol engine is reduced still further. With the facility to fully charge the battery pack from the mains, the Prius Plug-In has a longer claimed all-electric range of 31 miles if the batteries are fully charged, with a full charge taking two hours. This longer range enables more of each journey to be made without help from the petrol engine, further reducing average CO2 emissions.
Plug-in hybrids: battery life
As with electric vehicles, a common fear when it comes to hybrids is battery life. As anybody with a mobile phone or a laptop computer knows, battery performance can degrade over time. The warranty for hybrid cars may specifically allow for this. For instance, Kia outlines its expectations for the battery life of its Optima plug-in hybrid within the careful wording of its policy: "This warranty covers repairs needed to return the battery capacity to at least 70% of the original battery capacity".
It's worth remembering, though, that hybrids' battery packs are specifically designed to survive any demands that could be reasonably expected from the vehicle. Toyota, for example, states that its hybrid and plug-in hybrid battery packs are intended to last the lifetime of the car. Toyota also has a clause in its warranty that specifically states the cover provided for a battery pack, with the duration of warranty cover depending on the when the car was built.
For example, cars registered between 1 June 2010 and 31 March 2014 enjoy an eight-year/100,000-mile warranty specifically for their battery packs. It's therefore worth checking with your dealer exactly what the battery warranty period will be for your particular car.
What plug-in hybrid cars are there to choose from?
Most manufacturers now offer electric or hybrid versions of at least one car in their range, and many are now introducing plug-in technology too.
For example, the pioneering Toyota Prius hybrid is also available as a plug-in hybrid boasting a longer all-electric range and lower emissions than the regular hybrid model. Toyota also offers standard hybrid variants of its popular Yaris and Auris family cars and its RAV4 SUV, although at present these aren't available in a plug-in hybrid variant.
The most popular plug-in hybrid SUV is the Mitsubishi Outlander PHEV. It offers the high driving position, good visibility and rough-road capability that help make SUVs so popular, and qualifies for a Government grant – you can read details of this below.
Volvo also offers a plug-in hybrid SUV, the Volvo XC90 Twin Engine, which uses a petrol engine to top up the battery, as well as the Volvo V60 D5 and D6 plug-in hybrid estate cars, both of which use diesel engines.
Audi offers e-tron plug-in hybrid variants of its Audi A3 hatchback and its top-of-the-range model, the Q7 SUV. Volkswagen has plug-in hybrid GTE versions of its Golf and Passat models, both of which share the practicality, comfort and styling of the cars they're based on. It's worth bearing in mind that they both have slightly less boot capacity than their conventionally powered equivalents, because the batteries for the electric motor take up some of the luggage space.
The same is true of the Mercedes C-Class C350e, the Mercedes S-Class S500e and the Mercedes GLE 500e SUV, which, luggage space restrictions aside, are extremely similar to the regular versions of their model lines, although only the C350e qualifies for a grant.
The BMW 330e is a plug-in hybrid version of the successful BMW 3 Series compact executive saloon. With average emissions stated as below 50g/km, it qualifies for the lower rate of UK Government grant. BMW offers other plug-in hybrids, too. The BMW i8 is a technological tour de force: a true 21st-century supercar, it uses its electric and petrol engines to achieve 0-62mph in just 4.4 seconds. Its high purchase price puts it beyond any Government grant, however, as it exceeds the subsidy's maximum purchase price of £60,000.
The i8's smaller sibling, the BMW i3, is less expensive. It can be bought as a zero-emission EV version or a range-extender model which uses a small petrol engine just to keep the batteries charged, although it's still classified as a plug-in hybrid because you can charge the batteries from a mains power supply. It's the only plug-in hybrid to qualify for the maximum grant thanks to its long range when using electricity alone.
The Kia Optima PHEV is available as a four-door saloon or a five-door estate with a high level of standard equipment, but for a car bearing a Kia badge it's quite pricey, putting it in contention with conventional cars and hybrids from premium European brands.
Plug-in hybrids and government grants
As of autumn 2017, the Government is offering a grant to buyers of low-emission cars registered from new in the UK, provided their emissions fall below a set level intended to encourage drivers to choose less-polluting cars. The grants are available for buyers of pure electric, hybrid, plug-in hybrid and hydrogen fuel-cell cars.
The grant covers a maximum of 35% of the recommend retail cost of the car, although in reality the percentage will be much lower because the contribution is capped at £2,500 or £4,500. The allocation and size of each car's subsidy is based on a number of criteria.
Grants for plug-in cars fall into three categories:
Category 1
Plug-in hybrid cars that emit under 50g/km of CO2 and have an all-electric range of at least 70 miles are eligible for a grant to cover up to 35% of the purchase cost, up to a maximum of £4,500. Category 1 cars' eligibility is unaffected by their recommended retail price.
Category 2
Plug-in hybrid cars that emit under 50g/km CO2 and have an all-electric range of 10-69 miles are eligible for a grant to cover up to 35% of the purchase cost, up to a maximum of £2,500. Category 2 cars must have a recommended retail price of no more than £60,000.
Category 3
Plug-in hybrid cars that emit 50-75g/km CO2 and have an all-electric range of at least 20 miles are eligible for a grant to cover up to 35% of the purchase cost, up to a maximum of £2,500. Category 2 cars must have a recommended retail price of no more than £60,000.
Recommended retail price is the car's price as it appears in the manufacturer's price list, excluding any optional extras but including the cost of its number plate, vehicle excise duty and VAT. It doesn't include delivery charges or initial registration fee. No grant is available for secondhand vehicles.
Which plug-in hybrid cars are eligible for a Government grant?
Most of the models that qualify for a Government subsidy are pure electric cars. Since they produce no emissions at all, they're granted the highest rate of support, Category 1.
At present, few plug-in hybrid cars meet the standards required for Category 1. The exception is the BMW i3 REx range-extender plug-in hybrid, which qualifies for the full Category 1 grant thanks to its emissions of just 13g/km CO2 and an electric-only range of 195 miles.
If the current parameters of assessment remain in place there's a possibility that, as advances are made in hybrid car technology, more plug-in hybrid cars will qualify for the higher rate of Government grant.
In the meantime, several plug-in hybrid cars qualify for the lower rate of Government grant, including the Volkswagen Golf GTE and BMW 330e. A full list of the cars eligible for each category of grant can be found by visiting the Gov.uk website.
Read more about hybrid cars, mild hybrid cars and electric cars.
Get the latest electric and hybrid car news, reviews and analysis on DrivingElectric.com
2020 Volkswagen ID.3 hatchback: base model starts at under £30k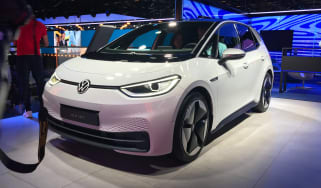 2020 Volkswagen ID.3 hatchback: base model starts at under £30k
New 2020 Citroen C4 and e-C4: prices start at £20,990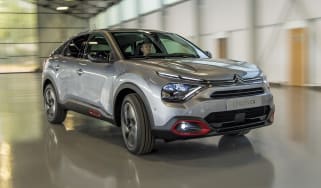 New 2020 Citroen C4 and e-C4: prices start at £20,990
2020 scrappage schemes: the complete guide
2020 scrappage schemes: the complete guide
Best new car deals 2020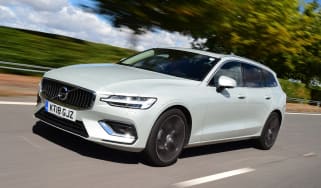 The UK's top 10 best-selling cars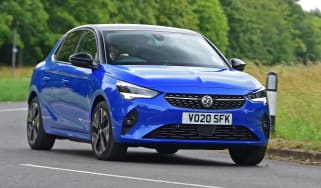 The UK's top 10 best-selling cars