The best company cars 2023
With budgets and Benefit in-Kind tax to consider, choosing a company car can be full of pitfalls; we pick out some of the best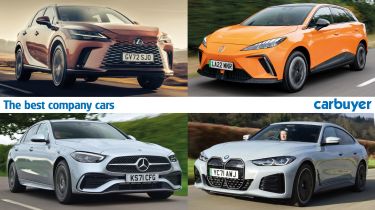 Half of all new cars registered in the UK are purchased for company car fleets but what should you look for when it comes to choosing one? When picking a company car, you'll want to keep a close eye on costs, with a car's Benefit-in-Kind (BiK) liability the biggest deciding factor.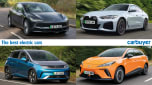 Top 10 best electric cars 2023
For decades the diesel engine was the default choice of the company-car driver. Now, however, a diesel model that doesn't comply to RDE2 standards incurs a 4% BiK surcharge (and up to 37% BiK in total) over petrol models with the same emissions figure. This means you need to consider if you will drive enough miles to justify the amount you'd save in fuel over the higher BiK cost and related income tax.
With diesel power gradually falling out of favour, what are the cheap alternatives? In recent years, efficient petrol, hybrid, plug-in hybrid, and electric cars have all become increasingly popular with company-car drivers thanks to more beneficial BiK tax rates. For 2023-24, business users of electric cars pay just 2% BiK tax. By comparison, a former company-car favourite, the Skoda Superb, now attracts a BiK rate of 30-35% when specced with a 2.0-litre TDI diesel engine, depending on specification. So, although alternative fuel models may come with a larger price tag, they'll typically end up saving you money in the long term.
We've split our list of the best company cars you can buy today into four price brackets so you can find something to suit your needs, no matter your budget. Keep reading for our top picks…
​Under £30,000
1. MG4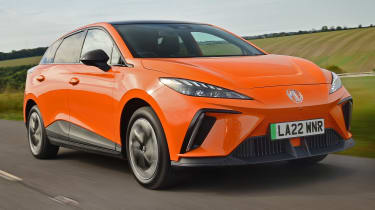 The MG4 has quickly become one of our favourite electric cars thanks to the exceptional value for money it offers. For the same price as the equivalent petrol-powered family hatchback, the MG4 is a roomier, fully electric model with lots of standard equipment, including a 10.25-inch touchscreen and a full suite of driver aids and safety features.
MGs of late have been rather uninspiring to drive, however the '4' bucks this trend with its sharp steering and sporty rear-wheel-drive layout. Entry-level models offer a decent range of over 200 miles, so should be suitable for those just looking to spend most of their time driving around town. The Long Range variant increases this figure to around 280 miles, but it's worth remembering all MG4s come as standard with 150kW ultra-rapid charging capability for quick top-ups at compatible public charging stations.
2. Nissan Leaf
The Nissan Leaf has been a mainstay of the electric car market for over a decade and the second-generation model, which made its debut in 2018, remains a compelling choice if you're looking for a roomy and affordable zero-emissions runaround. Its conservative appearance may not set hearts ablaze, but the Leaf has long proved itself to be reliable and even base Acenta trim models come surprisingly well-equipped for an EV costing under £30k.
Standard 40kWh battery versions can only really be used as a city runaround with their 168-mile range, while the e+ model is claimed to do 239 miles before needing to be plugged in. Nissan's 'e-Pedal' one-pedal driving feature makes every journey relaxing – despite the Leaf's rather firm ride – and both electric motor variants offer punchy performance.
3. Renault Clio E-Tech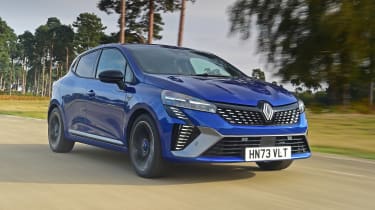 While opting for an electric car is one way to keep company car tax bills low, another is to find something affordable and fuel-efficient. Few cars fit this description better than the Renault Clio E-Tech. A self-charging hybrid version of one of our favourite superminis, the Clio E-Tech shares much of what we love about the regular Clio – namely its spacious and well-built cabin.
Partnership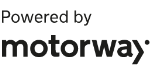 Need to sell your car?
Find your best offer from over 5,000+ dealers. It's that easy.
Under the bonnet lies a 1.6-litre petrol engine, alongside a small electric motor to produce 138bhp. If the Clio's stylish looks aren't enough to brag to your friends about, you can always inform them that the hybrid model actually utilises an F1-derived clutch-less automatic gearbox. While its 9.9 second 0-62mph time won't be rivalling the Renault-Alpine Formula One car anytime soon, the E-Tech still feels punchy around town and will return up to 64.2mpg on the combined WLTP test cycle.
£30,000-£40,000
1. Cupra Born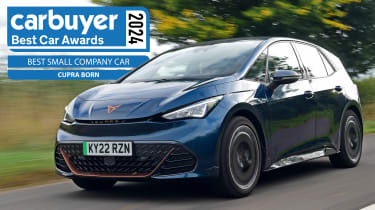 The Cupra Born took our overall Best Small Company Car award for the second year in 2023, and for good reason. It shares many of its parts with the Volkswagen ID.3, but the Cupra offers everything its German cousin does in a much sleeker, sportier and even slightly more affordable package, feeling a little less sterile as a result.
Size-wize, the Born is comparable to a family hatchback, like the Spanish brand's own Cupra Leon. There are two battery options to choose from; even the base model can do 240 miles on a charge, however, we recommend stepping up to the 77kWh battery and its 340-mile range if you plan to travel long distances frequently. However, no matter what distance you travel, the journey itself will be pleasurable as the Born is one of the most enjoyable EVs to drive, with performance bordering on hot hatch levels.
2. Hyundai Kona Electric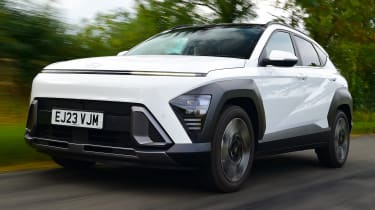 This time around, the Hyundai Kona Electric takes the top spot for best company car between £30,000 to £40,000 because it's more practical than the one that came before, gains a more upmarket interior, and comes with an impressive electric powertrain. Buyers get a choice between a 154bhp or 215bhp motor with either a 48kWh or 65kWh battery. Go for the latter and you get a competitive 305-mile official range figure, with the smaller battery offering up to 234 miles – still a good distance for a car at its price. 
The Kona Electric is a refined car to ride in, too. Electric cars' lack of engine noise means they are generally quiet, but the Kona Electric is particularly so, with almost no whine or hum from the electric motor and wind and tyre noise is also well mitigated.
3. BMW 2 Series Active Tourer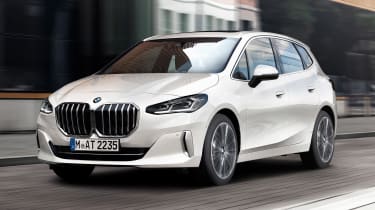 The MPV market is much smaller than it was before, and one of the few manufacturers still offering a car in this segment is BMW, with its 2 Series Active Tourer. It's a good choice for company car buyers who need a capable family car with a premium feel, a slick infotainment system and the prestige of a respected badge.
The best choice for company car choosers is one of the plug-in hybrid models, badged 225e and 230e. Both manage up to 55 miles of electric range to a charge, and low 15g/km official CO2 emissions figures mean they sit in a low Benefit-in-Kind bracket. Both get the same official fuel economy figure of up to 403mpg, but while the 225e gets 241bhp, the 230e ups the ante to 322bhp, both sending power to all four wheels. 0-62mph takes 6.7 in the 225e, while the 230e cuts this down to 5.5 seconds – that's impressively quick for an MPV.
£40,000-£60,000
1. Tesla Model Y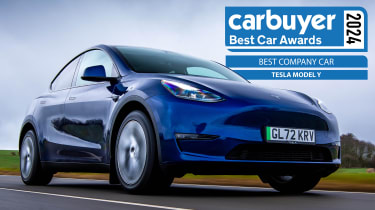 The Tesla Model Y was one of the best-selling cars in the UK during the first half of 2023, and its reputation as a stellar choice as a company car only helps bolster its popularity. While the Tesla Model Y has many more competitors than it did when it was first released, many are only just beginning to catch up with the electric SUV's impressive levels of tech and equipment. It had enough qualities to make it the top company car in our Best Car awards, so it goes straight to the top in this price bracket.
As has come to be a trademark of Tesla's entire range, you can get the Model Y with blisteringly quick performance credentials. All versions of the Model Y are pretty quick, but in Performance guise, the electric SUV will get from 0 to 62mph in a mind-boggling 3.5 seconds, which is up there with serious sports cars. Unlike a supercar, though, there's also plenty of room for storage and boot space, with the Model Y one of the class leaders in this area.
2. Mercedes C 300 e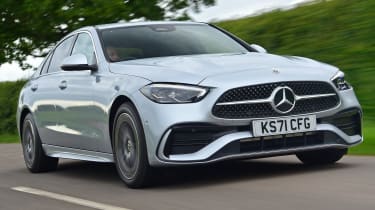 Although the comparison has become somewhat of a cliche, the latest Mercedes C-Class has truly positioned itself as a budget alternative to the larger S-Class. Just like its limousine sibling, the C-Class has an elegant exterior design and an equally opulent interior. This is dominated by a huge 11.9-inch central touchscreen which utilises the brand's slick MBUX operating system. It is available with augmented-reality navigation that superimposes directions onto the road using the car's camera systems.
The real reason for company car drivers to consider the C-Class, however, is the excellent C 300 e, which is still our favourite plug-in hybrid. Dubbed the C 300e, this offers a near-unbeatable 60-mile electric range, which should be enough to cover most commutes. If you're looking to travel farther, the 1.5-litre petrol engine can work in tandem with the hybrid system to return up-to a frugal 404mpg.
3. BMW i4
The BMW 3 Series has long been one of the top company car picks, and while it's still a great choice, the all-electric BMW i4 makes even more sense for business users and is our Best Company Car for 2023. Essentially a battery-powered version of the 4 Series Gran Coupe, the i4 offers all of what buyers love about BMW cars such as a luxurious interior, the latest tech and a sporty drive, in a zero-emissions package.
There are two powertrains to choose from, however, the entry-level eDrive40 is our pick for the majority of buyers. With a punchy 335bhp electric motor, 0-62mph takes just 5.7 seconds and thanks to a large 81kWh battery, owners should find it easy to achieve over 300 miles on a single charge.
Over £60,000
1. Porsche Taycan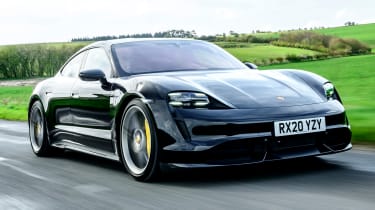 Porsche clearly wanted to make a statement with its first electric car and in the process has built one of the best company cars in existence with the Taycan. While most models from the performance marque sit in the highest 37% BiK band – putting them well and truly out of favour with fleet buyers – the Taycan is in the same 2% band as a Nissan Leaf. It's also, like all electric cars, VED (road tax) exempt until 2025, and there's no luxury car surcharge for EVs either.
All of these benefits come despite the fact that the Taycan will beat many Porsche models, sports cars and even supercars away from the lights. In range-topping Turbo S trim, the Taycan has 750bhp and can launch from 0-62mph in 2.8 seconds. It isn't only good in a straight line, so our favourite Taycan is in fact the entry-level version with rear-wheel drive. It still feels quick but is more agile, too.
2. Lexus RX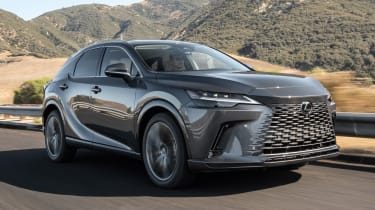 The Lexus NX 450h+ is our favourite large plug-in hybrid and its even-bigger brother, the Lexus RX, is just as appealing if you're looking for something that offers as much luxury as it does space. The RX ditches Lexus' old fiddly touchpad infotainment systems in favour of an expansive and responsive 14-inch touchscreen. Furthermore, material quality is superb, with plenty of sumptuous leathers and trim pieces decorating the cabin.
As is often the case with petrol-powered cars, the plug-in hybrid version of the RX will appeal most to company car drivers. Badged RX 450h+, this plug-in hybrid is unlike almost any other car of its kind; the RX PHEV utilises a second battery to transform it into a regular self-charging hybrid once you've spent all of its 40-mile electric range. This means fuel economy doesn't drop quite so quickly on longer journeys, making the plug-in RX an ideal motorway mile-muncher.
3. BMW iX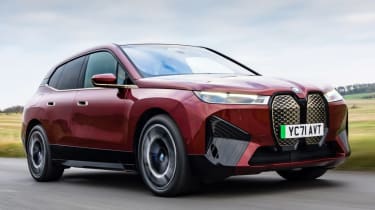 The BMW iX's striking exterior certainly ruffled some feathers when it first launched, and if you can get past its oversized kidney grille, you'll find BMW's first ground-up electric SUV is one of the best options out there that'll be sure to stand out in the office car park. The iX was the first car to debut BMW's latest iDrive 8 infotainment system, which features an ultra-modern 'Curved Panel' design. Elsewhere, the iX's interior is equally avant-garde, with crystal-like controls and a variety of upholstery patterns.
Despite weighing over two-and-a-half tonnes, the iX drives just as well as any other BMW, offering plenty of grip and very little body roll on a twisty road. Top-spec iX M60 models can do 0-62mph in a blistering 3.8 seconds; these are rather expensive, though, and even the base xDrive40 model offers strong performance and all-wheel-drive. We'd go for the mid-spec xDrive50 as this offers even more punch and an impressive 382-mile range.
Want to find out whether hybrid, plug-in hybrid or electric power is better suited to you? Click here to read our hybrid vs plug-in hybrid vs electric cars guide