Mercedes C-Class saloon review
"The Mercedes C-Class is a desirable car with a fantastic interior, plus with hybrid tech it's supremely efficient too"
Pros
Stunning interior
Comfortable
Electric range of plug-in hybrid
Cons
Small boot
Running costs
BMW 3 Series still better to drive
The arrival of a new Mercedes C-Class is always significant and Mercedes was arguably under more pressure than ever with this latest version thanks to the company-car market's rapid move away from diesel and petrol power.
In response, every C-Class now has some form of electrification, either with mild-hybrid assistance or a plug-in hybrid powertrain to help stave off electric rivals like the Tesla Model 3 and Polestar 2 - cars that didn't even exist a few years ago. Aside from what's under the bonnet, there are still plenty of reasons to choose a C-Class, even ahead of the BMW 3 Series and Audi A4.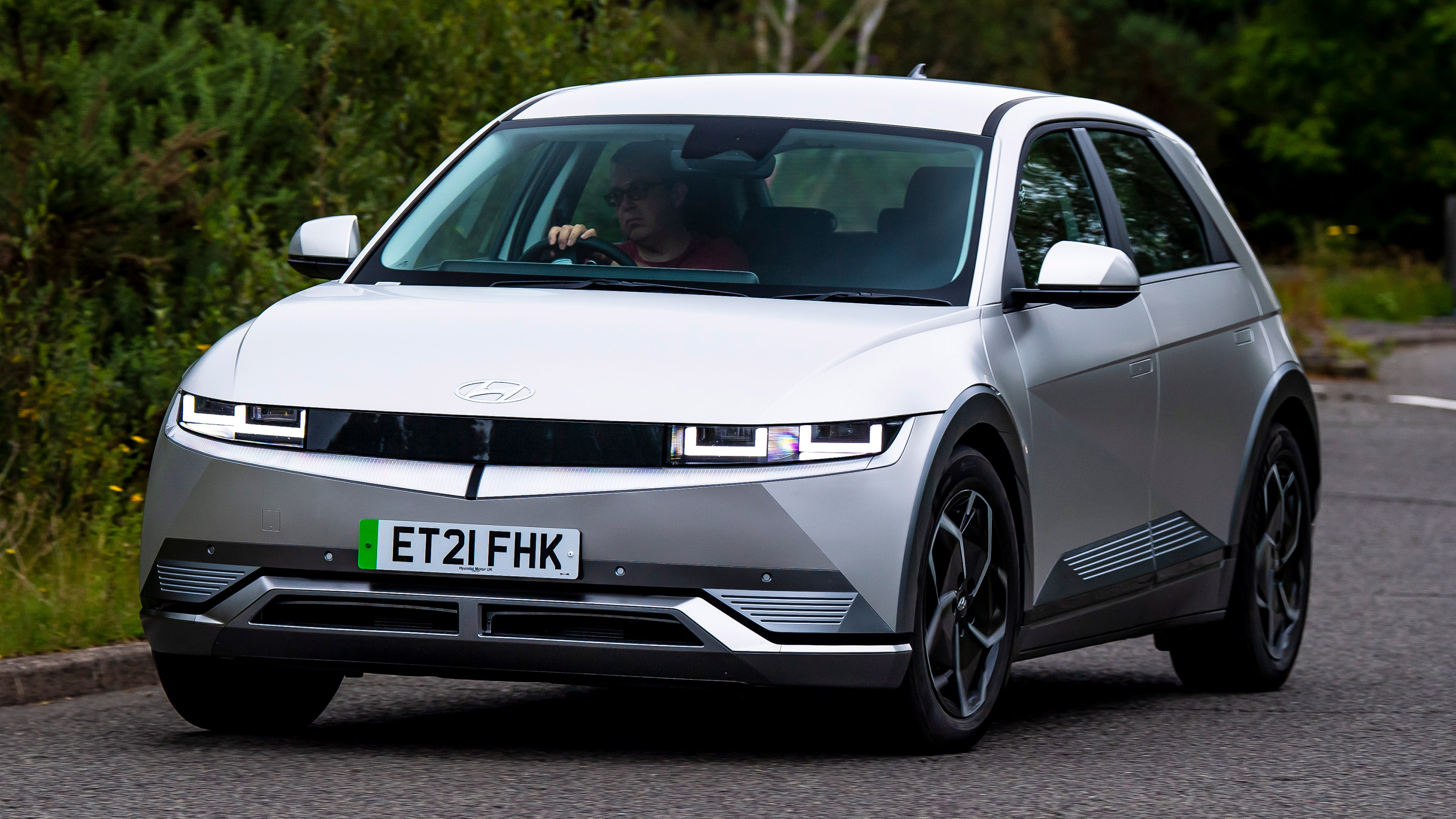 Top 10 best company cars 2022
For a start, its subtly evolved exterior design and the three-pointed star badge hold plenty of appeal. It now looks more closely aligned with the Mercedes E-Class and S-Class, with a wide grille, angular LED headlights and sculpted bonnet. At the rear, there are widened LED lights and the whole car is purposeful without being too brash or ostentatious.
If the exterior draws you in, the interior is likely to fully win you over. The quality of materials is stunning, and the C-Class now looks cutting-edge thanks to its tablet-style displays for both the driving displays and infotainment. Attractive seats, sculpted oval air vents and fibre-optic interior lighting are all part of the eye candy, while an improved voice recognition system can understand more requests with greater speed to help minimise distractions.
The core engine range consists of mild-hybrid petrol and diesels, including the C 220 d and C 300 d, which return around 45mpg, offer plenty of performance and should suit high-mileage drivers. Both are rear-wheel drive and the C-Class comes with a nine-speed automatic gearbox as standard. 
Private buyers and some company-car drivers may also be tempted by one of the petrol engines, which are badged C 200, C 300 and C 43 with 201bhp, 254bhp and a muscular 402bhp respectively. The C 43 is the fastest version of the C-Class currently on sale, using a similar turbocharged four-cylinder setup to the one in the smaller Mercedes-AMG A 45 S hot hatchback. This allows the saloon to sprint from 0-62mph in just 4.6 seconds and onto a top speed of 164mph when fitted with the AMG Driver's Package. An even more powerful C63 variant is on the way too, using a 671bhp plug-in hybrid six-cylinder powertrain.
It's the C 300 e plug-in hybrid that makes the most appealing company car. The latest version has a much bigger, 25.4kWh battery than the previous one, which sees electric range increase from around 30 to 64 miles, which should slash its emissions too. It also has a healthy 302bhp thanks to the combined efforts of its petrol engine and electric motor.
The C-Class still has a chassis tuned slightly more for comfort than the BMW 3 Series, which was evident in our test drives of a C 220 d and a C 300 e. Despite this slightly softer edge, improved steering and good body control means the Mercedes feels closer to its BMW rival than ever in the dynamics department.
It all adds up to a car that's even more complete than before. While newcomers and traditional rivals alike can offer advantages in one area or another, few appeal to both the head and the heart as strongly as the C-Class.
How about a used Mercedes C-Class Mk4?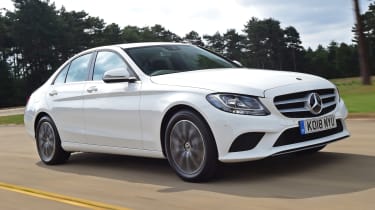 Comfortable, brisk, economical and stylish, the C-Class Mk4 saloon is a popular pick on the used car market. And because it was hugely desirable as a company car when it was new, you'll find a wide selection of them on Britain's second hand car forecourts. It has a strong range of turbocharged diesel and petrol engines, plus also offers buyers a choice of mild hybrid and plug-in hybrid models. 
What's its history?
The C-Class Mk4 made its UK showroom debut in February 2014 with a limited range of engines and three basic trim grades. Other turbocharged petrol and diesel engines soon joined the line-up, along with mild hybrids and plug-in hybrids: there were also some high performance AMG derivatives. In 2018 a revamp delivered some styling enhancements, interior design tweaks, equipment upgrades and a revised engine line-up. In July 2021 the fourth generation C-Class made way for the Mk5.
Read our full C-Class Mk4 review...
Used Mercedes C-Class Mk3 (2007-2014)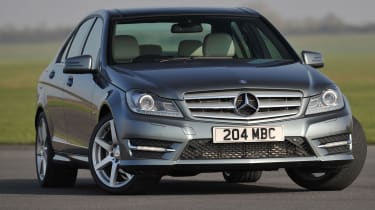 Despite its high-powered AMG derivatives, the mainstream C-Class Mk3 range is oriented towards comfort and a relaxed driving experience. Its interiors are classy and there's a good range of spirited and economical engines.
Read our full C-Class Mk3 review...
Used Mercedes C-Class Mk2 (2000-2007)
Good-looking but notoriously unreliable, the C-Class Mk2 is nevertheless popular with used buyers, which says something about its desirability. Its interiors are stylish, although rear seat space is a little  cramped.
Used Mercedes C-Class Mk1 (1993-2000)
Reliable and classy, the first-generation C-Class set the theme for subsequent models. Refined for its time, it established the acceptance of diesel engines for prestige executive cars. However, rust is a big issue for these early C-Class models, so check carefully before handing over any cash.
Next Steps
Which Is Best?
Cheapest
Name

C200 Sport 4dr 9G-Tronic

Gearbox type

Semi-auto

Price

£37,780
Most Economical
Name

C300e AMG Line 4dr 9G-Tronic

Gearbox type

Semi-auto

Price

£44,100
Fastest
Name

C300d AMG Line 4dr 9G-Tronic

Gearbox type

Semi-auto

Price

£44,920