Used Mercedes C-Class saloon review: 2014-2021 (Mk4)
"Exceptionally classy, comfortable, solidly made and well equipped, the fourth generation Mercedes C-Class is excellent value on the used car market"
Pros
Stylish inside and out
Very well made
Handsomely equipped
Cons
Rear headroom
Small boot on hybrids
Huge number of recalls
Launched in 2014, the C-Class Mk4 saloon embodies many of the qualities that have made Mercedes one of the world's most aspirational car brands. Its exterior design foregoes flashiness for a classy timelessness, and although the same isn't true of its interior, the cabin looks modern, exciting and inviting. It's also very well made from high quality materials, and its premium ambience gives you the sense that you've spent your money wisely. 
All C-Class Mk4s are well equipped, not just with luxury and convenience features, but with numerous safety systems, too. Seats engineered for all-day comfort are complemented by low levels of interior noise, making the C-Class Mk4 a very agreeable and relaxing way to travel long distances. Good ride comfort adds to the overall refinement.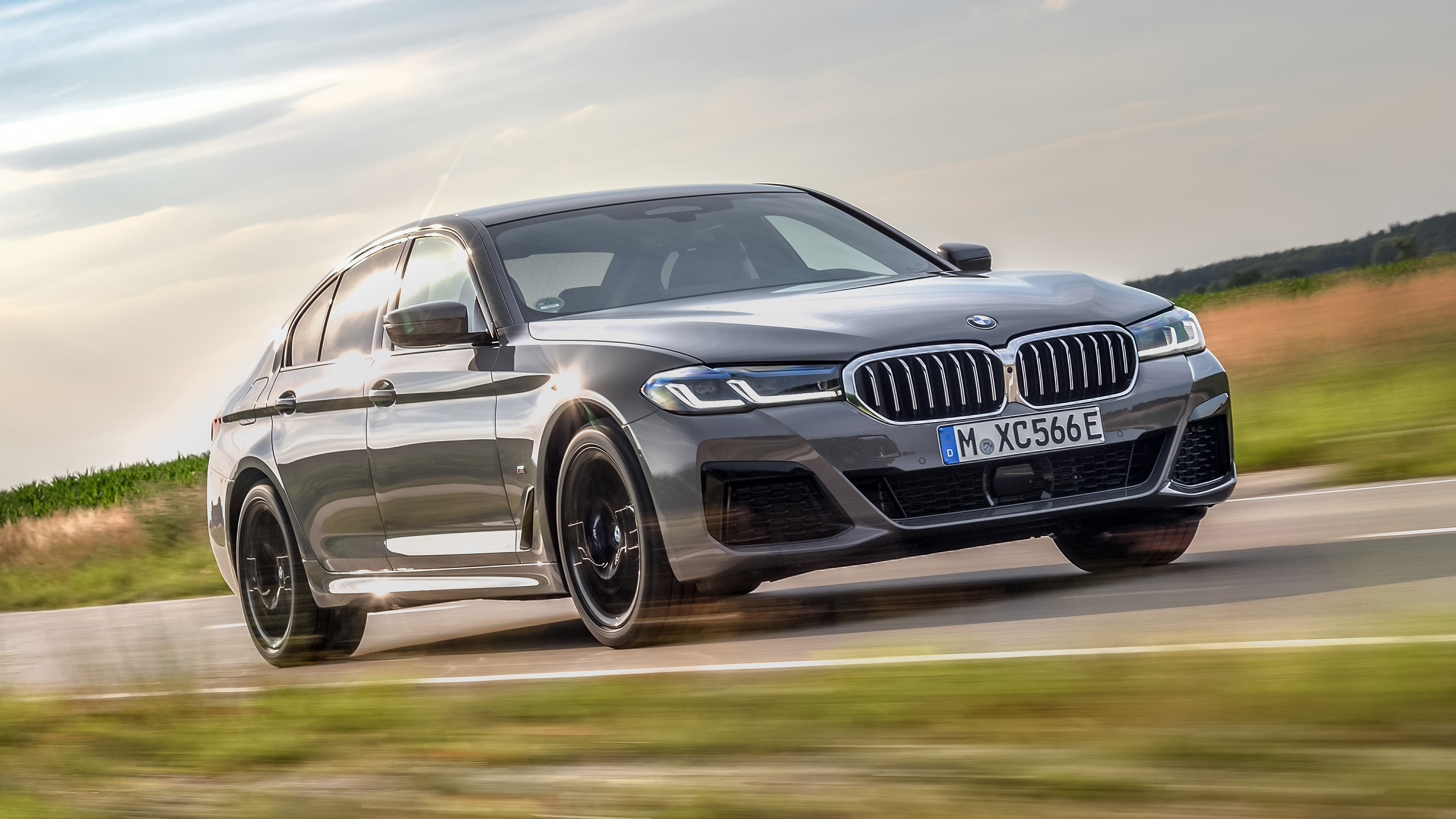 Top 10 best used executive cars 2022
The caveat here is that space in the rear isn't generous and tall passengers may find that the car's sloping rear roofline makes headroom merely adequate. That said, most passengers won't have cause to complain, even in a C-Class Mk4 with the optional panoramic glass sunroof that further chips away at headroom.
Over the C-Class Mk4's lifespan it has offered owners a fascinating variety of engines including turbocharged petrols and diesels, mild hybrid petrols and diesels (which use a small electric motor in combination with the conventional engine to improve economy, reduce emissions, and boost performance), and plug-in hybrid petrol-electric and diesel-electric powertrains that can run for up to 31 miles in electric-only mode. 
Each of these engines provides keen performance and several are very economical with low CO2 emissions to match. Generally they're quite refined, too, although the more powerful diesel engines can become gruff if revved hard; such is the laid-back character of the C-Class Mk4 that you should seldom have need to whip it along like that.
The C-Class Mk4 range also includes a trio of high performance, AMG models, the four-wheel drive twin-turbo 3.0-litre V6-engined AMG C43 and the rear-wheel drive AMG C63 and AMG C63 S, both powered by a 4.0-litre twin turbo V8. Manically quick, these are true sports cars and consequently we've reviewed them separately. There are also estate, coupe and cabriolet variants of the C-Class Mk4, which we've also covered in separate reviews.
An additional attraction of the C-Class Mk4 is that its comparatively compact size makes it seem somehow attainable in a way that larger Mercedes models aren't. With prices of used C-Class Mk4s currently trailing those of its direct rivals the Audi A4 and BMW 3 Series, attainability is one of its great strengths.
What's the history of the Mercedes C-Class?
A big step up from its predecessor in terms of cabin space and technical sophistication, the C-Class Mk4 was launched in UK showrooms in February 2014. Its engine range started off small – just a turbocharged 2.0-litre petrol with 181bhp (the C200) and a 2.1-litre turbodiesel with 168bhp (C220 BlueTEC) – and there were only three trim grades, SE, Sport and AMG Line. In their basic guises these trim grades survived the life of the C-Class Mk4, although they were also available with several option packs that upgraded their equipment levels – Premium, Premium Plus, Executive Edition and AMG Line Night Edition Premium Plus.
The engine range quickly grew to include a 201bhp version of the 2.1-litre turbodiesel, in the C250d BlueTEC, and then a mild hybrid version of the same engine powering the C300 BlueTEC Hybrid – a small electric motor, charged when the car brakes, works in tandem with the conventional internal combustion engine, giving it extra power during acceleration as well as improving its fuel consumption and reducing its CO2 emissions. Up to 20mph it can also travel a very short distance solely on electric power. 
A plug-in hybrid (its battery pack is charged by plugging it into the mains), this time a petrol-electric, was introduced to the range in 2015 and badged as the C350e. It was both fast and very economical, even if its claimed combined fuel consumption figure of 134.5mpg needs to be regarded with great scepticism in real-world driving. Still, its electric-only range of nearly 30 miles and low Benefit in Kind taxation meant it was welcomed by city-bound company car drivers.
There was a major revamp of the C-Class Mk4 in May 2018. Its styling was refreshed front and rear, its interior tweaked, equipment levels enhanced, and the engine range rejigged for the sake of refinement and efficiency. The most significant of the new engines was a mild hybrid 1.5-litre turbocharged petrol that Mercedes called EQ Boost, now used for the C200. The gruff 2.1-litre diesel was also replaced by a smoother and more refined 2.0-litre unit.
Previously the C-Class Mk4 was available with a six-speed manual and a seven-speed automatic, but with the revamp all models were equipped with a nine-speed automatic. 
During 2019 the petrol-electric plug-in hybrid was joined by a diesel-electric model, the C300de. It boasted a headline fuel consumption figure of 201.7mpg, more an anomaly of the testing procedure than the sort of economy you could expect in real life.
In July 2021 the fourth generation C-Class was replaced by the Mk5.
Which is the best Mercedes C-Class Mk4?
If your budget will stretch to a 2018 facelifted version of the C-Class Mk4 then the 191bhp twin-turbo, 2.0-litre diesel-engined C220d ticks all the boxes. It's fast – 0-62mph in 6.9 seconds and a top speed of 149mph – refined, and does up to 61.4mpg while emitting as little as 121g/km of CO2 emissions. It also has plenty of pulling power (torque) at low engine revs, which means you get decent performance without straining the engine, or your eardrums – it has enough oomph for towing, too.
There's also a pre-facelift version of the C220d, used prices of which will be lower. It's a different engine, a 2.1-litre turbodiesel producing 170bhp, but it's also sprightly and very economical, if not quite as easy on the ears. 
If you don't do many miles, spend most of your time on urban roads, or you simply prefer to drive a petrol engine, the 181bhp mild hybrid 1.5-litre EQ Boost of the C200 (from 2018 onwards) should do the trick. The advantage of its mild hybrid system is that by teaming a small electric motor with the conventional engine, there's a strong surge of power from low down the rev range, giving feisty acceleration (0-62mph in 7.7 seconds), great response to the throttle pedal around town, and reasonable fuel economy of up to 47.1mpg.
Those seeking more spirited performance from their C-Class Mk4 have a choice between the 242bhp turbodiesel-engined C300d and the 254bhp petrol-powered C300. Both will do 0-62mph in 5.9 seconds, but the diesel model gives around 58mpg to the petrol's 44mpg. 
While the diesel-electric and petrol-electric plug-in hybrid versions of the C-Class Mk4 aren't anywhere near as economical as their outrageously good official fuel consumption figures suggest, if you're mainly making lots of short hops with the odd long journey, then these models can potentially save you loads of cash on fuel costs. 
When fully charged from the mains they can be driven up to 31 miles in electric-only mode and cars originally registered before 1 April 2017 are exempt from road tax. However, where previously these models were exempt from the London Congestion Charge, they must now pay it, so bear this in mind.
As for which trim grade to pick, the Sport arguably offers the best value. The entry-level SE grade does have everything you need, including a reversing camera, but the Sport has more supportive – and heated – front seats, a parking assistance system, satnav, LED headlights, and lowered suspension that makes the C-Class Mk4  that little more entertaining to drive.
When choosing a C-Class Mk4, though, carefully check through its specification to see it has everything you want. There were lots of items on the extras list and several options packages – Premium Plus, for example, adds a Burmester surround sound audio system, panoramic glass sunroof, 360-degree camera for the parking and vehicle safety systems, and keyless central locking and starting.
What are the alternatives?
The C-Class Mk4's arch-rivals in terms of prestige are the Audi A4 and BMW 3 Series, but the Mercedes also faces stern challenges from the Alfa Romeo Giulia, Volvo S60, Jaguar XE and Lexus IS. However, if you're less concerned about the badge and are looking for good value, also consider the Ford Mondeo, Mazda6, Volkswagen Passat and Peugeot 508.
Mercedes C-Class video reviews
Facelift
Pre-facelift
Estate
Coupe
Cabriolet
C-Class vs 3 Series vs A4