Top 10 best plug-in hybrids 2023
A plug-in hybrid can offer the perfect compromise between a petrol and a fully-electric car; we showcase some of the best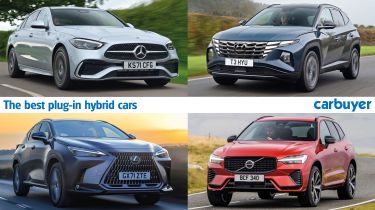 Plug-in hybrids (PHEVs) have exploded in popularity over the last few years, with almost all new petrol models also being offered with this kind of powertrain. While many people are now beginning to choose a full EV (electric car) over a plug-in hybrid, there are still many benefits to having a petrol engine for those times you need to travel further afield, or can't find a convenient charger.
All plug-in hybrids feature an internal combustion engine – usually petrol – mated to an electric motor and battery. Most PHEVs allow you to choose how the two power sources are used, with many giving you the option to save the battery power for later in the journey – useful if you're heading into a built-up area or zero-emissions zone. With both systems working together, plug-in hybrids tend to be quite powerful, so many claim acceleration times that are close to those set by hot hatchbacks and sports cars.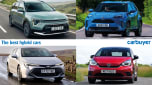 Top 10 best hybrid cars 2023
PHEVs tend to be able to travel a good distance on electric power alone (around 25-60 miles depending on the model), providing a good compromise between an electric car and a traditional petrol one. While you might be drawn to a plug-in hybrid by the promise of unbelievable MPG figures, it's worth noting that getting close to these numbers in real life completely depends on the types of journeys you do and how often you recharge the battery. On longer journeys where you've depleted the electric range, you'll be relying on the engine to get you to your destination, and the car's fuel efficiency will drop noticeably.
Because of the way emissions tests are undertaken, PHEVs offer very low quoted CO2 figures, and this makes them ideal for UK company-car drivers looking to slash their Benefit-in-Kind tax bills. But more and more private buyers are opting for plug-in hybrids too, often as a way to test the waters of electric-car ownership.
Below, we list the best plug-in hybrids. You might also want to check out our guides to the most economical family cars, the best company cars and the best electric cars.
The Mercedes C 300 e won the Best Plug-in Hybrid award at our 2024 Carbuyer Best Car Awards and it isn't hard to see why. The interior is not only comfortable but fitted with the latest MBUX infotainment software, making it feel like you've stepped into a smaller version of the Mercedes S-Class saloon. 
The quoted electric-only range of 62 miles is not only impressive on paper, but when we tested it we managed to get nearly exactly the same figure before the petrol engine chimed in. Charging can take as little as 30 minutes if you can find a fast 55kW charger, which will be useful for drivers stopping for a coffee break on longer journeys, while a total output of 328bhp means the plug-in variant is actually one of the fastest C-Class models you can buy.
Plug-in hybrid powertrains work well in SUVs as they offer much lower running costs, without the need to sacrifice luxury features. There's no better example of this than our Best Large Plug-In Hybrid, the Lexus NX. Like most Lexus models, the NX gets a striking exterior design and a well-appointed interior. The NX has ditched the clunky touchpad Lexus infotainment systems of old in favour of a stunning 14-inch touchscreen, with sleek-looking digitised climate control dials.
Partnership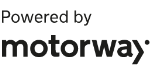 Need to sell your car?
Find your best offer from over 5,000+ dealers. It's that easy.
The NX 450h+ plug-in hybrid is rather expensive to buy, but it should no doubt be a hit with company car drivers. With an electric range of up to 40 miles, the NX not only should be able to cover most commutes on electric power alone, but it falls into the low 8% BiK tax bracket, too. With three motors working in tandem – one petrol and two electric – the plug-in NX offers a smooth and refined driving experience and will even act as a regular self-charging hybrid once the battery is depleted, thus keeping down fuel bills.
The Kia Niro won our Car of the Year prize at the 2023 Carbuyer Best Car Awards thanks to its combination of low running costs and outstanding technology. With a head-turning exterior design, buyers can pick between a hybrid, plug-in hybrid, or fully electric version of the Niro, making it an impressive all-rounder.
The plug-in hybrid Niro scores well on our list thanks to a great driving range, along with surprisingly few compromises in any other area – bar the boot space which measures only 348 litres in capacity. Its official 40 miles of battery range should be enough for most commutes, and when the battery is out of charge the Niro becomes a regular hybrid, maximising the efficiency of the petrol engine until its next top-up.
Buyers are spoilt for choice with the latest BMW X1, with petrol, diesel, electric (badged iX1) models, and the plug-in hybrids we're interested in here – the xDrive25e and 30e. Both use a three-cylinder petrol engine paired with an electric motor, producing 242bhp in the xDrive25e and 322bhp in the xDrive30e. The xDrive25e is available on the entry-level Sport models with a claimed 53-mile official range, while xLine xDrive30e models can go for up to 51 miles between charges.
There's a lot to like about the latest X1 – it's a small SUV with a very premium feel to it. The interior is superb, with a minimalist design that feels sturdy and well-built, complete with the latest BMW iDrive software that sports slick graphics and intuitive controls. While the all-electric iX1 will be cheaper to run still, the plug-in hybrid X1s are your next best choice if you're buying one as a company car, given that they emit as low as 16g/km of CO2, placing them in a low BiK (Benefit-in-Kind) tax bracket.
The Volvo XC60 Recharge is the plug-in hybrid version of the brand's mid-size SUV, offering up to 47 miles of electric range and a whopping 449bhp of power. Although it certainly is quick, that's not to suggest it feels like a sports car to drive – the XC60 Recharge is a great choice if you want to prioritise comfort and refinement. The Volvo XC60 Recharge has a very clean and well-built design on the inside, which makes use of great quality materials – the brand is becoming one of the class-leaders in this respect as an alternative to its more mainstream premium German rivals.
While the XC60 Recharge is quite costly to buy, it is well-equipped. All cars come with 19-inch alloys, four-zone climate control, four heated seats and LED headlights. Recharge cars also get adaptive cruise control, a powered hands-free opening boot, heated windscreen and a premium Harman Kardon sound system. Volvo is famed for prioritising safety and the XC60 is no different – it gets lane-keep assistance, traffic-sign recognition, a speed limiter and a fatigue detection system.
The Renault Captur SUV is an impressive family car and the E-Tech plug-in hybrid will be a tempting choice for both private and company car buyers. Essentially a jacked-up version of one of our favourite superminis, the Renault Clio, the Captur is available with all of that car's best features such as a Tesla-style portrait touchscreen, a comfortable ride and punchy powertrains. Of course, being an SUV, the Captur also benefits from a higher driving position, while its handy sliding rear bench can increase the boot size from 265 to 375 litres.
Plug-in hybrid models of the Captur are powered by a 1.6-litre petrol engine; this is mated to a 9.8kW battery pack which together produce 158bhp. Acceleration from 0-62mph should take around 10 seconds, however, the instant torque from the electric motor means the Captur should feel nippy around town. It can also manage around 30 miles of pure-electric driving, so this should keep running costs low on shorter commutes. Renault offers hybrid and plug-in hybrid Capturs, both with 'E-Tech' badges, so it's a little confusing - but the plug-in hybrid's bigger battery is reflected in its steeper price.
The Range Rover Evoque may be the smallest model of the iconic luxury off-roader family, but it still offers almost all of the benefits of its larger brethren. The Evoque's cabin oozes style and is on par in terms of quality with premium German rivals. While it misses out on Jaguar-Land Rover's latest Pivi Pro infotainment, the Evoque does get a futuristic-looking dual-screen infotainment setup, along with part-digital dials.
Producing 305bhp, the plug-in hybrid P300e is actually the most powerful version of the Evoque you can buy, with a 0-62mph of 6.4 seconds. As you'd expect from a Land Rover, this offers four-wheel-drive grip and the option of the brand's Terrain Response system will only increase the Evoque's off-road capabilities further. When on the tarmac, the Evoque can manage up to 38 miles on electric power alone, while ultra-fast 50kW charging means the battery can be topped-up from 0-80% in just 30 minutes.
The Mercedes E-Class has long been one of the default options for any discerning executive thanks to its sumptuous ride and luxurious interior. The latest model is perhaps one of the most well-rounded yet with its standard MBUX infotainment system and surprisingly sharp handling. All models come lavishly equipped and the rear seats are spacious enough for chauffeuring business people and family members alike.
Mercedes offers the E-Class in both petrol and diesel plug-in hybrid form for those who want low running costs but aren't ready to step over to the fully-electric EQE saloon. Both options offer around 30 miles of pure-electric range and boast higher fuel economy than their standard combustion-engined counterparts. Low Benefit-in-Kind ratings should definitely make the PHEV E-Class a hit with company car drivers, with the diesel E 300 de best suited to those who cover higher mileage.
The current generation of the Hyundai Tucson is a previous winner of our Car of the Year Award, and the plug-in hybrid version is definitely worth your consideration. It uses a 1.6-litre petrol engine combined with a powerful electric motor for a total output of 261bhp – more than enough for an SUV of its size. What's more, the Tucson even feels fairly good to drive with nimble handling and good body control despite the weight of its hybrid setup.
We like the Tucson's interior, which stands out with its sweeping, vertical dashboard which cocoons the driver and passenger, and feels rather Germanic in terms of quality and design – sturdy and well-built. The plug-in version is available in N-Line trim or above, so it gets a generous amount of equipment as standard, including a 10.25-inch digital gauge cluster and 10.25-inch infotainment screen with sat nav, wireless device charging, lane keep assist tech, front and rear parking sensors and a rear view camera among a long list of other features.
Citroen's premium DS spin-off brand is still not quite a household name in the UK, but the plug-in hybrid version of the DS 4, badged E-Tense, represents the pinnacle of what this hatchback can offer. Although it's based on the same platform as the Citroen C5 X, Vauxhall Astra and Peugeot 308, the DS 4 is a more left-field choice if you're after something a little more unique and with a premium feel. The plug-in gets an official range of 34 miles to a charge, and a combined power output of 222bhp.
The interior is minimalistic, but high quality materials make it a worthy rival to that of a Mercedes or Audi. All cars get LED headlights, keyless start, a seven-inch digital gauge cluster and a bright and responsive 10-inch touchscreen that comes with Android Auto and Apple CarPlay compatibility. The luxury intensifies on higher spec models, with features like 'watchstrap' leather upholstery, a premium Focal sound system, heated and ventilated front seats, adaptive cruise control and even semi-autonomous driving tech.
Top 10 best plug-in hybrids 2023
Want to go as far as possible on electric power alone? Check out our list of the Top 10 longest-range electric cars