Top 10 best motorway cars 2023
Need a car that can tackle serious motorway miles with ease? Look no further than our list of the best cars for long-distance driving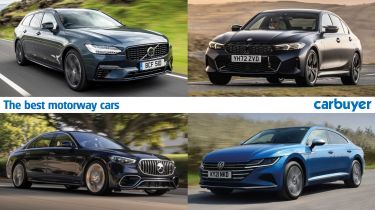 Even though the 70mph national speed limit has been in force on UK roads since the late 1960s, not all modern cars feel as comfortable, quiet or safe at that speed as you might hope. For that reason, some of our choices listed below are not what you might expect – in fact, some aren't class leaders in other areas, but come into their own when settled into a motorway cruise.
We've selected several different types of cars that are at their best cruising along the UK motorway, so whether you want a hatchback, an SUV, or an executive saloon you should find something that fits your needs. You'll also find plenty of choices of powertrains from petrol and diesel, to hybrid and electric. Previously long distances in an electric car may have been a challenge, but with motorway electric car chargers dotted around the country, they can be just as pleasurable to drive long distances in.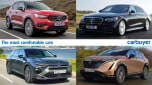 Top 9 most comfortable cars 2023
We've tried to take a rough cross-section of the market, selecting cars whose motorway finesse is better than others in their respective classes. That's why you'll find city cars and hatchbacks in a list that you might have expected to be full of large, luxurious premium cars (which inevitably make an appearance, too).
Whatever your budget, if you mostly cover motorway miles there's no shortage of choice. Here are our picks for the best motorway cars on the market today.
Motorway miles get expensive if you don't have an efficient car, so why not take a look at our guides to the best diesel cars and best hybrid cars too?
While the Mercedes E-Class is not as great an all-rounder as its BMW 5 Series rival, it does beat it hands down for comfort and it's a hugely capable executive saloon. When specified in entry-level E 220 d guise, the E-Class returns up to 57.7mpg thanks to a great 2.0-litre four-cylinder diesel. Performance is decent, too, with 0-62mph completed in 7.4 seconds. The E 300 de plug-in hybrid is also worth a look because it's one of the few PHEVs to use a diesel engine; the result is a handy official electric-only range of up to 32 miles and decent fuel economy when the battery has run out. It gets an official fuel economy figure of up to 217.3mpg and will get up to motorway speeds quickly thanks to a 0-62mph time of under six seconds.
As you'd expect from a Mercedes, the E-Class is built with a focus on comfort; its suspension is particularly pliant, its automatic gearbox unobtrusive and its interior very comfortable, even in the lower-priced models. It's not quite as involved to drive as its BMW rival, but motorway driving is something of an E-Class speciality.
It may not be the most exciting choice but there really are very few better cars for regular motorway trips than the Skoda Octavia. Nowadays, the interior quality is pretty much on par with the Volkswagen Golf on which it's based, and the Octavia offers so much more space too. The Octavia is one of the most economical cars for motorway driving on our list, thanks to its frugal diesel and plug-in hybrid options.
Partnership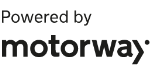 Need to sell your car?
Find your best offer from over 5,000+ dealers. It's that easy.
Our recommendation is the SE L spec, which includes heated suede seats (with support in all the right places), sat nav, blind-spot monitoring and adaptive cruise control - in other words, exactly the right bits of equipment to make long journeys effortless. VW's Travel Assist function, which adds even more helpful features, costs a mere £260.
The latest Mercedes S-Class boasts leading-edge technology and one of the most refined cabins of any car on sale, making it one of the world's best motorway cruisers. The plug-in hybrid option can achieve up to 68 miles on a charge, so it can even cruise silently outside the city and low emissions zones. Every model gets air suspension and lots of sound deadening, so it's always quiet and comfortable inside, and before too long it'll be able to drive itself for periods of time (where allowed) thanks to advanced self-driving features.
The S-Class is an expensive car even in its entry trim, but impressively for such a large car, the entry-level diesel gets an official fuel economy figure of up to just shy of 46mpg. It's best enjoyed from the back, where the experience is most civilised and luxurious. Rear-seat occupants can entertain themselves for those miles with a screen each, while the back seats can also be set up like a mobile office if you need it.
You might think that electric cars have no place on a list of the best motorway cars but the latest ones are more than capable of sitting in the fast lane for relatively long distances. One of the most impressive is the Tesla Model 3; it's Tesla's cheapest model but offers up to 374 miles of range and acceleration to shame most sports cars. The minimalist interior is airy and tech-filled, so there's plenty of gadgetry to entertain on a long motorway trip.
When you need to recharge, you'll find fantastic Tesla Superchargers at most motorway service stations. Access to them is no longer free for Tesla owners but you won't feel hard done by - we rated them as the best chargepoints for electric cars. Tesla says you can add up to 172 miles of range in just 15 minutes and with a Tesla app subscription service you'll also get a discount on rates.
Handsome, fast, economical and spacious – the Arteon seemingly has it all. Volkswagen's rival to the BMW 4 Series Gran Coupe, Audi A5 Sportback and Mercedes CLS is just as pleasant and cosseting to travel in as its premium rivals, if perhaps not quite as luxuriously appointed.
Motorway cruising is an Arteon speciality – it rides very smoothly and all engines offer a good balance between performance and economy, while remaining hushed under most circumstances. And unlike some cars of this type, the Arteon doesn't suffer if you go for the larger, more attractive alloy wheels – its suspension is tuned for comfort regardless of wheel size. For frequent motorway miles, we'd recommend the 2.0-litre diesel TDI model capable of up to 58.9mpg, or the 1.4-litre TDI eHybrid plug-in hybrid model for its 37-mile electric-only range and surprisingly good capability as a motorway cruiser.
A long-standing Carbuyer favourite, the Superb is seemingly the car that can do no wrong. It's hugely practical, very well built, powered by a range of eager, economical engines, good to drive and one of the best-value cars on sale. It will come as no surprise, then, to learn that the Superb is a fantastic motorway cruiser, too.
Chosen with one of its diesel engines – preferably a 2.0-litre TDI – the large Skoda sips fuel with an official fuel economy figure of just under 58mpg, and offers sublime levels of comfort and quietness, with enough power in reserve to make overtaking a breeze. If you're on the hunt for the ultimate do-it-all family car, the Superb is the obvious choice – especially if you have big distances to cover.
BMW puts an emphasis on making cars that are good to drive – the outgoing 5 Series was a great motorway cruiser in diesel guise, but with its replacement yet to arrive, the 3 Series is the next best option. It's firm, yet comfortable, and specced with the 320d's 187bhp mild-hybrid assisted engine, it's a great motorway car, returning an official fuel economy figure of 58.9mpg.
Being a BMW, you can expect the interior to have a premium quality feel about it, and the 3 Series' cabin is particularly beautifully designed – in fact, you get the impression of a scaled-down 5 Series here, too. The Infotainment system is impressive thanks to a crisp 14.9-inch central screen which blends seamlessly into the 12.3-inch digital gauge cluster. The rear seats are particularly roomy, with back-seat passengers getting more space than in a Jaguar XE, so you can rest assured your occupants will be comfortable on a long motorway slog.
The Hyundai Ioniq 6 is a direct rival to the Tesla Model 3 with a sleek, aerodynamic shape that not only makes it look striking, but also means it's a very efficient electric saloon car that can travel up to 338 miles between charges. It loses out to the Tesla Model 3, because it's still at the mercy of the UK's charging network and doesn't get access to Tesla's Supercharger stations, so you'll have to plan your charging stops more diligently before setting off.
The Ioniq 6 is also spacious enough, thanks to plentiful legroom for the front and rear seats for most passengers. It's an enjoyable car to drive on a motorway given that it's so effortless, and yet once you do reach the B-roads closer to home, it's rather satisfying, weaving through bends in a secure and planted manner.
The Citroen C5 X impressed us with its comfortable ride and large boot, making it easy to drive on a long journey, and capable of taking lots of luggage as well. There are three engine options for car buyers to choose from, although the entry-level 1.2-litre petrol is best avoided for high-mileage drivers as it can feel strained at higher speeds. The 1.6-litre petrol is more powerful, although the plug-in hybrid is our recommendation for effortless acceleration, and because it has 38 miles of electric range when charged.
The C5 X isn't as exciting around corners as some rivals, although this will be less important to those covering most of their miles on motorways. Prices start lower than most of the cars on our list, however, this is for the entry 1.2-litre petrol model and prices rise quickly as you move up the range.
Volvo has always had a reputation for producing comfortable cars, and the V90 is no different, with an exceptionally comfortable interior making it an excellent car to drive on motorways. The all-around ability of the Volvo also means that whether you are travelling alone or need to fill the car with people and luggage, the estate boot and powerful engines should shrug it off.
The Volvo V90 estate is one of the largest cars on this list, with acres of space in its light, airy, minimalist interior, smooth diesel and hybrid powertrains and adjustable driving modes to tailor the car's character and ride to even the worst British roads. If you want to get out of your car after a long motorway slog feeling relaxed and unruffled, few cars quite match the V90.
For more, check out our top 10 best large executive saloons
Top 10 best motorway cars