Fast charging or rapid charging? Your guide to electric car charger types
Not all car chargers are created equal. Here is our guide to different electric car charger types and speeds in the UK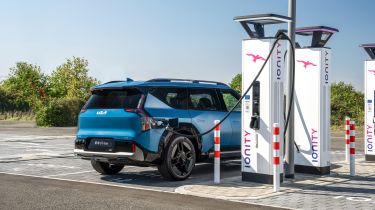 Drivers have been refuelling their cars using petrol and diesel pumps for decades, but with the electric vehicle revolution in full swing, we'll have to get used to charging our cars instead of filling them up. The UK's charging networks are quickly expanding and there are multiple types of chargers to get your head around, offering different speeds and plug types.
Car chargers come in a variety of speeds: slow, fast and rapid. Things get a little more complicated when you take into account the different plug types and charging formats, so we're here to help with our guide to electric car charger types. First, let's cover some basic terminology that will help you understand the differences between charger types.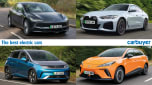 Top 10 best electric cars 2023
Important terminology
1. Charger – The charger is the box that provides the power to charge your electric car's battery. The charging cable will be attached to this box and public chargers often have a screen where you find charging information. Chargers come in different shapes and sizes, some look like traditional petrol pumps, some look like bollards whereas home chargers are usually wall mounted. 
The petrol car equivalent of a charger would be the petrol pump.
2. Connector – The connector is the part at the end of the charging cable that you insert into your car. There are multiple types of connector, and not all will fit your car, so read on below to find out the differences.
The petrol equivalent of a connector would be the fuel pump nozzle.
3. Kilowatt (kW) – Kilowatts, usually written as kW, are used to measure the electrical power of a charger. When we talk about electrical power, we are referring to how quickly the charger can transfer energy into the battery. Essentially, the higher kW value, the faster the charger can charge your car's battery
There is no direct petrol equivalent for kW, but think of it as how powerful the petrol pump is. The more powerful the pump, the quicker it can fill your fuel tank.
4. Kilowatt hour (kWh) - It's important not to confuse kilowatts and kilowatt hours. Kilowatt hours are used as a measurement of battery capacity and charge so your electric car might have a 60kWh battery with 40kWh of charge remaining.
You could say that the petrol car equivalent of a kilowatt hour is the fuel tank capacity and the fuel remaining in the tank. 
Fast charging vs rapid charging – what are the differences?
As the development of electric vehicles has rapidly progressed, so has the technology powering the chargers. What were once seen as cutting edge charging speeds five years ago, have since been surpassed by newer and even faster standards. The three main charging speeds you may hear about are:
Slow charging (up to 6kW)
Fast charging (7-22kW)
Rapid and ultra-rapid charging (43kW+)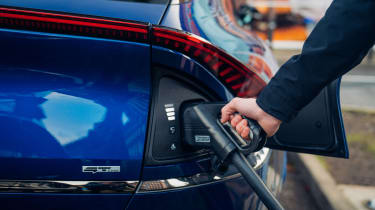 It is worth remembering that the time it takes to charge your electric car doesn't solely depend on the speed of the charger – you must also consider the size of your electric car's battery. If you want to calculate an estimate for charging time, use the following formula:
Partnership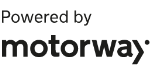 Need to sell your car?
Find your best offer from over 5,000+ dealers. It's that easy.
Time to fully charge from empty (hours) = Battery size (kWh) Charger power (kW)
Charging time is also affected by other external factors, such as temperature, but the formula above should provide a close enough approximation.
Slow charging
There is no set-in-stone definition for slow charging, however, the term is generally used when referring to charging via a three-pin plug or a low-power (3-6kW) AC connector.
Many electric vehicles are available with a charging cable that has a three-pin plug on the end, so that your car can be plugged into a normal domestic socket in your house or garage. Manufacturers tend not to recommend this as a way to charge your car because it's so slow; it can take around 15 to 17 hours to fully charge the average electric car, depending on the size of the battery – possibly more if you have a longer-range electric vehicle.
The first public chargers that appeared in the UK were rated at 3.6kW and would take around eleven hours to fully charge the average electric car. Today, these have almost entirely been replaced by newer fast and rapid chargers. 
Fast charging
A fast charger generally offers charging speeds of between 7kW and 22kW, making it possible to fully charge most cars overnight. New home chargers typically deliver around 7kW.
Batteries in electric cars require DC (direct current) electricity to charge. Both slow chargers and fast chargers typically draw AC (alternating current) from their source, so electric cars must first switch this into DC with a converter that's built into the car's charging system.
For an electric car with a 70kWh battery, a 7kW home charger would fully recharge the battery in around ten hours. This is a potential improvement of eight hours compared to a 3-pin plug charger.
Rapid charging
Rapid chargers are able to charge electric cars much faster and come in two main types.
Rapid AC chargers – these provide the same AC current as slow and fast chargers but with far more power, at around 43kW. These types of chargers are commonly found at shopping centres and in town centres, where owners typically spend a few hours. It's worth noting, however, that only a handful of EVs are capable of accepting such speeds via AC.
Rapid DC chargers – The other way to achieve higher charging speeds is to deliver DC straight from the charger. These operate at speeds from 50kW up to 350kW at cutting-edge locations, slashing charge times to around 30 minutes, depending on the car. A charger that delivers over 100kW is often referred to as an 'ultra-rapid' charger – these will always be DC.
Rapid and ultra-rapid chargers are usually located near motorways or main roads, where EV motorists need the fastest possible charge to continue on their journey. Home chargers that deliver rapid and ultra-rapid speeds don't exist yet, so if you want the fastest charge time, you'll have to visit a dedicated public charging station.
Polestar, in conjunction with battery developer StoreDot, are currently developing a new technology that should allow for charging speeds even greater than those seen with a typical rapid charger. Dubbed 'extreme fast charging' (XFC), it should have the ability to provide 100 miles of range with just a five minute charge. Polestar hope to have a prototype up and running in 2024, so there's hope that XFC could surpass rapid charging in the not too distant future.
Can any car use a fast or rapid charger?
Unfortunately, no. While chargers are getting more powerful, the exact charging speed you'll get will come down to the particular electric car you own. The primary factor is a car's charging capacity and the second is the type of connector it uses. Most AC and DC fast and rapid chargers use the 'Type 2' connector (more on connector types below) and every electric car will have an upper limit for its charging speed in order to protect its battery. 
The standard Renault ZOE, for example, has a maximum charging capacity of 22kW (AC); plug it into a charger more powerful than this and charging will be automatically restricted to 22kW. It's worth noting that you can add rapid charging as an option on the ZOE, for speeds of up to 50kW.
Charging connector types
Not all electric cars and chargers are compatible. There are a few different connector types detailed below. Some are more common than others and some, typically found in older models, are now being phased out.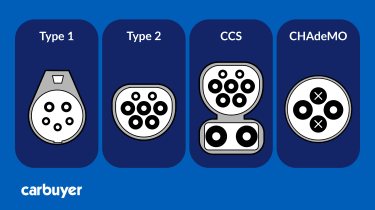 Type 1
Type 1 chargers have a maximum output of 7.4kW and are mostly found on cars from Asia. For example, the first generation Nissan LEAF used the Type 1 connector, while the second generation model uses Type 2. Today, manufacturers have switched to the Type 2 connectors because of their higher charging speeds and better connectivity so you can no longer buy a brand new car with Type 1 compatibility.
Type 2
In 2014, the European Commission made it compulsory for charging stations across the continent to offer compatibility with the Type 2 charger, making it the most common connector. These chargers are capable of speeds between 7kW to 43kW, depending on the vehicle, and most EVs now come with this port. Type 2 is what you'll use for fast charging.
CCS
The CCS port (Combined Charging System) is a rapid and ultra-rapid DC charging connector favoured by European car manufacturers. At the time of writing, this connector type is capable of charging speeds up to 350kW and is only available at public charging stations. You don't need to buy a CCS charger cable, as these are supplied attached to ultra-rapid public chargers – you simply drive up, pay or enter your subscription details, and plug in.
Your car must have a CCS socket in order to use one of these chargers. It has nine pins in two sections; with the upper seven-pin section also compatible with a Type 2 cable for slower charging using a home wallbox or AC charger. The larger, lower pins enable the DC connection for faster charging speeds. 
CHAdeMO
The CHAdeMO is the Japanese counterpart to the CCS, established by manufacturers including Toyota, Nissan and Mitsubishi. It's used for rapid charging and cars require a specific socket for use with CHAdeMO public chargers. These chargers are capable of speeds up to 50kW; all charging stations with CCS charging also have CHAdeMO compatibility. Although it was popular at first, Japanese manufacturers now appear to be switching to the more common CCS connector, with Nissan's new Ariya SUV adopting this technology.
Commando
This type was featured on older, low-selling electric vehicles. You can find this type at some charging stations but it's very uncommon.
Fastest charging electric cars
Many electric cars are now compatible with ultra-rapid charging, but some are faster than others. The fastest charging electric cars include premium models such as the Porsche Taycan, Mercedes EQS and Audi e-tron GT. The Mercedes EQS, for example, can be charged from 10-80% in around half an hour if you can find a charger capable of 200kW charging speeds. This also gives an impressive range of around 450 miles in the EQS 450+ model.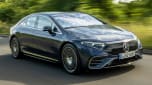 Mercedes EQS hatchback review
The Hyundai Ioniq 5 and its sister car, the Kia EV6, are some of the first mainstream electric cars to offer similar levels of fast-charging tech. If you can find a compatible ultra-rapid charger, both the Ioniq 5 and EV6 can be charged from 10-80% in just 18 minutes - higher spec models of the Ioniq 5 charge at a speed of 220kW, but EV6 models are capable of 233kW charging speeds. You'll get a range of up to 315 miles in the rear wheel drive version of the Ioniq with a large battery, and up to 328 miles in the Kia EV6.
Despite slower charging speeds, electric cars such as the Fiat 500 with smaller batteries can be charged fairly quickly (around 30 to 35 minutes via 85kW rapid charging), but expect modest range figures of 118 miles and 199 miles in the 24kWh battery and 42kWh battery models respectively.
Want to know more about the EV charging network? Read our in-depth guide to electric car charging stations...
Engine management light: top 5 causes of amber engine warning light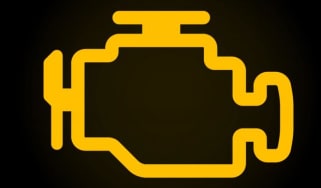 Engine management light: top 5 causes of amber engine warning light
Best new car deals 2023: this week's top car offers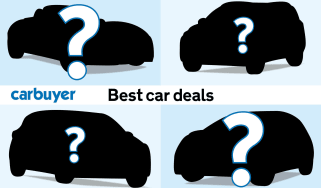 Best new car deals 2023: this week's top car offers
Top 10 best cars under £200 per month 2023/2024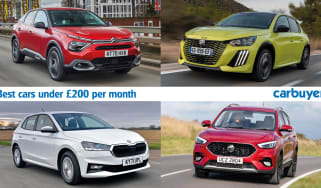 Top 10 best cars under £200 per month 2023/2024