Audi e-tron GT saloon review
"A stunning design and 300-mile range make the Audi e-tron GT a threat to Tesla's EV dominance"
Pros
Stunning design
Good to drive
Fast charging
Cons
Tesla Models S has more range
Limited practicality
Lack of one-pedal driving
Like it or not, electric cars are the future. That means that in a few years time, whether you want a small car or an SUV, it's increasingly likely it'll be electric. If an electric car suits you, and you've got the deepest of deep pockets, is the Audi e-tron GT the best one you can buy?
This is the German marque's entry into the world of fast, futuristic electric saloons, and its long-awaited answer to the Tesla Model S. An important model then, and one with a design that's likely to influence other models wearing the four-ringed badge for years to come. Not only that but it's also better to drive than many of Audi's other performance cars.
As it's based on the same underpinnings and technology as the Porsche Taycan, the e-tron GT was off to a great start. Like the Taycan, its sensational looks are also likely to win as much favour as its eco credentials. All the familiar Audi styling elements are present and correct but the bodywork has been stretched to give the GT a wide and low stance, swollen wheel arches and a coupe-like roofline. It looks fast even parked at a charging station.
Under the sharp bodywork, the e-tron GT quattro is fitted with a 93kWh battery that gives it an official range of 296-298 miles, depending on the exact spec. That's not quite on par with the Model S but using the right rapid-charger, the Audi can be topped back up to 80% in just 23 minutes, making long trips eminently possible. Front and rear electric motors provide four-wheel drive and 469bhp, with 523bhp available during brief periods of 'overboost'.
The RS e-tron GT is even faster, with 590bhp or 637bhp on overboost. Yet in its Dynamic driving mode, the electric Audi is refined and rides well, with surprisingly tactile steering. Acceleration comes in a long surge that's sure to leave many drivers and passengers gasping for breath.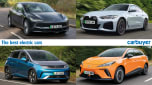 Top 10 best electric cars 2023
The interior is first-rate Audi fare, even if it can't quite match the drama when you're standing outside the car. It all looks rather conservative inside but with pin-sharp design and plenty of high-tech features, it'll tick a lot of boxes for executive buyers after a dose of style and sophistication. There have also been some changes you can't see, such as recycled plastic floor mats and the option of a fully vegan interior, giving the e-tron GT a more complete approach to sustainability than just zero tailpipe emissions.
The car's length doesn't translate to a hugely spacious cabin, however. The tapering roofline means passenger space is restricted and, while fine for kids, getting child seats in and out can prove challenging. The boot, while pretty big on paper, it's hampered by the tight opening. At least there's a further 80-odd litres in the nose, providing space for the charge cables.
Costing more than £80,000, the Audi e-tron GT might represent the future for high-end executive saloons but most of us won't be able to afford one. Of course, if Audi can transplant the same style and refinement into a more affordable package, then there's greater reason to get excited. But for now the car will remain something for the majority to admire, rather than own.