Best 4x4s and SUVs
The best 4x4s and SUVs can cope with any conditions, have loads of space, look sporty and stylish and make great family cars.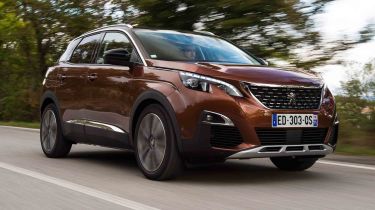 SUVs continue to attract British car buyers in big numbers and this trend shows no sign of stopping. These high-riding 4x4 vehicles are changing motorist's buying habits to make the switch from family hatchbacks, saloons, estates and MPVs in big numbers. It all means that there are many people out there wondering which SUV is the best to buy and on this page we have the answer.
To meet the needs of a family, an SUV has to be both safe and comfortable while offering great interior space and practicality. Other advantages include a high commanding driving position and, of course, that the car looks good parked on your driveway. The best of the current crop of SUVs on the market offer surprisingly good fuel-efficiency, too, with some having seven seats and all having good-sized boots.
Many SUVs are as equally talented at light off-roading as they are on the road. Although many were designed primarily for use on tarmac, with buyers choosing them for their desirability rather than all-round ability. It's important for buyers to know which is which.
To appeal to a wider audience, many SUVs are offered with two-wheel-drive, reducing fuel consumption and emissions, making them substantially cheaper to run and buy than 4x4 cars.
There has never been a better or wider choice of SUVs for UK motorists than there is today. With so many models available we've also produced complete guides for the best small SUV, and medium SUV models to help you find the car that's best for you.
These are the top 10 best SUVs you can buy today.
With a stylish design and commanding road presence, the Peugeot 3008 is a visually arresting SUV from the French car maker. Its high-quality build is enough to impress, while efficient petrol and diesel engines bring low running costs and make the 3008 one of the best SUVs you can buy. It has a futuristic interior with loads of standard kit, and a bigger boot than the rival Nissan Qashqai.
Although there's no four-wheel-drive option, all-weather tyres and clever traction control provide grip when the going gets tough, so the 3008 is an easy car to drive, while safe and spacious enough for the whole family. The 3008 is bound to win motorists over with its all-round appeal. It's a genuinely classy contender and safe, too, earning a five-star Euro NCAP crash-test rating.
The Skoda Kodiaq's arrival saw Skoda climb into the SUV ring for the first time in 2016. These days it sits in the range above the smaller Skoda Karoq and is a real grown-up SUV with a mature, no-nonsense exterior design. This impression continues inside, where there's a smartly designed interior trimmed in high-quality materials. With a seven-seat option on SE spec and above, the Kodiaq is a great car in which to be a passenger.
The driver doesn't lose out, either – it's enjoyable to drive, with plenty of power from petrol and diesel engines shared with other Skoda, SEAT and VW cars that should prove reliable. There's an impressive resistance to body lean so twisting roads won't make your passengers feel queasy. In five-seat mode, the Kodiaq will take 620 litres of luggage, while four-wheel-drive versions mean it can accommodate even the most active of family lifestyles.
The Kia e-Niro has proven to be one of the most significant additions to the SUV market ever, as one of the first affordable mass-produced pure-electric models to hit the streets. Its range of 282 miles on a single charge is more than a match for its petrol and diesel powered rivals and puts premium electric offerings like the Audi e-tron and Jaguar I-Pace firmly in the shade.
There is little about the e-Niro's design to mark it out as an EV, with a drag-reducing blanked off radiator grille, unique alloys and blue bodywork accents being the only hints of its electric powertrain. Inside, the interior is simply laid out, with the only differences from the conventional Niro model being the addition of new dials and a rotary gear selector. It's also spacious inside with a 451-litre boot making it one of the most complete electric family cars you can buy.
The original Land Rover Discovery is credited with founding the entire SUV genre, so it's fitting that the latest iteration is one of the most talented cars of its kind you can buy today. The Discovery is spacious, practical and more luxurious than ever, but it doesn't skimp on true off-road functionality.
Thanks to its sophisticated Terrain Response system, the car can be set up to deal with dirt, sand and snow with just the turn of a dial. Even if you never venture off-road, the Discovery remains hugely practical, comfortable, seven-seat family car that's very good to drive on the road and around town. It's a true do-everything vehicle that is perfectly suited to country and city living alike.
The Skoda Kamiq was always going to have a formidable challenge on its hands to live up to the high bar set by its larger siblings, the Karoq and Kodiaq. The Kamiq is front-wheel drive only and doesn't have the biggest boot in class, but it is spacious and a long list of positives put it ahead of the Renault Captur and Ford Puma, including clever touches like an ice scraper in the fuel filler cap.
There's also plenty of room for front and rear passengers thanks to a tall roofline, and the interior scores high marks for build quality. Three peppy petrol engines are available, and all are capable of around 50mpg. Families should be reassured that the Kamiq is safe as well, as it scored a maximum five-star rating when tested by Euro NCAP.
Reserve your own judgement when you hear some people complain that this isn't a proper Defender. After years of development in everywhere from the Arctic Circle to the Namibian desert (not to mention a brief stint at the Nurburgring race track), the new Defender is one of the most capable cars ever built. It may be based on the Discovery but the Defender has its own distinct character, and it doesn't suffer the ergonomic flaws of its iconic predecessor.
You get plenty of equipment, too; the base model comes with LED headlights, heated seats, a 10-inch infotainment system, air suspension and cruise control - and a retro-inspired set of 18-inch steel wheels. Fuel economy is barely any better than the classic Defender but that should change when the plug-in hybrid model is introduced.
Traditionalists were apprehensive at the thought of the Jaguar F-Pace, the firm's first entry into the luxury SUV market. They needn't have worried, though, as the F-Pace turned out to have such a depth of ability, you'd think the company had been building cars of this type for years. A key component of its success was that Jaguar's sister company Land Rover provided the SUV know-how, while the valuable essence of Jaguar was left undiluted.
The result is that the F-Pace offers a driving experience closer to a sports car than a traditional off-roader. It's also an incredibly handsome car inside and out that's instantly recognisable as a 'Jag'. There are 2.0 and 3.0-litre engines that'll suit most buyers, while the 'SVR' performance model boasts a supercharged V8 petrol engine and Porsche Cayenne Turbo baiting performance. Its SUV credentials are bolstered by loads of space for five adults and a huge boot. This doesn't come cheap of course – all are priced north of £40,000.
The latest Volvo XC90 is part of the brand's attempt to rekindle its reputation for making the safest cars you can buy as part of its stated target to ensure no-one is killed or seriously injured in one of its new cars by 2020. It's certainly on the right path – the car features abundant autonomous technology to set new standards for active safety and driver assistance in a Volvo.
The technology works well, taking responsibility for steering, braking and acceleration in slow-moving traffic, if desired. Although this is quite a technical showcase, it's not as immediately obvious as the huge portrait touchscreen mounted – tablet-style – in the centre of the dashboard. This centrepiece looks fantastic as part of the premium interior. The same is true of the rest of the car, with seating for seven and a large boot with lots of useable space, all wrapped up in understated styling that exudes Scandinavian cool.
As a first attempt at producing an SUV, the SEAT Ateca made a considerable impact for the Spanish car maker. Owing its existence to the Volkswagen Tiguan, with which it shares many parts, we find the Ateca a far more appealing package than the car from the German brand. Buyers can choose between two petrol and two diesel engines, with two or four-wheel drive and manual or automatic gearboxes.
The SEAT also starts at a lower price, although you're better off skipping straight to the Ateca SE, as the entry-level model lacks a few features you might want. As you go up the range, the Ateca's standard equipment is about on par with the Tiguan, but in most respects, the SEAT remains the better value choice.
At first glance, the radical styling of the Toyota C-HR may be off putting for some. But underneath it features Toyota's long-standing hybrid setup comprised of a 1.8-litre petrol engine and an electric motor sending power the front wheels. A more powerful 2.0-litre hybrid engine is also available.
The inside features a similarly radical design to that of the exterior, with an upmarket decor and a strong list of standard kit. It is also practical with plenty of room for both front and rear passengers and a good sized boot with 377 litres of space. The C-HR also has a great driving position, with excellent handling and a good ride making it capable both in town and on longer motorway journeys.
2022 Peugeot 3008 SUV to get coupe styling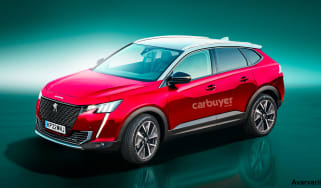 2022 Peugeot 3008 SUV to get coupe styling
Ford Kuga Titanium review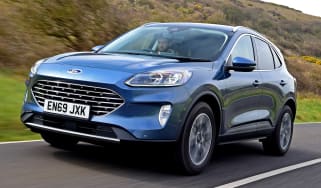 Ford Kuga Titanium review
Updated Peugeot 5008 starts at £29,585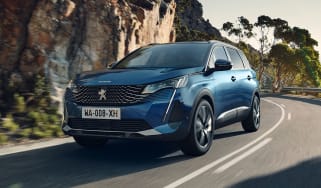 Updated Peugeot 5008 starts at £29,585
Cupra Formentor SUV review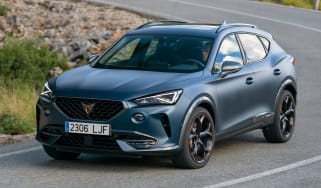 Cupra Formentor SUV review
2020 Volkswagen ID.3 hatchback: base model starts at under £30k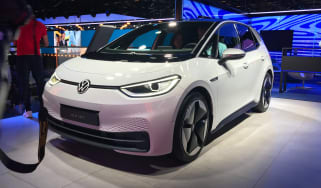 2020 Volkswagen ID.3 hatchback: base model starts at under £30k