Top 10 best 4x4s and SUVs 2023
We pick out the top 10 best 4x4s and SUVs, including our favourite choices for a range of budgets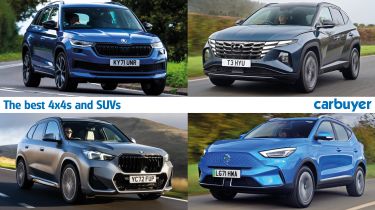 SUVs have grown in popularity in the last decade, and for good reason – SUVs make impressive family cars thanks to their great practicality and comfort. As SUVs become more road-focussed, only some – but not all – are offered with 4x4 capability, as manufacturers tailor their designs for more urban, family use, rather than intrepid off-roading adventures.
For the same reason, many family SUVs are now offered with a range of powertrains, including petrol and diesel engines, as well as hybrid, plug-in hybrid and all-electric propulsion. That said, depending on the model you choose, many are still offered as 4x4 SUVs that are just as capable off the beaten track as they are in the city, making them even more versatile.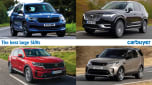 Top 10 best large SUVs 2023
SUVs offer a high driving position and dominating road presence, not to mention higher ground clearance that's useful for tackling the UK's pothole-filled roads. Their more-upright design can also make them easier to get in and out of for those with limited mobility. 
As their popularity has increased, greater competition between manufacturers has also meant SUVs have become more varied than before, and many smaller SUVs, also known as 'crossovers', are so named because they combine a compact hatchback bodystyle with the aforementioned benefits of SUVs at a more affordable price and with low running costs. Popular examples of crossovers include the Ford Puma and Vauxhall Mokka.
There's a huge amount of choice, as nearly all manufacturers have at least one SUV in their ranges. You can also check out our articles covering the best small SUVs and medium SUVs once you've decided on the size of car you want. If you're set on the ultimate offroad capability, check our list of the best 4x4s.
These are the top 10 best SUVs you can buy today.
Awarded the Car of the Year gong at our Carbuyer Best Car Awards 2023, the Kia Niro delivers SUV style and space without the high running costs. Interior technology is impressive, however, the most attractive feature for car buyers will be the choice of powertrains. If you want a low purchase price and competitive running costs then the hybrid model will likely be the one for you. The plug-in hybrid (PHEV) is great for those with a short commute that want to cut down on fuel costs, although the PHEV does lose a bit of boot space because of its larger battery pack. 
Car buyers who are ready to make the switch to electric can opt for the Niro EV, with its impressive driving range of up to 285 miles. It's more expensive to lease or buy than the hybrids, but has significantly lower running costs, especially if you can charge at home on a competitive tariff.
While we liked the original Hyundai Kona a lot, the latest Kona Electric has improved upon the formula even more comprehensively, thanks in big part to its increased practicality. Interior space has been massively improved after criticisms of the old car, and it feels more grown-up than before thanks to high-quality materials and a good mix of technology and intuitive controls.
Partnership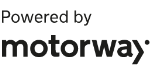 Need to sell your car?
Find your best offer from over 5,000+ dealers. It's that easy.
Although petrol and hybrid versions – which we're yet to try – will be on the way soon, the latest Kona was designed to be electric from the outset, instead of adapting it from a combustion-engined car. Available with either a 48kWh battery with a 154bhp motor or a 65kWh battery with 215bhp motor, both sending power to the front wheels, the Kona Electric feels punchy enough in either guise. Refinement is impressive too – the family SUV is incredibly quiet and wind and tyre noise are only slightly noticeable as you pick up speed. 
The BMW X1 is a truly impressive small SUV front the German manufacturer. It manages to accomplish a feat that many cars often fail at – available as a petrol, diesel, plug-in hybrid or fully-electric iX1 model, it's truly a great all-rounder in any guise. 
BMW's premium credentials mean this will obviously not be one of the cheapest SUVs on our list, but for the price, you'll get a car that's fun to drive and more engaging than most in this class. The steering is direct and nicely weighted when the X1 is in 'Sport' mode and actually feels more like a hatchback to drive than an SUV. The trade-off is a slightly firm ride, but overall it will appeal to driving enthusiasts who need the extra practicality of an SUV. Although the plug-in hybrid and electric iX1 models are much heavier, they still feel good to drive and the benefit of lower running costs means they offer a fair compromise.
The Hyundai Tucson bagged our Best Family Car at the Carbuyer Best Car Awards 2023 thanks to its revolutionary design; it's much more head-turning compared to the seemingly copy-paste designs that litter the SUV market, and it boasts an interior that is comparable in terms of comfort and finish to many premium rivals. All versions of the Tucson come with plenty of standard equipment, such as 17-inch alloy wheels, dual-zone climate control and a reversing camera. Crucially, all cars get a top-of-the-range 10.25-inch infotainment screen and digital instrument cluster as standard.
As with several other recent Hyundai models, such as the i20 hatchback, the Tucson is good to drive. Its steering is direct and engaging for agile handling, the suspension remains supple on longer journeys - unlike the Kia Sportage, with which it shares many of its parts. Hyundai offers the Tucson with petrol, self-charging hybrid and plug-in hybrid powertrains; the self-charging hybrid is our pick, as it returns around 50mpg and costs significantly less than the PHEV.
The Skoda Kodiaq's arrival saw Skoda climb into the SUV ring for the first time in 2016. These days it sits in the range above the smaller Skoda Karoq, and it's a grown-up SUV with a mature, no-nonsense exterior design. This impression continues inside, where there's a smartly designed interior trimmed in high-quality materials. With a seven-seat option available on all trim levels, the Kodiaq is a great car in which to be a passenger.
The driver doesn't lose out, either – it's enjoyable to drive, with plenty of power from petrol and diesel engines shared with other Skoda, SEAT and VW cars that should prove reliable. There's an impressive resistance to body lean so twisting roads won't make your passengers feel queasy. In five-seat mode, the Kodiaq will take 620 litres of luggage, while four-wheel-drive versions mean it can accommodate even the most active of family lifestyles.
The MG ZS EV also impressed at our Carbuyer Best Car Awards 2023 and it's easy to see why, thanks to its practicality and competitive pricing. MG has been on a bit of a roll with its EVs recently and the ZS EV is no exception, with a price tag that's closer to a family hatchback and undercuts other electric SUVs by quite a margin.
EV better to drive, although its interior still feels a little cheap and further improvements could still be made to its ride quality, which never really settles. Overall it's a real contender if you have your heart set on an SUV but want to go for something affordable and electric. If you're after something cheap, rugged and with a 4x4 option but not ready to go electric, we'd also recommend the Dacia Duster, which still impresses with its value for money paired with petrol, bi-fuel (petrol and LPG) and diesel powertrains.
Tesla took the market by storm when it became one of the first manufacturers to make electric cars more mainstream. Fast-forward to today and the brand has diversified its lineup with SUV offerings, one of which is the Tesla Model Y with similar underpinnings to the Model 3 saloon, but added practicality. Buyers can opt between a choice of three variants; the standard Model Y, the Long Range and the Performance.
Entry-level examples of the Model Y get an official range figure of up to 283 miles to a charge, with a single-motor rear-wheel drive setup that produces around 295bhp giving a 0-60mph time of 6.6 seconds. The dual-motor Long Range model gets an official range figure of 331 miles and a 345bhp power figure for a 0-60mph time of 4.8 seconds, while the Performance kicks things up a notch – with 455bhp for face-bendingly quick 0-60mph acceleration in 3.5 seconds. This does come at the expense of some range between charges, with an official figure of 319 miles. There aren't many SUVs on the market that can impress with such rapid performance stats, but it's worth bearing in mind that most drivers aren't racing on every errand, so rapid acceleration might be irrelevant to you.
The Jeep Avenger is the brand's first all-electric car, which is quite a departure from its all-American, gas-guzzling image, Developed with European buyers in mind, the Avenger is an impressive electric crossover. The Avenger even offers some off-roading features, helping to reinforce its Jeep identity and differentiate it from other cars built under the same Stellantis umbrella, such as the Peugeot e-2008 and Vauxhall Mokka Electric.
The Jeep Avenger feels more fun to drive than those stablemates, too, with minimum body roll despite it being a boxy crossover. It even comes with three driving modes to add some off-road capability: Mud, Sand and Snow, although the lack of a dual-motor four-wheel drive version seems like a missed opportunity – and could be on the cards later on. Despite launching as an EV-only model, the Jeep Avenger is set to get a petrol-powered 1.2-litre version in 2023 which will make the model even more affordable.
Our top large plug-in, the Lexus NX isn't just an attractive option as a company car, but its spacious interior will appeal to family buyers too. Its 40 miles of plug-in range should be enough for most daily commutes, and the infotainment is a noticeable improvement over previous systems. Although you should be aware that the 14-inch screen is an optional extra – as standard it's a 9.8-inch unit.
Lexus ranked 12th in our UK Driver Power Survey 2022 as a manufacturer, which is impressive, especially as key rivals like BMW and Audi only managed 16th and 22nd respectively. A combined power output of 302bhp and the ability to travel up to speeds of 83mph on electric-only power make the NX 450h+ particularly desirable, although it is quite expensive.
If you like the increased ride height and stylish looks of an SUV but don't want the associated size and cost, then the Renault Captur is the perfect compromise. Based on the Renault Clio supermini, the Captur boasts that car's chic design, superb build quality and Tesla-style portrait infotainment screen, but combines them in a more stylish small SUV package. The Captur's boot measures an already impressive 404 litres, but this can be boosted to 536 litres when you move the standard sliding rear bench forward.
Renault offers the Captur with a variety of frugal powertrains. The entry-level 99bhp 1.0 litre petrol engine manages 0-62mph in around 11 seconds and returns around 47mpg. However, we'd recommend the 135bhp 1.3-litre petrol, as this is quicker yet manages similar fuel economy figures. An even more economical E-Tech plug-in hybrid model is also available, which is a great choice for company car buyers.
If you want an SUV but need something smaller, check out our 10 best small SUVs.
Top 10 best 4x4s and SUVs 2023