Top 10 best hybrid cars 2023
Hybrid technology has become so common that it's made its way into some of the best and most popular models available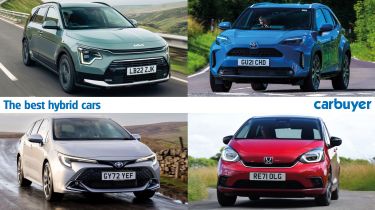 You'll probably associate hybrid cars with the Toyota Prius, because it was one of the very first mainstream hybrids back in the late 1990s – and the subsequent models moved the game on again and again. These days, the Prius has been replaced by other hybrid cars and hybrid SUVs, while other manufacturers have developed their own hybrid powertrain technology in an effort to cut harmful tailpipe emissions.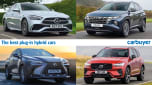 Top 10 best plug-in hybrids 2023
Of course, the term 'hybrid' has been thrown around a lot in the last few years, meaning there are several kinds available to UK buyers. Our list of the best hybrid cars is mainly made up of what are called 'self-charging' hybrids; these utilise small electric motors that step in for short bursts to increase the petrol engine's efficiency and thus, reduce the amount you'll spend on fuel. Thanks to a smaller battery and electric motor than a fully-electric car, self-charging hybrids are usually affordable to buy or lease, too.
Also available are plug-in hybrids (PHEVs), which manage a much greater distance on electric power alone, and their bigger batteries need to be recharged from a socket – however, these are usually a few thousand pounds more expensive to buy than their self-charging cousins. Mild-hybrid engines are also becoming increasingly popular, which are able to recuperate and reuse wasted energy under braking. This isn't usually enough to propel the car on its own, but a small electric motor can take some strain off the combustion engine while you drive.
So which type of hybrid is best? That depends on your driving habits and budget, but all should save you money compared with a petrol or diesel model and tend to be less polluting. Check out our roundups of the best hybrid SUVs, best hybrid estate cars and the best hybrid and electric sports cars, or visit our guide to the best fully-electric cars. If you're after something used, why not read our list of the best second-hand hybrid cars?
For now, read on to see the best self-charging hybrids on sale in the UK…
Like most new cars, the Honda Civic has grown in size slightly for what is now the long-running model's eleventh generation. Apart from the Civic Type R hot hatchback, the new Civic is only available with a frugal self-charging hybrid powertrain. While not the most efficient hybrid powertrain available – Honda claims you'll average around 56mpg – there's plenty of punch from the 2.0-litre petrol engine. Overall, the Civic feels a lot more nimble on a twisty road than the equivalent hybrid SUV. 
Step into the cockpit and you'll soon realise the new Civic feels plusher than even a Volkswagen Golf. The overall design of the Civic's cabin is sleek, simple and classy and everything you touch feels impeccably built. The aforementioned growth spurt means there's more space for passengers in the back, while the Honda's 410-litre boot dwarfs that of its German rival. 
The Kia Niro is available in two hybrid flavours: a self-charging hybrid that can return 60mpg, and a plug-in model with 40 miles of electric-only range. Both versions utilise a fuel-sipping 1.6-litre three-cylinder petrol engine and feel rather nippy around town, thanks to the instant torque from the electric motor. We think the self-charging hybrid offers the best value of the range, but if you'd rather skip a combustion engine altogether, the all-electric Kia Niro EV is also available.
Partnership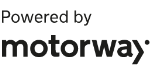 Need to sell your car?
Find your best offer from over 5,000+ dealers. It's that easy.
Thanks to a boxy shape and 450-litre boot, the Niro is a perfect choice for small families. No matter which version of Kia's small SUV you go for, all get a funky exterior design, and a modern, well-built interior. Top models get the South Korean brand's latest infotainment system, as seen in the larger Kia Sportage, which comprises two 10.25-inch screens mounted on a futuristic curved panel. However, even entry-level cars come with plenty of standard kit and a seven-year warranty.
Among an array of similar-looking SUVs and crossovers, the bold styling of the Hyundai Tucson is a breath of fresh air. It also matches rivals for economy with low running costs, too. The self-charging hybrid version utilises a 1.6-litre petrol engine, mated to a small electric motor and battery, to give a combined output of 227bhp. These also give the Tucson the ability to run on electric power alone for short distances, while the electric motor assists the petrol engine to get you moving, meaning it can return fuel economy of around 50mpg. 
The plus points for the Tucson don't end there, either. Inside, it features a plethora of standard kit such as a 10.25-inch touchscreen with Apple CarPlay and Android Auto, dual-zone automatic air conditioning and automatic emergency braking (AEB). Practicality is also excellent, with a 616-litre boot and, like all Hyundais, the Tucson is covered by a comprehensive five-year, unlimited-mileage warranty for peace of mind.
The Renault Clio may not be the first car that jumps to mind when you think 'hybrid', but this French supermini has recently received a new E-Tech hybrid powertrain that makes it one of the most economical small cars you can buy. Top-spec Clio models boast a Tesla-style portrait infotainment screen, and every version benefits from a high quality interior with LED headlights, cruise control and Apple CarPlay and Android Auto functionality as standard.
The facelifted Clio is now only available as a hybrid, and you can brag to your friends that it utilises much of the same technology as a Formula One car. The F1-derived clutchless automatic gearbox allows the Clio to drive in fully-electric mode at speeds of up to 40mph before the combustion engine kicks in. Altogether, it can manage a frugal 64.2mpg.
Dacia has long been famed for offering cars that offer unbeatable value, although these have typically made use of basic combustion engines in order to keep costs down. In 2023, however, the practical, seven-seater Jogger became the first Dacia to get a hybrid powertrain, making the large family car even cheaper to run. While it's the most expensive Jogger to buy, its sub £23,000 price tag (at the time of writing) means it's one of the best-value hybrid cars you can buy.
To get the hybrid version, you'll have to go for at least mid-spec Expression trim, but this is the one we'd go for anyway regardless of the powertrain, because it gets features such as an eight-inch infotainment display with Bluetooth and smartphone mirroring, front and rear parking sensors, automatic air con and keyless entry, meaning it feels a lot more modern than base Essential trim. The hybrid system gets 138bhp, making it even better suited to moving around up to seven occupants than the non-hybrid, and is more economical, getting up to 57.7mpg
Toyota realised that not everyone who wants a hybrid wants a Prius, so it took the now-discontinued Prius' drivetrain and instead put it in a sharply styled family hatchback. This formula has clearly worked as the Corolla is regularly the world's best-selling car. Honda offers the Corolla in both hatchback and Touring Sports estate bodystyles in the UK; we recommend opting for the latter as this is much more practical.
Buyers have a choice of two powertrains: the same 1.8-litre hybrid as the Prius, or a more powerful 2.0-litre variant. Keen drivers might wish that the steering had more feel, but overall the Corolla is comfortable and handles well enough. Inside, the Corolla feels just as upmarket as the Ford Focus, if not quite as posh as the Volkswagen Golf. Regardless, there's plenty of standard kit on offer – entry-level cars come with luxury features like LED headlights and a reversing camera. 
The latest incarnation of the Honda Jazz is only available with a hybrid powertrain that combines a 1.5-litre petrol engine and two electric motors but no gearbox. What's important to know is that it's quiet and relaxed unless you accelerate hard, and that it's very efficient; nearly 63mpg is the result.
The latest Jazz gets a much better touchscreen than before, plus a rugged new Crosstar trim with a bit of SUV-influenced styling. It still has the cinema-style 'Magic Seats' in the back and plenty of room, so you'll find it's more spacious than the Ford Fiesta or Renault Clio. The Jazz still typically appeals to a different buyer than those two cars, but it's certainly worth a look if you want a roomy, cheap-to-run car.
If you're someone that finds taller more attractive, then you'll appreciate the raised driving position of the Toyota Yaris Cross SUV. Essentially a higher-riding, more rugged version of the Yaris supermini, the Yaris Cross offers all of the same benefits as well as the hybrid powertrain of the regular car, but in a much more fashionable SUV package.
Just like its smaller sibling, the Yaris Cross uses a 1.5-litre petrol-hybrid system that produces a nippy 114bhp. The extra power from the electric motor should allow it to zip around town with ease and not struggle too much on the motorway. Yet, despite its SUV-inspired appearance, the Yaris Cross is only front-wheel-drive; this works in its favour, though, as it allows the Yaris to achieve 66.5mpg without breaking a sweat. Pair this with a reasonable starting price of just over £24,000 and the Toyota is one of the best-value hybrid SUVs on sale.
Lexus has been behind the curve in terms of technology for the past few years and at a glance, it looks like Lexus haven't changed much with the supposedly 'all-new' NX. Thankfully, while the changes to the already striking exterior are subtle, the biggest differences come on the inside where the NX boasts Lexus' latest infotainment system. This includes a slick new 14-inch touchscreen with digitised physical climate control dials. The rest of the interior reaffirms Lexus' benchmark for high-quality materials and the spacious 521-litre boot is larger than offerings from BMW and Mercedes.
The NX shares its underpinnings with the less-expensive Toyota RAV4 and is only available as a traditional or plug-in hybrid. The traditional hybrid is the better value of the two, with the plug-in costing over £10,000 more. NX hybrid models use a 2.5-litre petrol engine, mated to two electric motors. The self-charging hybrid powertrain we favour can get the NX from 0-62mph in a brisk 7.7 seconds, and will achieve economy figures of up to 47.9mpg and 133-146g/km of CO2.
Toyota's styling department is on a roll at the moment, with the latest Toyota Yaris sharing only badges with its predecessor. It'll now attract buyers on its looks alone, rather than relying on the hybrid powertrain to steal sales from rivals – there's even a racy-looking GR Sport model for those who like the high-performance GR Yaris' styling, but still want the regular car's hybrid economy and low running costs.
Improvements in battery tech mean the Yaris can drive on electric power alone for up to half the time at low speeds. As a result, Toyota claims up to 60mpg, which should help offset its slightly more expensive price compared to rivals. You won't feel short-changed by the car's refinement or comfort, either, as both are impressive. 
Want to skip hybrid technology altogether and go all-electric? Check out our list of the top 10 best electric cars