Top 10 best city cars 2023
If you're after low-cost motoring, check out our list of the 10 best city cars on sale today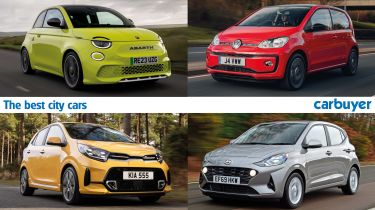 With more and more buyers moving towards larger cars, the city car segment has been shrinking. But the benefits of having a little car that's well suited to urban driving is hard to ignore. Although there are fewer to choose from than before, city cars are definitely worth considering if you frequently do short trips around town; their small, lightweight nature means they're usually cheap on fuel, too.
City cars are also usually some of the cheapest cars to insure because their low-powered engines should keep you out of trouble. That said, they often feel nippy enough at slow speeds, and some are even pretty capable on the motorway. A handful are now available with electric powertrains, which mean they could be even cheaper to run than their petrol counterparts, too.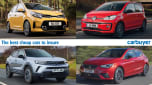 Top 10 best cheap cars to insure 2023
City cars are great for drivers who don't need a lot of interior space and make great first cars for new drivers, as well as for those who are downsizing from larger cars. Not only that, they tend to be cheap to buy, economical and more well-equipped than you might expect. It's not uncommon to find city cars in the current crop that have Bluetooth, sat nav and air-conditioning - some even have features you'd normally associate with much more expensive cars, like cruise control, heated seats and reversing cameras.
There's another great city-car virtue that everybody can enjoy, and that's the way they drive. Ever since the launch of the original Mini in 1959, tiny cars with 'a wheel in each corner' have been dear to the hearts of keen drivers everywhere. With limited power from their small engines, city cars may not be fast, but their light weight and uncomplicated nature can make them a hoot to drive on twisty roads. It seems a shame to keep them cooped up in the city.
The best city cars are well built, well equipped, well priced and a pleasure to drive. And if you feel you need a car with a little more space, you'll find something to suit in our top 10 run-downs of the best superminis, best small SUVs and best family hatchbacks.
Read on for our list of the 10 best city cars.
The third-generation Hyundai i10 is hard to beat, as not only is it an impressive car but it also makes good financial sense. It's cheap to buy, economical (managing around 50mpg), costs very little to insure and is covered by a five-year warranty with unlimited mileage. It's also comfortable and spacious, with five seatbelts; some cars in this class only offer seating for four. The boot is among the best of any city car, and the i10 looks stylish both inside and out. It's even quite good fun to drive.
The i10 has previously been a winner of our car of the year award, and we're even more impressed with the latest generation. Even the entry-level i10 Advance is well appointed, and Premium versions even have a heated steering wheel. Every version includes modern essentials such as remote central locking, all-round electric windows, cruise control and air-conditioning.
The latest Kia Picanto ticks many of the boxes for the would-be city car buyer. It looks good inside and out, there's plenty of scope for customisation and it features plenty of tech - including must-have Android Auto and Apple CarPlay connectivity. The five-door-only Picanto is practical too, with just about enough space for four adults and a decent-sized boot. The basic 66bhp 1.0-litre petrol engine is nippy enough for round-town driving, but if you venture onto motorways frequently it's worth considering the 99bhp version which is a little more relaxed at a cruise.
Partnership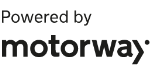 Need to sell your car?
Find your best offer from over 5,000+ dealers. It's that easy.
As multi-talented as the Picanto is, it's Kia's unrivalled warranty that really seals the deal. It'll last for seven years, and if you buy an approved used model that's less than 18 months old, Kia will top up the warranty so it could last until the car is eight and a half years old. In 2023 Kia announced an updated version is just around the corner with revised styling and a digital gauge cluster as standard. You can either hold out until that arrives, or bag a great deal on an outgoing model.
The latest Fiat 500 leans unapologetically into the heritage of the original with its retro look and feel. Like more and more city cars, the new 500 is only available with electric power (although Fiat continues to sell the 'old' mild-hybrid 500 for the time being). Initial models are expensive to buy but cheaper versions are now available, while the 199-mile range shows you can have chic looks and a decent battery.
The interior is still an appealing place to spend time, and Fiat has stuffed it full of brand-new tech, headlined by the UConnect 5 10.25-inch touchscreen infotainment system. Style does come above practicality - the 500 doesn't have much space in the rear seats or the boot - but most buyers won't mind that.
It's getting on a bit now, but the Volkswagen up! came very close to being the perfect city car when it was first released, and still ticks many boxes for buyers. Originally built alongside the now discontinued SEAT Mii and Skoda Citigo, the up! boasts a well-built interior, a premium badge and is surprisingly engaging to drive thanks to its small, but nippy powertrain. Although there used to be an electric version, the up! Is now solely available with a fuel-sipping 64bhp 1.0-litre petrol engine.
Trim levels extend from simply equipped to bells-and-whistles, depending on how much you want to spend; however all models are still a great pick for any city car driver. Particular highlights include a new R-Line model with sporty looks, or the up! Beats, which includes a seven-speaker 300-watt Beats stereo.
There are few cars that are as iconic as the MINI. It's retro-themed design harks back to the original model (despite being owned by BMW), and its rallying credentials are still present today in the form of the MINI's 'go-kart' driving experience. The range kicks off with the 134bhp Cooper model, while the top-of-the range John Cooper Works version produces 228bhp, getting it from 0-62mph in just 6.1 seconds. There is also an electrified version of the iconic hatchback, with the 181bhp MINI Electric capable of a range of up to 142 miles.
On the inside, every version of the MINI boasts a modern interior that pays homage to the original car. It features a range of high quality materials and some top-notch technology shared with various BMW models including an 8.8-inch touchscreen, cruise control, air conditioning and LED headlights. Buyers can also specify a variety of comfort and navigation packages; but be careful, as it's easy to get carried away and configure a MINI costing over £30,000. However, despite the MINI's growth spurt and increased price, the 211 litre boot is smaller than some rivals. There's an all-new MINI hatch – renamed the MINI Cooper – on the way, so there may be good deals on the outgoing model as it's phased out.
The Abarth 500e follows the launch of the electric Fiat 500 (above), and offers a little extra spice to the electric city car's recipe. It's essentially a hot version of the Fiat, boasting a more powerful 152bhp electric motor than the standard car, for a 0-62mph time of seven seconds dead. It's designed with fun in mind, so the 500e also gets a sound generator that mimics the exhaust note of a petrol-engined Abarth for added drama.
With fun being the name of the game, you won't get as much range out of the Abarth 500e's 42kWh battery as you do in the Fiat 500 – the former gets a 164-mile official range figure down from the Fiat's 199 miles.  That said, the Abarth 500e does feel a little more special, with sporty and premium features such as an exterior body kit and Alcantara-upholstered sports seats adorned with the Abarth scorpion logos helping it to stand out. You even get 'Performance Pages' on the 10.25-inch infotainment screen which display video-game-like driving information and cement the car's performance credentials.
Toyota likes to position the new Aygo X as a 'compact crossover for the city'. While it is far from being a true off-roader, it still manages to provide plenty of the aspects that many people love about SUVs such as a taller driving position and tougher looking styling. Despite being the brand's smallest model, the Aygo X gets plenty of standard equipment such as a seven-inch touchscreen with Apple Carplay and Android Auto functionality, air conditioning and a reversing camera. Top-spec cars even get an electronically-folding fabric roof for open-air city driving.
The Aygo X is only offered with one engine: a 1.0-litre petrol with 71bhp. This can manage 60.1mpg, though it quickly feels out of its depth as soon as you head out of town towards a motorway; 0-62mph takes a lethargic 15 seconds. Performance aside, the Aygo X handles well and is easy to manoeuvre through busy streets. Plus, thanks to Toyota's 10-year/100,00-mile 'Relax' warranty, ownership should be a breeze.
You may be surprised to find two SUVs on a 'best city cars' list, but while the Toyota Aygo X is merely a city car with raised suspension, the Suzuki Ignis is more deserving of SUV status thanks to its optional four-wheel-drive. All models are powered by an 89bhp 1.2-litre petrol engine, while top-spec models receive mild-hybrid assistance as well as the aforementioned four-wheel-drive system. Due to its boxy shape, the Ignis can suffer from body lean if you enter a corner too exuberantly, so it's better suited at more relaxed speeds in and around town.
Suzuki is first and foremost a budget brand, and the Ignis is no departure from this. The majority of the interior materials are hard, cheap-feeling plastics, although everything feels well-screwed together and a two-tone dashboard goes a long way towards lightening things up. Smartphone connectivity is offered as standard, and unlike most small cars, the Ignis can comfortably seat four adults thanks to its high roofline.
Another electric city car, the new Honda e combines beautiful retro styling with a dizzyingly hi-tech interior, which sees screens stretch from door-to-door. Even the wing mirrors have been replaced with cameras, while the twin touch screens offer games console compatibility and an 'aquarium' mode. With nippy acceleration and an extremely tight turning circle, the Honda e is fun in and out of the city.
It's a really desirable car but you do pay for that – the Honda recently axed the entry-level model, making it a similar price to some bigger electric cars, and easily one of the costliest cars on this list. The official range is only 137 miles, and the boot is quite small. A full charge from a home wallbox takes just four hours, though, and all cars get lots of equipment including heated seats, a reversing camera and a sunroof.
Here, we thought we'd introduce a wildcard to our list of city cars. While it's technically a quadricycle, the Citroen Ami is one of the cheapest ways to get around on four wheels. It's the smallest 'car' currently on sale in the UK, measuring at 2,410 mm long - which makes it very light, weighing in at only 458kg (less than half the weight of most other city cars). Power comes from an 8bhp electric motor, giving it a top speed of 28mph, making it a perfect car for city commuting. With a fully charged battery, the Ami can manage up to 46 miles of range - enough to make a return trip across London.
Inside, the simple design theme continues. It's surprisingly practical, with a decent amount of storage nets and bins scattered around the cabin. Unlike the similarly small and electric Renault Twizy, the Ami boasts two full-sized doors and can seat two adults. This could well be the future of city transportation and if that is the case, the future looks fun and bright.
Need something with a bit more space? Check out our list of the top 10 best small cars and superminis
Top 10 best city cars 2023