How to charge your electric car without a driveway
A guide to charging your EV if you don't have home charger or live in a flat or house with no driveway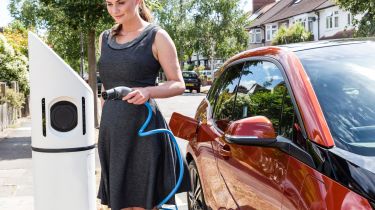 One benefit to having an electric car is that you can charge them from home via a home wallbox charger. You may have seen many EV owners charging their cars on their driveways in front of their house, but it begs the question: how do you charge an electric car without a driveway? 
If you live in a flat or house without a driveway, you might be tempted to trail a cable from your house to reach out to the street outside where you've parked your electric car, but you'll have to check your local council's rules if doing so.
Many owners of electric cars that don't have a driveway have to charge their cars by alternative means, and many local authorities have improved the charging infrastructure by installing chargers on residential streets, which has made them more accessible.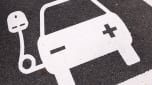 How much does it cost to charge an electric car?
It's also worth considering charging your car up somewhere else where you spend a considerable amount of time, such as at your workplace, the gym car park or at a supermarket while you shop.
The charging network is set to improve in the coming years as the ban on the sale of new petrol and diesel vehicles will be coming into effect by 2030, so work will hopefully be underway to improve the accessibility of public charging stations. Read on for many of the ways you can charge your car if you don't have a driveway.
Charging on the street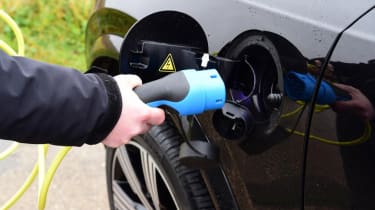 While it might be more difficult to charge an electric car if you don't have a private off-street parking space, it's not technically illegal to run across the pavement from your charger to your car, depending on the local authority.
This charging method is not recommended for a number of reasons. According to most council rules, the charging cable must be removed once the vehicle has fully charged, and it's worth bearing in mind that you could be legally responsible if a passer-by trips and injures themself as a result of your obstruction of the pavement, so it may not be worth taking the risk.
If you do decide to run a charging cable across the pavement, you'll need to ensure the cable is long enough to reach without using an extension. Using an extension lead is a fire hazard. It may also be wise to place a protective anti-trip cover over the cable where it crosses a public right of way.
It's also not recommended to charge your EV through a traditional three-prong socket in your home as charging is extremely slow – some EVs with bigger batteries will take over 24 hours to fully recharge. Many manufacturers see this is a last-resort method.
On-street residential charging scheme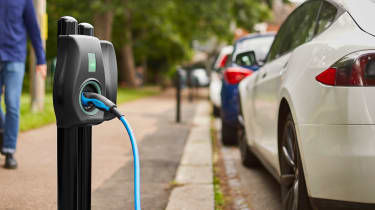 Thankfully, many councils have begun installing more and more charging points around cities to help increase support for electric vehicles. While a typical EV currently takes longer to charge than it takes to refuel a petrol or diesel car, this solution allows EV owners to top up while they're parked and doing a shop, for example.
The on-street residential charging scheme is a government grant that promotes this initiative by enabling councils to install charging points in lamp-posts, kerb-side pillars or even into pavements where they can be retracted away.
Partnership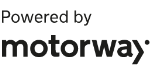 Need to sell your car?
Find your best offer from over 5,000+ dealers. It's that easy.
To use most of these points you will likely need to bring your own cable, and the charging speeds will vary depending on the power available to the area.
Charging at work and other places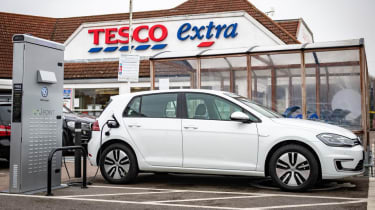 Another government scheme exists to promote the installation of charging facilities at the workplace, called the 'Workplace Charging Scheme', so it's definitely worth asking your employer whether they plan to install any chargers.
Businesses can save up to £350 per socket for a maximum of 40 sockets if they qualify for this grant, making the prospect much more attractive for business-owners. With many workplaces keen to get employees back into the office, the installation of electric car chargers could act as an incentive. With many people spending a substantial amount of time at work it makes good sense to charge your car while you're busy.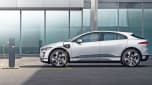 Electric company-car tax explained
Another place many people spend a substantial amount of time is the gym. Many of the UK's gyms now offer charging facilities in their car parks for use while you keep yourself fit, and some may offer this as part of your membership plan, so it's worth checking what's included in yours.
With many supermarkets and shopping centres also installing public charging points to entice shoppers, there are more places to charge your EV than ever before.
The public charging network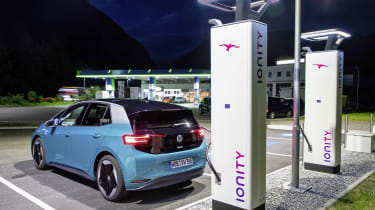 We have, of course, lived through most of motoring history without access to our own personal fuelling station on our driveways, so the public charging network should eventually become as widespread as petrol and diesel stations are now. 
In areas such as London where housing is more dense, drivers are less likely to have access to their own driveways to charge an EV at home. If you are one of these people, the good news is that Greater London has the most public charging points in the UK.
Most public charging stations offer slow, fast and rapid charging, with ultra-rapid charging available in some areas, although the speed at which you can charge also depends on your car. As of the end of July 2023, there are 45,737 electric vehicle charging points across the UK, across 26,805 charging locations – that's a 40% increase in the total number of charging devices since July 2022, with fast chargers making up the majority of these installations and the infrastructure is continually expanding.
The prices to charge your car vary depending on charging speed and where you go to recharge, so it's worth shopping around. Even on public networks, though, it should still cost much less than it does to refuel a petrol or diesel car, especially with the government ever keener to deter people from using these fuels.
For more information about charging speeds and types, read our guide to fast and rapid charging...