Top 8 best hybrid sports and performance cars 2023
Combine performance and fun with the lower running costs of a hybrid – these are our favourite hybrid sports cars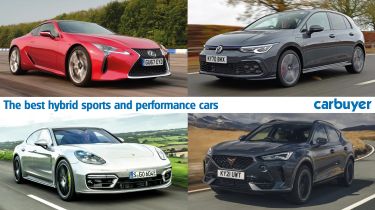 Usually when you think about hybrid or plug-in hybrid cars, it's economy-focused models such as the Toyota Corolla or Kia Niro hybrid. However, with the range of hybrid cars offered becoming much more diverse in the last decade, that mindset is rapidly becoming outdated. Pretty much everything is electrified in some way these days, and there are now many proper sports cars, hot hatches and super saloons with hybrid power.
Advances in technology mean that today's electric motors can be made hugely powerful, so acceleration off the line is often better than with just a petrol engine that needs revs to get going. The heavy batteries mean hybrid cars sometimes aren't as nimble as petrol models, but they have incredible performance to make up for it, and the efficiency to make them more liveable day to day.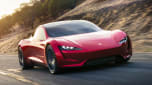 The world's fastest electric cars
Some cars combine both old and new tech - like the recently-discontinued Honda NSX, which has a petrol V6 engine mated to a set of electric motors. Adding these motors means cars like these offer four-wheel drive without needing extra mechanical parts, improving traction and composure especially in the wet.
Plug-in models in particular can be driven on electric power alone for short distances, saving lots of fuel in the process. Of course, hybrid sports cars have lower running costs despite their incredible performance, and lower emissions mean some of the cars on our list could be cheap to own as a company car.
If you like the idea of fast performance, and of sports cars that don't produce any tailpipe emissions at all, then there are also plenty of electric sports cars on the market to fit that brief, too.
Our list of the top 8 best hybrid sports and performance cars includes a variety of performance coupes, saloons and hot hatchbacks that will appeal to keen motorists after a rewarding drive and subdued, economical transport when the moment calls. 
If it's just lower running costs you're after, check out our lists of the best electric cars, the best hybrid cars, and the best hybrid SUVs.
1. Skoda Octavia vRS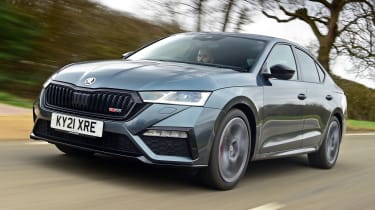 The latest Skoda Octavia vRS gained a plug-in hybrid engine for the first time when it launched a few years back, allowing hot hatch fans to drive up to 39 miles on zero-emission electric power. On paper, it's the best of both worlds, because you can drive silently through town and then have the power available to make the most of a quiet back road. It's not actually available to order right now, but we expect it to be reintroduced soon, and besides, there are plenty of great second-hand examples if you're prepared to buy used.
The vRS iV is a little heavier than the petrol and diesel versions, but is still fun to drive. Acceleration is nippy at seven seconds, while the Octavia also impresses with its enormous boot and spacious cabin. The 242bhp plug-in hybrid engine is also fitted in the Cupra Leon and Volkswagen Golf GTE, plus other VW Group cars like the Cupra Formentor SUV.
2. BMW 330e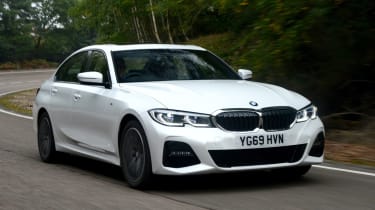 The BMW 330e is the plug-in hybrid version of the BMW 3 Series and can be bought in saloon or estate guise. It uses a 2.0-litre turbocharged petrol engine paired with an electric motor for a total output of 249bhp most of the time, plus an electric range of up to 38 miles on a charge. This power can then be ramped up to 289bhp at the touch of a button in Sport mode, unleashing the 330e's full potential.
Partnership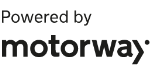 Need to sell your car?
Find your best offer from over 5,000+ dealers. It's that easy.
Thanks to its electric motors, the 330e's throttle response feels instantaneous. Luckily, BMW has done a good job of making the plug-in 3 Series feel almost as good to drive as its petrol or diesel counterparts – despite the extra 200kg in weight, there's almost no body lean in the corners, and steering is sharp and accurate. It's offered in rear-wheel drive as standard, but can be specced with BMW's xDrive four-wheel drive for an extra £1,550, reducing its 0-62mph time from six to 5.8 seconds.
3. Lexus LC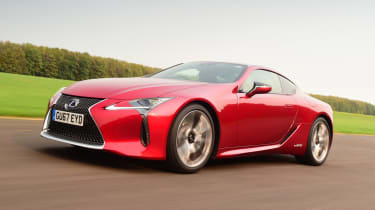 The Lexus LC is a stunning coupe that's designed to cross continents with speed and style. In this respect, it rivals revered models like the Mercedes SL, Porsche 911 and Aston Martin DB11, but it's also quite different for two striking reasons. Firstly, while the models mentioned above have styling influenced by heritage and past models, Lexus is a younger brand and the LC looks like a concept car you can buy.
Secondly, the LC is available either with a thirsty petrol V8, or as a hybrid – with the latter boasting a 3.5-litre petrol V6 combined with an electric motor. Badged LC 500h, the hybrid version manages around 34mpg and CO2 emissions of 184g/km. The acceleration backs up the arresting design, too, with 0-62mph taking five seconds, with a top speed of over 160mph.
4. Porsche Panamera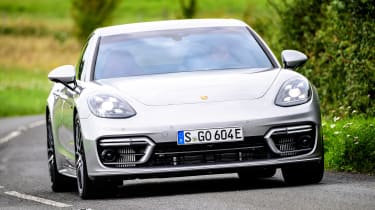 Porsche has truly embraced plug-in hybrid technology, as evidenced by the fact the Porsche Panamera Hybrid isn't just one model, but an entire family within the model line-up. This spans from the Panamera 4 E-Hybrid all the way to the Turbo S E-Hybrid – the most powerful Porsche Panamera in history. Fitted with a 4.0-litre V8 and electric motors, the Turbo S E-Hybrid can hit 62mph from a standstill in 3.4 seconds and not stop accelerating until it reaches 192mph. Those are supercar figures and there's a six-figure price tag to match.
Running costs should somewhat ease the burden though, because the 4 E-Hybrid can return 113mpg and emits 56g/km of CO2, while the faster model returns 97mpg and emits 66g/km. Head into the city and you can drive in all-electric mode for up to 31 miles.
5. Peugeot 508 Peugeot Sport Engineered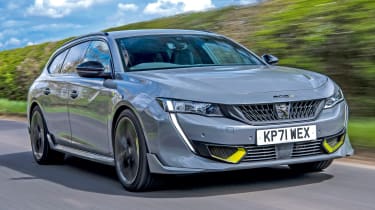 Importantly, a sporty high-performance car should look good, and that the 508 Peugeot Sport Engineed (or PSE for short) does. The Peugeot 508 PSE is not only the fastest version of its sleek 508 hatchback and estate (pictured here) – it's the most powerful Peugeot ever made. Using a 1.6-litre turbocharged engine combined with two electric motors, the 508 PSE produces 355bhp. The PSE is four-wheel drive, and does 0-62mph in just 5.2 seconds. You'll also get up to 32 miles to a charge – that's just about enough to get a few short trips around town without using a drop of petrol.
Despite being heavier than the non-hybrid models, the PSE feels just as good to drive – it's grippy and instils plenty of confidence in the driver. The latest 508 is more upmarket than ever before, and forms part of Peugeot's plan to become a slightly more premium manufacturer. It shows on the inside, where a sporty, hunkered-down feel is combined with high-quality materials and plenty of equipment to compete with its German rivals BMW and Audi. 
6. Volvo S60 Recharge T8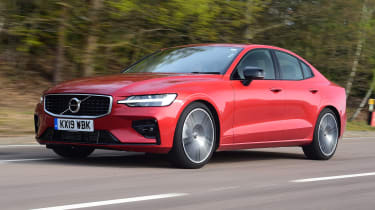 The Volvo S60 Recharge T8 plug-in hybrid uses a 2.0-litre supercharged and turbocharged engine that sends 306bhp to the front wheels, paired with an electric motor that adds an extra 145bhp to the recipe at the rear for a whopping 449bhp combined. The S60 T8 will do 0-62mph in just 4.6 seconds, putting it near the top of its class in terms of on-paper performance. You'll also get an electric range of up to 55 miles, according to Volvo's figures – much better than the equivalent BMW.
Admittedly, while the S60 T8 is undoubtedly quick, some other rivals might have it pipped – that aforementioned BMW included – for pure driving pleasure. But if it's classy, understated and luxurious performance you're after, the Volvo is one of the best. Its interior is one of its biggest selling points, with great-quality soft-touch materials and an elegant design making it a lovely place to be. There's even the V60 estate if you need a bit more room.
7. Cupra Formentor e-Hybrid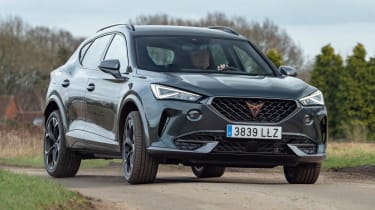 The higher-performance version of the plug-in hybrid Cupra Formentor SUV offers 245bhp from a 1.4-litre turbocharged engine and electric motor, getting the Formentor from 0-62mph in 6.8 seconds. While that's not the quickest on this list, it's a happy compromise for lower running costs and the possibility of commuting to work without using a drop of fuel at all. You'll get up to 33 miles of electric range on a charge according to Cupra's figures.
To add to the drama, the Formentor pumps artificial engine noise into the cabin in Cupra mode, which divides opinion among buyers; we quite like it, but it won't be to all tastes. The Cupra Formentor is slightly firm, too, but still manages to be comfortable most of the time, dealing with the bumps and imperfections of British roads reasonably well.
8. Volkswagen Golf GTE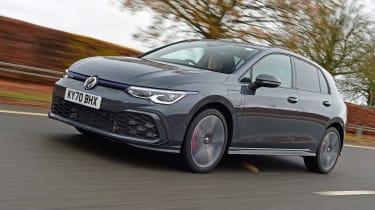 The Volkswagen Golf GTE offers the flexibility of a cheaper-to-run plug-in electric drivetrain while matching the power output of the better-known Golf GTI hot hatchback. The GTE produces 242bhp from a 1.4-litre engine paired with an electric motor and is capable of up to 38 miles on a charge according to Volkswagen. Around 30 miles is a little more realistic, in our experience.
While its heavier weight means it doesn't feel quite as agile as the petrol-powered GTI, the GTE still offers sharp and reassuring handling. The experience very much depends on the driving mode you put the GTE into, though, managing to be refined and relaxing when you slot it into the car's default Comfort setting. Put it into Sport mode and the GTE will do 0-62mph in 6.7 seconds, providing plenty of pull when you need it.
After a hybrid car with more boot space? Check out our list of the top 10 best hybrid estate cars...
Top 10 best hybrid sports and performance cars