Top 10 best hybrid SUVs 2023
Hybrid SUVs and 4x4s can be as cheap to run as family hatchbacks, yet also offer lots more space. Here are 10 of our favourites.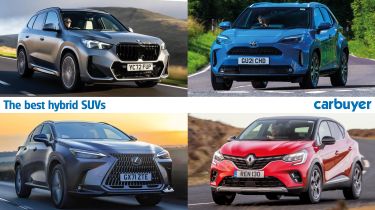 Thanks to the extensive implementation of hybrid and plug-in hybrid technology, SUVs are now more fuel efficient than ever. The best hybrid SUVs combine the rugged looks, raised ride height and off-road capability of an SUV with lower fuel consumption and – in the case of plug-in hybrids – the ability to drive short distances on electric power alone. This can make plug-in hybrid SUVs one of the most versatile car types on the market.​
The range offered by the batteries used in these plug-in hybrids has also come on a lot over the years, with some of the best plug-in hybrid SUVs capable of up to 70 miles or more on electric power alone – gone are the days when the trade off for a larger, more practical SUV meant paying over the odds to run it.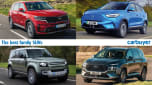 Top 10 best family SUVs 2023
Some of the SUVs on this list are traditional 'self-charging' hybrids, which tend to be cheaper to buy than plug-in hybrids. Although they may not provide as much capability to travel longer distances on in EV mode, hybrid 4x4s offer far better economy than their predecessors and they also tend to emit relatively little CO2.
Perhaps even more significantly, company-car drivers' Benefit-in-Kind (BiK) liabilities are based on CO2 emissions; this means the extra cost of hybrid SUVs over their petrol or diesel counterparts can often be offset against your obligations to the taxman.
Many of the SUVs on this list are PHEVs, which means you need to charge the batteries at home or at a public charging point. Doing so allows you to complete short journeys without using a drop of fuel. The only drawback is that PHEVs tend to cost more to buy than 'self-charging' hybrids that don't need plugging in.
These are the top 10 best economical hybrid SUVs on sale right now. Once you're done, why not read our guides to the best used hybrid cars and best hybrid family cars?
The Hyundai Tucson impresses with its striking exterior and plush interior, which puts many more premium rivals to shame. All cars get the top-of-the-range 10.25-inch central infotainment touchscreen and digital instrument cluster set-up, something that's usually an optional extra on other cars. The Tucson is spacious, too; the small transmission tunnel makes it easy to seat five and the boot is one of the best in class at 620 litres. All models barring the entry-level version of the Tucson come with some form of hybrid assistance - whether that be 48-volt mild, self-charging or plug-in. We recommend opting for the frugal 227bhp 1.6-litre self-charging hybrid. This has plenty of motorway pulling power and is quiet and economical around town, managing around 50mpg. While the PHEV offers an impressive 200mpg and 31 miles of pure-electric range, this model is quite expensive and is only recommended for company car drivers.
While Lexus has always produced dramatic and contemporary car designs, they have also lagged severely behind premium rivals such as BMW and Mercedes when it comes to technology. The latest Lexus NX bucks this trend with a familiar exterior design, but a revolutionised interior. The new 'floating' 14-inch touchscreen is a big improvement over Lexus systems of old and the digitised climate control dials are modern, yet functional.
Partnership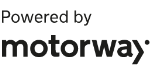 Need to sell your car?
Find your best offer from over 5,000+ dealers. It's that easy.
The Lexus NX is offered as both a self-charging and a plug-in hybrid. The 302bhp plug-in has low running costs and an electric range of around 40 miles. While this model is expensive, its low Benefit in Kind band makes it appealing for company car drivers. Private buyers should instead opt for the self-charging hybrid in the NX400h because this is significantly less expensive to buy outright and still remains frugal to run.
If style is your motivation for buying an SUV, then you'll love the chic looks of the Renault Captur. Essentially a jacked-up version of the Renault Clio supermini, it shares many of that car's benefits such as a portrait-style touchscreen – similar to that you'd find in a Tesla. Another benefit is the standard sliding rear bench seat which can recline for maximum passenger comfort or slide forward to allow for an impressive 536 litres of boot space.
For buyers looking to keep running costs to a minimum, Renault offers two 'E-Tech'-badged hybrid versions of the Captur; one has a self-charging hybrid engine while the other uses a plug-in hybrid unit that offers up-to 30 miles of electric driving range. We recommend, however, opting for the less-expensive self-charging hybrid. This model starts from around £25,000 and still returns more than 55mpg.
A favourite among families, the Kia Sorento has grown in popularity over its four generations, and is now sold only in a single 'Edition' trim. Buyers can choose between a 'self-charging' petrol hybrid or a conventional diesel. There's also a plug-in hybrid petrol with 32 miles of electric driving range, which is likely to be the pick of the bunch for business car choosers.
With just one trim level, there's not much to choose apart from the colour;  a Bose sound system, blind-spot monitoring, a panoramic sunroof, and Nappa leather upholstery are all standard fit. It is worth noting that all this comes at a cost and the Kia Sorento is no longer the bargain it once was, starting at just over £51,000 for the self-charging hybrid and just shy of £57,000 for the plug-in hybrid.
The latest Kia Sportage is one of the most distinctive-looking SUVs on sale thanks to its quirky, angular design and boomerang-shaped headlights. On the inside, the Sportage feels just as special thanks to several ideas taken from the brilliant Kia EV6 electric car. The optional dual-screen 12.3-inch infotainment system is slick and easy-to-use and the touch-sensitive climate control panel feels futuristic. Underneath, the Kia shares many of its parts with the Tucson and has similarly roomy rear seats and only a slightly smaller boot, at 591 litres.
Just like the Tucson, the Sportage is available with both as a 227bhp self-charging hybrid or as a plug-in hybrid with 261bhp; however on the Sportage, the PHEV boasts a whopping 40 miles of pure-electric range. One drawback of the Sportage is its slightly harsh ride quality. However it should remain comfortable over long distances.
BMW's entry-level X1 SUV is a bit of a do-it-all car, not least because it's available with petrol, diesel, electric (badged iX1) and plug-in hybrid powertrains. In fact, the xDrive25e plug-in hybrid model is one of the most efficient on the market. It's capable of an official fuel economy figure of up to 403.5mpg, and can do up to 56 miles to a charge, which means you'll be able to do plenty of trips around town without using a drop of fuel.
The X1 is also fun to drive, and gets plenty of BMW's latest technology, plus the interior has a premium, high-quality feel. The look of the latest X1 is also one of the least controversially styled models in BMW's recent history, so will appeal if you favour a slightly more conservative design aesthetic. While it is quite expensive, there's a lot to like about the X1 xDrive25e plug-in hybrid, and there's even a punchier xDrive30e version if you want more oomph.
A car's running costs may well be the most important factor in your buying decision. The Toyota Yaris Cross is a key example of how you don't have to sacrifice style for efficiency thanks to its fashionable SUV styling. Just like the regular Yaris hatchback, on which it is based, the Yaris Cross has a smart interior that feels well-screwed-together. Buyers will also find peace of mind with the standard rear-view camera, pre-collision warning system and the Yaris Cross's five-star Euro-NCAP safety rating.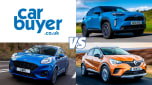 Toyota Yaris Cross vs Ford Puma vs Renault Captur: rivals comparison
While most cars give a choice between a petrol or hybrid option, the Yaris Cross is only available as the latter. The 1.5-litre hybrid engine produces 114bhp and makes the Toyota feel nippy around town, thanks in large part to the instant torque from the electric motor. Yet, perhaps the main selling point is the impressive fuel economy, which is above 60mpg during normal driving.
If you're looking for a luxury plug-in hybrid SUV, then the Range Rover Sport P460e and P550e plug-in hybrid models could be the answer. The 454bhp P460e is the more efficient of the two, getting an official fuel economy figure of up to 392.6mpg and an electric range of an impressive 75 miles. The more powerful P550e gets 542bhp and an official fuel economy figure of 377.9mpg with up to 72 miles on a charge. We'd stick to the P460e given the P550e is a lot more expensive, however.
Though no plug-in hybrid Range Rover Sport is cheap, the most affordable model with the P460e powertrain is the Dynamic SE, coming in at just under £93,000 – its low Benefit-in-Kind rate still makes it a favourable company car for those that can afford it. It gets sumptuous leather upholstery, the brand's latest Pivi Pro infotainment system and lots of safety tech, too.
The previous Toyota RAV4 was a little forgettable but Toyota has completely changed the new RAV4 so it's more noteworthy this time around. The styling is now sharp and aggressive, with pointy headlights, a wide grille and pumped up wheel arches. The popularity of the smaller Toyota C-HR has clearly played a part in the new RAV4's design. The self-charging hybrid has an official fuel economy of up to 50mpg in front-wheel drive form.
Despite that impressive economy, the brisk RAV4 hits 62mph from a standstill in either 8.1 or 8.4 seconds, although the standard CVT gearbox does kill any chance of driving excitement. A plug-in hybrid was added later, with a 2.5-litre engine and electric motor which give a total system output of 302bhp. It gets an official fuel economy of up to 282mpg and an electric range of up to 46 miles, so you can do plenty of trips without using any petrol at all. 
Inside, the RAV4 is well-made and well-equipped, but the eight-inch touchscreen lags behind its rivals. The graphics are outdated and there are confusing sub-menus, but it does now have Apple CarPlay and Android Auto. The RAV4 also impresses with its space and practicality. A range-topping plug-in hybrid version is due later this year, which is likely to be even more economical.
The BMW X5 is a spacious SUV with oodles of luxury and a great driving experience. Like all BMWs, the X5 feels plush inside, with plenty of soft leathers and flashy aluminium trim. BMW's top-of-the-range 12.3-inch iDrive infotainment system comes as standard on all models and is one of the best in the industry thanks to intuitive controls and fast loading times. Families will be able to make good use of the X5 large boot and spacious rear seats, which, as an optional extra, can electronically recline at the push of a button.
The BMW X5 xDrive45e plug-in hybrid bagged our 'Best Large Hybrid' award in 2021 thanks to its impressive 53 miles of pure electric driving range and intelligent hybrid system; this uses the sat-nav to switch between petrol and electric power depending on which is most efficient on your particular route.
The xDrive45e is now being replaced by the xDrive50e powertrain and while we're yet to drive it, it does build on the previous powertrain with a higher 482bhp power output – that's almost 100bhp more than before. It has an official fuel economy figure of up to 353.1mpg and can do up to 66 miles to a charge. This, alongside sharp handling and balanced suspension, makes the BMW a true driver's large SUV.
Want to skip hybrid and go fully-electric? Check out our list of the Top 10 best electric SUVs
Top 10 best hybrid SUVs