Honda NSX coupe review (2016-2021)
"The Honda NSX is a glimpse into the future of the eco-conscious supercar"
Pros
Sensational styling
Clever technology
Enormous power
Cons
Rather heavy
Doesn't sound as good as an Audi R8
Less storage and boot space than rivals
The Honda NSX is officially on sale after what must be one of the longest gestation periods of any new car. It was discussed for years and first seen as a concept in 2012. Its styling is the one thing that's stayed fairly constant, which is a good thing. It certainly looks like a contender when lined up against cars like the Audi R8, Porsche 911 Turbo and McLaren 570S, not to mention its closest rival, the plug-in hybrid BMW i8. With a low roof, sharp creases, wide rear tyres and numerous air scoops and vents, there's no mistaking the NSX for a run-of-the-mill Honda.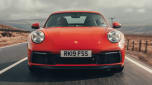 Top 10 best supercars 2022
Under the metal, the NSX has changed a great deal to keep up with the times. Original plans showed a naturally aspirated V6 engine would have sat behind the front seats, but in the finished product, the 3.5-litre V6 has two turbochargers and is coupled with no less than three electric motors, giving a combined 565bhp. The petrol engine alone can offer 500bhp.
It's a supercar with a conscience, which fits with Honda's wider plans to reduce emissions and improve efficiency across its line-up, while also showing off its hybrid technology. Saying that, the kind of people thinking about buying an NSX will probably be more interested in its performance.
With fantastic traction from its four-wheel-drive system, the NSX can get from 0-62mph in around three seconds, with its electric motors helping out with instant response and a wave of power as the NSX accelerates through its nine-speed gearbox. Two electric motors send power to the front wheels, while the third is found between the V6 and its gearbox.
With a price close to £130,000, the NSX costs about £30,000 more than a BMW i8, while finding itself right in the territory of the Porsche 911 Turbo and Audi R8 V10 Plus. For that amount, you'd expect some luxuries and the NSX has a leather-clad interior, digital displays in place of traditional gauges and a touchscreen infotainment system.