The world's fastest electric cars
The world's fastest electric cars offer performance petrol-powered models couldn't dream of
If you're under the impression that electric cars offer the style and performance of a 1970s milk float, then think again. The latest crop of high-end electric cars top the table for the fastest-accelerating cars money can buy.
The appeal of electric performance cars is clear. The instant shove an electric motor provides means drivers of electric supercars don't have wait for power to build, as you do with a petrol engine. Floor the accelerator on any of these cars, and the sensation is more akin to being shot out of a cannon than gradually picking up speed in a conventional car.
It also helps that electric cars don't need so much heavy hardware, such as big metal engine blocks, so weight can be kept down – all aiding performance.
The cars in this list are ordered by acceleration time. It's not exhaustive, but is representative of cars you could buy today – if your pockets are deep enough – along with those looming large on the horizon. We've only included cars that are, will be, or could be commercially available too.
One thing is for sure though; these are only going to get faster.
Tesla Roadster
It's not due to arrive until 2020, but the Tesla Roadster is likely to be the fastest car in the word – electric or otherwise – by some margin when it goes on sale. Tesla's claimed figures seem otherworldly on paper: 0-60mph in 1.9 seconds and 0-100mph in 4.2 seconds are acceleration times more commonly experienced by Formula 1 or World Rallycross drivers, while the claimed top speed of around 250mph is faster than either. A standing quarter mile is said to take just 8.9 seconds – the fastest time ever for production car if accurate.
It's not all about speed, though; a range of 620 miles is claimed, there's space for four at a push thanks to a 2+2 layout and luggage space is said to be decent, too. Could the new Tesla Roadster be the ultimate supercar when it finally arrives? Only time will tell.
Faraday Future FF 91
Whether the Faraday Future FF 91 will ever enter production is unknown. Faraday is backed by a Chinese billionaire, but the firm has well documented financial issues that have so far scuppered production.
That's a huge shame, as its first car, the FF91, promised much. In July 2017, the FF 91 beat the previous record for a production EV at the Pikes Peak hill climb in the US by 20 seconds. The production model will pack a 130kWh battery. It produces 1,050bhp and gives the car a range of more than 300 miles – and a phenomenal 0-60mph time of 2.39 seconds.
The four-door supercar is longer than a Mercedes S-Class and oozes cutting-edge tech. If Faraday Future can solve its problems and establish a factory – something it's failed to do so far – then it could give Tesla Model S customers something to think about.
Tesla Model S P100D
It's not just the Tesla Model S P100D's 2.4-second 0-60mph time that's impressive. It's also the fact that the Model S is a large, comfortable executive saloon car that offers a huge amount of interior space – indeed, buyers can choose a seven-seat option that sees a pair of small folding seats installed in the boot.
The flagship P100D version of the Model S gained a new 'Ludicrous+' performance mode – it really is called that – in early 2017, making it the fastest-accelerating electric car money can currently buy. Remarkably, it didn't require Tesla owners to visit a dealer; the extra performance was delivered as part of a software update distributed via the car's always-on wireless connectivity.
Rimac Concept One
The Rimac Concept One is among the most famous electric supercars, largely thanks to a well publicised crash involving Richard Hammond. Sadly, while that unfortunate event put Rimac on the map, it also overshadowed the fact that the Concept One is the second-fastest accelerating electric car you can buy today, with a 0-62mph time of just 2.5 seconds.
That's thanks to the 1,224bhp it produces – not bad considering the Concept One is the first car from Croatian firm Rimac. The car is a clean-sheet design, with an electric motor driving each wheel and a system called torque vectoring to make it more stable on the road or more agile on track. Just eight Concept Ones were built, with a price tag of nearly £900,000 apiece.
Nio EP9
The similarities between the Nio EP9 and the Rimac Concept One are striking. Both are built by start-up companies, both feature in-wheel electric motors and both have the sort of sleek supercar lines you might have drawn as a child. The Nio trumps the Rimac when it comes to total power, with 1,341bhp in total, but there's little or nothing between their acceleration times. That's because Rimac quotes a 0-60mph time, while Nio quotes 0-62mph. That makes the Nio's 2.5-second time too close to call.
What isn't in doubt is the Nio's prowess on track, thanks in part to a chassis built to Le Mans race-car specifications and clever adaptive suspension. This resulted in the Nio EP9 lapping the Nürburgring in a remarkable 6m 49.5s, something which leads Nio to claim the EP9 as the world's fastest electric car. Just 16 will be built, costing the best part of £1 million a pop.
Vanda Dendrobium
Mad styling, mad name; there's little conventional about the Vanda Dendrobium. It was conceived by Vanda Electrics, a Singapore-based firm that also researches a range of electric and battery products. Although no production date has been set, the Dendrobium will likely cost you more than £1 million.
Best sports cars and coupes to buy
It's no vapourware, though. As with the Aston Martin RapidE, Williams Advanced Engineering has been brought in to develop the battery, motors and electrical systems, which lends the project huge credibility. Vanda says the Dendrobium will cover the 0-60mph benchmark in 2.7 seconds and has a top speed of more than 200mph. Its stunning looks are eclipsed by the simultaneous opening of its rear-hinged doors and roof, reminiscent of the opening dendrobium orchid flower the car is named after.
Tesla Model X P100D
The Tesla Model X is certainly the most unlikely car on this list. It's a big seven-seat SUV lacking much in the way of visual drama. That's until you open the rear 'falcon wing' doors, reminiscent of the gullwing doors on the Mercedes 300 SL from the 1950s. Step inside and it's quite unlike anything else, the Tesla Model S apart. There are only a handful of physical buttons, with most functions taken car of by a stunning portrait-orientated touchscreen.
None of that is why the Model X is on this list, though. Like the Model S above, the flagship P100D offers the Ludicrous+ mode, which cuts the 2.9-second 0-60mph time by a further tenth. That makes the Model X the world's fastest-accelerating SUV – there's simply no way for seven to travel faster and in more comfort.
Aston Martin RapidE
Confirmed to hit the roads in 2019, the Aston Martin RapidE is shaping up to be the upmarket alternative to the Tesla Model S. As its (slightly awkward) name suggests, it'll be based on the Aston Martin Rapide S, but the familiar 6.0-litre V12 petrol engine will be replaced by a fully electric powertrain, co-developed by the technology division of the Williams Formula One team.
Few official details are forthcoming, but it's understood power could top 1,000bhp and the car will be four-wheel drive – necessary to ensure the RapidE's 0-62mph time is around the three-second mark we expect. While the V12 soundtrack will be replaced with silence, the rest of the RapidE is expected to be textbook Aston, with plenty of bespoke materials lending a luxurious air befitting its likely £200,000-plus price tag.
Genovation GXE
It looks like a Corvette and goes like a Corvette, but the Genovation GXE certainly doesn't sound like one. That's because where you'd usually find a big 7.0-litre V8 engine, there is instead a plethora of electrical components making the GXE the world's first street-legal electric car to top 200mph. Genovation doesn't quote an official 0-60mph time, although a figure of around three seconds is likely. Top speed is 209mph.
That car used the previous C6 generation of Corvette, but production models will be based on the current C7 Corvette Stingray. It certainly offers incredible performance, but a list price of around £570,000 means you could buy nine equally fast Corvette Z06 supercars and still have change.
Renault e.dams Formula E car
Formula E is the world's first championship for purely electric single-seater racing cars. Since its inception, it has attracted big names such as Renault, DS, BMW, Audi and Jaguar and will shortly boast works entries from Porsche and Mercedes, too. Although the teams develop their own electric motors, for the moment they all have to use the same battery and chassis and are limited to a set amount of energy per race, so unlike Formula One, performance is pretty much equal across the grid; a 0-60mph time of just under three seconds is the norm.
The Renault e.dams team, run by four-time Formula One champion Alain Prost and with his son Nicolas and ex-Red Bull F1 ace Sebastien Buemi on driving duties, is the reigning series champion.
Buckeye Bullet 3
An honourable mention goes to the Buckeye Bullet 3, which set a new electric land speed record in September 2016. It achieved 342.144mph on the Bonneville Salt Flats in Utah. That's a remarkable speed, but to put it into context, an internal combustion-engined car first broke the 340mph barrier 78 years ago.
Still, there's no doubting the Bullet 3's credentials. There are four electric motors, two on the front and two on the back, and a two-speed gearbox. That sounds basic, but first gear is good for 275mph. This is unlikely to be the last we'll hear of this car. A 400mph-plus version is planned, as is a hydrogen-powered world record beater.
London Congestion Charge exempt cars 2020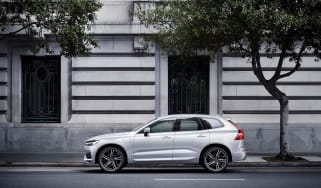 London Congestion Charge exempt cars 2020
Tesla app explained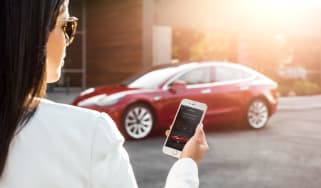 Cupra Formentor SUV review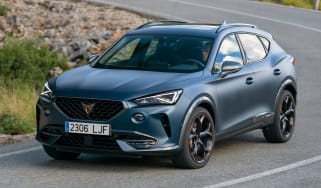 Cupra Formentor SUV review
2020 Volkswagen ID.3 hatchback: base model starts at under £30k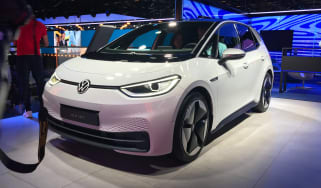 2020 Volkswagen ID.3 hatchback: base model starts at under £30k
Audi Q8 gains plug-in hybrid versions with 28-mile electric range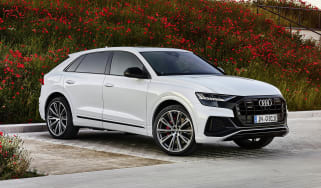 Audi Q8 gains plug-in hybrid versions with 28-mile electric range