Tesla Supercharger network explained
Looking to buy a Tesla and need somewhere to charge it? We explain how the Supercharger network works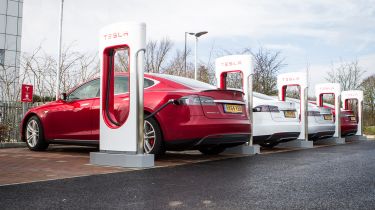 Owning a Tesla has become somewhat of a status symbol over the last few years. Yet with the brand's increasing popularity, it's quick to forget one of the major selling points for buying one: the Tesla Supercharger network. Reserved exclusively for Tesla owners, this brilliant service grants access to hundreds of super-fast electric car chargers across the UK; meaning that you should never have to worry about range or charging.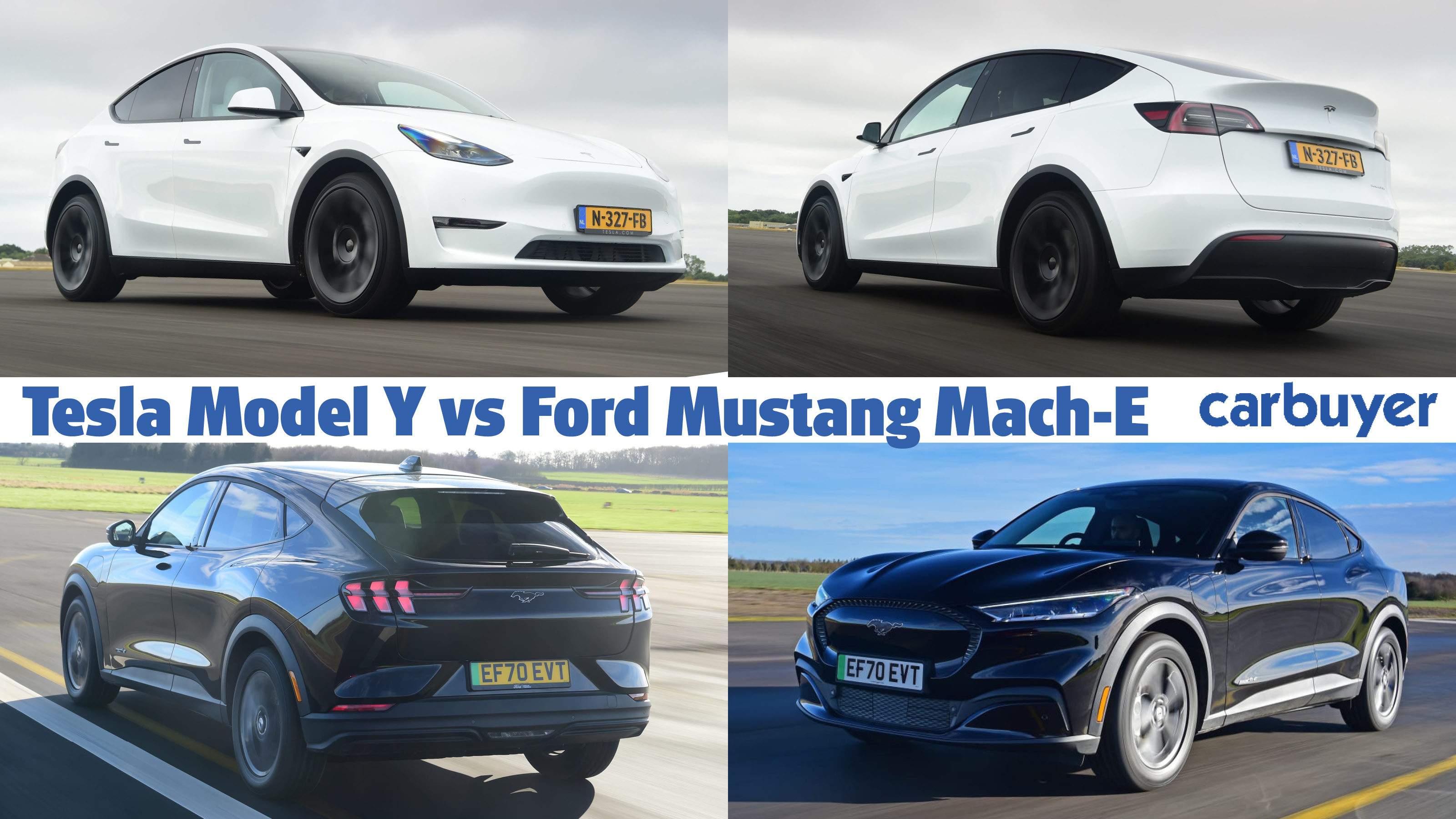 Tesla Model Y vs Ford Mustang Mach-E: rivals comparison
As of April 2022, the UK's Tesla Supercharger network consists of 880 chargers at more than 90 different locations across the country. However, it is important to remember that Tesla is constantly expanding its reach, meaning that there could be a new station popping up near you soon.
By this point, you may have a few burning questions about Superchargers and how they operate. We've compiled a list of some of the most popular queries people have about the Supercharger network so you can make your own mind up as to whether the network could benefit you. 
What is a Tesla Supercharger?
Not to be confused with the type of air compressor found in traditional combustion engines and designed to improve performance, a Tesla Supercharger is a special kind of rapid charger for electric cars. Identifiable by their distinctive design and bright red accents, Superchargers are often more powerful than 'regular' rapid chargers you find at most service stations. 
While the average rapid charger tends to deliver 50-100kW of electricity per hour, Tesla Superchargers top out at 150kW; meaning you'll be back on the road quicker, with a higher level of charge.
Tesla is now also beginning to install new 'V3' Superchargers across the UK. These new models can provide up to 250kW of charge per hour, meaning you can add up to 75 miles of charge in just five minutes.
How do I use a Tesla Supercharger?
For many of us who have been filling up at petrol pumps for years, the idea of charging up an electric car can be daunting. Thankfully, Tesla Superchargers are slick and easy to use. Simply find an available Supercharger and park in the designated bay. Press the button on your Tesla's infotainment system to open the charge port and then it's just a case of plugging in and waiting until the light turns green, indicating that your car is now charging. 
Your car's charging progress will be displayed on the car's central screen. However, this data can also be accessed via the Tesla companion app on your smartphone. This means you can go off elsewhere and come back when you are notified that your car has reached the desired level of charge.
How long does it take to charge a Tesla at a Supercharger?
How long your Tesla will take to charge really depends on which model and battery specification you own, plus how full the battery is when you plug in. 
A Tesla Model X Long Range with its 100kWh battery pack will take longer to charge to full than an entry-level Tesla Model 3 with a 50kWh battery. However, the Model X also has a faster peak charge rate, meaning that top up times aren't that dissimilar. On average, you can expect your car to top up from 10-80% in around half an hour; plenty of time to grab a drink and have a quick break.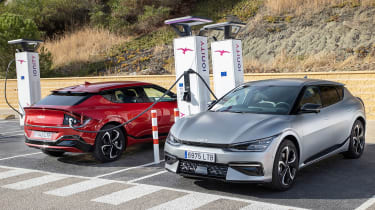 Of course, find yourself a new V3 Supercharger and you'll be able to charge even quicker. However, they are still not the fastest kind of charger available to UK motorists. IONITY rapid chargers, for example, are able to charge at 350kW and can top up a Hyundai Ioniq 5 from 10-80% in around 18 minutes. These IONITY chargers can be used by Tesla owners, however they are far less common than Superchargers; only 40 UK locations are planned.
Can I use a Supercharger if I don't own a Tesla?
Yes and no. While for a long time, Superchargers were exclusive to Tesla owners, the brand has begun opening up the network to other electric car users. This pilot scheme was launched in The Netherlands in November 2021 and has now extended to 158 Superchargers across 15 sites in the UK.
The price per kW of electricity is higher for non-Tesla drivers (on average, 60p per kWh) and it will only work with cars that can take a CCS (Combined Charging System) connector. However, non-Tesla drivers can subscribe to a membership plan which, at the time of writing, costs around £11 per month; this provides lower charging costs and is perfect for those who find themselves using Superchargers frequently. While the continuation of this service is not guaranteed, this is a great way for more EV drivers to make use of the infrastructure that Tesla has created.
How much do Tesla Superchargers cost?
It is a common misconception that all Tesla owners can access the Supercharger network for free. While Tesla drivers can access the brand's network of hundreds of 22kW 'destination' chargers for free, these chargers are much slower than their Supercharger counterparts and  will take a few hours to top up.
Tesla owners that bought their car new prior to 2017 do get complete access to the Supercharger network for free. Yet, for the majority of motorists that bought their cars more recently, they will need to pay out each time they plug in at one of the many Superchargers.
That is not to say the Supercharger network is expensive, however. Tesla owners can charge their cars at a Supercharger for around 28p per kWh. While this price does vary upon location, this means that Tesla drivers can charge up for significantly less than it would cost to fill up a combustion-engined car. However, it is worth bearing in mind that charging up at home will cost even less. Currently, tariffs and electricity rates also stand at around 28p per kWh due to the current energy crisis, matching what you'd pay at a Supercharger. In less unprecedented times, however, the price per kWh would usually stand around 17p – charging this way will take much longer, of course.
Where is the nearest Tesla Supercharger?
Unfortunately, we don't know where you are reading this from so we can't tell you exactly where your nearest Supercharger is. However, there are plenty of ways to search for your nearest location.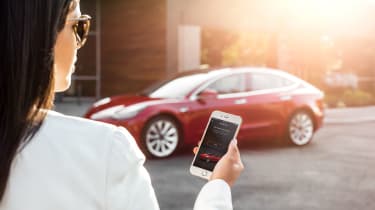 For starters, you can visit the Tesla website and plug in your location to see the nearest available chargers. Owners can also make use of the Tesla companion app to search for a nearby location.
Perhaps more impressive is the ability to access this information right from your Tesla's infotainment screen. Your car can search for nearby chargers and incorporate them into your journey if necessary. Once you begin to head towards a charger, the car can automatically 'precondition' itself for charging whilst enroute, meaning that you will get the optimum charging efficiency when you arrive.
Looking to buy an EV that isn't a Tesla? Click here to see our list of the best chargepoint providers in the UK