Tesla Supercharger network explained
A huge perk of owning a Tesla is the far-reaching Supercharger network. We explain how it works, how fast it is and how much it costs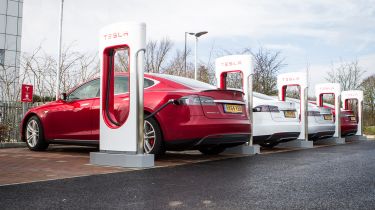 Owning a Tesla has become something of a status symbol over the last few years. Yet with the brand's increasing popularity, it's quick to forget one of the major selling points for buying one: the Tesla Supercharger network. Originally reserved exclusively for Tesla owners, this brilliant service grants access to hundreds of super-fast electric car chargers across the UK and even into Europe; meaning that you should never have to worry about range or charging.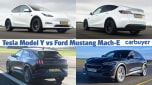 Tesla Model Y vs Ford Mustang Mach-E: rivals comparison
As of August 2023, the UK's Tesla Supercharger network consisted of over 1,100 chargers at more than 115 different locations across the country. It was around the same time that the maker launched its new 'V4' Supercharger – the first of Tesla's chargers to feature a small touchscreen and contactless payment system. It's thought that these will make charging much simpler for non-Tesla drivers without the brand's app installed on their phone.
By this point, you may have a few burning questions about Superchargers and how they operate. We've compiled a list of some of the most popular queries people have about the Supercharger network so you can make your own mind up as to whether the network could benefit you.
Here, we'll explain how Tesla Superchargers work, how fast a Tesla Supercharger charges and how much it costs to charge at a Tesla Supercharger. Did you know you can even charge up at some Superchargers if you own an EV from a rival brand? Find out more below…
What is a Tesla Supercharger?
Not to be confused with the type of air compressor found in traditional combustion engines and designed to improve performance, a Tesla Supercharger is a special kind of rapid charger for electric cars. Identifiable by their distinctive design and bright red accents, Superchargers are often more powerful than 'regular' rapid chargers you find at most service stations. 
While the average rapid charger delivers around 50-100kW of electricity, Tesla Superchargers top out at between 150 and 250kW; meaning you'll be back on the road quicker, with a higher level of charge. Find one of the more powerful V3 Superchargers and you'll be able to add up to 75 miles of charge in just five minutes.
How do I use a Tesla Supercharger, and can I use a Supercharger if I don't own a Tesla?
For many of us who have been filling up at petrol pumps for years, the idea of charging up an electric car can be daunting. Thankfully, Superchargers are slick and easy to use – or at least they are if you own a Tesla. 
If you do, it's as simple as pulling up to a stall, pressing the button on your Tesla's infotainment system to open the charge port, before plugging in and waiting until the light turns green. 
Your car's charging progress will be displayed on the central infotainment screen. However, this data can also be accessed via the Tesla companion app on your smartphone. This means you can go off elsewhere and come back when you are notified that your car has reached the desired level of charge.
While for a long time, Superchargers were exclusive to Tesla owners, the brand has begun opening up the network to other electric car users. This pilot scheme was launched in The Netherlands in November 2021 and has now extended to over 100 Superchargers across multiple sites in the UK. So if you own a car from another manufacturer – BMW, Vauxhall, Mercedes, etc – you can now use a handful of Tesla Superchargers. For the majority, you'll need to register and log your payment details on the app before being able to charge.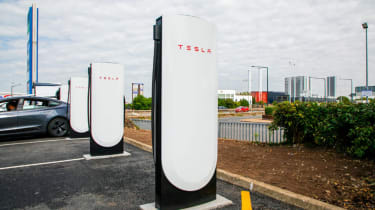 New 'V4' Tesla Superchargers (above) are now being installed, however – the first bank of which are located at Tesla's flagship showroom in Tottenham. These are the first Tesla chargers to feature contactless payment readers (as per new national regulations), making them quickly and easily accessible by anyone whose car has a CCS (Combined Charging System) charging port.
How fast does a Tesla Supercharger charge?
How long your Tesla will take to charge really depends on which model and battery specification you own, plus how full the battery is when you plug in. 
Partnership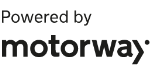 Need to sell your car?
Find your best offer from over 5,000+ dealers. It's that easy.
A Tesla Model X Long Range with its 95kWh battery pack will take longer to charge to full than an entry-level Tesla Model 3 with a 57.5kWh battery. However, the Model X also has a faster peak charge rate, meaning that top-up times aren't that dissimilar. On average, you can expect your car to top up from 10-80% in around half an hour; plenty of time to grab a drink and have a quick break.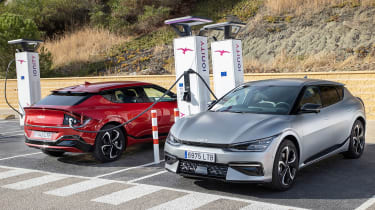 Of course, find yourself a new V3 or V4 Supercharger and you'll be able to charge even quicker. However, they are still not the fastest kind of charger available to UK motorists. IONITY rapid chargers (above) for example, are able to charge at 350kW and can top up a Hyundai Ioniq 5 from 10-80% in around 18 minutes. These IONITY chargers can be used by Tesla owners, but they are far less common than Superchargers; only 19 locations are live, with another 13 currently under construction.
How much does it cost to charge at a Tesla Supercharger?
It is a common misconception that all Tesla owners can access the Supercharger network for free. While Tesla drivers can access many of the brand's 22kW 'destination' chargers for free, these chargers are much slower than their Supercharger counterparts and will take a few hours to top up a car's battery.
That said, Tesla owners who bought their car new prior to 2017 do still get complete access to the entire Supercharger network for free. Yet, for the majority of motorists who purchased their cars more recently, they will need to pay out each time they plug in at one of the many Superchargers.
Previously, the Supercharger network hasn't been very expensive, however, the cost of Tesla Supercharger and other non-Tesla networks increased sharply during 2022. While Tesla owners could previously charge their cars at a Supercharger for around 28p per kWh, prices have now levelled out at between 35p and 45p per kWh – though it varies from site to site, as well as depending on the time of day and how busy a certain location is.
The price per kWh of electricity is higher for non-Tesla drivers (normally between 50-60p kWh) and it will only work with cars that can take a CCS connector. However, non-Tesla drivers can subscribe to a membership plan which, at the time of writing, costs around £11 per month; this provides lower charging costs and is perfect for those who find themselves using Superchargers frequently. While the continuation of this service is not guaranteed, this is a great way for more EV drivers to make use of the infrastructure that Tesla has created.
It's also worth noting that 'Idle Fees' of up to £1/minute can apply if you leave your car at a Supercharger after it has finished charging. This is waived if the car is moved within the first five minutes, and only applies when the Supercharger station is over 50% capacity. At 100% capacity, the fee can double, potentially leading to a hefty fine if you leave your car unattended for too long once it's fully charged.
Where's a Tesla Supercharger near me?
Unfortunately, we don't know where you are reading this from so we can't tell you exactly where your nearest Supercharger is. However, there are plenty of ways to search for your nearest location.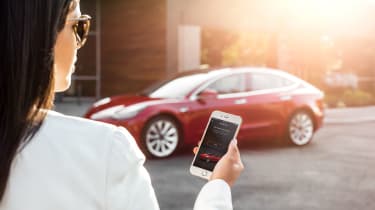 For starters, you can visit the Tesla website and plug in your location to see the nearest available chargers. EV drivers can also make use of the Tesla companion app to search for a nearby location.
Perhaps more impressive is the ability to access this information right from a Tesla's infotainment screen. Your car can search for nearby chargers and incorporate them into your journey if necessary. Once you begin to head towards a charger, the car can automatically 'precondition' itself for charging whilst en-route, meaning that you will get the optimum charging efficiency when you arrive.
Looking to buy an EV that isn't a Tesla? Click here to see our list of the best chargepoint providers in the UK