Top 10 longest-range electric cars 2023
If range anxiety is a major concern, here's our list of the EVs that will get you to your destination with plenty of miles to spare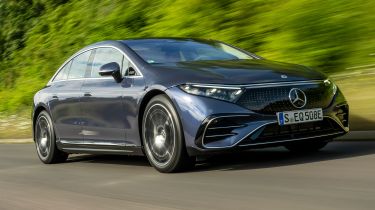 The first question many people ask when a new electric car is released is: "how much range does it have?" Range has always been a point of stipulation for EVs as, unlike a petrol vehicle, it is not as quick and easy to top up your range when running low.
However, thanks to huge consumer and governmental interest, the development of electric car batteries has accelerated over the past few years. This has pushed the technology further towards the limit and allowed for cars that have a longer range than even some of their conventionally powered counterparts.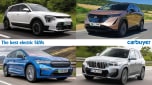 Top 10 best electric SUVs 2023
While most of these long-range vehicles are very expensive, there are now a few relatively affordable options available that boast a range of more than 300 miles, enabling higher-mileage drivers to step into the world of EVs. If you're still worried about doing long journeys purely on battery power but like the idea of an electric car for around town, why not check out our list of the best plug-in hybrids?
Here are the longest-range electric cars currently on sale in the UK:
Range: up to 453 miles
The flagship of the Mercedes electrified line-up, the EQS is a luxury limousine that can chauffeur passengers across the entire country and back on a single charge. The mid-range 450+ rear-wheel-drive model has 453 miles of range, a whole 48 miles more than the runner-up on this list.
Taking a step inside, the EQS stands on the leading edge of in-car technology. The 1.4-metre wide 'Hyperscreen' infotainment system is truly groundbreaking and steals the infotainment crown from Tesla. With an opulent interior befitting the car's hefty price, the EQS sits at the pinnacle of the electric car world.
Range: up to 405 miles
The Tesla name has become synonymous with electric cars and despite being 10 years old, the Model S remains one of the best offerings on the market. Standard Model S cars can manage an impressive 405 miles of range. Perhaps more impressive, however, is that sporty Model S Plaid cars can sacrifice nine miles of range for a 200+mph top speed and a 0-62mph time of less than two seconds – making the Plaid the fastest-accelerating production car ever made.
As can be expected from a Tesla, the level of included technology is very high and the interior is full of quirks such as a jet fighter-style steering wheel and built-in 'Caraoke'. The Model S can even drive itself thanks to Tesla's class-leading Autopilot system, providing the driver is paying attention to the road.
Range: up to 394 miles
We haven't put the same car on here twice; the Mercedes EQE may look very similar to the EQS – and it even sits on the same platform – but it's slightly smaller and much less expensive. You can consider it an electric version of the popular petrol, diesel and hybrid-powered E-Class – though the EQE is not as practical as its stablemate.
The EQE 350+ powertrain offers over 350 miles of range, regardless of the trim level you choose. But it's important to pay attention to the size of the wheels, as the headline 394-mile figure is only applicable to entry-level cars with 19-inch alloys. The EQE can charge at up to 170kW, and a slightly less powerful charger will top up the battery to 80% in around half an hour.
Range: up to 388 miles
Partnership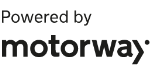 Need to sell your car?
Find your best offer from over 5,000+ dealers. It's that easy.
BMW's range-topping 7 Series limousine is now available in fully-electric i7 form and boasts as much range as it does cutting-edge tech. Equipped with a huge 101.7kWh, BMW claims the i7 will travel 388 miles before needing to be plugged in and will charge at lightning-fast speeds of up to 195kW, meaning a 10-80% top-up will take just 34 minutes.
Arguably the most technologically advanced new car on sale, the BMW i7 boasts more screens than a branch of Currys. Aside from the touchscreens mounted on the door panels and the illuminated dashboard trim, perhaps the most impressive element of the i7's cabin is the expansive 31-inch Theatre Screen that drops down from the ceiling. While this will set buyers back an eye-watering £4,000 extra, it's perhaps the most opulent way to watch Carbuyer's latest video reviews.
Range: up to 382 miles
Most of the cars on this list cost close to six figures, so it's refreshing to see a relatively affordable model make it into the top 5. The Hyundai Ioniq 6 shares many of its parts with the retro-styled Ioniq 5 hatchback, but instead adopts a sleek saloon car silhouette. Not only does this make the car look more premium, it benefits efficiency, too – the Ioniq 6 can travel almost 70 miles further than its smaller sibling.
On the inside, the Ioniq 6 is suitably modern and an array of ambient lighting makes the car feel extra special at night. While headroom is tight in the rear due to the Ioniq 6's sloping roofline, there's a big boot – although we wish Hyundai had given the car a hatchback tailgate. Like all models from the Korean brand, the Ioniq 6 comes with a fantastic five-year, unlimited mileage warranty for peace of mind.
Range: up to 380 miles
While the BMW iX certainly evokes controversy with its styling, there is no debate over this SUV's impressive range figures. The range-topping xDrive50 model can manage up to 380 miles on a single charge from its 105.2kWh battery and 516bhp electric motor. Despite being a large SUV, the iX is still a true BMW in that it's fun to drive; acceleration is brutal and it seems to shed its 2.5-tonne weight in the corners.
The iX is rather expensive, however, with prices starting at around £70,000 and rising to more than £96,000 for the long-range xDrive50 model. But, it is a large vehicle and has plenty of passenger and cargo space for anything you may need to carry, with adjustable air suspension to try and counterbalance the unusually high boot floor.
Range: up to 374 miles
The Tesla Model 3 was revolutionary in being the first mass-market electric car to boast a substantial amount of range. The Model 3 offers excellent value for money with even base models having a range of over 300 miles. If you're looking for outright speed, Model 3 Performance variants can offer supercar-rivalling acceleration with 0-62mph taking just 3.1 seconds.
On the inside, the Model 3 is minimalist with very few physical buttons. A giant tablet-style screen dominates the centre of the dashboard and controls most of the car's functions. Those who prefer a more traditional interior may not be a fan of the Model 3's lack of a fixed driver's display; with the car's speed being shown via the central screen. Plus the Model 3's material quality does lag behind some rivals'.
Range: up to 372 miles
The Ford Mustang Mach-E represents the first appearance of a mainstream manufacturer on this list. Ford gave its first fully electric car the hallowed Mustang name in an effort to take on Tesla and in many respects they succeeded. Its 372-mile range trumps the 331 miles found in Tesla's offering, the Model Y. Plus, a more engaging drive and the presence of a physical instrument cluster grants merit over the Model Y too.
From a glance it is clear that the Mach-E is not the V8 Mustang coupe that we are familiar with. Ford tried to imitate a sloping coupe-style roofline using a two-tone black roof, but the large boot and four opening doors are a dead giveaway. Yet, in its failings to accurately live up to the Mustang name, the Mach-E excels in being a great sporty, electric family SUV.
Range: up to 367 miles
An electrified alternative to the ever-popular BMW 3 Series and BMW 4 Series models, the i4 is one of the best electric cars currently on sale. Buyers can choose from either a long-range eDrive 40 model with the headline 367 miles of range, or the 316-mile M50 version, a high-performance variant that's the first electric car to be tuned by BMW's 'M' division.
Just like its conventionally powered counterparts, the i4 is suitably plush inside with high-quality materials used without. BMW's latest version of its infotainment system, called iDrive 8, can be a tad finicky but the huge curved display looks gorgeous and packs great features such as augmented-reality sat-nav. If you can get past the front 'grille' design, the i4 is a great choice for the car-loving electric motorist.
Range: up to 366 miles
Mercedes' electric car naming structure may be rather confusing, but the EQS SUV is exactly what it says on the tin; it's a jacked-up, SUV version of the luxurious EQS limousine. Like that car, the EQS SUV is optionally available with the German marque's cutting-edge Hyperscreen infotainment setup; however, this can now be enjoyed by two more passengers as Merc's electric SUV offers seating for seven.
Strip away the car's sleek and curvy exterior and a 108.4kWh usable battery that Mercedes claims will provide a range of up to 366 miles – although in our experience, 300 miles seems more realistic in day-to-day driving. As you'd expect from a car that starts from over £100,000, all versions of the EQS come highly equipped with Nappa leather upholstery, three-row seat healing, a 360-degree camera system and a large panoramic sunroof.
Looking to go electric on a budget? Check out our top 3 used electric cars for under £23k
Top 10 longest-range electric cars