Volkswagen ID.3 hatchback review
"The Volkswagen ID.3 is essentially a futuristic, electric version of the the Golf, and VW hopes it will prove just as popular"
Pros
Performance
Range and fast-charging
Interior space and tech
Cons
Plastic interior trim
No one-pedal driving
Complicated model range
The Volkswagen ID.3 marked the start of a new era for the German brand. It was the first fully electric car from the firm not to be based on an existing model. That brings lots of advantages, like more space inside and the ability to accomodate a bigger battery. Production of the ID.3 is officially carbon-neutral, so it's an eco-friendly vehicle even before it hits the road.
Volkswagen is keen for the ID.3 to be a success, stating that the car is as important as the original Beetle and Golf. To appeal to customers, it has made the ID.3 as futuristic as possible and, while we're not sold on every aspect, VW's zero-emission hatchback is a convincing and compelling alternative to everything from the Nissan Leaf to the Tesla Model 3.
We awarded it our Best Small Company Car award for 2022 but a range of trim levels and battery options means it can suit both private and business buyers. It seems customers are keen on it; Volkswagen reported 144,000 European sales in the ID.3's first year and half of those had apparently never bought a VW before.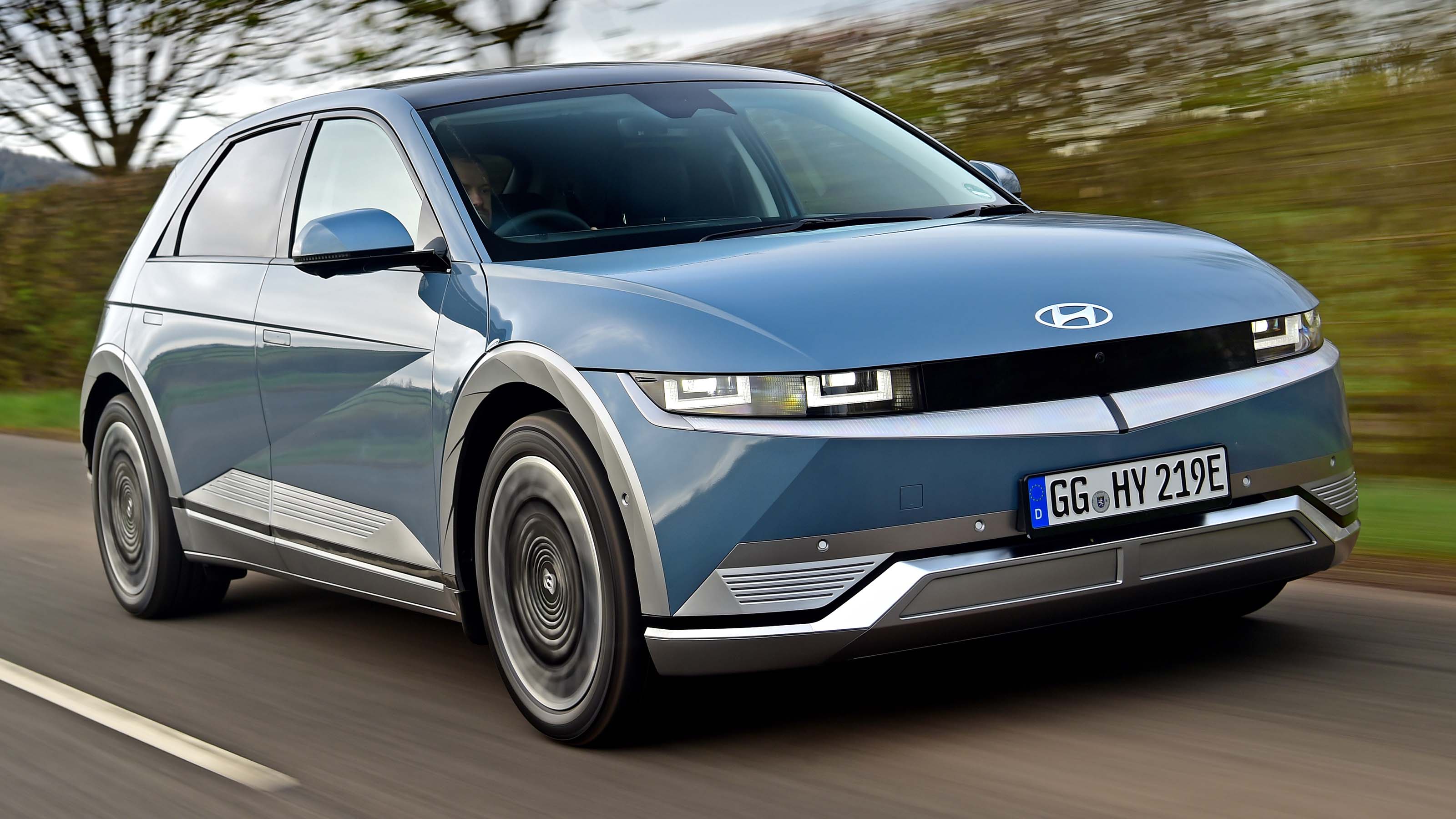 Top 10 best electric cars 2022
It's about the same size as a Volkswagen Golf (albeit a bit taller) but ushers in a new design language specifically for the ID sub-brand. Smooth styling with a contrasting roof and LED lights means it looks modern but familiar, rather than radically different. It's a slight shame that the standard plastic wheel covers look rather cheap and outdated; alloy wheels are an upgrade on most models.
Designers have taken full advantage of the low position of the battery and compact rear-mounted electric motor: it has a short bonnet and the wheels are pushed out to each corner, giving the ID.3 interior space on par with the bigger Volkswagen Passat. It's a shame that no ID.3 now qualifies for the Government's Plug-in Car Grant, though.
Inside, the use of digital technology makes even the Mk8 Golf look conservative, with buttons eradicated almost entirely. Instead there's a floating centre screen and a tablet-style instrument pod, so it's almost as minimal as the Tesla Model 3. Glowing 'ID.Light' ambient lighting responds to voice commands and flashes to offer directions and alerts for incoming calls or hazards. 
A gear selector for drive and reverse takes the form of a rocker switch behind the steering wheel, freeing up storage space between the front passengers. It's Volkswagen's most radical change to the cabin in a generation, but if you ignore the bells and whistles, you'll notice quality seems to have suffered; there are less soft-touch materials, replaced in most instances by hard grey plastic.
Three battery options are offered for the ID.3, allowing drivers to pick one that suits their daily routine and budget. With a 45, 58 or 77kWh capacity, they span a range from 205 miles to 341 miles, so even the entry-level model can go further than a Hyundai Ioniq Electric. The two cheapest versions get the smallest, while only the most expensive Tour spec gets the largest battery; all others get the 58kWh battery that promises around 260 miles of range.
Pro Performance (the quickest) and Pro S versions get 201bhp using a single rear motor, powering the back wheels, but dual-motor, four-wheel-drive versions are expected later. Volkswagen added a 148bhp rear-mounted motor on Pure Performance (entry-level) models, and a 143bhp one on Pro models. Pure Performance is being discontinued however, while a reduction in trim levels does make the ID.3 lineup a bit easier to navigate.
In March 2022, VW started only offering one model - the Life trim with the Pro Performance 58kWh powertrain - due to parts shortages. Our review covers the whole range of trim levels as these should be available again in the near future.
Acceleration was impressively brisk in our Pro Performance test car, thanks to an instant response and 310Nm of torque, putting the Nissan Leaf and Renault ZOE in the shade. Around town and away from traffic lights, not much will keep up. Charging is similarly speedy, with 100kW fast-charging filling the battery pack to 80% in around half an hour. 
Despite weighing more than a Golf, the ID.3's low centre of gravity also makes it remarkably agile, beating the petrol or diesel Golf in this regard. A tight turning circle is also an unexpected bonus of the extra space under the bonnet, giving the ID.3 an advantage in city streets and car parks.
Even on big 19-inch alloy wheels in high-spec cars, on the vast majority of roads ride comfort is commendable. The 18-inch wheels fitted to most cars should improve comfort further. It's generally quiet on the move too, which is handy as the lack of an engine increases your awareness of other sounds.