Renault Megane E-Tech Electric vs Volkswagen ID.3: which should you buy?
Which new electric family hatchback is best for you? We compare the VW ID.3 and the Renault Megane EV to find out.
Until relatively recently, if you were looking for a new electric family car, your options were limited to the Nissan Leaf and little else – especially if you didn't want to go down the large SUV route. Nowadays, though, there's much greater variety, and two prominent recent arrivals on the scene include the Volkswagen ID.3 and the Renault Megane E-Tech Electric.
While the two cars look drastically different to one another in the design department, underneath their smooth styling they're quite similar conceptually. Both were built from the ground up to be fully electric, for instance, and both cars take up a similar amount of space on the road. They're in the same ballpark as one another in areas like their maximum charging speeds as well.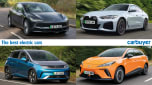 Top 10 best electric cars 2023
For other aspects, however, the Renault and Volkswagen don't tread on each other's toes as much, and it's these differences that'll likely nudge you into opting for one over the other. We've detailed both the VW ID.3 and Renault Megane E-Tech Electric below, to help you find out which of these two cars is the better all-electric family runabout for you.
Range and charging
For both the Volkswagen and the Renault, their maximum ranges do vary across the range, as the two cars don't come with just the one battery size. Renault has confirmed the Megane EV will get two battery options from launch, whereas the Volkswagen ID.3 has been available with no less than three battery sizes.
For the Megane E-Tech Electric, the battery options consist of a 40kWh and a 60kWh pack, which can hold enough charge for up to 186 miles and 292 miles of driving range respectively. In comparison, the Volkswagen ID.3 is available with 58kWh (up to 264 miles) and 77kWh (up to 340 miles) battery size options. An entry-level 40kWh option, giving up to 216 miles, was originally available as well.
The size of the battery doesn't just dictate the maximum ranges of these two cars: it also influences how fast the Volkswagen and Renault can be recharged. In the Megane's case, while the larger 60kWh battery can be rapid charged by charging points as powerful as 130kW, the most powerful charger Renault has confirmed the 40kWh model is compatible with a less-impressive 22kW unit.
In contrast, the various Volkswagen ID.3 models are much more consistent when it comes to accepting charging speeds. The base 40kWh models are compatible with 110kW charging points, which increases to 120kW for the 58kWh battery and up to 125kW for the 77kWh cars.
For both the Renault and the Volkswagen, though, the charging speeds aren't the most rapid you'll find in the electric car world. For instance, cars like the Hyundai Ioniq 5 and Kia EV6 can accept charges from charging points as potent as 350kW - although these are hard to find. This means that, while you can still plug them into the same lower-powered chargers that the Renault and Volkswagen can accept when their batteries need topping up, you won't be able to benefit from the faster charging times.
Partnership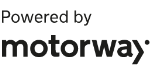 Need to sell your car?
Find your best offer from over 5,000+ dealers. It's that easy.
Since both cars don't have combustion engines, they have no tailpipe emissions, so are therefore exempt from vehicle excise duty, or VED (road tax). This lack of emissions helps make these two cars affordable to run and tax as company cars, and recharging your car at home will be more cost effective than, say, running a petrol or diesel car and filling it up at the pumps.
Performance
Just as with the battery sizes, both the Volkswagen ID.3 and Renault Megane EV come with different power outputs depending on the model. The Renault's electric motors produce 158bhp or 217bhp, depending on the version, whereas the VW ID.3 is available in 143bhp, 148bhp and 201bhp flavours.
While electric motors promise a brisk initial turn of speed, thanks to their almost-instant torque delivery, the entry-level ID.3 and Megane Electric models likely won't be for you if you'd prefer a slightly speedy electric family car – the least powerful versions of these cars can accelerate to 62mph from a standing start in 9.6 seconds and 10 seconds respectively. The slightly brawnier 148bhp Volkswagen ID.3 is a little bit quicker, with a claimed 0-62mph time of 8.9 seconds, while the quickest versions of the Volkswagen and Renault can complete the same sprint in 7.3 and 7.4 seconds respectively.
In performance terms, then, the Volkswagen ID.3 and Renault Megane E-Tech EV are fairly closely matched. However, you may find the Renault to feel a bit nimbler to drive, as it's quite a bit lighter than its VW rival. Depending on the spec and the size of the battery, the Renault tips the scales between 1,513kg and 1,636kg – in contrast, the Volkswagen ID.3 is a noticeably heavier car like-for-like, with quoted kerb weights for the ID.3 ranging from 1,781kg to 1,935kg. 
Interior and technology
Many electric cars tend to go for a more minimalist approach to their interiors, and the Volkswagen ID.3 and Renault Megane Electric are no exception. Physical controls are mostly eschewed in both cars, with many of their functions being controlled through a large touchscreen infotainment system on the dashboard. The Renault does stand out a bit by having the screen positioned in a portrait layout, rather than the more conventional landscape setup used on the ID.3 – and, unlike the Volkswagen, there are some physical buttons positioned below the Renault's infotainment screen for the menu shortcut keys and heating controls.
In both cars, fit and finish is pretty good, though there are a few cheaper-feeling plastics and interior trim pieces – especially when you consider even the most affordable versions of these cars are quite a bit pricier than a like-for-like combustion-powered Volkswagen Golf or Renault Megane. Do bear that in mind if you're used to having a plush cabin in your car and are thinking of replacing it with either the ID.3 or Megane E-Tech EV.
At the time of writing, Renault hasn't confirmed full tech specs for the Megane EV, so we'll need to wait a little bit longer before we know how it compares features-wise with the VW ID.3. We do at least know the Megane will, like the Volkswagen, be compatible with over-the-air software updates, which promise to flesh out and enhance the car's multimedia features over the car's lifecycle.
Practicality
Both the Renault Megane E-Tech Electric and Volkswagen ID.3 are around 4.2m long, which makes them slightly shorter than an equivalent petrol-engined hatchback like a Golf. Despite this slight reduction in length, both cars offer comparable amounts of space to a conventional family runabout, thanks in part to their long wheelbases (the distance between the front and rear axles) which helps free up interior room for passengers.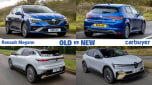 Renault Megane: old vs new
As a result, while you shouldn't expect a stretched limo-esque upgrade over a conventionally-powered hatchback, both the ID.3 and Megane EV offer enough space for adults to not feel too hemmed in on longer journeys – though we reckon the VW is a little bit better in this area. Both cars do at least share the perk of having a completely flat floor to improve leg room a bit: since the car doesn't have a conventional gearbox, there's no need for a transmission tunnel running along the middle of the car.
While the Megane and ID.3 boast similar qualities when it comes to carrying passengers, the Renault has the on-paper edge when it comes to luggage hauling credentials. Even though the ID.3 has a Golf-rivalling boot capacity of 385 litres (which is impressive, when you consider the car's electric motor is housed under the boot floor), the Renault trumps it with a far larger cargo capacity of 440 litres. Unlike some other electric cars, however, the Renault and VW do without a boot up front, occupying the spot where you'd normally find the engine bay on a conventionally-powered car. Some electric cars have a 'frunk' up front that's a handy place to store charging cables.
Verdict
Both of these cars are appealing options if you're looking to trade your petrol- or diesel-powered family hatch for an electric one. You'll need to wait a bit, though, as the Megane isn't on the road just yet and the ID.3 has long lead times. If you need an electric hatchback that can cover lots of miles between charges, then the long-range ID.3 may be better for you than the Megane - but the ID.3's biggest battery is reserved for a high-spec trim level.
On paper at least, the Renault Megane EV promises on-paper to be a closely-matched alternative to the Volkswagen, and areas where it holds an advantage in such as boot space could swing it in your favour. As a result, if you're not looking to upgrade to a new electric family car just yet, it may be worth waiting until Renault confirms the Megane E-Tech Electric's prices and tech specs before committing one way or another.
Check out our comparison of the Volkswagen ID.3 and Tesla Model 3, or read about the upcoming MG 4 electric hatchback