New Volkswagen ID.3 vs Tesla Model 3: rivals comparison
How does Volkswagen's electric ID.3 hatchback compare to the Tesla Model 3?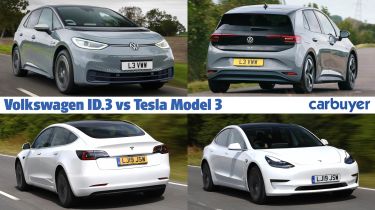 Electric cars are becoming increasingly popular because battery technology is improving and more affordable EVs are arriving. But while our list of the cheapest electric cars is a good starting point if you want to jump from petrol pump to plug, these two cars - the Volkswagen ID.3 and Tesla Model 3 - are set to be among the best-sellers.
If it's familiarity you're after, the ID.3 will appeal. You can think of it as a futuristic Volkswagen Golf; it's a similar size and shape, and isn't significantly more expensive than a mid-spec Golf - especially when you factor in the ID.3's much lower running costs.
For some, switching to an electric car is a chance to experience something completely different to run-of-the-mill petrol and diesel cars, and here the Model 3 suits the bill. The blanked-off grille highlights the lack of an engine, and it looks futuristic without being deliberately wacky like the BMW i3. Inside, it's modern, clean and minimalist; there are no dials in front of you because everything's controlled through the central touchscreen.
While these cars aren't exact rivals, you'd likely consider a Model 3 if you were looking at a high-spec ID.3 and vice versa. Both offer low running costs (electric cars are free to tax and recharging costs a fraction of a tank of fuel) and environmentally friendly zero-emission driving. A quiet driving experience and brisk acceleration are rewards for EV buyers, too.
Prices and specifications
The first allocation of ID.3s were high-spec '1st' launch models, with a long list of standard equipment, fast-charging and a year's free charging at certain public chargers. There are now seven trim levels to choose from, called Life, Business, Style, Family, Tech, Max and Tour. All cars come with LED headlights, parking sensors, a 10-inch sat nav touchscreen, heated seats and adaptive cruise control, and prices range from around £30,000 to £40,000 after the £3,000 plug-in car grant has been applied.
The Tesla is more expensive, with prices ranging from £40,500 to £56,500, making it a closer rival to the BMW 3 Series and Audi A4 than the ID.3. Every Model 3 comes with powered, heated front seats, sat nav, wireless charging for two phones and a tinted glass roof, while more expensive versions come with a 'Premium' interior upgrade. This adds heated rear seats, LED fog lamps, floor mats and a year's worth of 'premium' connectivity, compared to just 30 days for the cheapest car's 'Partial Premium' interior.
Interior
Step out of the latest VW Golf and into an ID.3 and you'll notice a few similarities - a lot of the switchgear and controls have been carried over, either to save costs or to make the ID.3 feel like any other VW. With most functions controlled by the angled central touchscreen (and nearly everything else accessible by the steering wheel buttons), the ID.3 has a rather more minimalist look than the hi-tech Golf. Unfortunately, some of the materials used in both cars feel a bit cheap; there's a lot of hard plastic where you would've found soft-touch materials in the previous Golf.
Partnership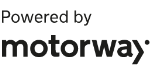 Need to sell your car?
Find your best offer from over 5,000+ dealers. It's that easy.
But if you're looking for minimalism and distinctiveness, there's no car interior like that of the Tesla Model 3. The trim pieces and air vents stretch from door-to-door, running behind the huge tablet-like touchscreen that you'll use for the vast majority of functions. Even the lights, wipers and door mirrors are operated through the screen. Because it also shows all the driver's necessary information, there's no screen behind the steering wheel.
While the ID.3 is a similar size to the Golf, having all the batteries under the floor and no engine to worry about means it'll be much more spacious. It'll have a similar amount of interior space to the bigger Volkswagen Passat, and the boot matches the Golf's 380 litres. The Model 3 is very spacious, too, and its flat floor means there's more space for your feet and storage cubbies. It's a saloon, so the boot opening doesn't include the rear windscreen. Between the two boots (there's a small one under the bonnet) you've got 425 litres of luggage space.
Technology
The ID.3 features plenty of the same state-of-the-art technology as the Mk8 Golf, and Volkswagen will want to roll out its Car2X software on more models. This communicates with other cars about local traffic jams, roadworks and hazards. Alongside that is Amazon Alexa voice control, Apple and Android connectivity, while you'll also be able to have an augmented reality head-up display and, eventually, autonomous driving. It was a little disappointing, however, that early cars have suffered software bugs and delays; we're hoping VW gets this sorted quickly.
As you might expect from Tesla, the Model 3 is full of tech too. It may be smaller and cheaper than the Tesla Model S and Tesla Model X, but it still comes with the option of Autopilot 'full self-driving' (where the law currently allows). Your smartphone can be the key to lock and unlock the car, and the aforementioned touchscreen should be a tech lover's best friend.
Safety
As we expected, given the technology on board, Euro NCAP has given the ID.3 a full five-star score. It has a range of safety technologies like lane-keeping assist, autonomous emergency braking and pedestrian detection. The Tesla has been scrutinised, and its five-star rating included the highest-ever score for driver assistance tech, at 94%. Adult safety was rated at 96%, too.
Driving and performance
Two battery sizes are currently available on the ID.3, with a smaller third one on the way. Most cars get the mid-size 58kWh battery that's capable of around 260 miles between charges but the 'Tour' model has the largest 77kWh battery, and this is said to achieve 341 miles on a charge. The ID.3 accepts charging at up to 125kW, so you'll be able to top up the battery to 80% in the time it takes to have a coffee in a motorway service station or do the weekly shop.
All cars currently get a rear-mounted 201bhp electric motor, while some future versions will have a second motor on the front axle to give four-wheel drive. Acceleration is on a par with the petrol-powered Volkswagen Golf GTI hot hatch and, with no gears to change, the ID.3 sprints from 0-37mph in a mere 3.5 seconds. Considering the extra weight of the batteries, it's impressive that the ID.3 feels as agile and as composed as it does.
Even the cheapest Standard Plus Tesla Model 3 offers around 260 miles of range, and Long Range versions increase the possible driving distance to over 350 miles. Tesla's Supercharger network (which came top in our Driver Power chargepoint survey) is no longer free to use, but the Model 3 also has a CCS charging point and is therefore the first Tesla to be compatible with other charging stations. Superchargers take half an hour to recharge the battery to 80%, while a 7kW wallbox fully recharges the battery in 12 hours.
The performance might impress you more. Even the cheapest Model 3 gets from 0-60mph in just 5.3 seconds, and the Performance model reduces this to a ridiculously fast 3.1 seconds - faster than any Porsche 911, which costs nearly twice as much. Like most EVs, the Model 3 features brake regeneration so the car will slow down as soon as you come off the accelerator.
Verdict
The Tesla Model 3 is an impressive package, thanks to breathtaking performance, a futuristic interior and similar range to a petrol car. All its plus points are enough to outweigh any build quality concerns you might have, and it's worth its price.
The Volkswagen ID.3 brings the familiarity of a Golf infused with some state-of-the-art features and styling, and we think this will appeal to many buyers. Its confusing trim level structure and slightly disappointing material quality are outweighed by the range it will travel on a charge and the technology on offer, while it's cheaper to buy and can be bought at Volkswagen dealers across the country, rather than just online. For these reasons, the ID.3 just about wins this comparison. We'd expect to see it on the UK's best-selling car list soon.
See where the Tesla Model 3 features on our list of the best executive cars, or check out our guide to the best used electric cars.