Top 10 best used electric cars 2023
Second-hand electric cars are becoming more widely available - here are the best used electric cars to buy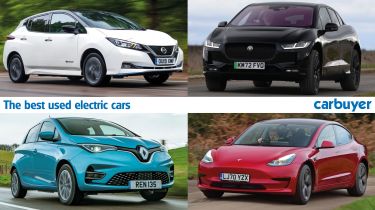 Most electric vehicles (EVs) are much more expensive than equivalent petrol and diesel cars, but there are now quite a few on the second-hand market. Tiny, outdated electric city cars start from around £5,000, but spending the price of a new supermini can get you a much more modern car with a more respectable range and the latest creature comforts.
Gone are the days when electric cars lost almost all their value as soon as you'd bought them. Now, residual values are catching up with petrol and diesel cars, and in some cases, you might get more for the electric model on the used market.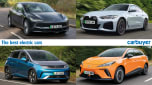 Top 10 best electric cars 2023
Part of the reason you can't get many bargain used EVs any more is that battery technology is so much better than it was a decade ago. The amount of miles you can travel on a charge has massively increased and batteries shouldn't degrade as quickly, although you should bear in mind that used electric cars will probably have a slightly shorter battery life than brand-new ones.
Still, a second-hand electric car can still be a savvy purchase. You won't need to pay VED (road tax) until 2025, and recharging at home costs a mere fraction of what you'd pay for a tank of petrol. With far fewer moving parts than an engine, an electric car should theoretically be more reliable and easier to service. Plus, the driving experience is smooth and quiet, there's usually nippy acceleration and you won't be emitting any carbon dioxide.
Read on for our guide to the best used electric cars. You might also be interested in our guide to the cheapest electric cars, as several new EVs cost around £20,000.
The second-generation Nissan Leaf went on sale in early 2018 and you can now buy one of those early examples for the price of a mid-range Nissan Micra. This Leaf offered the best part of 170 miles on a charge when it was new, and cars of this age should still be covered by Nissan's generous eight-year, 100,000-mile battery warranty. Nissan gave the new car much more conventional styling, and both the exterior and interior look far more modern.
There's plenty of tech - even the entry-level model has sat nav, a reversing camera and cruise control - and it's decent to drive, too, hitting 0-62mph in a sprightly 7.9 seconds. Look for e+ models if you need a little more range; these should manage comfortably more than 200 miles.
As part of our Best Used Car Awards, the Nissan Leaf won our Best Used Family Electric Car back in 2022.
The BMW i3 has been on sale for quite a few years now and it still looks as fresh and as futuristic as the day it was launched. Inside is just as interesting, with a wide expanse of dashboard barely interrupted by the infotainment screen and digital dials. Earlier cars get quite a small screen but the cabin is incredibly light and airy, thanks to a high roof and tall windows.
Partnership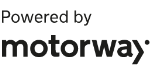 Need to sell your car?
Find your best offer from over 5,000+ dealers. It's that easy.
You might expect it to be a little more practical than it is, and battery degradation may mean you get fewer miles from a charge than the figure BMW quotes for new models. Those drawbacks don't stop the i3 being a very sought-after car, and it scooped our Best Used Small Electric Car award for 2022.
The Model 3 is a much more affordable model when new than the Model S that came before it, making it more accessible for many buyers. For that reason, plenty of used versions are now popping up in the classifieds, making them a good choice for those after a second-hand electric car.
Tesla is known for offering advanced technology and equipment in its cars, so that means that even a few years down the line, the Model 3 feels modern. Even with the entry-level's rear-wheel drive configuration, the Model 3 feels quick, doing 0-60mph in just 5.8 seconds and making light work of overtaking and getting up to speed when on the motorway, and a 305-mile range will be adequate for most buyers. Go for a Performance version, and you'll be leaving BMW M3 drivers trailing behind thanks to its extra motor helping to propel it from 0-60mph in 3.1 seconds, with range increasing to 340 miles. 
For the ultimate balance of range and performance, though, we recommend the dual-motor Long Range model, which does the same sprint in 4.2 seconds and can go for up to 374 miles between charges.
With the Honda e, MINI Electric and Peugeot e-208 now on sale, the Renault ZOE has more rivals than ever before - but those cars are only just catching up to Renault's big-selling EV. The ZOE was updated in 2019 with a new face and a bigger battery but, if you can live without these, there are plenty of second-hand ZOEs available, and some will be cheaper than you expect.
Later models come with fast-charging capability and a more powerful battery than earlier ones, so you should be able to manage around 150 miles between charges. We'd recommend hunting out a newer ZOE if you can because they're also faster and better equipped. Some older models have leased batteries, which makes the car cheap but you'll need to factor in £50-£120 per month to cover the battery costs.
The UK's best-selling supermini is available as a fully electric car. The Vauxhall Corsa-e, or Corsa Electric depending on its age, looks almost identical to the petrol-powered version - inside and out - and brings lots of standard equipment. There are also dealerships in most towns, which will make servicing easy.
Sharing its battery and electric motor with the Peugeot E-208, the electric Corsa should manage over 200 miles from a full charge. Fast-charging is available to top the car up in half an hour, while it feels very nippy around town. We'd like it to feel a bit more special but the electric Corsa earns its place on this list because it's great value; we've seen nearly-new electric Corsa models for under £20,000, which is a substantial discount on a new one.
Besides the grey blanked-off grille, the Hyundai Ioniq Electric looks pretty normal, especially in comparison to cars like the BMW i3 and the original Nissan Leaf. With the inside looking pretty similar to any other Hyundai, the Ioniq could be an ideal choice if you're worried about an EV feeling too unfamiliar.
The Ioniq doesn't exactly offer a sparkling drive, but it does well for comfort and refinement and is better to drive than the Ioniq Hybrid. Newer second-hand examples should manage around 150 miles between charges - enough for most people's weekly commutes - and the battery should be fully topped up if you charge overnight.
The ID.3 packs the very latest tech at VW's disposal. The ID.3 is also a spacious family car with far more interior space than the similarly sized Volkswagen Golf, plus you'll get between 200 and 330 miles on a charge depending on the battery you pick.
If you want an electric car that feels barely any different to a petrol or diesel, or can't stretch to an ID.3, the older Volkswagen e-Golf is worth considering. Besides model-specific alloy wheels, C-shaped daytime running lights and a couple of blue trim finishers, the e-Golf looks pretty much identical to any other Golf, and inside very little gives away the electric powertrain. The boot's exactly the same size as petrol and diesel models, too, and acceleration is about the same. In fact, perhaps the only difference is that you'll need to plug it in every 130 miles or so. 
The Kia e-Niro, the all-electriv erosion of the Mk1 Niro, which was also available as a hybrid and plug-in hybrid, was always one of our favourite mainstream electric cars. Buyers liked it, too, and that means there are plenty of e-Niros out there on the used car market.
It's another EV that subscribes to the idea that electric cars should look normal - only the fared-in grille and blue highlights mark it out. Unusually, the fully electric e-Niro is more practical than the hybrid models, so there's a big boot and plenty of space inside. It's better to drive than the hybrid pair, too, and running costs are even lower, although you'll pay more to buy one in the first place. Perhaps the best bit is that the e-Niro offers one of the longest ranges of any EV this side of a premium model at twice the price, with a fantastic 282-mile range.
The Jaguar I-Pace shows that electric cars can be very fun to drive, as well as an environmentally-friendly way of getting from A-to-B. It's quicker from 0-62mph than most hot hatchbacks and impresses on a twisty road. Used buyers can pick up an 18-month-old I-Pace for around £20,000 less than the initial cost price, so you can enjoy its well-appointed interior, futuristic styling and massive boot for under £50,000.
Insurance will be expensive - like any premium electric SUV - but running costs are low. Official estimates suggest you can get almost 300 miles on a full charge, and the ability to recharge at up to 100kW means 80% of the battery's capacity can be topped up in the time it takes to have a coffee.
When it was released, MG proudly boasted that the MG5 was the only estate electric car on sale in the UK. Competitors have since begun to develop their own electric estate cars to fill the niche, with Vauxhall's Astra Electric Sports Tourer, and Audi set to release the next-generation A6 Avant with an electric powertrain. The MG5 has already been around for some time, though, and there are now plenty of pre-facelift models on the second-hand market if you want the low running costs of an electric car and the practicality of a large boot. 
You can expect up to 214 miles from the 53kWh version and 250 miles from the 61kWh version, both of which were offered in either base-level Excite or top-spec Exclusive trim. Post-facelift trims were renamed SE and Trophy, though there are much fewer of those on the used market, and higher prices mean they're not yet as good a bargain. Excite models got rear parking sensors, cruise control, a central touchscreen with Android Auto, Apple CarPlay and sat nav, as well as a seven-inch digital gauge cluster. Exclusive brought extra luxuries such as keyless entry, heated front seats with six-way electric adjustment, automatic wipers and leather-look upholstery
Best used electric cars