Volkswagen Golf GTI hatchback review
"Favouring precision over power, the Volkswagen Golf GTI is a sophisticated hot hatch"
Pros
Great chassis
Iconic badge
Easy to live with
Cons
Rivals are faster
Dull exhaust note
Ordinary interior
The Volkswagen Golf GTI is the closest thing hot hatch fans have to the Porsche 911 because not only is it a German performance icon, it's constantly evolving in subtle ways.
Now in its eighth generation, the GTI is almost a segment in its own right. Instead of chasing big power figures like the Audi RS3 and Mercedes-AMG A 45, the performance Golf is happy to plough its own furrow. Power is now 242bhp as standard - the same figure as the outgoing GTI Performance. But the real innovation isn't under the bonnet but in the chassis.
New adaptive suspension, switchable driving modes, the limited-slip differential from the expensive Golf GTI TCR and a system capable of adjusting both up to 200 times a second make the GTI even more capable. It has more grip and resists understeer even more doggedly, all while remaining composed and comfortable on the school run.
Buyers can also choose the Golf GTI Clubsport, with more power and a more focused chassis and bodywork. Celebrating 45 years of the Golf GTI, an exclusive GTI Clubsport 45 is even more desirable, thanks to a unique look and upgrades like a lightweight titanium exhaust. The more hardcore versions go after the hot hatch elite - standing toe-to-toe with models like the Honda Civic Type R, and in many ways the Clubsport is a better GTI than the standard car. It's a shame then, that its £37,000 price tag will keep it off quite a few shopping lists.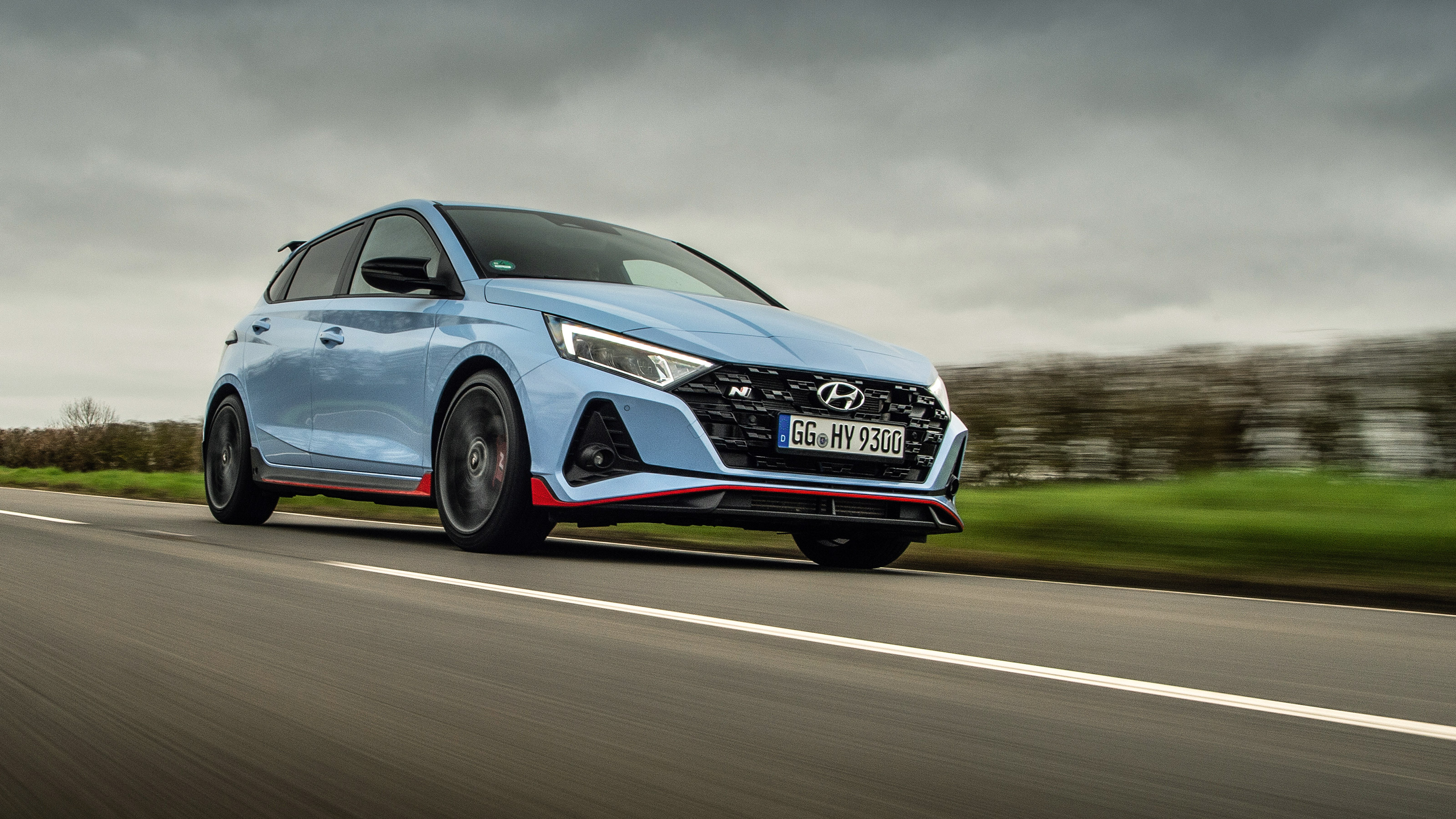 Top 10 best hot hatchbacks 2022
Exterior changes aren't too drastic for the regular GTI, but the headlights are now lower and slimmer, following the line of the plunging bonnet. Most noticeably, the full-width honeycomb lower grille houses daytime running lights in an x-shape, for a unique look. An LED light bar that spans the grille is also available as an option. Gloss-black side sills give a ground-hugging appearance and at the rear, new LED rear lights are joined by a full-width strip of lights. Alloy wheels are 18 inches as standard with 19-inch versions available as options. The GTI Clubsport gets a more aggressive look, with a unique front bumper, sill extensions and a much larger rear wing, while the Clubsport 45 has a black roof and unique alloy wheels with a red pinstripe.
The interior gets the usual list of GTI upgrades, from tartan-cloth bucket seats to steel pedals and a sports steering wheel. There's also ambient lighting with a GTI-inspired setting, and sporty graphics for the digital instrument panel. As with the standard Golf, this now flows into a 10.25-inch infotainment screen, resigning almost all physical buttons to the factory parts bin.
As usual, the latest Golf GTI doesn't represent a transformation but a next step. Its chassis is now even better at coping with a twisty road at speed one moment and a relaxing cruise the next. However, one increase isn't likely to be welcomed, and that's the price - as the GTI continues to nudge further beyond £30k, it becomes less of the affordable hero it used to be. But with resale values likely to be strong, affordable finance deals will help put the GTI within reach of more buyers. If its price tag is within reach, the GTI Clubsport offers even more excitement, without being too compromised for normal driving.
MPG, running costs & CO2
Reasonable for private buyers but an expensive proposition for business customers
The Volkswagen Golf GTI has a reputation as the everyman's performance car, and a big part of this is its palatable running costs. The GTI can return up to 38.2mpg, while emitting 168g/km of CO2. Surprisingly, the official fuel consumption figure doesn't increase for the Clubsport version, despite its higher power output. The Ford Focus ST, with its larger 2.3-litre engine, only manages 34.4mpg and emits 179g/km. Efficiency figures for the six-speed manual Golf GTI and the seven-speed DSG automatic are virtually identical, so the decision of which to choose is down to personal preference.
These figures shouldn't be much of an issue for the hot hatch-buying private customer, but the days of the GTI appearing on company-car lists are probably already gone. The hot Golf sits firmly in the highest Benefit-in-Kind band for business drivers, as the government attempts to push drivers into cleaner, electrified models like the Toyota Corolla Hybrid.
At least the annual VED (road tax) bill is reasonable because it's charged at the standard rate. The GTI Clubsport 45 model starts at over £40,000, meaning owners will be liable for the additional surcharge for years two to six of ownership. The GTI shouldn't cost much more than a regular Golf when it comes to servicing and maintenance. Consumables like tyres and brakes could be a bit more expensive though, especially for the Clubsport, due to their high-performance specifications.
Engines, drive & performance
Ignore its power figure and the GTI's deft handling and grip hold plenty of appeal
Let's get one thing out of the way first: the standard Golf GTI isn't chasing big power numbers. Even the Hyundai i30 N and Ford Focus ST now offer quite a bit more power than the GTI's 242bhp, which Golf buyers used to get in the 'Performance' model of the GTI but now comes as standard. Instead, it's more about how the GTI feels and how well it uses the output of its 2.0-litre turbo petrol engine that really counts.
The familiar engine gets the GTI from 0-62mph in 6.3 seconds, which feels brisk from behind the wheel but is some way off the 5.7 seconds of the 276bhp Ford Focus ST. Volkswagen has at least managed to tune the engine so it feels keener to rev to its 6,500rpm redline. However, when it comes to overall pace, the Golf doesn't feel quite as fast as the frantic Civic Type R or even the Focus ST.
More of an issue is the hesitancy of the seven-speed DSG automatic gearbox at low speeds, although it does feel better as you pick up speed. By comparison, the purist-pleasing six-speed manual is slick, offering a slightly quicker change than the standard Golf, as you'd expect. It feels a little slower and less precise to use than the gearbox in the Civic Type R, which has a more solid, direct action.
This changes if you go for the GTI Clubsport, with power increased to 296bhp. There's no manual option, and the 2.0-litre turbo and DSG gearbox give it vastly improved performance sprinting from 0-62mph in just 5.6 seconds. You can definitely feel its extra punch, with maximum torque sustained until 5,200rpm instead of 4,300rpm in the normal GTI. This goads you to rev it for longer and enjoy the barking exhaust note, that's quite a bit louder than the standard car. Despite having no extra power, the Clubsport 45 is even more exciting, thanks to its lightweight titanium exhaust, which helps make the car feel even more urgent. Volkswagen has also removed its 155mph speed limiter, so while its new top speed of 166mph is largely academic in the UK, it does give the 45 model spec sheet bragging rights over other regular GTIs.
It's in the dynamics department that the standard GTI has moved on significantly. It might sit on the same MQB underpinnings as before but the adaptive suspension system is new, there are lightweight aluminium components, stiffer springs and a limited slip differential from the special edition Golf GTI TCR. Like the Audi S3, the GTI's chassis and differential is controlled by a new 'Vehicle Dynamics Manager" that's capable of making up to 200 adjustments every second.
Understeer - where the car turns less than you expect - is virtually non-existent at sane speeds and the level of grip is even higher. The steering is direct and accurate, even if it hardly oozes with feel. At least this helps in other regards, helping make the GTI relaxing on a long motorway drive, where it's more comfortable than most rivals. Eco, Comfort, Sport and Individual driving modes allow the person behind the wheel to tailor the experience as well.
On rough roads, the Comfort setting does a good job of taking the edge off potholes and imperfections. Switching to the Sport setting sharpens the throttle and adds weight to the steering, but makes the suspension so firm that driver and passenger are likely to bounce around in the sports seats. Switching to the Individual mode solves this problem by allowing the driver to personalise the car's setup, combining the sharpened driving dynamics with a softer ride.
The GTI Clubsport sits 10mm lower than standard, has new rear suspension setup, more heavily cambered front wheels and larger brakes. Like our test car, it can also be upgraded to adaptive dampers (called DCC by Volkswagen) for around £800, and to 19-inch wheels instead of the standard 18-inch items. It really comes into its own on faster roads, because its front-wheel drive setup can still start to be limited by traction on really twisty lanes. Once things open up its talent is undeniable, and the Clubsport feels more agile and exciting than the regular GTI. Its steering can't quite match the Civic Type R though, but its chassis and brakes feel close to the class benchmark. 
While it looks more aggressive thanks to its decals and unique paint scheme, the Clubsport 45 doesn't get any major chassis upgrades. It's standard 19-inch alloy wheels do make its ride slightly firmer and its responses a touch sharper than the Clubsport on 18-inch wheels, though. A few kilos less weight from its exhaust also made the Clubsport 45 feel a bit more nimble than the standard Clubsport we tested before it.
Sadly, the standard GTI doesn't sound as good as it used to. New particulate filters and a bigger catalytic converter have muted its voice somewhat. While VW's engineers have tried to get around this by fitting a sound actuator to bolster the engine note, it doesn't quite match the sound of the previous model.
Interior & comfort
The Volkswagen Golf GTI is still one of the most upmarket hot hatchbacks available
If you've sat in a Golf GTI in any of its previous seven incarnations, you'll be instantly familiar with the interior theme of the eighth. There are tartan-trimmed seats with noticeably larger side bolsters than the regular car, and these gain integrated headrests for the first time. There are red flashes of trim - the GTI signature colour - and steel pedals. The digital instrument panel has also allowed for a virtual upgrade, with bespoke GTI graphics.
Of course, the steering wheel is important in any GTI, and there's a flat-bottomed item with exaggerated hand grips at either side, metallic bottom spokes and a GTI badge. The rest of the changes fall in line with the regular Mk8 Golf but transform the interior into a digital environment. A 10.25-inch infotainment screen butts up against the instrument binnacle and, with very few physical buttons, the narrow dashboard is dominated by air vents and a metallic strip. Meanwhile, a tiny gear selector for the automatic gearbox frees up space for cup holders and your smartphone. Ambient lighting with 30 colours is standard and includes a GTI-mode for the first time.
The Clubsport sticks with the same formula, but gets its own unique dash and trim inserts, along with contrasting red stitching and Clubsport seats, for some added drama. The Clubsport 45 has a new heated steering wheel, trimmed in leather and with a '45' logo in the centre.
Practicality & boot space
There's little practicality sacrifice compared with a standard Volkswagen Golf
As three-door models have fallen out of favour with buyers, manufacturers have managed to save on the cost of engineering a different body shell. The Mk8 GTI is five-door only, with virtually no loss in practicality versus the standard model. It's easy to get in and out - so long as you don't mind the jutting front seat supports - or put a child seat in the back, with plenty of room for four adults.
With no four-wheel drive or electrification taking up extra space, the boot measures 374 litres, so there's no lack of practicality compared with the standard Golf. Fold the seats down and space increases to 1,237 litres of space. We'll need to wait and see if the GTI is homologated for a tow bar, should you want to pull a small trailer or even a caravan.
Reliability & safety
Safety is first-rate and minor electrical issues are the most likely problems
The latest Volkswagen Golf hasn't been out long enough to appear in our Driver Power customer satisfaction survey but the regular Golf finished in 73rd place out of the top 75 models in our 2021 results. Given that the new GTI shares its technology and underpinnings with the regular Golf, and that it uses the same 2.0-litre petrol engine as before, there shouldn't be too many surprises. Small faults are likely to be software-based and electrical, as Volkswagen rolls out its latest technology.
It's good news so far as safety is concerned, thanks to a solid five-star Euro NCAP rating for the standard Golf. It now comes with a list of safety kit beyond that of a luxury saloon from just a few years ago, including LED Matrix headlights, driving aids and Car2X - a communication technology that can receive information and hazard warnings from local infrastructure and even nearby vehicles.