Volkswagen Golf R-Line
"The Volkswagen Golf R-Line aims to bring some of the sports appeal seen in the Golf R into other versions of its hatch."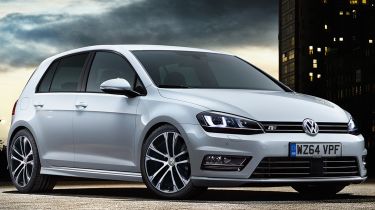 The Volkswagen Golf R-Line is the German brand's attempt to distill some of its sporting prowess found in the Volkswagen Golf R hatchback into a lesser Golf model. The R-Line is designed to be a cheaper and more economical alternative to the full-fat Golf R but still provides at least a decent amount of the R hatchback's design and performance appeal.
The Golf R-Line has a decent amount of kit as standard, with the most notable features being a unique R-Line bodykit and Volkswagen's Discover satellite navigation system. The infotainment suite has a CD player, Bluetooth connectivity and a DAB radio and the R-Line also has adaptive cruise control as standard.
The R-Line has a choice of two engines that seem to deliver a good amount of power and decent fuel economy. The 1.4-litre turbocharged TSI petrol produces 148bhp and a 0-62mph time of 8.2 seconds, but thanks to its BlueMotion technology, it's still capable of up to 58.9mpg. Its carbon dioxide emissions can be as low as 109g/km, so annual road tax is just £20.
The 2.0-litre diesel also produces 148bhp and has a similar 0-62mph time of 8.6 seconds. Fuel economy is marginally better, by around 3mpg, and when it's equipped with the six-speed manual it has emissions of 106g/km.
Weirdly, the slick seven-speed DSG paddle-shift automatic gearbox is only available on five-door models, which is a slightly strange business move that Volkswagen seem to have used across the Golf range.
Good points
The Golf R-Line certainly looks the part, with its large alloy wheels and racy bodykit taking centre stage. It will certainly take a seasoned car enthusiast to tell the difference at a first glance.The Golf is impeccably built inside; its robust controls, high-grade materials and solid build quality are classic Volkswagen. It's a wonder why anyone would go for the massive 2.0-litre TDI diesel when the smaller, lighter, faster and almost as economical 1.4-litre TSI petrol is part of the R-Line's engine options.
Bad points
Despite having kit like satellite navigation and adaptive cruise control, the Golf R-Line lists automatic climate control, a reversing camera and leather seats as options. An Audi A3 S line is a similar price and comes with more luxuries for your money.It's quite a minor point, but those looking for the seven-speed DSG automatic gearbox will have to stump up extra money to have a five-door model, whether they want it or not.Although the R-Line looks the part, if you ever see a Volkswagen Golf GTI or Volkswagen Golf R on the road, you may feel like you opted for second best.
What you get
Alloy wheels
Folding rear seats
Alarm
Rear parking sensors
Tyre pressure sensors
Passenger & Driver airbag
Front side airbags
Curtain airbags
Front fog lights
Manual air conditioning
Front electric windows
Single CD player
AUX stereo input
DAB Radio
Cruise control
Sat nav
Stop/Start
Automatic wipers
Sports seats
Rear electric windows
Bluetooth
Recommended optional extras
Climate control
Parking pack
Our choice
We'd choose the 1.4-litre TSI petrol in a hearbeat. The fuel economy and emissions benefits of the diesel are marginal enough where road tax costs are no different. It's quicker too, if only by half a second.