Top 10 best hot hatchbacks 2023
The best hot hatches combine sports car thrills with everyday usability – all at a reasonable price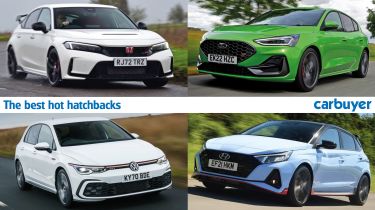 The dream of owning a sports car is sometimes remote because they don't offer enough space and low-running costs to do all the heavy lifting day to day. Hot hatchbacks offer the solution – they're fast, fun and more frugal than most sports cars, yet they offer enough practicality to do the weekly shop or even ferry around family members and friends.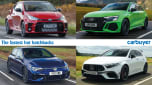 The UK's top 10 fastest hot hatchbacks 2023
Hot hatchbacks are often cheaper to buy than most other performance cars, too – they're more subtle to look at than most sleek, low-slung coupes and convertibles, but typically offer styling tweaks to showcase their high-performance credentials. Cars like the Volkswagen Golf GTI and Peugeot 205 GTI pioneered the hot hatch formula, and more recent cars including the Ford Fiesta ST have become household names in the hot hatch class – a car category that has struggled in the past few years as efficiency and emssions have come under scrutiny.
Luckily, there are still hot hatchbacks on the market to satisfy your need for performance and practicality, some of which are relative newcomers such as Hyundai, along with well-established offerings from brands with big followings like Ford and Volkswagen.
If you're after something with even more space, but still plenty of performance, why not check out our list of the best sports and performance SUVs, or if you've decided you want a cheaper second-hand option read our best used hot hatchbacks list. Read on for our list of the top 10 best hot hatchbacks in 2023…
1. Hyundai i20 N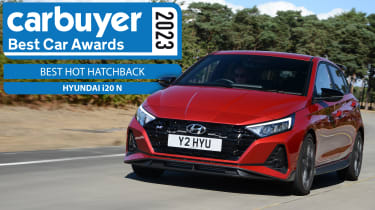 There were worries whether Hyundai's success with the i30 N was just a fluke, but the arrival of the Hyundai i20 N has further proved the South Korean brand's hot hatch credentials. Under the bonnet lies a 1.6-litre turbocharged four-cylinder petrol engine with 201bhp, getting the pocket rocket from 0-62mph in just 6.2 seconds. There's also a host of other upgrades including stiffer suspension and larger brakes, resulting in a car that constantly feels poised to attack a twisty road.
With exterior styling inspired by Hyundai's successful WRC rally car, the i20 N also boasts a hi-tech and highly-equipped interior. A pair of heavily-bolstered sports seats keep you in place when you're driving fast, while the gear lever offers a short and satisfying throw. Delve into the standard-fit 10.25-inch touchscreen and you'll find configurable settings for the engine, ESC and exhaust – the latter of which provides more snaps, crackles and pops than a bowl of Rice Krispies. 
2. Ford Fiesta ST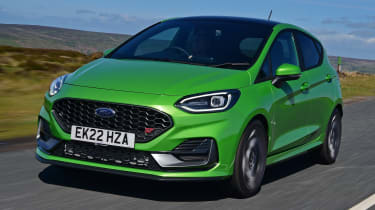 The Ford Fiesta is set to be discontinued in 2023, so now is a better time than ever to snap up the high-performance ST variant. The latest Ford Fiesta ST has downsized to a smaller, yet more powerful 1.5-litre three-cylinder EcoBoost petrol engine; this 197bhp unit provides a fantastically rorty soundtrack while also propelling the car from 0-62mph in 6.5 seconds and onto a top speed of 144mph.
There are several versions of the ST available, but opt for the range-topping ST-3 model with its limited-slip differential and the hottest Fiesta is quick to come alive on a twisty road. The Fiesta's interior may be starting to feel long in the tooth with its uninspired design and small eight-inch SYNC 3 touchscreen, but the driving controls all feel incredibly solid, while Ford's leather and suede performance seats feel luxurious and offer plenty of support.
3. Honda Civic Type R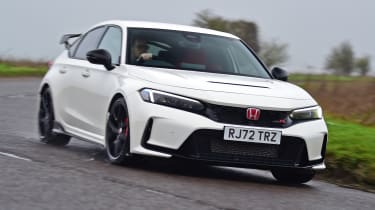 If lap times are more important to you than anything else, perhaps no hot hatch will satisfy your need for speed better than the new Honda Civic Type R. With a powerful 325bhp 2.0-litre four-cylinder engine and one of the best-feeling manual gear shifts out there, the latest Type R will reach 62mph in 5.4 seconds. While this may be slower than some automatic rivals, increased chassis stiffening and other mechanical tweaks mean the hottest Civic can take a corner much faster than almost any other hot hatch.
Partnership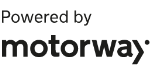 Need to sell your car?
Find your best offer from over 5,000+ dealers. It's that easy.
While the large rear spoiler is a dead giveaway of the car's performance, the latest Civic Type R adopts a much subtler look than before. There's plenty of legroom in the rear, too, while a 410-litre boot should be enough to cater for most families' luggage. The only real thing that makes the new Civic Type R impractical is its price; at almost £50,000, it's one of the most expensive hot hatches on the market.
4. Skoda Octavia vRS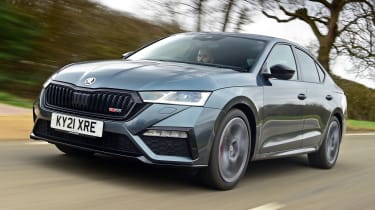 Taking a different approach to almost all the other entries on this list, the Skoda Octavia vRS is a hot hatch for those simply looking to get to their destination in a fast, yet unflappable manner. That's not to say it's boring; the Octavia vRS boasts a sportier bodykit, a boot spoiler, lower, stiffer suspension and figure-hugging sports seats. The overall effect is subtle rather than ostentatious, but the Octavia vRS looks quietly menacing in the metal.
Unlike most hot hatchbacks that are petrol-only, the Octavia vRS can also be specified with a diesel or even a company car tax-busting plug-in hybrid powertrain. The former can do 0-62mph in 7.4 seconds and still return 56.5mpg, while the PHEV matches the petrol model's 242bhp output and boasts a pure-electric range of 39 miles. Regardless of which you choose, all offer plenty of performance and while no Octavia vRS will come close to rivals in terms of engagement, all should still offer decent fun on an open B-road.
5. Toyota GR Yaris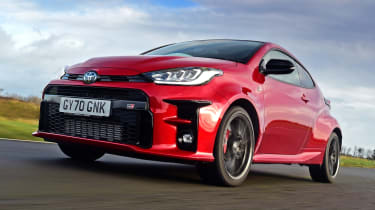 Those two letters between 'Toyota' and 'Yaris' are important, because they signify that this is no ordinary Yaris. GR stands for Gazoo Racing, Toyota's motorsport arm that competes in the World Rally Championship. With help from the team's drivers, Toyota has totally transformed the rather boring regular Yaris with an entirely new body – including a carbon fibre roof.  The engineers have also wrung out 257bhp from the 1.6-litre engine, while four-wheel drive allows for a rapid 5.5-second 0-62mph time.
While the interior may be a bit of a letdown in comparison to other hot hatchbacks on this list, it's the way the Toyota GR Yaris drives which makes it appealing. Essentially a rally car for the road, the hot Yaris offers mountains of grip, allowing you to attack a corner much faster than you would in a  front-wheel-drive hot hatch. Of course, this all comes at a price; the GR Yaris costs around £10,000 more than other hot superminis – that is, if you can get hold of one as Toyota's rally homologation special is currently sold out in the UK.
6. Hyundai i30 N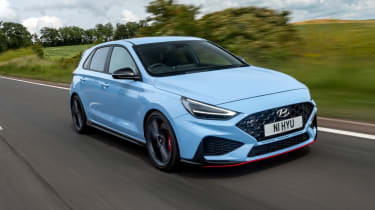 The Hyundai i30 N kickstarted the South Korean brand's 'N' performance division with a bang by being one of the finest handling front-wheel drive cars ever fitted with number plates. Engineered with supervision by ex-BMW boss Albert Biermann, the i30 N is one of the most track-focused hot hatchbacks on the market, with firm suspension, a shouty exhaust and balanced and direct steering.
Under the bonnet, the i30N is powered by a 271bhp 2.0-litre four-cylinder engine. Buyers have a choice of either a slick six-speed manual gearbox or a quick-shifting dual-clutch automatic. Different driving modes – accessed via tempting bright blue buttons on the steering wheel – allow you to alter the setup of the car for your daily commute, a B-road blast or track day, adjusting parameters like the suspension stiffness and throttle response.
7. BMW 128ti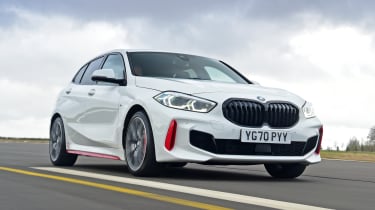 The latest BMW 1 Series arrived to much controversy as it ditched the old car's sporty rear-wheel-drive setup in favour of a more traditional front-driven layout. While this may sound like a step backwards at first, it's allowed BMW to create its first-ever true rival for the likes of the Golf GTI: enter the BMW 128ti. Powered by a 261bhp 2.0-litre four-cylinder engine, the BMW is not only more powerful than its VW rival – it's better to drive, too.
Thanks to a mechanical differential, sharp steering and finely tuned suspension, the 128ti drives just as well as hot versions of the old 1 Series. It's much more luxurious than before as well; while the flashes of red on the exterior will either be perceived as cool or kitsch depending on who you are, it's undeniable that the BMW has a plush-feeling interior, with superb build quality and a fantastic infotainment system.
8. Volkswagen Golf GTI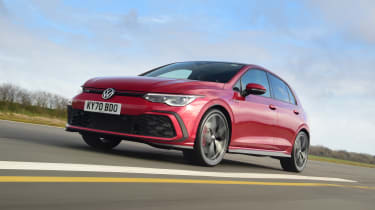 Arguably the father of all hot hatchbacks, the Volkswagen Golf GTI combines an impressive history, together with more than enough performance for most drivers and roads. Doing 0-62mph takes 6.3 seconds thanks to the 242bhp 2.0-litre turbocharged engine, which is smooth and eager when accelerating.
The Golf GTI loses out to some hot hatchbacks in terms of outright performance and driver enjoyment, but it's one of the easiest cars to live with on this list, and also has one of the better-built interiors. The latest 'Mk8' car is also a real tech-fest, with big screens dominating the dash and few physical buttons.
9. Ford Focus ST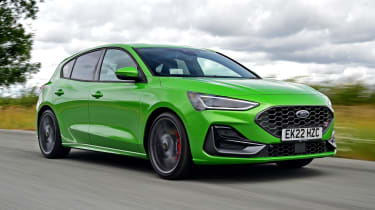 Ford has a reputation for making its cars fun to drive, which is a staple feature of a great hot hatch. The Ford Focus ST is in line with this ethos because even the standard Focus on which it's based offers great handling and a satisfying driving experience. If you go for the ST, you can even boast about how the 2.3-litre 276bhp petrol engine is even used in the Ford Mustang EcoBoost. The Ford Focus ST completes a 0-60mph sprint in just 5.7 seconds, although in reality, it really comes into its own on winding B roads which show off its superb handling. Ford's latest anti-lag technology also means that power is more instant when you put your foot on the throttle in Sport and Track modes.
Ford offers the Focus ST with its latest Track Pack bundle, which brings a lightweight set of alloy wheels, styling upgrades, and a more tunable suspension setup featuring KW coilovers. When we drove it, the Focus ST with the Track Pack option felt very firm, but quite honestly – while it could make the ST rough around the edges at low speeds – it helped make it feel like a hot hatch of old that prioritises fun and body control above all else. Other variants include an estate version, too, so if you still want a hot hatch but the family is growing, you can add another layer of practicality thanks to its larger boot and roof rails.
10. Mercedes-AMG A35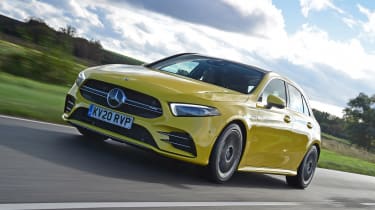 The 302bhp Mercedes-AMG A35 is the interim choice if you want more power than a standard A-Class, but don't want to splash around £60,000 on the hardcore A45 model. That's not to say the A35 is any slouch; it uses the same 2.0-litre four-cylinder as its more potent brother, detuned to a still-impressive 306bhp. Consequently, 0-62mph takes just 4.7 seconds – just a tenth of a second behind one of its main rivals, the Golf R.
Despite the excellent performance, the A35 still has the modern, luxurious interior for which Mercedes has become renowned, with two large screens and plenty of plush materials. Opt for the Premium Plus pack and you'll get the same extravagant aero package as the A45, featuring a massive rear spoiler and a handful of trim pieces on the front bumper. Be careful with your right foot and the Mercedes hot hatchback will return around 40mpg, too.
Don't quite need the extra space? Check out our list of the best sports cars you can buy, and the best hatchbacks you can buy