Toyota GR Yaris hatchback review
"The Toyota GR Yaris is a once-in-a-generation rally special, serving up a seriously impressive driving experience"
Pros
Rally pedigree
Brilliant to drive
Rarity
Cons
Firm ride
Fuel economy
No back doors
Don't dismiss the Toyota GR Yaris as any old hot hatchback with stiff suspension, a tuned engine and bigger brakes. When Toyota returned to the World Rally Championship in 2015, part of its plan was to build an affordable rally-inspired sports car, and the GR Yaris is the tantalising result.
It sits on a unique platform that fuses parts from the latest Yaris with the rear section used for the larger Toyota Corolla and Toyota C-HR models. It's now a three-door hatchback, its roof is now 91mm lower and the GR looks like it's been gulping protein shakes, with swollen wheel arches and a massive front grille. To keep the weight down, the car has a forged carbon composite roof and an aluminium bonnet, hatchback and doors.
The engine is special too - a 1.6-litre turbocharged petrol with 257bhp that's the world's most powerful three-cylinder. Four-wheel-drive traction helps the GR Yaris rocket from 0-62mph in 5.5 seconds, and on the road it always feels quick between 4,500-7,000rpm. Its four-wheel drive system can be adjusted to send up to 60% of torque to the front wheels, or up to 70% to the rear axle, altering how the car behaves on the road, track or loose surfaces. The standard six-speed manual gearbox also has rev-matching (that can be turned on or off) to perfectly blip the throttle as you downshift.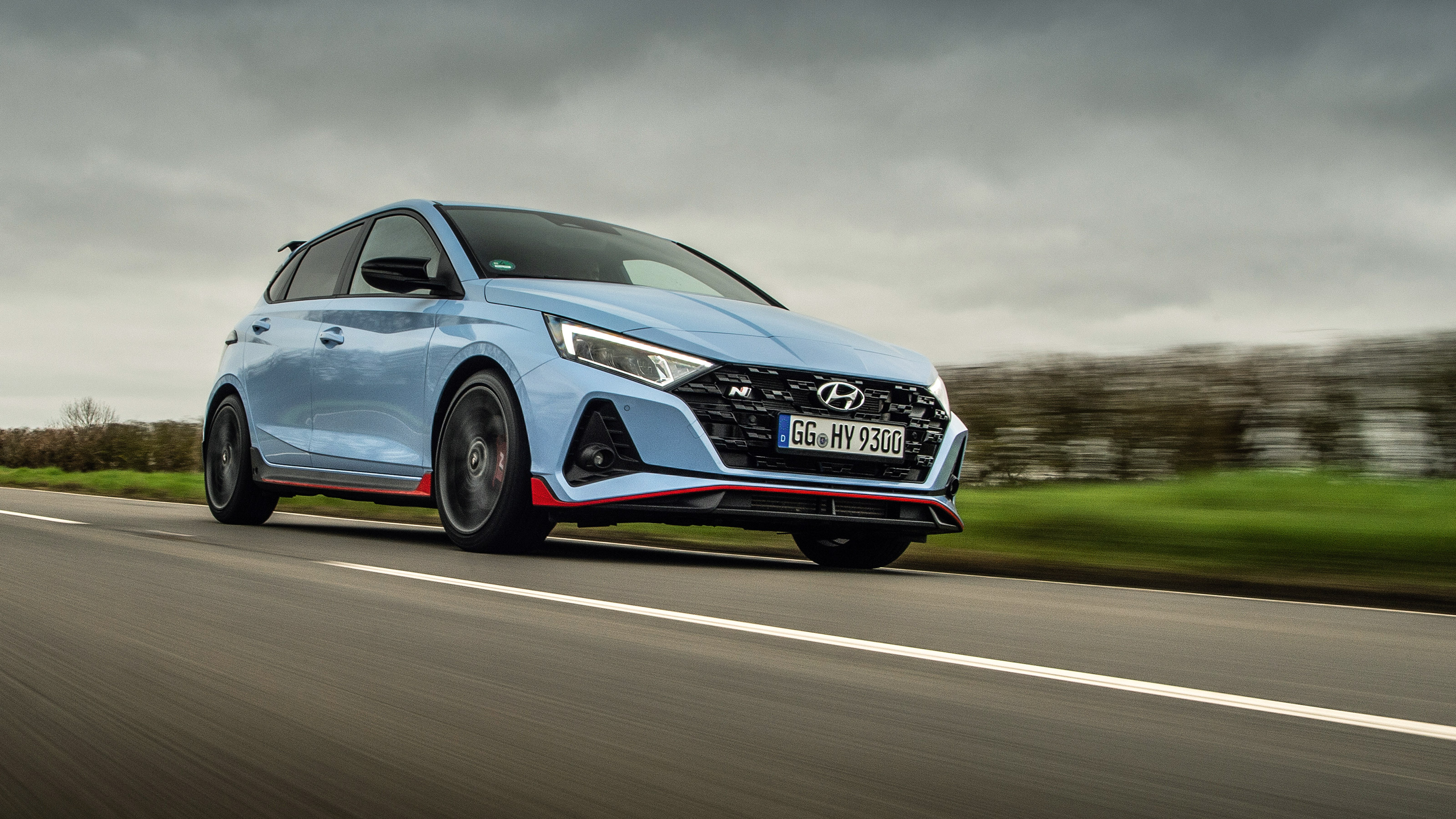 Top 10 best hot hatchbacks 2022
Upgrade to the Circuit Pack and locking differentials are added, along with red brake calipers, firmer suspension and forged 18-inch alloy wheels with Michelin Pilot 4S tyres. The standard car has cast 18-inch alloy wheels and less aggressive Dunlop tyres. Both cars feature brakes from the larger, heavier Toyota Supra.
An impressive transformation then, but what you can't glean from the spec sheet is the development input from Toyota's rally drivers. It's evident as soon as you slip into the GR's bucket seats, fire up the engine and head along a twisting B road because the car doesn't drive like an ordinary supermini. Its instant steering, incredible chassis and powerful brakes make it faster than most sports cars through a challenging set of bends.
MPG, running costs & CO2
Thirsty for a Yaris but not so bad when compared with rivals
It may be a surprisingly hardcore performance car, but the GR Yaris still uses a sensibly sized 1.6-litre engine with just three cylinders and a turbocharger, so it can be somewhat economical when you aren't pretending to be a rally driver.
It can return up to 34.3mpg, which is almost exactly half as much as the regular Yaris, but it's best not to think about that. It makes more sense to compare the GR Yaris to other hot hatchbacks, including the Honda Civic Type R (33.2mpg), Ford Focus ST (34.4mpg) and Hyundai i30 N, which also manages 34mpg. CO2 emissions of 186g/km mean the rally-inspired Toyota is very unlikely to crop up on company-car lists, but it only costs standard VED rate each year in road tax. 
Engines, drive & performance
The Toyota GR Yaris is likely to be an enthusiast's favourite for years
A Toyota Yaris with the performance of a Subaru Impreza? Yes, for the first time since the Celica GT4 arrived around two decades ago, Toyota has decided to create a proper rally car for the road. That's no exaggeration: the GR (for Gazoo Racing, Toyota's motorsport division) Yaris was dreamt up to form the basis of Toyota's 2021 World Rally Championship contender, with 25,000 road-going versions planned for production to homologate the rally car.
As a result, the GR Yaris is no mere makeover, with two less doors than the standard model, pumped up looks and much bigger wings and spoilers than the standard Yaris hybrid. It also has four-wheel drive that can be switched between Normal (mostly front-wheel drive), Sport (mostly rear-wheel drive) and Track (50:50 power distribution) driving modes to alter the character of the car. Add Toyota's Circuit Pack, and locking differentials are fitted to the axles, the suspension is firmer and a set of red brake callipers are also added to its Toyota Supra-derived brakes.
The engine is new as well. It's a 1.6-litre, three-cylinder petrol that's turbocharged to produce 257bhp. This makes it similar to the engine in the Ford Fiesta ST, albeit with 60bhp more horsepower, and it serves up impressive acceleration on the move. Thanks to the traction of its four-wheel-drive system and relatively low weight (at 1,280kg it weighs around 100kg less than a Civic Type R), it gets the Yaris from 0-62mph in a class-leading 5.5 seconds.
It's an intriguing recipe, and the good news is that the GR Yaris feels as good to drive as it looks on paper. The suspension in the Circuit Pack-equipped car we tested is bordering on too firm for UK roads, but the resulting body control and response from the steering and brakes is incredible. On many roads - especially ones that twist and turn, and are possibly slightly damp - the GR Yaris could get from A to B faster than many supercars. 
Interior & comfort
Bucket seats and sports instruments give the Yaris a motorsport-inspired makeover
It might be a homologation rally car but things have come on a bit since the stripped out Imprezas and Evos that were launched in the '90s and early '00s. The Yaris still has plenty of refinement and mod cons, with luxuries extending to a JBL sound system, air conditioning, navigation, a blind-spot monitor, and even ambient lighting and a head-up display if the £2,000 Convenience Pack is chosen.
While it looks far more aggressive from the outside, the main changes inside the GR Yaris are its figure-hugging bucket seats, sports instruments (that now read to 180mph), metal pedals and thick-rimmed steering wheel. There's also a button marked 'IMT' near the gear lever that stands for Intelligent Manual Transmission, which automatically blips the throttle on downshifts.
Practicality & boot space
The GR Yaris swaps five doors for three and has a lower roof
Buyers clearly won't be choosing the GR Yaris for its practicality - it not only loses two doors compared with the standard Yaris, but the roof is also 91mm lower. However, there's still plenty of space in the front and the car feels pretty similar to any other supermini.
Getting in the back is clearly not as easy, and putting a child-seat in the rear seats will also be much more of a faff than with the standard five-door. The boot is smaller, not only because the roofline is lower but because of modifications such as relocating the battery under the luggage compartment to improve weight distribution. The boot measures 174 litres (down from 281 litres in the standard Yaris) but Toyota claims that with the rear seats folded there's enough space for a new set of four car tyres or a bicycle.
Reliability & safety
The Toyota GR Yaris doesn't lose the standard car's generous safety kit
The standard Toyota Yaris has already achieved a five-star safety rating from Euro NCAP, and we expect this to also translate to the GR Yaris. It's fitted with Toyota Safety Sense as standard, including autonomous emergency braking, Lane Departure Alert and even adaptive cruise control. 
Toyota also has a strong reputation amongst owners, coming fifth out of 30 manufacturers in our 2021 Driver Power survey. Of all those who responded, just 15.3% of Toyota owners reported one or more faults with their car in the first year of ownership, which is lower than average.