Hyundai i30 N hatchback review
"The Hyundai i30 N is a truly special addition to the hot-hatchback class"
Pros
Sophisticated suspension
Captivating handling
Value for money
Cons
Not as fast as rivals
Lacks perceived pedigree
Looks may be too tame for some
It's not often a car as exceptional as the Hyundai i30 N comes along. In producing a complete newcomer intended to rival established hot hatchbacks such as the Ford Focus ST, Honda Civic Type R and Volkswagen Golf GTI, Hyundai set itself a very challenging task – not least because it's the first car from the manufacturer's new N performance division.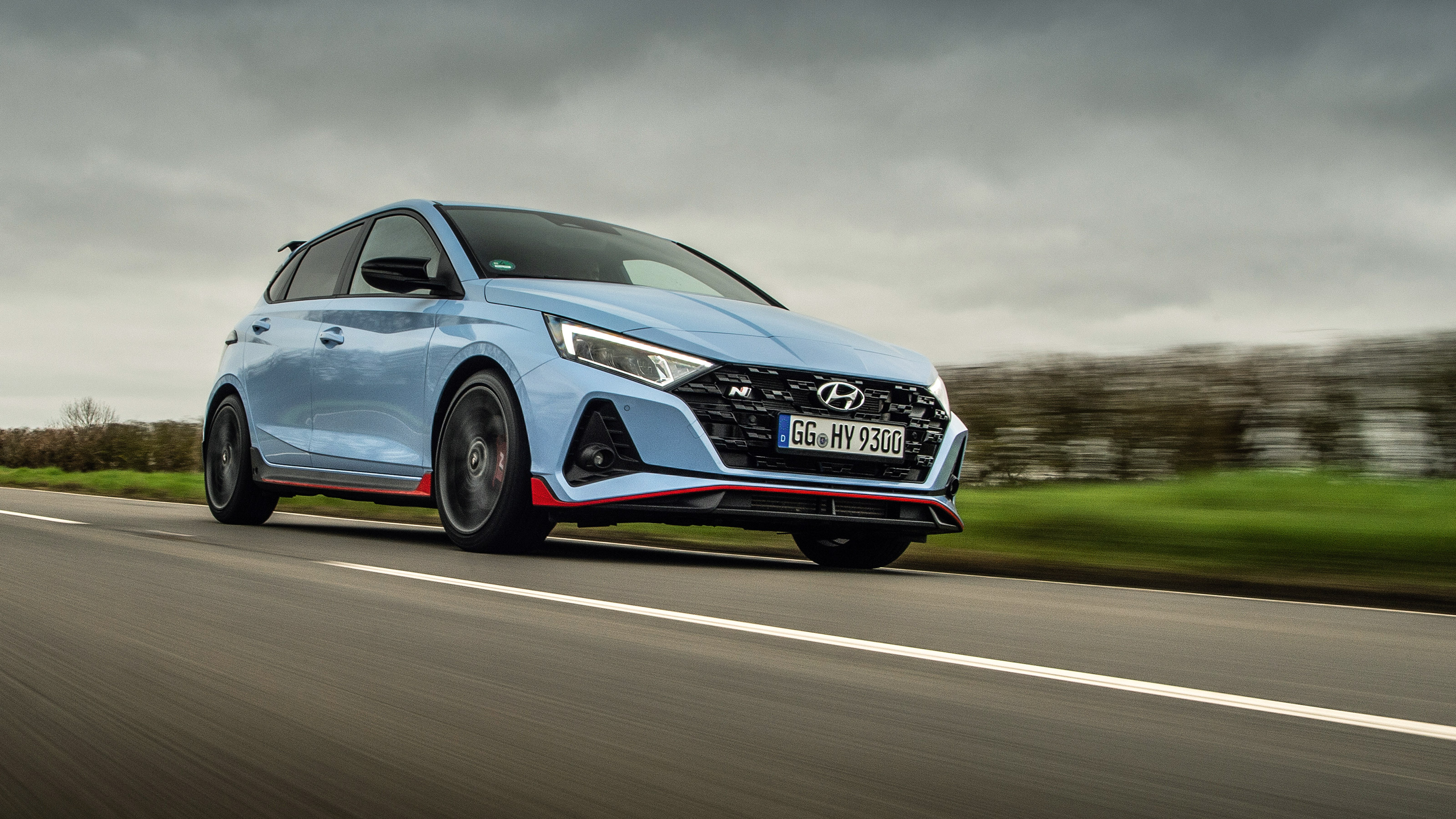 Top 10 best hot hatchbacks 2022
The i30 N turned out to be a surprising and welcome success, taking its place in the market as one of the sweetest-handling hot hatchbacks we've ever driven. For 2020, it was tweaked slightly to make it even better, with updates to the suspension that allow the i30 N to flow along British roads with greater composure. A 2021 facelift sharpened up its looks slightly, with new LED headlights, bumpers and a different grille, while also introducing an optional dual-clutch automatic gearbox for the first time.
The i30 N was originally offered in two forms: the standard 247bhp model and the 271bhp 'Performance' version. Hyundai discontinued the lesser-powered car in 2020 because it accounted for such a small proportion of sales, leaving the Performance to battle it out against the 316bhp Civic Type R, as well as mega-hatches such as the 395bhp Audi RS3. The facelifted version gets 5bhp more and a torque boost, giving it 276bhp and 392Nm. While the i30 N is behind much of the competition in power terms, it serves as a timely reminder that driving pleasure is about involvement, not just speed.
The standard i30 N took 6.4 seconds to go from 0-62mph, while the facelifted N Performance shrinks that time to 5.9 seconds, or 5.4 seconds for the DCT automatic. Top speed is limited to 155mph.
The i30 N's remarkable nature isn't revealed by raw data – instead it's detectable in more subjective, analogue ways. The i30 N communicates huge amounts of information to you through its perfectly judged and sophisticated adjustable suspension, for example, while its feedback-rich steering, slick six-speed manual gearbox and emotive engine note all add further to the fun. The net result is a deeply impressive and genuinely rewarding hot hatch, but one that's also rather focused if you prefer a smooth ride.
Hyundai is undoubtedly more renowned for its five-year/unlimited-mileage warranty than it is for performance and the unfamiliar 'N' badge on the back of the i30 N doesn't have a rich heritage. However, if you can look past this, there is a great performance car to enjoy, thanks in large part to Hyundai's decision to hire Albert Biermann, the wizard previously behind BMW's illustrious M division, to head the N Performance division. If the i30 N and the smaller Hyundai i20 N are anything to go by, that was an inspired move, both for Hyundai and for hot-hatch fans.
The i30 N's looks are more subtle than extreme, but with twin exhausts, flared wheelarches, black side sills, enlarged air intakes and a motorsport-style triangular central brake light, there's enough to indicate that this isn't an ordinary i30, and give a nod to Hyundai's rally cars. The mature approach Hyundai has taken to styling the i30 N is also likely to grow on you the more time you spend with it.
Special equipment includes excellent sports seats, adjustable suspension, a bespoke gear lever, a rev-matching function, a launch-control feature and three standard driving modes, as well as a fourth, extreme 'N' mode, accessed by pressing a dedicated chequered flag button on the steering wheel. Hyundai even went so far as to commission Pirelli to develop tyres specifically for the i30 N – an expensive and time-consuming business.
Performance aside, the Hyundai i30 N is also a practical car. With five doors and a reasonable 381-litre boot, it more than fulfils the hatchback side of the hot-hatchback brief. Interior quality is impressive thanks to soft-touch plastics and rigorous attention to detail, while sat-nav, a reversing camera, LED headlights and a 10.25-inch infotainment system are standard.
You also get the same impressive roster of safety kit fitted to the standard i30, which includes autonomous emergency braking, lane-keeping assistance and traffic-sign recognition – systems that contributed to the standard i30's full five-star Euro NCAP safety rating. The standard i30 N was around the same price as an entry-level Ford Focus ST when it was on sale, while the facelifted version comes in at just under £33,000. The five-year/unlimited-mileage warranty provided by Hyundai comfortably exceeds Ford's and VW's three-year/60,000-mile guarantees.