Top 3 used sporty cars for £25,000
"Dear Carbuyer, I want a sporty car that's well-equipped and economical enough for my daily commute. What can I get for £25,000?"
Sales of sporty cars are booming, with nearly every manufacturer offering sporty or high-performance versions of SUVs, saloons, hatchbacks and even small crossovers.
Sporty cars have traditionally been hot hatches like the Volkswagen Golf GTI, two-seater sports cars like the Mazda MX-5 and coupe models like the Audi TT. Nowadays, they come in a vast variety of body styles and trims, with sporty SUV models such as the BMW X5 M50i and Audi SQ8 available alongside powerful saloon and estate models like the BMW M340i and Audi S4 Avant.
Best four-door sports cars to buy now
Cars of this type usually come with powerful petrol or diesel engines but thanks to modern engine technology, fuel economy doesn't suffer too badly for the extra performance; petrol models are capable of around 30mpg or more, with diesels hitting nearer 40mpg.
Nearly all sporty cars are well-equipped, with leather upholstery, heated seats, dual-zone air conditioning and a premium stereo system. They also have the latest safety tech, large infotainment screens and switchable driving modes.
Importantly, the best of them offer a driving experience that's more focused than the cars on which they're based, with sharper steering, stiffer suspension and larger alloy wheels with low profile tyres all combining to improve the handling. Irrespective of their performance, they should still be reasonably comfortable and practical enough to carry four adults and their luggage.
Our reader is looking for a well-equipped sporty car suitable for commuting that won't cost the earth to run. All of our picks are possible with a budget of £25,000. They're great to drive, offer a spacious interior and come brimming with tech.
The fun choice: Hyundai i30 N Fastback
For: Sharp handling, quick, pre-reg cars within budgetAgainst: relatively small, less kudos than others
Hyundai's sporty N Division hit the ground running in 2018, when it launched the i30 N hot hatch to critical acclaim. The fastback version offers the same potent performance, pin-sharp handling and raspy exhaust note as the hatch, along with sleeker looks. It may lack some of the refinement of the Jaguar and Alfa, but it's still a relatively civilised car, as well as being practical and reasonably economical.
Plus, £25,000 buys a 69-plate car with delivery miles, and Hyundai's five-year, unlimited-mileage warranty.
Although the i30 N isn't as luxurious as the XF and Stelvio, it still has lots of kit, including an eight-inch touchscreen, and a smattering of sporty trim. It's the smallest car here, but it's still reasonably practical thanks to its 450-litre hatchback boot.
The i30 N Fastback's 2.0-litre turbocharged engine produces 271bhp and 353Nm of torque, so performance is strong, with 0-62mph taking 6.1 seconds. There's also a selection of drive modes – including Eco, Normal, Sport and the customisable N setting – while economy is reasonable, officially pegged at 34mpg.
The classy choice: Jaguar XF
For: Sleek looks, luxurious interior, well equippedAgainst: clunky infotainment, mature image
Big saloons like the Jaguar XF are a great choice for commuters thanks to the high level of refinement and tech they offer, and that takes some of the strain out of sitting in traffic jams. When the road opens up, an XF with Jaguar's 247bhp 2.0-litre petrol engine should be just the ticket, providing decent performance.
Partnership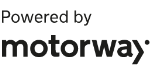 Need to sell your car?
Find your best offer from over 5,000+ dealers. It's that easy.
Plus, there are the sleek looks, which some may find conservative, but others will think pleasingly reserved. We found a 68-plate 15,000-mile example for £25,000.
With a minimalist design and nicely laid-out controls, the XF's interior feels more high-end than its rivals', but the touchscreen isn't as slick as the Hyundai's. lnterior space is decent, but if you need more room, the Sportbrake estate is worth a look.
This is a great car to drive, providing engaging handling with a noticeable difference between the comfort and dynamic driving modes. The supportive seats and slick automatic gearbox make the XF great for commutes, while 161 or 177bhp diesel engines offer strong economy if the petrol is too thirsty.
The stylish choice: Alfa Romeo Stelvio
For: Beautiful design, sharp handling, practicalAgainst: a few sub-par interior materials
If it's something big and practical you're after, the Alfa Romeo Stelvio is both these things, as well as being handsome, particularly for an SUV, while the Alfa badge will be a big draw for many potential owners.
For £25,000, you can buy a 68-plate, 187bhp or 206bhp 2.2-litre diesel with 18,000 miles, or a 2.0-litre 276bhp petrol with around 40,000 miles on the clock. four-wheel-drive Q4 models are worth seeking out if you want extra traction, while Q2 models are rear-wheel drive.
The Stelvio's interior feels both understated and sporty, and it's fairly generously equipped – although the infotainment control and gear selector feel rather plasticky. The SUV body makes the Stelvio the most practical car here, though.
You get brisk performance from the 276bhp petrol engine, but its official 30mpg economy figure may put you off. The diesels will be cheaper on fuel, returning around 43mpg, and we'd recommend the more powerful of the two. But whichever Stelvio you go for, you'll find it incredibly rewarding to drive.
Carbuyer's choice, as picked by deputy editor Ben Hodges - Hyundai i30 N Fastback
All three choices are great cars in their own right but if I had to buy one, it would be the i30 N Fastback. It's better to drive than either the Stelvio or the XF, is packed with standard kit and is also pretty spacious thanks to its shape.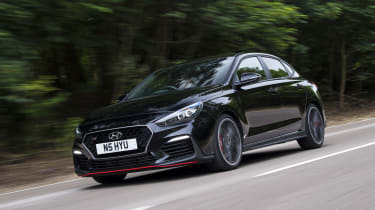 It's also the newest model here and comes with an excellent five-year warranty. The 2.0-litre petrol engine that powers the i30 N is responsive and powerful - combine this with the car's well-balanced chassis and it's a fun car to drive quickly on twisty roads. Not only that, but it's also a comfortable and composed car when you just want to get from A to B.
To read more about the best sporty cars to buy, check out our picks of the fastest SUVs and the best sports cars currently available.