The top 8 fastest SUVs 2023
When you want luxury, space and performance, a premium SUV can be the perfect solution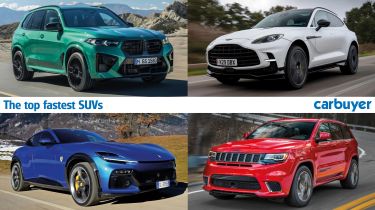 With the trend for SUVs continuing unabated, brands are continuing to push the boundaries with flagship versions of their most popular SUV models. The common denominator is extreme performance, with prices to match.
It all started with the Porsche Cayenne Turbo, which arrived at the start of the noughties with 444bhp from its 4.5-litre V8. Being able to do 0-62mph in five seconds seemed utterly mad for an SUV back then, but the current Cayenne is drastically quicker than that – and it's certainly not alone.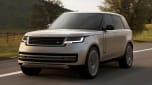 Top 10 best luxury SUVs 2023
There are an increasing number of high-performance options across the board, like the Ford Puma ST and the Hyundai Kona N. At the other end of the scale, there's the Lamborghini Urus, Ferrari Purosangue and Aston Martin DBX 707, some of which offer supercar-rivalling performance.
Most of the fastest SUVs have thirsty petrol engines, but the Tesla Model X at the top of our list proves you don't have to be at odds with the environment to enjoy an SUV with supercar pace.
The Tesla is all-electric, as is its smaller Model Y sibling, but a number of plug-in hybrids also offer eye-opening straight-line speed, even if they don't quite make it onto this list.
You may be surprised to learn that in spite of their weight and higher centres of gravity, many of these speed machines also handle with aplomb thanks to highly advanced electronic suspension systems.
So keep reading for our rundown of the fastest SUVs...
1. Tesla Model X Plaid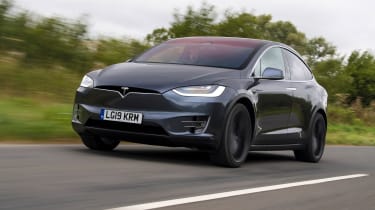 If you want to accelerate from a standstill to licence-losing speeds as quickly as possible, you need electric power. More precisely, you need the Tesla Model X Plaid, with a 'Ludicrous' driving mode that means 0-62mph takes just 2.7 seconds. That's only a couple of tenths of a second slower than a Bugatti Chiron but the Model X is a bulky seven-seat SUV capable of near-silent cruising.
Tesla boasts that its triple-motor 1,006bhp Plaid is the best-performing SUV ever built, and who are we to argue? When you're not using the full potential of the electric motors, Tesla promises a range of 335 miles between charges.
2=. Aston Martin DBX707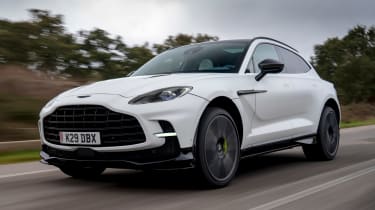 If you want a performance SUV with a luxury British image, then the Aston Martin DBX could be for you. A 542bhp twin-turbo 4.0-litre petrol engine propels the DBX from 0-62mph in 4.5 seconds and on to a top speed of 181mph, despite the car's 2.2-tonne weight. New for 2022 was a DBX707 model with 697bhp, which launches from 0-62mph in a barely believable 3.3 seconds.
Of all the super SUVs on this list, the DBX is one of the best to drive. It's lighter than some rivals and an advanced chassis setup with air suspension gives the car a cornering ability that almost defies physics.
2=. Lamborghini Urus Performante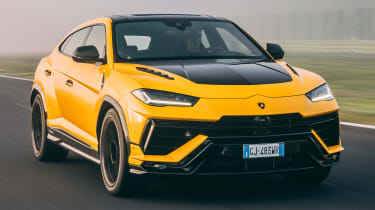 Not even Lamborghini can ignore the popularity of SUVs, and the Urus is already its bestselling model. It may have a higher ground clearance and more doors than typical Lamborghinis, but it's still just as attention-grabbing – and just as fast.
Partnership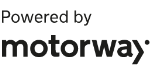 Need to sell your car?
Find your best offer from over 5,000+ dealers. It's that easy.
The Performante version is capable of a 0-62mph time of 3.3 seconds from its 657bhp twin-turbo V8 engine – a powerplant it shares with the Porsche Cayenne Turbo. A Lamborghini should be all about driving theatre, and putting the Urus Performante into one of its sportier drive modes tweaks the exhaust note to produce a thrilling soundtrack that will make you never want to stop driving.
2=. Ferrari Purosangue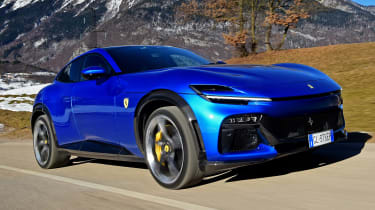 If there's anything to truly exemplify the current craze for SUVs, it's the fact that even supercar-maker Ferrari has got in on the action, introducing the Purosangue. Ferrari purists might have lamented the Purosangue when it was announced, but the sleek SUV is an undoubtedly impressive car. It will do 0-62mph in just 3.3 seconds like its Lamborghini Urus Performante rival, and will go on to a top speed of 192mph.
The Purosangue makes an astonishing 715bhp from a 6.5-litre V12 engine. Ferrari has pushed the V12 as far back as it will go, with the intention of giving the Purosangue handling characteristics that are closer to that of its mid-engined supercar stablemates. It's arguably also one of the prettiest SUVs of all time, and certainly stands out in our list thanks to its unique styling and suicide rear doors.
2=. Porsche Cayenne Coupe Turbo GT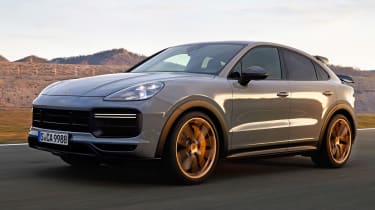 The Porsche Cayenne Coupe is a sleek version of the Cayenne SUV, and your choice will mainly come down to the styling, as in many respects the two cars are identical. They both have a Turbo S E-Hybrid PHEV model, which offers a staggering amount of power. You get 671bhp, the ability to sprint from 0-62mph in 3.8 seconds and a top speed of 183mph, plus most people's commutes can be done on electric power if you keep the battery topped up.
Or, there's the new Turbo GT model, which is only available for the Coupe. While power is actually a bit less at 631bhp, a weight reduction of around 300kg means it can scorch to 62mph from a standstill in just 3.3 seconds and then onto a 186mph top speed.
6. Jeep Grand Cherokee Trackhawk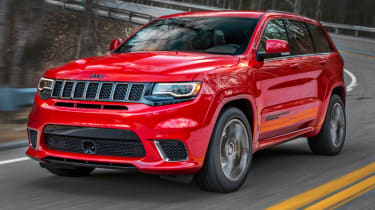 Jeep is known for its history of mass-producing SUVs that are highly capable off-road, but don't be fooled into thinking this Grand Cherokee is best suited to farm tracks. No, the Trackhawk has some serious performance credentials, thanks largely to its 6.2-litre Dodge Challenger Hellcat-sourced supercharged V8 engine.
It produces an eye-watering 707bhp, which propels the Jeep Grand Cherokee Trackhawk from 0-62mph in 3.4 seconds. The Trackhawk is a truly bonkers SUV from a mainstream manufacturer, making it somewhat raw next to the other cars on this list. It's not got any hi-tech trickery to make you go fast, but what it does have is the intoxicating roar of that massive supercharged V8, and it's faster than a V8 Mustang – just make sure you don't mind fuel bills almost as eye-watering as its performance.
7. Tesla Model Y Performance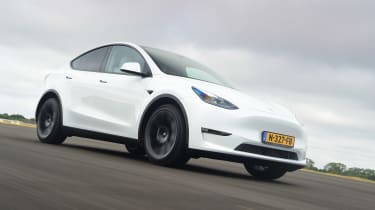 In stark contrast to the Jeep Grand Cherokee Trackhawk sits the Tesla Model Y Performance, which might also be from the USA, but uses the same dual electric motors as offered in the Model 3 Performance saloon to propel the small SUV from 0-62mph in a spookily-quiet 3.5 seconds. It's also one of the more affordable cars on this list, at just under £60,000.
Despite its quick acceleration, the Model Y Performance isn't an out-and-out racing machine. It's designed for comfort as well as cornering prowess, but its straight-line speed is certainly there when you need it to overtake slower traffic.
8. BMW X5 M/X6 M Competition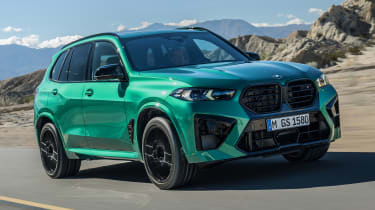 The BMW X5 is now in its fourth generation, and it's more practical but still manages to be an SUV for keen drivers. BMW later introduced the X6 as one of the first coupe-SUVs to hit the market. The range-topping X5 M and X6 M Competition models come with a mild-hybrid twin-turbocharged 626bhp 4.4-litre V8 powertrain. Acceleration from 0-62mph takes both cars just 3.6 seconds, with a top speed of 180mph if you spec the M Driver's Package.
The biggest strength of the X5 M is the way it hides its 2.3-tonne weight. There's a huge amount of grip and the car feels surprisingly playful thanks to a four-wheel-drive system that sends the majority of the engine's power to the rear wheels. The steering is well weighted too, enhancing the feeling of agility in corners.
For something a little more luxurious, check out our list of the top 10 luxury SUVs...
Top 8 fastest SUVs
2=. Lamborghini Urus Performante
6. Jeep Grand Cherokee Trackhawk