Aston Martin Vantage coupe review
"The stylish Aston Martin Vantage is one of the most enjoyable, capable and characterful cars in its class"
Pros
Fabulous to drive
Stunning design
Stylish interior
Cons
No rear seats
Porsche 911 still sharper
In-car tech lags behind German rivals
The latest Aston Martin Vantage has some big boots to fill, as the previous version was Aston's most successful model ever. On the face of it, this Vantage has everything it needs to surpass its predecessor and compete with current rivals such as the Porsche 911 Turbo, Mercedes-AMG GT, Audi R8 and Jaguar F-Type SVR.
The new Vantage looks most striking from the rear, where the rising wing and exquisite lights really catch the eye. The shark-nosed front end is plainer, but still looks mean and aggressive, thanks in part to the way it hugs the ground.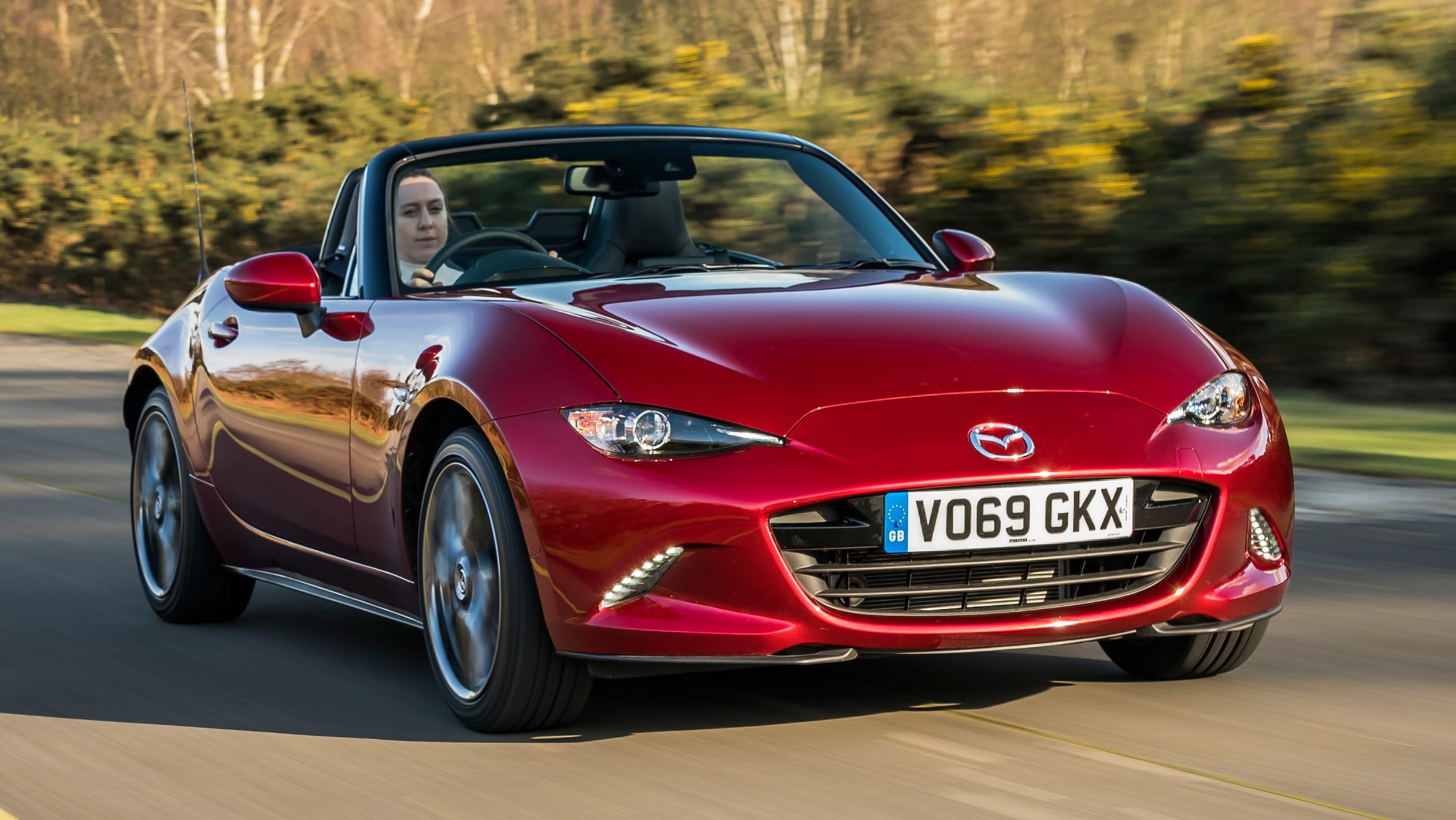 Top 9 best sports cars 2022
A new V12 Vantage model dials up the aggression, with jutting fins and spoilers, a vast rear diffuser and a rear wing that could double up as a picnic bench. It uses Aston's 5.2-litre V12 engine (with two turbochargers), has 690bhp and tops out at 200mph. The V12 is a limited-run model - which is already sold out - and will act as an homage to the thirstiest, most powerful type of engine as electrification takes over.
Under the bonnet of the regular Vantage is a twin-turbocharged 4.0-litre V8 engine sourced from Mercedes-AMG, which produces 503bhp and gets the car from 0-62mph in 3.6 seconds. Tweaked to give it 'Aston Martin character', the engine is an impressive performer and sounds great.
More striking than the straight-line speed of the Vantage are its responses, which make it a hugely fun and capable sports car. Its changes of direction are extraordinary and you quickly feel in tune with the Vantage thanks to its direct and well weighted steering, excellent brakes and the grip it generates.
Flying in the face of convention that dictates most performance cars can only be had with an automatic gearbox, 200 customers could order the Aston Martin Vantage AMR with a seven-speed 'dogleg' manual gearbox. Not only does this allow a closer relationship with the performance being served up, carbonfibre parts also reduce the car's weight by 95kg. The vast majority of Vantages come with an automatic, mind.
All this driving pleasure is experienced from a plush, high-quality, good-looking interior that's made even more comfortable by the excellent driving position and surprisingly supple ride. There are no rear seats, but 350 litres of boot space is good for a car of this type.
The Vantage lacks the ultimate sharpness of the 911, but it's still one of the very best cars to drive in this class. It may lag behind German rivals when it comes to in-car technology, but if you're after a characterful, fun, stylish and well rounded sports car, the Aston has everything you could really ask for.
MPG, running costs & CO2
Fuel economy is roughly on par with rivals, but the Vantage won't be cheap to run
The Vantage comes with a twin-turbocharged 4.0-litre Mercedes-AMG V8 petrol engine that claims official economy of 26.8mpg, while emitting 245g/km of CO2 with an automatic gearbox. If you're driving the car enthusiastically, you can expect real-world economy to be significantly lower than the official figure – and the same will be true if you get stuck in traffic.
There's no official fuel economy figure on the V12 Vantage; our test drive returned an average of 14mpg. CO2 emissions are undoubtedly high at over 300g/km, but only 333 V12s are being built and we'd expect most of those to be rarely used.
The Vantage will cost the standard rate a year to tax, plus a surcharge from years two to six of ownership because it costs more than £40,000, bringing your tax bill in that period to more than £500 annually. It doesn't make a particularly appealing company car; it's firmly in the top 37% BiK band so any business users choosing a Vantage will definitely be doing so with the heart rather than with the head.
Aston Martin gives owners a three-year/unlimited-mileage warranty, plus the option to extend this cover when it expires. Expect servicing and insurance costs to be high.
Engines, drive & performance
The Vantage handles beautifully and is an extremely rewarding car to drive
The Vantage uses a Mercedes-built twin-turbocharged 4.0-litre petrol engine that has been tweaked by Aston Martin engineers to give it an 'Aston' character. The noise of the engine is mildly quieter and more subdued than in Mercedes-AMG models, but it still sounds great, particularly with the optional quad-pipe sports exhaust. The engine has plenty of power, with 503bhp pushing the standard car from 0-62mph in 3.6 seconds and on to a top speed of 195mph.
The throttle, eight-speed automatic gearbox and steering all react seemingly instantaneously, giving you huge confidence to drive the car quickly on a twisting road. The steering isn't as sharp as that of a Porsche 911, but the direct feel and weighting are well judged, so the car reacts exactly as you expect. The brakes are impressive, too, and carbon-ceramic versions are available if you expect to use the car on a track regularly.
Three drive modes, called Sport, Sport+ and Track, gradually ramp up the sharpness of the engine, gearbox, steering and adaptive damping. The Vantage is a fun and capable sports car in any of the modes, but Track reveals a particularly playful side, which allows you to exploit the car's dynamic ability to the full. Turn the traction control completely off and the Vantage will drift nicely around any corner you choose.
To appeal to hardcore driving enthusiasts, and take the fight to the Porsche 911 GT3, 200 customers were offered the Vantage AMR with a seven-speed manual 'dogleg' gearbox. This means first gear is down on the left of the gearshift pattern, with second above it and slightly to the right and third directly below. The 0-62mph time is slightly longer at 4.0 seconds, while the top speed is now 200mph, and carbon-ceramic brakes and the new gearbox help scrub 95kg from the AMR's weight.
This weight saving is the AMR's best feature, because the engine feels livelier and the chassis is even sharper as a result of the reduced inertia. But, there's a nagging feeling the manual gearbox hinders progress, rather than helps it, despite it featuring an 'AMSHIFT' mode that auto-blips the throttle when you shift down and can even allow you to keep the throttle pinned on up shifts. It's hard to shift cleanly and given the huge power and torque on offer, seven gears often feels like too many.
The current range-topper is the Aston Martin V12 Vantage, a limited-run special that will be the last ever small Aston with a V12 engine. With its 12 cylinders and two turbos, the 5.2-litre engine produces 690bhp, for a slight improvement in on-paper performance compared to the V8 auto; 0-62mph is a tenth of a second quicker at 3.5 seconds and the top speed is a nice, round 200mph.
Featuring new carbon-composite bodywork, the V12 Vantage is a lot lighter than the standard car, and new strut braces and suspension tweaks make it drastically firmer. Too firm for the public road, if we're being honest, and the tyre noise is too noticeable as well. These things aren't an issue on a racetrack, if you're planning to use your V12 Vantage as Aston intended. It must be said that we were left wanting more from the engine noise, but it's still a sound to savour while oversized petrol engines are still being produced.
Huge carbon-ceramic brake discs do a stellar job of reigning in the V12 Vantage's speed - and there's plenty of that. The straight-line acceleration is breathtaking, even if these days the 0-62mph figure isn't actually class-leading.
Interior & comfort
Quality has never been better inside an Aston and the Vantage is surprisingly comfortable
The Vantage has one of the best interiors ever made by Aston Martin. Not only does it look great, but it also answers many criticisms about the quality of previous Aston interiors. It's comfortable and luxurious, but the design and overall aesthetic are interesting and dramatic, too.
Buttons and switches are well integrated, although the technology doesn't feel as cutting-edge as that in Porsche and Mercedes rivals. An in-car entertainment system is controlled and viewed by an eight-inch touchscreen, with Bluetooth, iPod, iPhone and USB connectivity, plus sat nav.
There's plenty of scope to fine-tune the driving position, but it's fundamentally excellent, and even taller drivers should be able to find the perfect setup. The Vantage AMR gets Alcantara trim - including for its gearlever - while the V12 gets exclusive badges and the option of new carbon-fibre racing seats.
While ride quality is never going to be cosseting in a sports car, the Vantage is surprisingly compliant, taking the edges off the worst bumps. It does let you know when the road surface is poor and there's a fair amount of road noise because of how stiff the suspension is, but it's an acceptable compromise given the car's strengths.
Practicality & boot space
The Vantage offers as much practicality as you could expect from a two-seater sports car
The Aston is a two-seater sports car, so it's unreasonable to expect a lot from it in practicality terms, but it isn't bad for a car of its type. People up to 6' 6'' should be perfectly comfortable in either of the front seats and there's a decent amount of storage behind them for soft bags, clothes and shopping. Rather unusually, the Vantage doesn't have a glovebox, but Aston attempts to make up for it by including a branded umbrella on the underside of the boot lid.
The boot offers 350 litres of space, which is the same as a Mercedes-AMG GT, but considerably more than the 150 litres you get in a Porsche 911 or the 112 litres you get in an Audi R8.
Reliability & safety
Tried-and-tested Mercedes parts should prove reliable
Aston Martin didn't appear in our recent Driver Power surveys, so we don't have data on owner satisfaction or reliability. However, the engine in the Vantage has been tried and tested in Mercedes models and the eight-speed automatic gearbox is from transmission specialist ZF, so both major components should be durable and trouble-free.
The Vantage isn't sold in sufficient numbers to be crash-tested by Euro NCAP, but it comes with plenty of safety equipment, huge tyres and brakes, plus numerous electronic systems to ensure grip and stability are maintained.