Aston Martin DBX SUV review
"The first Aston Martin SUV is a joy to drive, and can carry four adults and their luggage across almost any terrain in style"
Pros
Impressive handling
Relatively practical
Stunning design
Cons
High running costs
Interior quality concerns
Unproven reliability
The Aston Martin DBX has a big job to do: it needs to help revive Aston Martin's flagging fortunes as a business while paying back the significant investment made in creating it.
The DBX is Aston's first SUV and the first model to be built at a new factory in South Wales. It's a direct rival to super SUVs including the Porsche Cayenne Coupe, Bentley Bentayga, Lamborghini Urus, Jaguar F-Pace SVR, Audi RS Q8 and the Rolls-Royce Cullinan.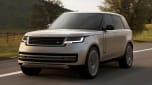 Top 10 best luxury SUVs 2023
All except the RS Q8 have helped transform the fortunes of their respective brands; the Cayenne is one of Porsche's bestsellers and the Urus now makes up over half of all Lamborghini sales. Even Ferrari and Lotus are launching SUVs, despite protests from purists.
While the Bentayga is huge, the DBX is slightly smaller, lighter and more coupe-like. Its designers have clearly tried hard to disguise its five-metre length, with a grille similar to Aston Martin's low-slung sports cars. The extra height beneath its headlights is broken up by rounded LED daytime running lights, while its tail features large exhaust pipes and a ducktail spoiler and lights inspired by the Aston Martin Vantage.
We'll let you judge how it looks but we can tell you that the chassis is seriously impressive. Air suspension, adaptive dampers and a 48-volt anti-roll system means it can lift by up to 45mm when off-road, drop by 50mm to make it easier to get in and out, and handle like a much smaller estate car. It even feels at home lapping a circuit, yet you can use it tow your track-day car home at the end of a session.
The new Aston Martin DBX707 model is most adept at hot laps and ferocious acceleration. Its 4.0-litre Mercedes-AMG twin-turbo petrol engine has been dialled up to 697bhp, and it's capable of 0-62mph in just 3.3 seconds and a 193mph top speed - despite weighing 2.2 tonnes. The new model, complete with its tweaked looks and more serious body kit, is one of the world's fastest SUVs. Its suspension and brakes have been upgraded to cope with the huge performance.
The standard DBX uses the same engine engine, and even this model isn't lacking in performance, with 542bhp getting it from 0-62mph in 4.5 seconds. Power is distributed by a nine-speed automatic gearbox, four-wheel drive and clever electronic differentials that send power to the wheel that needs it.
Inside you'll find a heady mix of leather, Alcantara, wood, metal and glass. It's not as luxurious as the Bentley, but it feels more sporty. If there's a fly in the ointment, it's the previous-generation Mercedes infotainment system with its plethora of buttons, which work fine but could disappoint in an SUV costing £160,000. At least there's space for four adults to travel in comfort, and the boot is bigger than those of the Porsche Cayenne Coupe or Lamborghini Urus, making the DBX perfect for long-distance road trips.
MPG, running costs & CO2
Expect supercar running costs for Aston's first SUV
If you're considering a high-performance luxury SUV, it's fair to say fuel economy is unlikely to be your top priority. The economy figure for the Aston's V8 is officially quoted at around 19mpg but is likely to be consistently in the low teens, even in normal driving, making it one of the thirstiest luxury cars on sale. Its CO2 figure of over 300g/km is almost double the amount necessary to qualify for the highest BiK band for company-car drivers.
Every DBX incurs road tax at the standard rate, like most family petrol and diesel cars. Owners will also be liable for the additional VED surcharge from years two to six because the DBX costs more than £40,000.
Partnership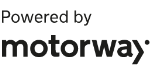 Need to sell your car?
Find your best offer from over 5,000+ dealers. It's that easy.
The DBX is little different to its peers in the running costs department; the Porsche Cayenne Turbo manages around 20mpg and, surprisingly, the Lamborghini Urus is slightly better with around 22mpg. If you want a rapid SUV with a smaller impact on the environment, you'll need something small or electric, say a Tesla Model X or Audi e-tron S.
Engines, drive & performance
The DBX is fast but, surprisingly for an SUV, the real fun is in the corners
It might be an SUV that's just 10cm shorter than a Bentley Bentayga, but Aston Martin's aim was to make the DBX feel like a much smaller vehicle from behind the wheel. This is a model that feels more like a hot estate car to drive than a traditional 4x4.
As well as being lighter than some of its rivals, at around 2.2 tonnes, the way the DBX handles is down to its clever chassis. Not only is it fitted with highly adaptable three-chamber air suspension, there are also adaptive dampers and a 48-volt system that controls how much the car rolls in corners. Called eARC, it can deploy 1,400Nm of force at each axle to combat the effects of physics as the car tackles corners.
It has all the necessary hardware but it's the way it's been tuned that impresses on road, track and trails. On the road, the DBX feels more at home than a Lamborghini Urus or Bentayga Speed, with deft handling and an impressive amount of feedback from its brakes. It corners remarkably flatly and securely for such a large and heavy car, feeling more like an Audi RS4 or Mercedes-AMG C 63 from the driver's seat. In fact, it's likely you'll find yourself looking around to check you're really driving an SUV.
Power comes from a 4.0-litre twin-turbo V8 sourced from AMG thanks to the partnership between Mercedes and Aston Martin. It's less bassy than it is in Mercedes-AMG models but there are some crackles on the overrun to remind you this definitely isn't a Tesla. The engine certainly isn't lacking power, with 542bhp and 700Nm of pulling power getting this SUV from 0-62mph in 4.5 seconds and on to a top speed of 181mph. Despite the size of the DBX, the engine only requires a gentle prod of the accelerator to get the car up to seriously high speeds, meaning overtaking and joining motorways is very easy.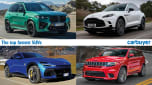 The top 8 fastest SUVs 2023
That's even more true of the new DBX707 flagship, with its engine tuned up to a huge 697bhp. With a torque figure that's bigger still, the most powerful DBX is capable of 0-62mph in only 3.3 seconds. That's as fast as the BMW M5 Competition, and on a par with the Porsche Cayenne Coupe Turbo GT near the very top of our list of the fastest SUVs you can buy.
The acceleration is breathtaking and almost unbelievable, the noise is perfect and it looks very purposeful. But above all that, the DBX707 can cope with the huge amount of extra power, because many of its components have been upgraded or adapted. It's not just a point-and-squirt dragster, it's dynamic and versatile. The damping is excellent, both in terms of jolt suppression and control; you could even call the 707 comfortable.
It's hard to imagine anyone seriously off-roading in a DBX, but do so with the suspension raised by 45mm and it's possible to wade through floods at a depth of up to 500mm. Suffice to say, it can handle most situations a driver is likely to encounter, like snow and grassy car parks with one caveat - like its rivals, the DBX is fitted with high-performance road tyres.
Interior & comfort
Not as sumptuous as a Bentley but the sporty feel is tangible
While handling is certainly important, a luxury SUV also needs to have a cosseting ride. We'd stick to the Comfort suspension setting on the road, and here the DBX falls between the plush Bentayga and stiff Urus for ride comfort on a British road. It's never uncomfortable, but rather than loping along, it always feels alert. There's impressive refinement while cruising on the motorway as well.
Access is made easy by a 50mm drop in ride height with the air suspension lowered, and frameless doors are a cool touch. Once inside, it's clear the DBX is intended to feel more sporty than the Bentayga, but quality isn't a match for the Bentley, regardless of the overall aesthetic.
The interior certainly isn't lacking in character but not everyone will love the elaborate instrument binnacle, or the two large pads that cover the dashboard. Unlike most of the latest models, there are numerous small buttons that can be fiddly until you learn where they are all located, but these may at least age better than the digital controls in many new cars.
Materials used throughout the interior are of high quality, with glass, metal and wood all adding to the upmarket ambience, while Alcantara covers the headlining and panoramic roof blind.
The 10.25-inch infotainment display is a generation behind the MBUX system in the latest Mercedes models, so while it has Apple CarPlay you'll need to operate it using a control wheel or the steering wheel, rather than prodding the screen. There's also a large 12.3-inch digital instrument panel for the driver.
Practicality & boot space
The Aston Martin DBX should prove ideal for family getaways
We doubt many owners will complain about the space on offer as the DBX can easily accommodate four adults in comfort, with enough luggage for a long holiday. It will also seat five for shorter jaunts, and visibility is surprisingly good for a car with so much emphasis on its exterior design.
The boot measures 632 litres in volume, which is 32 litres more than the Porsche Cayenne Coupe and just up on the Lamborghini Urus' 616-litre boot. The rear seats can split and fold flat, and Aston Martin hasn't stopped there. Owners will also be able to choose from a list of accessories, including a Pet Pack with a portable washer to clean the dog after a stroll around the park.
Any large SUV worth its salt also needs to be able to tow, and here the Aston can manage up to 2,700kg - just don't slip on the accelerator with a horse box in tow!
Reliability & safety
Reliability is unknown but safety shouldn't be a worry
This is Aston Martin's first SUV, so prospective owners may be worried about teething problems. However, it's likely to be somewhat reassuring to know the DBX features lots of technology developed by Mercedes that's already in use in the DB11, including its 4.0-litre engine and much of its electronic architecture. Our early test car had a few squeaks and rattles but customer cars should be a lot better.
The full roster of safety kit hasn't yet been announced, and it's unlikely the DBX will ever be tested by Euro NCAP. We do know it has an incredibly strong body shell, impressive brakes and will offer some of the latest safety technology.