Jaguar F-Pace SUV review
"The Jaguar F-Pace looks good and has sharp handling, while also working well as a family car"
Pros
Smooth, quiet and powerful engines
One of the most stylish SUVs
Good fun to drive
Cons
Quite expensive
High CO2 emissions
Powerful engines are expensive
After a long history of building sports cars and luxury models, the Jaguar F-Pace became the first SUV ever built by the British marque, and it has proved to be a great success. It was certainly necessary, because in recent years there's been a growing trend towards SUV ownership, and models from rival manufacturers, like the Porsche Macan, BMW X3 and Mercedes GLC were hoovering up sales. Not only that, but new models like the Alfa Romeo Stelvio keep arriving, too.
For 2021, the F-Pace came in for a major overhaul, even if exterior changes were fairly subtle. Most were concentrated at the nose, where a new grille and slim headlights with 'double J' LED running lights inspired by the all-electric Jaguar I-Pace were introduced. There was also a new set of rear lights. Otherwise, Jaguar wisely decided not to fiddle too much with the SUV's already attractive proportions.
There were bigger changes inside, where the infotainment setup, steering wheel and controls were all updated. The old InControl system was replaced with Pivi Pro, which features a responsive and attractive glass 11.4-inch central display, making it one of the best systems on the market.
Much of the technology found in the F-Pace is shared with the Jaguar XE and Jaguar XF saloons and the Ingenium engine range. The extensive engine line-up includes a 2.0-litre petrol providing 247bhp, and a 161bhp or 201bhp diesel of the same size. There's also a 3.0-litre diesel or petrol and a flagship SVR version with a 542bhp 5.0-litre V8 petrol engine. Alternatively, eco-conscious and business drivers may prefer the P400e plug-in hybrid (PHEV) with CO2 emissions of just 49-52g/km of CO2.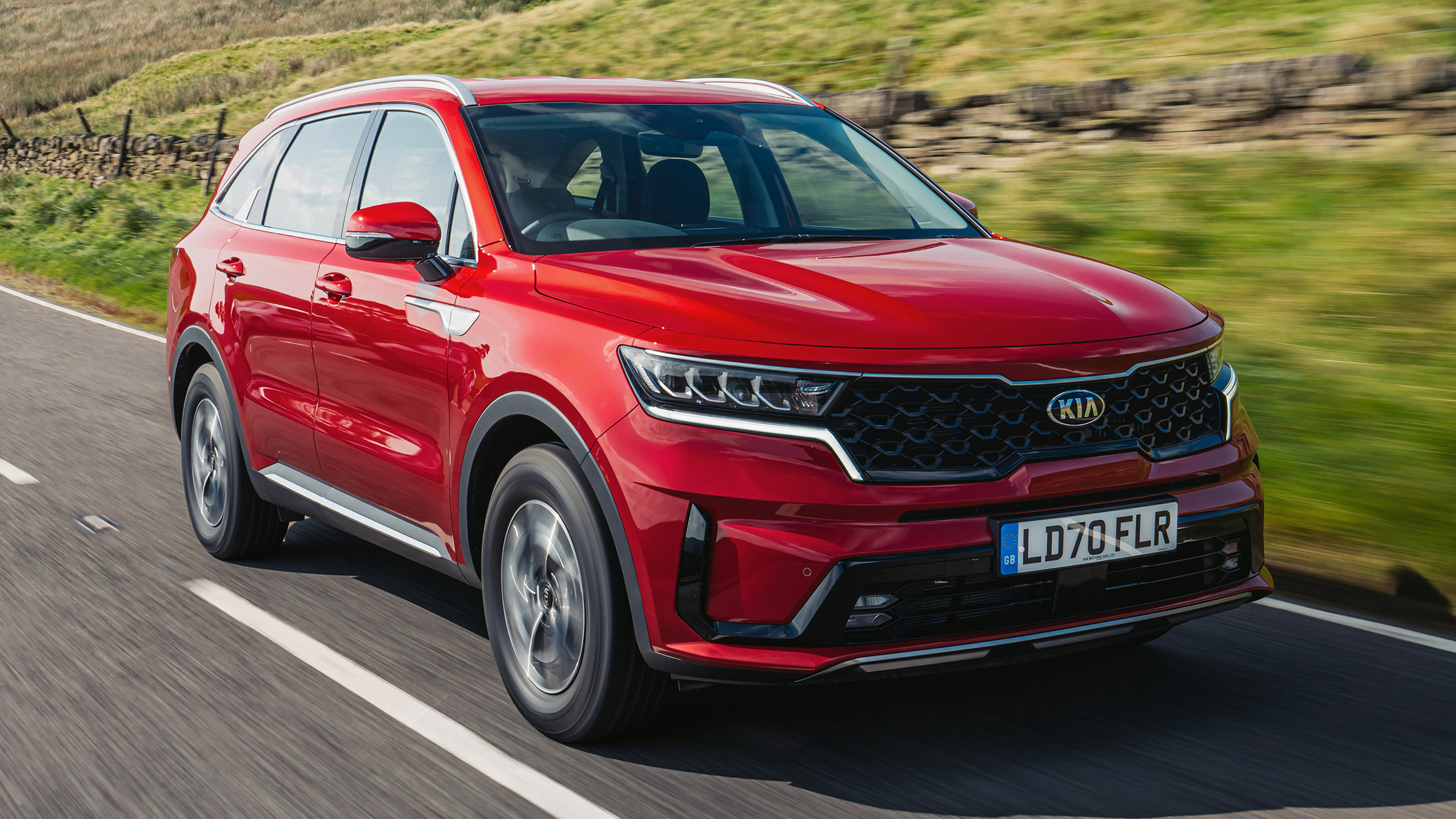 Top 10 best large SUVs 2022
If fuel-efficiency is the priority, the entry-level, rear-wheel-drive F-Pace D165 with a 161bhp diesel engine is officially capable of around 45mpg (depending on wheels and options) and up to 170g/km of CO2. Formerly, this would have been the best choice for company-car drivers, but its relatively high emissions and stricter limits means it actually sits in the highest BiK bands. Instead, they may want to consider the P400e PHEV.
More reviews
Road tests
Used car reviews
Private buyers are likely to go for the high-performance version of the same 2.0-litre diesel instead, particularly as it returns identical fuel economy. If you want an F-Pace that feels as fast as it looks, there's also a 3.0-litre diesel with 297bhp, getting from 0-62mph in 6.4 seconds.
Petrol models are thirstier, but offer more of a sporting feel. Even the 247bhp P250 will give most hot hatchbacks a stern test at the drag strip with a 7.3-second 0-62mph time. The range-topping 542bhp supercharged V8 SVR model is faster still, recording a 0-62mph time of four seconds, making it quicker than some sports cars in a straight line.
Every version is now fitted with four-wheel drive, and this is sure to help in slippery conditions, should you find yourself in a grass car park or wintry weather. And while the F-Pace isn't really meant for off-road driving, Jaguar has been able to borrow a lot of know-how from sister brand Land Rover to help tune its software and hardware. Still, the F-Pace's limited ground clearance, large alloy wheels and sports tyres mean a Land Rover Discovery Sport is a better bet if you live somewhere really rugged.
Jaguar has made good on its traditional promise of suspension supple enough to retain a good ride and isolate unwanted noise from reaching occupants, without the car wallowing in corners as a result. The 2.0-litre diesel can sound a little strident under hard acceleration, but it's not too intrusive and settles to a smooth hum at cruising speeds.
The F-Pace also boasts a 613-litre boot – bigger than the Macan's and only 20 litres smaller than you'll find in a Porsche Cayenne from the class above. It's easy to make the boot larger, too, with 40:20:40 split-folding rear seats, also allowing longer items like snowboards or skis to fit through the middle with four people in the car.
The F-Pace scored well when independently crash-tested by Euro NCAP, received the same five stars as the Jaguar XF, thanks to its strong body shell and comprehensive safety kit such as traffic-sign recognition and autonomous emergency braking, which can bring the car safely to a halt if a hazard is detected in its path. Meanwhile, Jaguar's decent finish of 7th out of 29 manufacturers in our 2021 Driver Power survey means satisfaction should be assured, even if reliability could be much better.
The small, upmarket SUV class might already have been competitive, but the F-Pace has made it even fiercer. It's an attractive model that drives like a sports saloon and is offered with a wide range of engines and trims, making it difficult for many customers to overlook, even those not previously considering a car in its class. Versions with a 2.0-litre engine offer a strong blend of value, performance and relatively low running costs, while sporty looks and plentiful equipment suit the F-Pace and should appeal to future owners, boosting residual values. While it has a high list price, the P400e is arguably the pick of the range, particularly for business drivers.
What about buying a used or nearly new Jaguar F-Pace?
A mid-sized luxury SUV that's an utter pleasure to drive, the F-Pace has a been a big seller for Jaguar and consequently you'll find lots of used examples to choose from at a wide range of different price points – early, high mileage examples now start from less than £20,000, but if you're able to spend between £25-35,000 you'll have far more choice. The F-Pace is spacious, comfortable and well equipped, while nearly all its petrol and diesel engine options provide spirited performance, even if their fuel economy is eclipsed by that of rivals. Reliability issues dogged early examples and there was a string of recalls, but by now most of the problems should have been fixed. A refined and practical cruiser, the F-Pace is one of the most appealing vehicles of its type on the secondhand market.
What's its history?
The F-Pace went on sale in the UK in 2016 and was Jaguar's first-ever SUV. Good to look at and to drive, the F-Pace was launched with a 2.0-litre turbocharged diesel engine with two different power outputs, together with a pair of 3.0-litre V6s, one a supercharged petrol, the other a turbocharged diesel. A year or so later a 2.0-litre turbocharged petrol engine was added, while the 2.0-litre diesels were updated. Shortly afterwards a supercharged V8 petrol engine with 543bhp was introduced to power the high performance SVR flagship. In 2021 the engine range was again revamped to improve the F-Pace's fuel economy and emissions – at the same time the interior was redesigned and the car's external appearance was refreshed.
Read the full Jaguar F-Pace Mk1 used review...