What are LED headlights?
We explain the ins and outs of LED headlights and whether you should specify them on your next car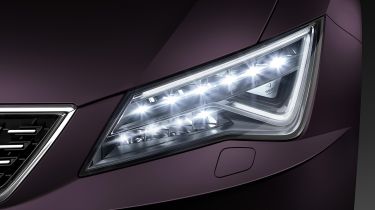 FOR: Provides excellent visibility, long-lastingAGAINST: Often an additional cost when new, expensive to replace
LED headlights are quickly becoming the benchmark for headlight technology. While the majority of new cars come with LED daytime running lights, even full LED headlights are now beginning to trickle down into mainstream models such as the Ford Fiesta.
Despite being relatively new technology, LEDs are incredibly simple. Each unit consists of a semiconductor which illuminates when an electrical current passes through. This creates a light much brighter than a traditional halogen bulb - enabling greater visibility on the road. Plus, thanks to their simplicity, there is very little to go wrong on an LED, resulting in a relatively long lifespan.
LED headlights are good for your carbon footprint too; this is because LEDs consume very little energy compared to the equivalent halogen or even xenon bulb. Most manufacturers now fit their cars with LED headlamps for this reason – especially in electric cars where each tiny bit of power consumption is crucial.
We recommend opting for LED headlights if that option is available when ordering your next car as their additional cost over halogens is often outweighed by their safety benefits. Do be careful not to confuse LED Daytime Running Lights (DRLs) and full LED headlights; LED Daytime Running Lights are a completely different type of light and do not contain your dipped and high beams.
There is one caveat; while LEDs are, in principle, very simple, most LED headlight units are not. LED headlights incorporate an array of individual LEDs which makes replacing them at the end of their life difficult and expensive. Whereas a single halogen bulb will cost you less than £10, a new LED headlamp can set you back over £1,000.
Want a car with all the latest safety features? Check out our list of the safest cars that you can buy
Car technology made simple