What are laser headlights?
We explain the ins and outs of laser headlights and whether you should specify them on your next car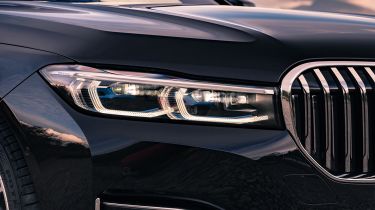 FOR: The best lights money can buy, pioneering technology
AGAINST: Very expensive, only available on a select few models
Though they may sound like the works of science fiction, Laser headlights are a very real technology that are beginning to find their way into the automotive world via some of the most prestigious and expensive cars on sale. 
Laser headlights incorporate a variety of tiny lasers that are fired at a small amount of phosphorus mounted within the unit itself. This creates a vibrant white light which is then reflected by internal mirrors and outwards onto the road in front of you.
The result is that laser headlights are up to four times brighter than the LED equivalent and are able to shine much further up the road. Plus, just like matrix LED headlights, the internal mirrors inside the laser headlights can be tuned to account for oncoming cars: making laser headlights another form of adaptive headlights. This comes as an obvious benefit to road safety, allowing much greater visibility than other types of headlight.
As you can expect, these headlights do come at a high cost; expect to pay over £1,500 to specify them on already high-end luxury cars like the BMW 7 Series. Repairs and replacement will be equally expensive, with a new laser headlamp costing well over £3,000. 
Due to their high price, we cannot recommend laser headlights to the majority of new car buyers. Matrix LED headlights still provide great visibility and are available on a wide range of much more affordable cars. However, if you can afford to be at the bleeding edge of technology, laser headlights provide the very best visibility that money can buy. 
Want a car with all the latest safety features? Check out our list of the safest cars that you can buy
Car technology made simple