Dash cams: what are they and how do they work?
More and more drivers are fitting dash cams to their cars. Our guide gives you the lowdown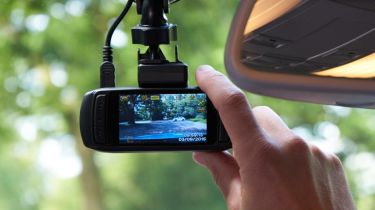 With our roads becoming increasingly crowded, more and more motorists are turning to the extra reassurance a dash cam can provide. Whether you choose a purpose-made dash cam, or use a dash cam app on your smartphone, it'll record footage of the road ahead that could serve as evidence if you're involved in an accident.
Alongside a sat nav or speed-camera locator, a dash cam is one of the most popular gadgets that motorists add to their cars. But what do they do, and what's the best type for you?
What are dash cams used for?
With roads now more congested than ever, many drivers are turning to dash cams to provide evidence to their insurance provider if they're involved in an accident. Their popularity was boosted by 'crash for cash' scams hitting the headlines, where organised gangs of fraudsters would drive in front of innocent motorists, slam on the brakes and cause the following car to crash into them, before claiming against their insurance.
Dash-cam footage from nations like Russia has also flooded popular video sites like YouTube, where poor driving standards, fraudsters and road-rage incidents create dramatic incidents. In Austria, the use of dash cams has been banned because of data protection laws, while they're also frowned on in Switzerland. Dash cams are permitted in Germany, but you're not allowed to upload the footage from them online.
What makes a good dash cam?
A dash cam is only worth its salt if it can record high-quality footage, determined by the quality of its lens and the resolution of the recording. A good rule of thumb is that it should be able to capture the numberplate of the cars ahead, otherwise the footage may be too poor to be used as evidence.
Almost all dash cams are fitted with a removable memory card, and to save you the hassle of having to frequently transfer large files, most are set to record in a loop, automatically overwriting old footage. Advanced dash cams also save footage that could be important, using technology like g-force sensors to detect sudden movements that could indicate a crash and save the footage. Other dash cams have a button you press after an incident to automatically protect and save the footage.
Choose a dash cam that's user-friendly and compatible with your computer. It may be even handier to choose one that has a dedicated smartphone app compatible with your device – you may even be able to look at reviews for the app, download it and see if you like it before purchasing the device itself.
How much is a dash cam?
Dash cams cover an amazingly wide price range, starting from around £20 and going up to around £400 for an advanced model like the BlackVue DR900S-1CH. £150 will buy a good all-rounder though.
Best dashboard cam apps to buy
The best dash cams
Many manufacturers are offering extra features in their dash cams to help them stand out in a crowded market. The Transcend 220 can recognise motorway road markings and warn you if you stray out of lane, while the Garmin Nuvicam will warn you if it thinks you could collide with the vehicle ahead, as well as including sat nav. Some dash cams will also include the location of speed cameras and alert you as you approach them.
Best dash cam for extra features
The Transcend 220 has extra features including lane-departure warning, while the Garmin Nuvicam has forward collision warning as well as an integrated sat nav. Some systems also alert you to the presence of speed cameras.
Best dash cam for clarity
It's worth delving into the specifications and reading reviews before choosing a dash cam to ensure it'll film clearly when there's lots of glare from the sun and at night. A handful of dash cams have polarised lenses to help combat reflections and glare, and they can be worth seeking out, as an insurance company may well reject footage that's obscured by glare. Dash cams worth considering for this reason are the Nextbase 512G and 402.
Best dash cam-related apps
Dash cams from brands like iOn let you view footage on a smartphone without having to remove the camera or connect it to a computer. Consider the quality and compatibility of the dash cam mount with your car, too, with some like the Transcend 200 and 220 coming with clever mounts that fit behind the rear-view mirror, improving safety and reducing clutter. The Garmin 55 Plus comes with a magnetic fitting for easier removal.
Best dash cam locators and apps to buy
Best value dash cams
The Transcend 220 dash cam offers great value at around £130, with forward collision technology included, although it can be overly sensitive. For a similar price, the Garmin 30 is a capable and compact model, which is easy to operate. For less than £150, the Silent Witness SW006 is also able to record in high-definition and comes with an 8GB memory card in the box.
Best dash cam for versatility
If you're also looking for an action camera to record your activity outside the car, the JooVuu also works as a dash cam, has a range of mounts and a polarising filter.
With the correct app installed, you can also use your mobile phone as a dash cam, or even resurrect a smartphone that you're no longer using. There are downsides, however: most won't display the footage they're recording live, as this is technically against the law in the UK. Mobile apps are also less likely to automatically save crash footage and the memory can run out easily. For these reasons, and the fact your phone's camera hasn't been optimised for the job at hand, we'd recommend using a purpose-built dash cam.
Engine management light: top 5 causes of amber engine warning light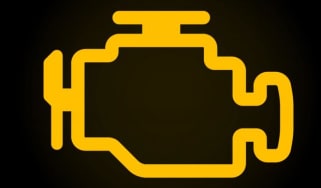 Engine management light: top 5 causes of amber engine warning light
Top 10 best electric SUVs 2022
Top 10 best electric SUVs 2022
Top 10 cheapest electric cars 2022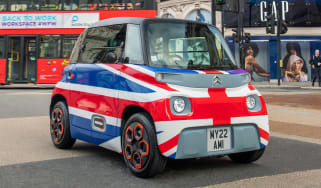 Top 10 cheapest electric cars 2022