Dash cams: what are they and how do they work?
An increasing number of drivers are fitting dash cams to their cars, but why? Our guide gives you the lowdown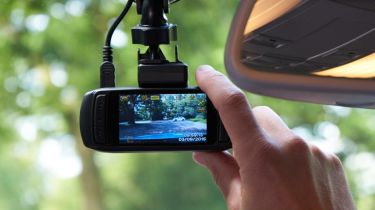 Dash cams have existed for some time in the UK, but they saw a huge year-on-year sales increase of 395% in 2015, and the reasons for their increase in popularity make complete sense. Motorists appreciate the extra reassurance provided by dash cams, and in parallel, insurance companies could also offer you a lower premium for adopting one.
Regardless of whether you opt for a purpose-made dash cam, or instead choose to use a dash cam app on your smartphone, it will record footage of the road ahead that could serve as crucial evidence if you're involved in an accident. Alongside a sat nav or speed-camera locator, a dash cam is one of the most popular gadgets that motorists add to their cars. But what do they do, and what's the best type for you? We delve deeper in this guide.
What are dash cams used for?
With roads now more congested than ever, many drivers are turning to dash cams to provide evidence to their insurance provider if they're involved in an accident. Their popularity was boosted by 'crash for cash' scams hitting the headlines, where organised groups of fraudsters would drive in front of innocent motorists, slam on the brakes and cause the following car to crash into them, before claiming against their insurance.
Dash cam footage from nations like Russia has also flooded popular video sites like YouTube, where a number of road-related incidents, including poor driving standards and road rage, create dramatic footage for online circulation. 
But not all countries are entirely in favour of them. In Austria, for instance, the use of dash cams has been banned because of data protection laws, while they're also frowned upon in Switzerland. Dash cams are permitted in Germany, but you're not allowed to upload the footage from them online.
What makes a good dash cam?
Given that the most important characteristic of a dash cam is that it can replay incidents that happen on the road, ensuring that it can record high-quality footage is crucial. This is determined by the quality of the lens and the resolution of the recording. A good rule of thumb is that it should be able to capture the number plate of the cars ahead, otherwise, the footage may be too unclear to be used as evidence.
Almost all dash cams are fitted with a removable memory card, and to save you the hassle of having to frequently transfer large files, most are set to record in a loop, automatically overwriting old footage. Advanced dash cams also save footage that could be important, using technology like g-force sensors to detect sudden movements that could indicate a crash and save the footage. Other dash cams have a button you press after an incident to automatically protect and save the footage.
Choose a dash cam that's user-friendly and compatible with your computer. It may be even easier to choose one that has a dedicated smartphone app compatible with your device – you may even be able to look at reviews for the app, download it and see if you like it before purchasing the device itself.
How much is a dash cam?
As with most tech products, the price can vary substantially depending on both the brand and the number of features on offer. Dash cams can start from as little as £20, but can go up to over £300 for an advanced model like the BlackVue DR900S-1C.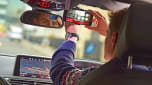 Best dashboard cam apps to buy 2020
Is there a dash cam without wires?
While there are a few high-end examples currently on sale, the vast majority of standard dash cams on the market remain wired. This is to enable them to draw power from the vehicle, and as such, continue to work. Those that are wireless tend to run on batteries, but the major downside to this is that their general battery life is much shorter in comparison to those that are wired.
Do dashcams record when the car is off?
Some dash cams have a setting called "Parking Mode" that can be activated when the engine is not running. That means it can continue to record anything that happens when the occupants have exited the car, and could prove to be a vital feature if an incident does occur while you're away from your vehicle.
Can dash cams see in the dark?
Some dash cams have a feature called "Night Vision", which allows them to continue to capture high-quality imagery even when there is no light. Alternatively, 'infrared' dash cams work by using a low-light sensor to record in dark environments. This technology is not yet industry-standard practice, but it is becoming more widely implemented.
Can dash cams see inside the car?
Some dash cams can record in both directions, meaning they can see what's happening both ahead of the car and inside of it. Others, meanwhile, can only be set up to do one or the other. It's recommended to get a dash cam that does have an internal camera installed in it, as this only provides more information in the event of an accident, and allows both investigators and your insurance company to get a better understanding of what has happened.
How does a wireless dash cam work?
A wireless dash cam works by using an internet-connected system. Once a recording session has concluded, the dash cam will transfer the footage across to a cloud-based network. Not only could this make it more difficult for perpetrators to access the footage, but it also provides easy access to it once you're safely parked and the ignition is turned off.
Do dash cams record your speed?
Some dash cams have the ability to record your speed, as well as track other data such as location and altitude. This is not yet a requirement on every new dash cam, so it's worth checking what metrics can be measured by a dash cam before you purchase it.
How long do dash cam recordings last?
On average, dash cams tend to store footage for between 30 and 45 days. In most cases, this tends to be sufficient given that the reaction to an accident or an incident wouldn't stray beyond this time frame in most instances. Given that wireless dash cams upload their footage to a cloud-based network, the footage tends to be stored until the cloud's storage space has been reached.
Where is the safest place to put a dash cam?
By placing your dash cam in the centre of the dashboard, or the position where it can best capture an equal view of the most amount of road, you give yourself the biggest chance of getting the most relevant footage. Be sure that your dash cam doesn't obstruct any driving instruments or switches, and that your mirrors can still be seen without trouble. The centre of a car's windscreen is a go-to location for many.
Should I unplug my dash cam when not in use?
Some dash cams can operate on low-power mode when the car's engine is switched off, meaning they pose no serious threat to draining the car's battery. Some older dash cams, however, may not have such a feature, and you could risk a flat battery in this instance, in which case it would be best to unplug your dash cam.
Does dash cam reduce insurance?
According to Cuvva, some insurance providers could reduce your annual premium by between 10 and 15% if you adopt a dash cam in your car. Some insurers have been known to reduce premiums by as much as 30%, representing a significant saving for many. This is one of the main reasons as to why more and more drivers are installing dash cams in their cars.
Can you retrieve deleted dash cam footage?
In some cases, overwritten dash cam footage can still be retrieved. Though, it's important to remember to act quickly in this situation, because the longer that the rogue footage is left, the higher the risk of not being able to retrieve it. Once you've connected your dash cam drive to your computer, using a data recovery tool could prove to be successful. 
What are examples of good dash cams?
As with almost any subcategory in the technology industry, the number of options available to customers seems to be ever-growing. The dash cam market is no different, and as such, there are plenty of good examples currently present.
Partnership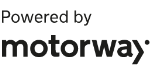 Need to sell your car?
Find your best offer from over 5,000+ dealers. It's that easy.
The Transcend 220 can recognise motorway road markings and warn you if you stray out of lane, while the Garmin Nuvicam will warn you if it thinks you could collide with the vehicle ahead, as well as featuring a built-in sat nav. Some dash cams will also include the location of speed cameras and alert you as you approach them.
Best dash cam for extra features
The most notable development with dash cams is that some can also act as navigation systems while offering safety technology such as forward collision warning and lane-departure warning integrated into them. The aforementioned Transcend 220 and Garmin Nuvicam are two examples of dash cams that host some of these features.
Best dash cam for clarity
It's worth delving into the specifications and reading reviews before choosing a dash cam to ensure it'll film clearly when there's lots of glare from the sun and at night. A handful of dash cams have polarised lenses to help combat reflections and glare, and they can be worth seeking out, as an insurance company may well reject footage that's obscured by glare. Examples of dash cams worth considering in this regard are the Nextbase 512G and 402 models.
Best dash cam-related apps
Dash cams from brands like iOn let you view footage on a smartphone without having to remove the camera or connect it to a computer. Consider the quality and compatibility of the dash cam mount with your car, too, given that models like the Transcend 200 and 220 come with clever mounts that can be fitted behind the rearview mirror, improving safety and reducing clutter. Another example of this is the Garmin 55 Plus, which comes with a magnetic fitting for easier removal.
Best value dash cams
The Transcend DrivePro 220 dash cam offers great value at around £130, with forward collision technology included, although it can be overly sensitive. For a similar price, the Garmin 30 is a capable and compact model, which is easy to operate. For less than £150, the Silent Witness SW006 is also able to record in high-definition and comes with an 8GB memory card in the box.
Best dash cam for versatility
If you're also looking for an action camera to record your activity outside the car, the JooVuu also works as a dash cam and has a range of mounts and a polarising filter. With the correct app installed, you can also use your mobile phone as a dash cam, or even resurrect a smartphone that you're no longer using. 
There are downsides, however: most won't display the footage they're recording live, as this is technically against the law in the UK. Mobile apps are also less likely to automatically save crash footage and the memory can run out easily. For these reasons, and the fact your phone's camera hasn't been optimised for the job at hand, we'd recommend using a purpose-built dash cam.
Are you looking to update your car with more technology, but don't know where to start? Check out our explainer guide on what Apple CarPlay is, or what the advantages of installing a black box could be.
Best new car deals 2023: this week's top car offers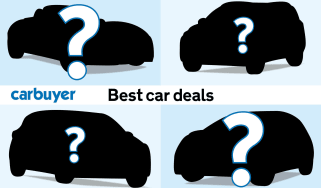 Best new car deals 2023: this week's top car offers
New 2024 Porsche Panamera – new looks, interior, and Turbo E-Hybrid model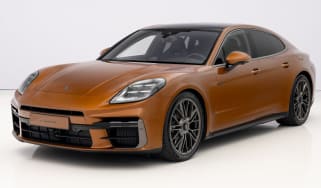 New 2024 Porsche Panamera – new looks, interior, and Turbo E-Hybrid model
New Nissan Juke goes electric – next-generation crossover previewed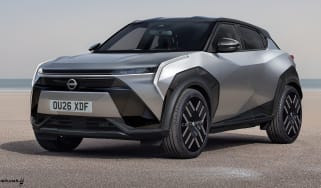 New Nissan Juke goes electric – next-generation crossover previewed