Best sat navs to buy 2020: TomTom, Garmin & Mio
How to choose the right portable sat-nav system for you – plus our top sat-nav reviews
Although more and more cars these days have a factory-fitted system, there's still a huge market for standalone sat navs among drivers with out-of-date mapping or those who prefer the familiarity of a particular system.
The latest sat navs offer a wide range of functions, including speed-camera alerts, wi-fi and smartphone compatibility.
To discover which is worthy of your cash, we tested three top-of-the-range 'live devices' (which provide up-to-the-minute traffic information) and two 'non-live' budget buys.
For our testing, we used a standard route comprising a mix of busy city streets and faster A-roads. Key to success was clear mapping and simple voice commands. We looked for timely traffic-jam advice and clever shortcuts with the live devices. Price was the final factor.
Sat-nav postcode accuracy
With so many sat-nav systems available online, often for temptingly low prices, it's worth being wary of just how suitable they are for UK road users. Many motorists rely on entering an end destination as a postcode, which is usually a quick and easy procedure.
However, not every sat nav supports the British seven-character alphanumeric postcode system. There are still some units out there that only allow European-style five-character postcodes. As this will only allow you to enter the first two letters and three numbers of a UK postcode, it won't define the location quite so precisely. If you're likely to use postcode input, ensure your potential purchase supports it.
Motorway assistance
Many sat navs can display invaluable guidance on what motorway lane to be in, either with a set of coloured arrows or a graphical representation of the junction ahead. It can really help avoid stress and mistakes if you know which lane to be in, especially if there's a complicated road layout ahead or you're driving abroad.
Lifetime map updates – UK, Europe or world?
Some sat-nav devices may appear more expensive than you'd expect, but if they include lifetime mapping updates, it could be a good investment, as you're less likely to have to replace it in a few years time.
Roads are constantly changing, so it's very important to consider the expense and ease of updating maps. Not only can the road layout itself be adapted, but speed limits, speed cameras, amenities and points of interest can be out of date within just a few years, so it's worth considering if the charge for updates is something you are happy to budget for.
Often the best approach is to spend a bit more up-front for a sat nav with free updates.
Live traffic updates
Even when you drive a well trodden route, a sat nav can still be very useful if it features live traffic updates. By monitoring data from Highways Agency sensors and private companies such as INRIX, sat-nav devices can alert you to problems on your trip and even change your route to get you to your destination with the least possible delay.
It's important to note, however, some sat navs can do this independently, while some need to be connected to your smartphone and use its data connection to download information.
In fact, this is an area where smartphone apps can have an advantage over traditional standalone units. Popular apps like WAZE create a community of users who share information to build an accurate picture of traffic in real time. Not only that, but users can also report a range of safety issues – like a broken-down car stopped in the road – to alert others to proceed with caution.
Many cars now come equipped with Apple Carplay and Android Auto technology. These allow a more advanced smartphone integration, and can display Google Maps. This is considered by many to be the gold standard as it uses real-time mapping for incredibly accurate traffic alerts and sensible rerouting.
Our top sat-nav picks
Live devices
TomTom GO 6200
Price: Around £339.99Coverage/updates: World/freeRating: 5/5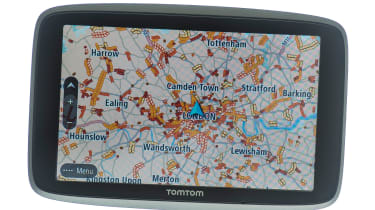 The GO has been our favourite for a while and this six-inch GO 6200 continues its reign at the top. While Garmin's menus are a little more intuitive, the TomTom comes out top when it comes to mapping. Many of the buildings are in 3D, and the instructions are easy to follow. The automatic zoom feature when you approach roundabouts and junctions is very helpful and the traffic alerts were the best on our test. This was the only device to spot a two-minute traffic jam due to roadworks, and offered two alternative routes. Good voice instructions, smartphone connectivity, built-in wi-fi to allow wireless updates and lifetime map, traffic and speed-camera locations also led it to top our list of live devices.
Garmin DriveLuxe 51 LMT-D
Price: Around £329.99Coverage/updates: World/freeRating: 4/5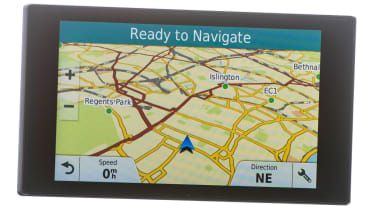 What the five-inch Garmin lacks in screen size, it makes up for with an upmarket feel, thanks to a metal body and easy-to-used magnetic mount. More importantly, it has a great menu and is intuitive. It's more responsive than the TomTom and the address inputs were the easiest on test. The Garmin picked ideal routes, but didn't provide as many traffic-jam alerts as the TomTom, and its time of arrival wasn't quite as accurate, either. The clear map layout was slightly at odds with the cluttered general screen layout, however the voice guidance was the best here, and wi-fi for wireless updates and phone connectivity impressed, too.
Mio Spirit 8670 LM
Price: Around £159.99Coverage/updates: Europe/freeRating: 3/5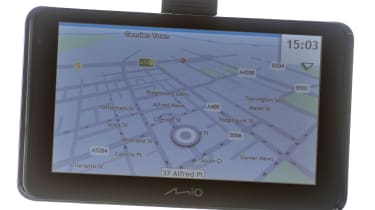 The 6.2-inch Mio is not only the biggest of the three live devices we tested, but the cheapest by some margin – plus it has lifetime map and traffic updates. Although the menus are easy to use, the touchscreen wasn't as responsive as the TomTom or Garmin. The Mio is geared towards trucks as well as cars, so occasionally it provided routes using busier roads. Frustratingly, these were often congested at peak times, making the journeys longer and both the other live devices here picked smarter routes around traffic. The traffic alerts, which were shown displayed the exact type and delay of the traffic. The screen wasn't as clear as the others either, and while instructions were accurate, it was the last to alert us of an oncoming turn.
Non-live devices
Garmin Drive 51 LMT-S
Price: Around £159.99Coverage/updates: UK & Ireland/freeRating: 5/5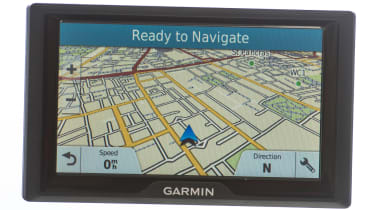 In the battle of the non-live devices, the TomTom Start 52 had the better map interface, but the Garmin Drive 51 was simpler to use. Not only that, but the touchscreen was a little more responsive. On the road, Garmin's Real Directions voice guidance was very good, giving clear turn-by-turn instructions aided by the use of landmarks, traffic lights and buildings as direction cues. Repeated instructions before a manoeuvre were helpful and it provided alerts to speed cameras, sharp bends and other hazards. The ability to link your phone to get traffic alerts capped off an impressive performance.
TomTom Start 52
Price: Around £129.99Coverage/updates: UK Lifetime MapsRating: 4/5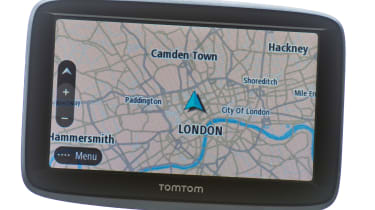 The TomTom Start 52 is easy to install thanks to a sleek mounting. Once there, it's easy to navigate thanks to simple and familiar menus and a responsive screen. On the move, directions were accurate, and the map layout was easier to read than the Drive 51's. A sidebar shows the distance to your destination as well as a variety of waypoints in an uncluttered format. Voice commands impressed, although the Garmin's were better timed. You get three months' free speed-camera alerts, after which you have to pay.
Best small SUVs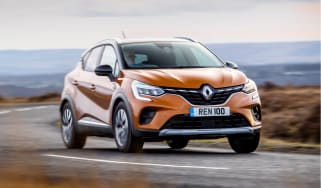 2021 Genesis G70 Shooting Brake estate revealed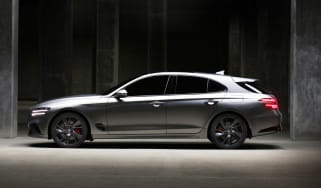 2021 Genesis G70 Shooting Brake estate revealed
Best new car deals 2021