Best steering wheel locks to buy 2020
As key thefts and car hacks become more prevalent, a traditional steering-wheel lock can still act as a powerful deterrent
As vehicle security systems have become more sophisticated, many criminals have resorted to stealing car keys, while sophisticated gangs even hack into keyless entry systems, unlocking and starting vehicles remotely. These growing concerns have led us to take another look at the best traditional security measures, which are making a comeback.
It's a somewhat ironic turn of events, as it was improving security software that saw the popularity of steering-wheel locks plummet, as immobilisers made it almost impossible to steal a car and some predicted car theft would eventually die out altogether. Instead, car thieves have simply shifted their tactics.
Read our guide on avoiding keyless entry car theft
Fitting a clearly visible device like an old-fashioned steering lock could be just enough to make your car less desirable to criminals. An electronic hacking device might allow a criminal to drive away your car in near-silence, but the tools and effort required to remove a wheel lock should create a lot more noise and slow thieves down.
How we tested them
Our testing focused on steering-wheel locks and we rated them for their potential to deter thieves, their simplicity of fitment and ease of storage. We first took into account how easily they could be removed by cutting the steering wheel or using a drill to tamper with the lock with the help of security specialist Giles Verdon. Next we fitted them to a Volkswagen Polo test car and started the stopwatch, first trying to remove them using no tools, then simple hand tools like a chisel, pry bar and hammer and lastly with cordless power tools including drills and angle grinders. We also took the amount of noise we made into consideration.
Read on for our list of the best steering wheel locks...
Stoplock Pro review
Best price: £49.99Time to defeat: 5 minutes plusRating: 5/5
It was a tough decision making the Stoplock Pro winner, as the Disklok has won many times in the past and is still as effective as always. In the end it came down to ease of use and storage, areas where the slender design of the Stoplock Pro gives it a clear advantage over the bulky Disklok. It looks very similar to other steering wheel locks, but the Stoplock Pro is very tough, with case-hardened parts that held our tools at bay for over five minutes.
To defeat it took time and generated a lot of noise and the Pro has an advantage over other Stoplocks, because it would require two cuts in the steering wheel to remove it that way. Along with its ease of use, the fact the Stoplock Pro costs half as much as the Disklok adds to its appeal.
Disklok review
Best price: £99.99Time to defeat: 5 minutes plusRating: 4/5
If you're simply after the ultimate deterrent, buy the Disklok. Because it completely shrouds the steering wheel, there's no way to remove the Disklok by making cuts into the wheel itself, and the Disklok spins freely if you attack it with tools, helping to dissipate energy. The Disklok has continued to evolve, too, with clear improvements made to weak areas we've spotted in past tests, along with a backing from insurance research company Thatcham.
If silver is a bit too subtle, it's available in different colours, and really is a powerful deterrent. Its biggest downfalls are its bulky size and weight and the fact it can require some effort to fit on to the steering wheel. For these reasons, the Disklok isn't suitable if you're hopping in and out of the car frequently. Instead, it's ideal for anyone parking their car outside overnight, or during their day at work.
Carpoint Steering Wheel Lock Elephant review
Best price: £17.91Time to defeat: 10 secondsRating: 3/5
Costing less than £20 from some online retailers, this is our budget pick, even though it could be defeated quickly with power tools once its weakness was identified. Its materials were sturdy and it couldn't be removed without tools and creating quite a bit of noise.
Its shape meant it could be hooked over a spoke for extra security, but it's still hard to see how it would resist being removed with cuts to the steering wheel – as claimed on the packaging. Fitting and storage were also among the simplest on offer thanks to its thin profile and fairly light weight.
Stoplock Original review
Best price: £29.99Time to defeat: 5 secondsRating: 3/5
The Stoplock Original looks similar to our test winner, but it's less sturdy and lacks its case-hardened components. As the description suggests, this device is more of a deterrent than anything else, so we'd have preferred more yellow than grey paint. It's a similar story with the red flashing LED, which is too small to be easily seen. The lock easily closes without needing a key and it's compact enough to easily store under a seat. However, once its weak spot was identified, it was quickly defeated using tools.
Stoplock Pulsar review
Best price: £39.99Time to defeat: 5 secondsRating: 3/5
Sold exclusively by Halfords, the Pulsar is almost identical to the Original model we first tested around a decade ago. The main difference is a large flashing LED light on the arm, but this still isn't bright enough to justify spending £10 extra. With the same construction and locks, it was easy to defeat quickly and without making much noise with the right tools. Like the Original, it's light and convenient to use and store.
Steering-wheel locks are a great way of putting off car criminals, but to keep your car safe, why not read our in-depth guides to car security and car insurance.
Updated Peugeot 5008 starts at £29,585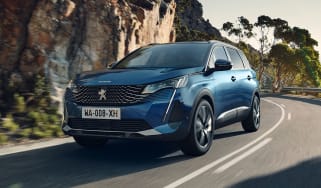 Updated Peugeot 5008 starts at £29,585
Cupra Formentor SUV review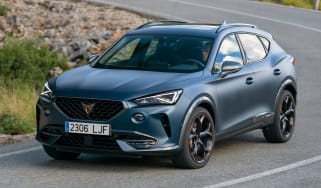 Cupra Formentor SUV review
2020 Volkswagen ID.3 hatchback: base model starts at under £30k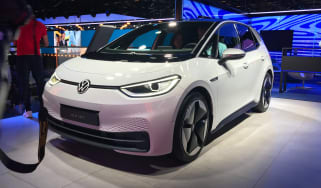 2020 Volkswagen ID.3 hatchback: base model starts at under £30k