Best speed-camera locators to buy 2020
Speed cameras are located at troublesome hotspots, so warnings can keep you safe and help protect you from points and fines
Speed cameras are designed to keep road users safe and ensure traffic sticks to the speed limit but if you're driving on an unfamiliar road it's easy to stray over the limit and pick up a fine.
To help stay safe, protect your licence and avoid costly fines, camera locators identify the speed limit for each road you drive on, to make it easier to stay legal. The latest devices can also alert you of everything from fixed speed cameras to police laser guns and traffic-light cameras.
If you don't want to fork out for a dedicated device, smartphone apps can also use GPS and online databases to flag up speed-camera locations nearby. To find the best solutions on the market, we tested four dedicated speed-camera locators and four smartphone apps that claim to do the same job.
How we tested them
Accuracy is critical, so we were looking for well timed and precise alerts along the same test route. We also deducted points if the locators alerted us to cameras off our route or pointing in the opposite direction to travel. Next we looked at the user experience, and finally, price was taken into account to judge value for money.
Verdict
We were highly impressed with the Road Angel Pure, which was the best dedicated locator here thanks to its excellent user interface and accurate warnings. However, the Road Angel is expensive to buy and keep up-to-date, so it's only likely to appeal to high-mileage and professional drivers.
If you'd prefer a smartphone app, it's hard to beat the Google-owned Waze navigation. Its numerous users give it the best crowd-sourced data for temporary speed cameras and hazards.
The best speed-camera locators to buy
Road Angel Pure review
Price: Around £250Subscription: £99 - £149 (per year)Rating: 5/5
It's the most expensive camera locator we tested, but the Road Angel Pure still stacks up if you can afford it. A built-in SIM card means its speed camera and limits database can be updated every 60 seconds. Its colour display is the best of the dedicated devices and its accuracy also came out on top for spotting cameras. We especially liked its ability to display the current limit and warn you if you stray over it.
The Pure ignored cameras facing the opposite way, recognised average speed cameras and could even work out your average speed through them – an especially handy feature for long stretches of motorway roadworks. It also has a built-in laser detector that can give an early warning for cameras. You can use the iOS and Android-compatible Road Angel app to quickly alter settings, while built-in wi-fi means over-the-air updates are possible. The annual subscription is pricey, but gives real-time alerts from other Road Angel users and could be worthwhile if you're a high-mileage or professional driver.
Drivesmart Alpha review
Price: Around £130Subscription: FreeRating: 4/5
This is the only device we tested that actively detected radar and laser signals, and indicated if cameras were live, as well as giving their location. During our test it spotted every camera and we didn't have any false radar alarms caused by automatic garage doors and the like.
Negatives include its slightly outdated looks and the need to plug it into a PC to get the latest camera location updates. If these aren't an issue for you, it certainly works well.
Snooper My Speed XL review
Price: Around £100Subscription: FreeRating: 3.5/5
This strong seller from Snooper is small and user friendly, with a clear touchscreen display. Your speed, the current speed limit and the distance to the next speed camera are easy to check at a glance.
It found the speed cameras along our test route, and also alerts the driver about nearby schools but we found the database it relies on needs updating. Like the Drivesmart, you'll need to plug the Snooper into a computer to access free updates.
Drivesmart Evo review
Price: Around £100Subscription: FreeRating: 3.5/5
Making do with a simple digital display, it's easy to dismiss the Evo for being out of date. However, it packs a laser detector and database of speed cameras and 'high-risk' locations into its black casing.
Cameras alerts are clear thanks to a synthesised voice and coloured LEDs, and it didn't go off for cameras facing in the opposite direction. There's no live connection, though, so you'll need to plug it into a PC (you're out of luck if you have a Mac) to update it with the latest locations.
Speed-camera locator apps
Waze review
Price: FreeSubscription: FreeRating: 5/5
Now TomTom has integrated its speed-cam app with GO navigation, we've looked at other sat-nav apps with comprehensive speed camera alerts. Waze works particularly well, thanks to its active community who can quickly warn users of manned speed cameras.
When a driver using Waze spots a camera, they can report it with two taps of the screen, boosting their own profile status in the process. Waze is also well integrated with Android Auto and Apple CarPlay, and costs nothing to buy or use.
TomTom GO review
Price: FreeSubscription: £12.99/yearRating: 4/5
TomTom's dedicated speed cam app won our Best Buy accolade in 2018 but it's now been integrated into the GO navigation app. It still delivers good results and we were impressed on the motorway, where it records your average speed in zones with average speed cameras.
However, it also alerts you to static speed cameras that face in the opposite direction, and we found its reporting function too much of a distraction to use while driving. The TomTom GO app also works with Apple CarPlay.
Ride Aware review
Price: £50Subscription: FreeRating: 2.5/5
The Rideaware app was designed for motorcyclists but works just as well for those of us with four wheels. Its simplified display layout warns of both speed cameras and potholes, but its unique selling point is a Bluetooth 'SmartButton'.
Around the size of a bottle top, this can be stuck somewhere easy to reach, such as on the rear of the steering wheel. Rideaware users click this button to report temporary speed cameras or accidents without needing to take their eyes off the road. It works well, but overall the app isn't very sophisticated.
Sygic Speed Cameras review
Price: Free (£3.99 for Premium)Subscription: FreeRating: 2.5/5
We were impressed by Sygic's app when we tested it in 2018 but its location database doesn't seem to have been updated much since, with new speed cameras failing to generate warnings. The silence was a positive in at least one respect because the synthesised voice alert can get annoying.
Pay to upgrade to the Premium version of the app and you can use your phone's screen to reflect a head-up display on the windscreen. It's a novel feature but of limited use if the warnings are out of date.
Do you want to know more about safer driving? Why not read our guides to UK speed limits, and motorway driving.
Cupra Formentor SUV review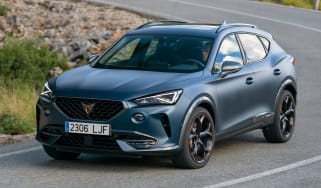 Cupra Formentor SUV review
2020 Volkswagen ID.3 hatchback: base model starts at under £30k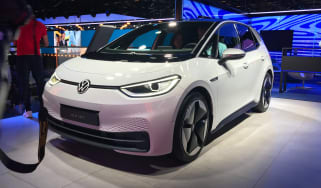 2020 Volkswagen ID.3 hatchback: base model starts at under £30k
Audi Q8 gains plug-in hybrid versions with 28-mile electric range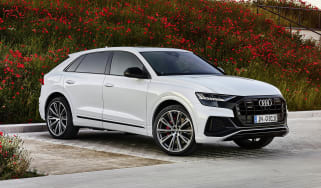 Audi Q8 gains plug-in hybrid versions with 28-mile electric range