Speed limits in the UK: temporary, advisory and motorway limits explained
Understanding the UK speed limits for dual carriageways, motorways and other roads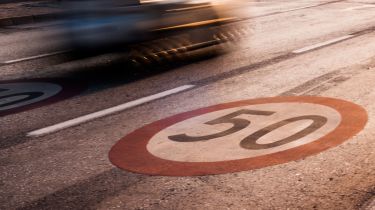 Speed limits are a reality for all drivers on UK roads, however it can sometimes be unclear exactly how fast you can go on a particular road and it's easy to forget the speed limit for a road you rarely drive. The rules around speed date back to the 1960's and the introduction of the motorway speed limit. Since then, different restrictions have been applied from the national speed limit to those applied in towns and cities across the nation.
It is worth remembering that speed limits in the UK can be changed for a variety of reasons, and this can happen at any time, so even if you've travelled along a stretch of road before, you should always remain vigilant to changes.
Variable speed limits complicate matters for drivers that want to stay on the right side of the law, especially when smart motorways may apply both an advisory speed or a limited speed in an attempt to improve safety, or reduce traffic congestion further along the road.
With all these different limits in play it can become hard to keep up with them all and where they apply. Our guide will help you understand them better and brush up on a few speed limits you may have forgotten.
If you've ever struggled to remember the difference between a dual carriageway speed limit versus a single carriageway speed limit, or what a speed advisory sign looks like compared to the national speed limit sign, then you should find all the answers you need below.
Speed limit signs
The most common speed limit sign in the UK is the round sign with a white background and a red border with a number written in large black letters in the middle – 20, 30, 40, 50 and 60mph are the typical posted limits you're likely to see. Signs with red borders in the UK are typically prohibitive – you are prohibited from exceeding the posted maximum speed.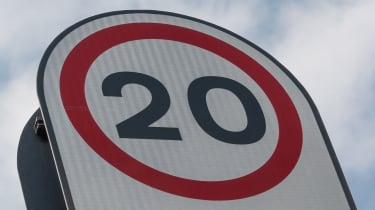 One speed limit sign that does tend to cause confusion is the national speed limit sign – a round white sign with a black bar running diagonally from the top right to the bottom left. On single track roads and single carriageway roads the speed limit is 60mph, but on dual carriageways (roads with a barrier or a divider of some sort separating the traffic flowing in opposite directions) it's 70mph. Note that roads with two lanes of traffic flowing in either direction but only separated by double white lines or a painted hatched central divider should be treated as single carriageway roads with a 60mph speed limit.
You may occasionally come across a round blue sign with a number in the middle and if you do the number relates to a minimum speed limit. These are few and far between, generally used in tunnels and some bridges where keeping a steady traffic flow is vital. The same sign but with a red diagonal line across it signifies the end of a minimum speed limit zone.
You may also encounter flashing dot matrix signs on motorways or roads with overhead gantries. You need to be careful to differentiate between the two types. Those that are round and surrounded by a red border should be treated the same as the prohibitive type of sign described above – they indicate an enforceable maximum and change according to weather and traffic conditions. The ones that flash in white or yellow accompanied by flashing lights by their side are advisory limits. That's not to say that you shouldn't heed the advisory limit – there may be a queue of traffic up ahead or workers in the road for example, but they're not enforceable speed limits per se.
Different limits for different vehicles
The vast majority of road signs you come across are aimed at drivers of standard cars, but what are the limits if you're driving a different type of vehicle or towing a trailer? Generally speaking, the speed for vehicles other than cars will be lower than the posted limits and along with regional variations between England, Scotland and Wales, it can be a recipe for confusion.
Current UK speed limits by road and vehicle type
Below are the UK national speed limits as they currently stand. We've listed each type of vehicle class and the maximum speeds permitted on each type of road for that class.
Partnership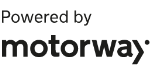 Need to sell your car?
Find your best offer from over 5,000+ dealers. It's that easy.
UK speed limits for cars, motorbikes, and car-derived vans weighing up to two tonnes fully laden:
Restricted road: 30mph
Single carriageway: 60mph
Dual carriageway: 70mph
Motorway: 70mph
UK speed limits for a car* with a trailer:
Restricted road: 30mph
Single carriageway: 50mph
Dual carriageway: 60mph
Motorway: 60mph
(*Including motorbikes towing a trailer, or vans towing a trailer)
UK speed limits for buses, coaches and minibuses up to 12 metres long and goods vehicles weighing up to 7.5 tonnes:
Restricted road: 30mph
Single carriageway: 50mph
Dual carriageway: 60mph
Motorway: 70mph
UK speed limits for goods vehicles more than 7.5 tonnes in England and Wales:
Restricted road: 30mph
Single carriageway: 50mph
Dual carriageway: 60mph
Motorway: 60mph  
UK speed limits for goods vehicles more than 7.5 tonnes in Scotland:
Restricted road: 30mph
Single carriageway: 40mph
Dual carriageway: 50mph
Motorway: 60mph
Van speed limits
Van speed limits are slightly more complicated. Many mid-size and large vans and commercially used pickups must obey the following speed limits:
Restricted road: 30mph
Single carriageway: 50mph
Dual carriageway: 60mph
Motorway: 70mph
The above speed limits apply for large vans such as the Ford Transit and Mercedes Sprinter weighing 3.5 tonnes. It also includes mid-size vans such as the Ford Transit Custom and Vauxhall Vivaro. Commercially used single-cab pickups and pickups that weigh more than 2,040kg must also obey the same speed limits.
There are certain vans and pickups that can travel at the same speed as cars on all roads. These include car-derived vans that are classed on their V5C as a 'CDV', such as the Ford Fiesta van, Fiat Fiorino or even the slightly larger Citroen Berlingo. Also exempt are camper vans that are classed on their V5C as a 'motor caravan', double-cab vans and combi vans with an extra row of seats, and pickup trucks that are designed for dual-purpose use.
Restricted roads
A restricted road is one that offers access to those that live or have the right to travel in order to reach a destination along the restricted road – this could be to stay at a hotel or for work purposes – and they can be difficult to determine a speed limit for. If unsure and there is no signage then you should continue your journey assuming a 30mph limit unless otherwise specified. Another trick to spot you're on a restricted road is whether the lamp posts are 200 yards apart or less, it may be tricky to guage this by eye on poorly maintained roads, but many will have street lighting in much shorter gaps that is easier to spot.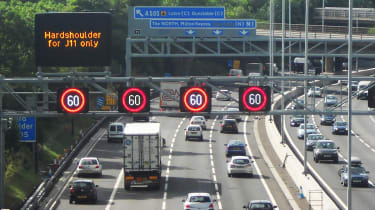 Dual carriageways and motorways
The motorway speed limit is always 70mph unless clearly signed, which is the same as the dual carriageway speed limit. If you're in any doubt as to whether you're on a motorway or a dual carriageway look at the signs for directions, or those counting down for junctions – if you're on a motorway they will be blue rather than having the green backgrounds on dual carriageways or A roads.
As mentioned in the section on speed limit signs, dual carriageways are those roads that have a divider between traffic moving in opposite directions, either a grass verge or something more substantial such as Armco. More often than not they will have two or more lanes of traffic in either direction, but this doesn't have to be the case – you can have a dual carriageway with one lane of traffic in either direction.
Are there any other speed limits I should know about?
Increasingly, local authorities in urban areas are making use of the '20's plenty' mantra, reducing the speed in built-up areas to 20mph. Some authorities, particularly in major conurbations such as London, will have a blanket 20mph speed limit on all roads, others will use the 20mph limit only on residential streets while some others will enforce a 20mph limit around schools and hospitals.
From 2nd March 2020, the speed limit on all roads in central London inside the Congestion Charge Zone was reduced from 30mph to 20mph. Keep your eyes open for changes in the posted limit.
Speed limits in Scotland
The speed limits in Scotland are almost the same for most road users as the rest of the UK. Some roads in urban areas will be marked as 20mph, all others without speed limit signs will be 30mph.
It's only drivers of goods vehicles more than 7.5 tonnes that need to be especially aware of their speed. They must not exceed 40mph on single carriageways or 50mph on dual carriageways. Goods-vehicle drivers can still travel at the same speed limit as other road users on restricted roads and on motorways.
Speed limits in Wales
At the time of writing Wales is set to introduce a 20mph limit in place of the 30mph across the country, increasing the number of 20mph roads from 2.5% to 35% in Wales in 2023. The law has now been voted through for introduction in September 2023 and so unless a challenge stops or delays that date of introduction should be noted if you live or regularly drive in Wales.
 This change is unlikely to impact 60mph roads, and dual carriageways and motorways that match the rest of the UK with a 70mph limit.
Speed limits in Northern Ireland
Northern Ireland's speed limits are almost identical to the ones used throughout the mainland UK. The only exception applies to drivers of goods vehicles with laden weights that exceed 7.5 tonnes. As is the case in Scotland, they're limited to 40mph on single carriageways, 50mph on dual carriageways and 60mph on motorways, although goods vehicle drivers share the same 30mph limit in built-up areas with other road users. 
Speed limiters – do any vehicles have them?
While different classes of vehicle have different speed limits, some commercial vehicles are legally required to have a speed limiter fitted. For buses, coaches and minibuses this is 62mph, for HGVs this is 53 or 56mph, while moped riders are stuck at 28mph.
Some cars are also equipped with speed limiters. In many cases, though, the limit is still far in excess of the UK's speed limit restrictions. For example, many BMW, Audi and Mercedes models have electronically limited top speeds of 155mph, and all Volvo cars are now restricted to 112mph.
A slowly growing number of cars are now fitted with so-called intelligent speed limiters, which use GPS data and on-board cameras to determine a road's speed limit, and help the driver stick to the posted speed limit. The tech will be standard equipment on all cars sold in the European Union from 2022 (meaning cars sold in the UK will likely also be equipped with them), although the driver is able to turn the system on or off, and can override the limiter when driving by applying pressure on the accelerator pedal.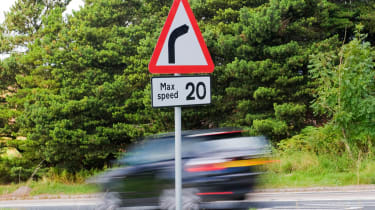 UK speed limit history
Cars were governed by the same laws as self-propelled locomotives (or traction engines as we'd probably refer to them today) when they first started appearing in the late 19th century. Their speed was restricted to 10mph by an 1860 law, so as not to cause a danger to other road users – mainly pedestrians and horse drawn carriages. However, this was reduced by the Red Flag Act of 1865 to 4mph in the countryside and 2mph in towns. The new-fangled 'horseless carriages' had to have a person walking 50 yards ahead to warn other road users that a car was approaching.
By 1896 this law was repealed and the speed limit was raised to 14mph, while the pedestrian in front of the vehicle was no longer required. The limit was upped again in 1903 to a heady 20mph but it was widely ignored, as cars became more commonplace, that in 1931 the speed limit was dropped altogether.
The 30mph limit we're so familiar with today was introduced in 1943 on a trial basis in built-up areas – defined as anywhere with street lights – by Minister of Transport Leslie Hore-Belisha (of beacon fame) and it became mandatory in 1956. Two years later the limit was raised in some areas – to 40mph – to increase traffic flow.
The 1960s saw more limits being introduced, including a 20mph advisory limit when driving in fog, and, in 1967, a 70mph motorway limit and a 60mph limit for single carriageway roads outside urban areas. The limits have remained more or less the same since, although the fuel crisis of 1973 did see the introduction of a 50mph limit, which was dropped again in 1977.
UK speeding penalties
Below is a list of speed limits and the kind of penalty you can expect, depending on how much faster than the posted maximum you have gone:
| | | |
| --- | --- | --- |
| Speed limit | Fixed penalty or speed awareness course over | Court summons over |
| 20mph | 24mph | 35mph |
| 30mph | 35mph | 50mph |
| 40mph | 46mph | 66mph |
| 50mph | 57mph | 76mph |
| 60mph | 68mph | 86mph |
| 70mph | 79mph | 96mph |
If you earn more than six penalty points within 24 months of passing your test, your licence will be revoked and you'll have to go through the whole driving test again.
Click here to read our selection of the best motorway cars you can buy today
Tesla Cybertruck finally delivered: specs, prices and UK availability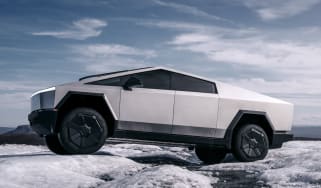 Tesla Cybertruck finally delivered: specs, prices and UK availability
Engine management light: top 5 causes of amber engine warning light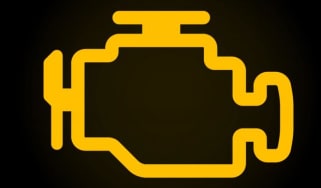 Engine management light: top 5 causes of amber engine warning light
Best new car deals 2023: this week's top car offers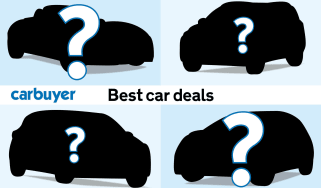 Best new car deals 2023: this week's top car offers