Best car tyres to buy 2022
Our test reveals the best tyres for keeping you safe and saving fuel
You've heard it before, tyres are your only contact with the road, but poor tyres don't just degrade wet braking but they can also cost you more in fuel. We tested tyres from a variety of brands to find which ones gave the best grip to keep you safe, while also providing the best driving refinement to keep noise down in the cabin. As fuel prices get higher, tyres that save fuel become more important and even tyres that are more expensive can sometimes save you money in the long run if they improve fuel economy.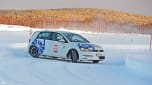 Best winter tyres to buy 2021
All the tyres tested were the popular 225/45 R17 as these are a common size that are used across a wide range of vehicles. We tried out the same size tyres in our last test and crowned Continental our winner. This time they are back with the longstanding PremiumContact 6 tyres alongside popular choices from rivals at Michelin and Dunlop. Another returning entry comes from Dutch brand Vredestein as they attempt to prove once again that they can stand up to the better known brands.
Thanks to the pandemic, we had to undertake our tests slightly differently this time. Travel restrictions meant that we couldn't attend our usual testing facilities in France and Luxembourg. Thankfully, the staff at Continental stepped in, allowing an independent tyre expert to perform our tests at their Contidrom site near Hanover, Germany.
How we tested them
We performed a series of tests on each tyre that challenged the manufacturers claims in a series of dry and wet conditions. After scoring how each tyre performed, we measured the noise and rolling resistance. The scores were then collected together and weighted across each category to give a fair and accurate overall final rating.
Wet weather testing
There's no denying that we see our fair share of rain across the land in the UK and so wet weather performance is particularly important. The wet and greasy conditions of mid-winter can be especially challenging for tyres and so we made sure to give a strong weighting to how they held up when the road was becoming more suited to row boats than four wheels.
During this test, we performed timed laps around Contidrom's wet circuit, taking the average elapsed time. Lateral grip was measured via a 60m-wide wet circle in which we accelerated until the car began to lose traction. Finally, for the brake test, we incorporated Contidrom's state-of-the-art rail system, which ensures the tyres hit the same piece of wet tarmac each time. We performed this test at the average distance that cars take to stop from 50mph. This mechanism also allows us to see how a car aquaplanes; a crucial aspect of a tyre's wet weather performance.
Dry testing
A good set of tyres must work well in all weather conditions and the best should be able to provide plenty of grip at higher speeds when it's warm and dry.
Just as with the wet testing, we began the dry tests with timed laps around Contidrom's circuit. Once again, we took the average time after a series of runs. We also tested the dry braking performance of each tyre; this time, at a higher speed of 62mph (100kph).
Noise testing
Tyre noise plays a significant role in a car's overall refinement. Some tyres offer great performance but can be noisy. The EU typically rates tyres on the environmental impact of tyre noise. Instead, we record noise levels from inside the cabin as we feel this is what concerns drivers the most. We recorded our findings while driving at 62mph on a smooth tarmac road.
Fuel economy testing
As fuel prices have continued to climb it has never been more important to make sure that your tyres are not costing you extra pounds at the pumps. A 5% increase in rolling resistance typically translates to a 1% reduction in fuel economy. All tyres were tested by measuring the power needed to move the car with the tyres inflated to 30psi and then again at 10psi.
Price
There is no getting away from one of the biggest factors behind motorists' decision to pick one set of tyres over another. The price you pay at the garage needs to represent great value, which is why we incorporated it into our scores so that you know whether it really is worth the extra money for one brand over another.
Verdict
1. Hankook Ventus S1 evo3 review
Price: Around £85
Partnership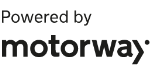 Need to sell your car?
Find your best offer from over 5,000+ dealers. It's that easy.
The Hankook takes victory here for its domination of our wet weather tests. The Ventus' levels of grip were quickly demonstrated in our wet braking test, with the car coming to a halt while the next best set, the Continentals, still had the car at 13mph. While not the best in the dry, the Hankook still kept up with the top players and showed itself as a great all-rounder. The only real drawback is its mediocre fuel economy score.
2. Michelin Pilot Sport 4 review
Price: Around £100
The winner of our 2016 test, the Michelin Pilot Sport 4 is yet to step down as one of the best tyres on the market. These tyres impressed in the wet, even beating the Hankook in the wet cornering test and excelling in the dry braking test. Fuel economy was the worst here and the Michelin created the most tyre noise too, keeping it from taking the top spot.
3. Vredestein Ultrac review
Price: Around £80
A surprise podium spot for our returning entry, the Vredestein succeeded in almost all of our tests. While most of us spent lockdown doing Joe Wicks workouts, the Dutch tyre manufacturer spent time developing the Ultrac and it shows. In the aquaplane test, we were impressed by its assuring grip and it continued to match our winner in other areas too. Just like our other top performers, however, fuel economy was disappointing, so bear this in mind if you clock up a lot of miles.
4. Bridgestone Turanza T005 review
Price: Around £85
If fuel economy is most important to you, look no further than the Bridgestone Turanza. It was ahead of the rest in this regard, with the next best making do with a 4% efficiency deficit over the Bridgestone. This all comes down to clever design and weight, given the Turaza is over a kilogram lighter than most of its rivals. Otherwise, performance is satisfactory and the only real concern is its poor braking score, in which the car was still doing 23mph when the podium sitters had already brought the car to a complete stop.
5. Goodyear Eagle F1 Asymmetric 5 review
Price: Around £85
The Goodyear tyre lived up to the 'F1' in its name by delivering blistering dry handling performance. This heightened grip gave great steering feel and impressive braking performance too. The Eagle F1 outperformed the Michelin in terms of its rolling resistance and tyre noise but not by much. However, it can't quite beat the Pilot Sport in its all-round ability.
6. Continental PremiumContact 6
Price: Around £100
Coming in at around £100, the Continental is beginning to show its age; the performance doesn't quite match the high asking price. The PremiumContact felt relatively secure in most environments, coming close to the podium sitters in the dry and offering sharp braking performance. Its poor handling of our aquaplane tests and limited front grip in the wet contrasted with its superb fuel economy scores. The Continental is a mixed bag and is now in need of replacing.
7. Nokian Powerproof review
Price: Around £80
Cheap and cheerful, the Nokian is the second cheapest tyre on this list and even outperforms several of its rivals. While not offering quick times around the handling circuit, the Nokian still felt stable and in the braking test, was only a metre behind the winning Michelin. Wet performance was relatively average, with the Nokian truly falling behind in only the fuel economy test. Still, for the money, the Powerproof is a bargain.
8. Pirelli P7 review
Price: Around £100
You may be surprised to see Formula One's official tyre supplier so low on this list but just like the Continental, its performance doesn't justify the premium price tag. The Pirelli did not inspire confidence in the wet, placing close to last in many of our tests and it was the most expensive tyre on our list at just over £100. It also felt rather soft during our dry handling tests. A redeeming factor is its great performance in the rolling resistance test, coming just behind the Bridgestone for fuel economy.
9. Avon ZV7 review
Price: Around £75
The Avon ZV7 is the cheapest tyre on test here, priced around £75. It was also the quietest too, creating a serene interior ambience. However, the Avon felt out of its depth in many of our deep water tests - front grip was very limited - despite an A-rating by the EU grading system. It still has a way to go but for a budget tyre, its performance isn't too bad.
10. Dunlop Sport Maxx RT2
Price: Around £80
While some things get better with age, the Dunlop Sport Maxx is becoming increasingly dated and is in urgent need of updating. The Dunlop came plumb last in our wet handling and braking tests - the car was still travelling at 26mph at the point when some rivals had already helped bring the car to a complete stop. Economy is a strong point and there was more grip in the dry but there are much better options available at this price.
Got a tyre that seems to be losing pressure? Click here to find out how to spot a slow puncture and what to do if you have one
Engine management light: top 5 causes of amber engine warning light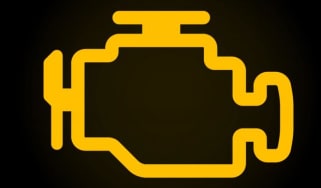 Engine management light: top 5 causes of amber engine warning light
Best new car deals 2023: this week's top car offers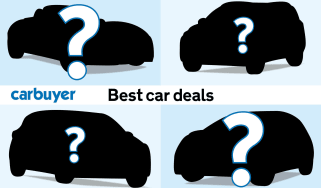 Best new car deals 2023: this week's top car offers
Top 10 best cars under £200 per month 2023/2024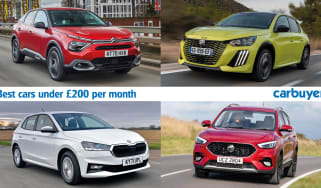 Top 10 best cars under £200 per month 2023/2024