Black box car insurance: pros, cons, rules and how young drivers can save
What is a black box, and could you benefit from getting one? Here's everything you need to know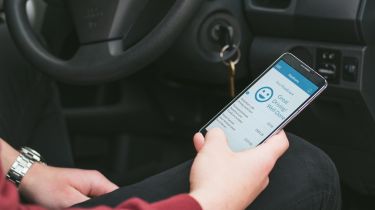 Black box car insurance, otherwise known as telematics insurance or pay-as-you-drive insurance, is a popular choice for many new and young motorists. It not only promotes safe driving, but it could help them to make big savings on their annual premium.
The price of car insurance for new or inexperienced drivers remains a major frustration for motorists. Young drivers – particularly males under 25 – face sky-high premiums, as they're generally seen as being high-risk propositions for insurance companies. For this reason, many new motorists are looking for ways to get the cheapest premiums possible.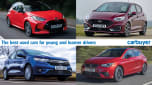 Top 10 best used cars for young and learner drivers
The emergence of black box insurance has proven to do just that for many, but what is it, and what are the benefits and drawbacks associated with it? Read on to find out more about black box car finance.
What is a black box?
Once the preserve of aeroplanes, a black box is an electronic device, about the same size as a mobile phone, that's fitted to your car by your insurance company. Black boxes use satellite technology to monitor everything from the times of day you're driving, to how aggressively you're accelerating and braking. They also record how hard you go around corners and can recognise speeding by knowing what road you're on, essentially allowing them to track most of the important metrics of your day-to-day driving. This information is then automatically relayed to your car insurance provider.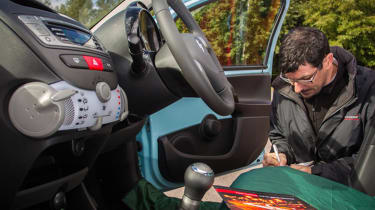 Many policies will simply offer you a lower annual premium if you agree to have a black box fitted; other companies offer a review of your premium every three months or so based on your driving habits. Some insurers may even provide more frequent adjustments to your premiums, refunding drivers for careful driving and penalising riskier behaviour with fines, or increases to your premium.
By analysing your style of driving, as well as how often you drive at peak hours or late at night (when risks are assumed to be higher) a black box car insurance policy could see you save as much as £1,500 a year on your premium. This makes it one of the best ways to get cheaper car insurance.
Most telematics insurance policies involve your insurance company arranging a qualified technician to fit your black box. Once fitted, it lives tucked away out of sight behind the dashboard. In rare instances, some companies choose to connect the device to your car's 12v power socket instead. Regardless of which it is, most black box providers now allow drivers to track their driving statistics using a designated app, helping them to understand if their driving is good or if any behavioural changes are required.
Why do insurance companies penalise young drivers?
Unfortunately, it's a question of statistics. According to RAC figures, although they only make up 1.5% of the total number of road users, drivers aged 17-19 are said to account for 9% of serious accidents. Car insurance companies actually want as many drivers on their books as possible, but with statistics like these, it's easy to see why they're compelled to charge young drivers higher premiums.
Partnership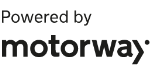 Need to sell your car?
Find your best offer from over 5,000+ dealers. It's that easy.
A telematics insurance policy allows premium providers to make an objective assessment of your driving habits, tailoring how much you pay based on how careful you are and how often you use your car. Insurance companies also consider that if you're the kind of motorist who's willing to have their driving monitored, you're likely to be a lower risk, too. So, by combining a telematics box with one of the best cheap cars to insure, you're almost certain to get a great deal for your particular circumstances.
Key information about black boxes
What are the rules with a car insurance black box?
This tends to vary between providers, so always check the small print before taking out a new policy. However, there are a few common rules that you could come across, and they are as follows:
You may have a mileage cap which cannot be crossed unless you pay for a top-up
You must not under any circumstances tamper with the telematics box itself
You may have a curfew, during the hours of which you may be penalised for driving
You must always stick to the speed limit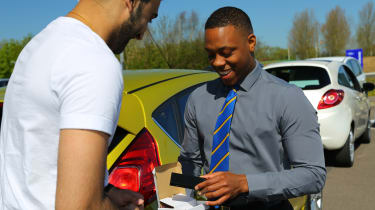 Does a black box limit your mileage?
When you take out a black box car insurance policy, you'll be offered a number of mileage packages that are designed to mirror the amount of driving you do per year. These often include 6,000, 8,000, and 10,000-mile policies. As you would expect, the higher the mileage amount selected, the higher your premium will be. It's worth noting that it's cheaper to plan ahead instead of exhausting your mileage cap for the year too early and having to buy add-on miles. 
Can I roll over any excess miles to the following year?
In most instances, yes. Providers will either allow you to roll over any extra mileage that you had remaining to the following year, or in some rarer cases, could even provide you with a small refund on your premium. It's also worth noting that some providers also reward drivers for safe road behaviour with extra mileage, which is yet another strong incentive to make sure you stick to the rules of the road.
How much does black box installation cost?
In most cases, black box installation is provided free of charge, but if you are required to pay for installation, expect it to range from £10 to £50. Some providers request that you return your black box to them at the end of your policy term, while others are happy for you to remove and dispose of it. Be sure to check what you're required to do with the black box with your insurance company.
Can you remove the black box in your car?
Removing your black box during your policy could have serious implications. Once the provider has been made aware, they could choose to cancel your policy outright while still charging you the full year's cost. So attempting to do this for any reason is not recommended.
How many warnings can you get on a black box insurance policy?
As a general rule of thumb, most providers will issue three warnings before exercising their right to cancel your policy. The first will be a soft warning alerting you that something you've done has flagged up on their system, while the second will be a stern warning that outlines what will happen if the issue continues, and a third will probably result in policy termination. 
What is a good score on a black box? 
Black box insurers tend to provide you with a weekly overall driving score update, which rates you on a set of criteria like smoothness of driving and time of driving. Typically, a score of 70 and above is considered to be 'good', while anything above 80 means your driving is close to flawless. 
If your score starts to head in the other direction, a score within the 60 range is seen as 'adequate', while anything lower than this will trigger warning messages that inform you of any mistakes you're making while driving. Make sure to regularly check your score, and try to improve when you next get out on the road.
Will not driving improve your black box score? 
Reducing the amount you drive  limits the chance of having an accident. Insurance providers don't strictly say that driving less will improve your black box score, but the less you're out on the road, the lower your risk of something going wrong. Understandably, this will have a positive impact on your insurance premium moving forward.
Do all new drivers have to have a black box?
There is no requirement for new or young drivers to purchase an insurance policy with a black box. If you'd rather choose not to have one, it's perfectly acceptable to do so. It's simply an option that many drivers choose to take since it could lower their annual premium.
What happens if I have an accident with a black box active?
The black box can detect when a car is involved in a minor or major collision and will send a signal to the provider. They will either text or call you shortly after to make sure that you are safe, and to find out the details of what has happened. Using both the telematic data and your version of events, the provider will take steps to find a resolution. There is no definite answer to what happens next, given that each scenario can only be dealt with on a case-by-case basis.
Can I sell my car with a black box?
Your insurance provider may ask you to remove the black box before selling your car, but in most situations, they tend to remotely deactivate it and allow you to sell the car as it is. The same applies if you decide to scrap your car.
Can I transfer my black box to a new car?
Yes, you can transfer your black box to a new car. There may be a small fee attached to this – the price of which can vary from £50 to as much as £200 – or you may even be required to start a fresh policy if your new car is substantially different to your last. 
Do I get no claims bonus with a black box?
Absolutely. Once you've completed your first year as a driver, your insurance will issue you with your first full year of no claims bonus, which will continue to accumulate on an annual basis provided that there are no accidents - just as with a non-black box insurance policy.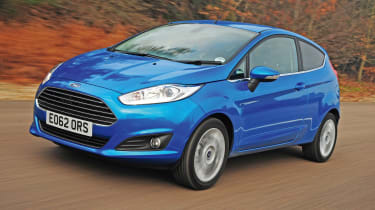 Five advantages of having a black box
Saving money – The main advantage is obviously saving money. Fitting a black box to your car is likely to get you a lower insurance premium in your first year of driving and it should also see the amount you pay the following year fall far more sharply than it would have done without a black box, making it one of the best decisions to lower young driver insurance.
Promotes safe driving – Many young drivers have also reported that once they're used to the idea of their driving being monitored, they become more careful on the road and forget they have a telematics device fitted at all. The risk of speeding convictions and other motoring penalties is likely to drop, too, while the rate of accidents is thought to reduce by up to a fifth for drivers who have a telematics system fitted to their car. This, ultimately, will have a positive effect on helping new drivers become more aware on the road.
Strong theft impediment –  Since black boxes use live GPS tracking technology to keep both yourself and your provider aware of your car's live location at all times, it's extremely useful in pinpointing the car's whereabouts and recovering the vehicle in the event of a theft. What's more, since black boxes are often hidden from sight, thieves won't even know that they're being tracked until it's too late.
Non-fault accident support – In the event of an accident that wasn't your fault, it could be difficult to prove your case without dashcam or local security camera footage. A black box is a big help in this regard since it will be able to provide data relating to a driver's acceleration, speed, and braking harshness at the time, in addition to how hard the impact was. This could prove to be the difference maker in your case.
Live app metrics updates – Some insurance companies offer a separate app for your phone, which gives you a detailed breakdown of your driving habits and offers tips to help you drive even more safely. These apps can also be used to check where your driving can be improved, and in the long run, will help you to tailor your driving style towards more cautious driving habits.
Five disadvantages of having a black box
Additional mileage allowance – While there are significant savings to be made by fitting a black box to your car, it won't be for everyone. If you cover a lot of miles each year, you may find a conventional insurance policy offers better value, as black boxes tend to penalise those who drive a lot. If you aren't penalised, you will normally be asked to pay a sizeable extra amount to 'buy' more miles. For example, if your policy is set to 6,000 miles per year, and this is exhausted within 10 months, you will need to extend your mileage allowance to continue to be an insured driver for the remaining two months.
Curfew regulation – If you need to drive at night regularly, a telematics insurance policy might not be for you, as most companies impose a curfew. While this is a trend that some insurers are moving away from (as it was found that some drivers were speeding home to beat the curfew), most do typically prohibit you from using your car between 11pm and 5am. 
Exuberant driving will not be tolerated – You should be aware that if you give in to temptation and drive in a 'sporting' fashion, you're likely to be penalised with fines – or could even see your insurance policy cancelled altogether. If your policy is cancelled you may be required to inform any future insurance providers, increasing your premium in the process. What makes this particularly irritating for drivers is that they could maintain a safe, cautious driving style that satisfies the provider for weeks, but a single lapse in concentration could dash all that hard work. 
Additional drivers – Since most black boxes can't tell who's driving, the telematics and driving data that's measured will usually be recorded irrespective of who's behind the wheel. That, unfortunately, means an awful lot of trust may need to be placed in additional drivers by the primary policy holder. So if a friend borrows your car and drives aggressively, you'll be the one footing the bill. It could also be an issue in households where a parent or other family member shares the car.
Early policy termination – If you choose to cancel your policy yourself, or change your car before the term of your contract is up, you may be charged a fee for removing the black box. Additionally, some providers still require you to pay out the remainder of your year-long contract before you can be released from that agreement, which often leads drivers to just see-out the remainder of their term before switching to a new provider. This may not seem like a huge problem, but if a sudden change in circumstances means that non-black box insurance would be more suitable for you, early policy termination could prove to be a big stumbling block.
So, is it worth getting a black box?
While there are obvious limitations that come with taking up a black box car insurance policy, there are plenty of positives that point in favour of them. A cheaper premium and the encouragement of safer driving will keep both yourself and your provider happy, which is why it feels like a fair trade-off to so many new drivers. 
If you're considering your first car, have a look at our guides to young driver insurance and the best insurance group 1 cars