What are halogen headlights?
We explain the ins and outs of halogen headlights and whether you should specify them on your next car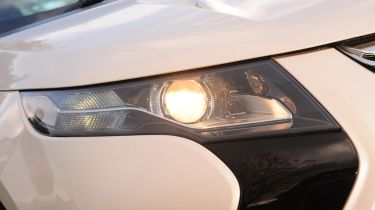 FOR: Cheap, easy to replace
AGAINST: Not as bright as LEDs, short lifespan
Before the popularisation of LED technology, Halogen headlights were the industry standard across the automotive world. Halogen bulbs take their name from the gases used inside to extend the life of the tungsten filament. In this process, an electrical current is passed through the filament, which creates light. The halogen gases contained within the bulb itself prevent the glass from tainting over time, meaning the bulb stays brighter for longer.
Halogen bulbs are cheap to manufacture and are now typically only offered on the cheapest cars on sale such as the Dacia Sandero, and city cars like the Kia Picanto. They are easy to replace and install, too, with most good retailers stocking a variety of bulbs so you should quickly be able to find one that fits your car.
While halogen bulbs are certainly cheap, there is a reason why they are slowly being phased out in favour of LEDs. Firstly, halogen bulbs are not very energy efficient. This means they consume a lot of electricity; a serious problem when electric cars are becoming more and more popular. 
Secondly, halogen bulbs are not as bright as LED or even Xenon bulbs, harming visibility at night. Halogen bulbs also have a relatively limited lifespan compared to more modern alternatives. While LED and Xenon bulbs are expected to last up to 10 years, halogen bulbs often need to be replaced just after a couple of years of use.
If you are looking to buy a new car which comes with halogen headlights as standard and plan to do a lot of driving at night, we'd recommend upgrading to a set of Xenons or LEDs if possible. While this may add a few hundred pounds to the cost of the car, LEDs look much more modern and provide greater visibility in the dark.
Want a car with all the latest safety features? Check out our list of the safest cars that you can buy
Car technology made simple