What are xenon headlights?
We explain the ins and outs of xenon headlights and whether you should specify them on your next car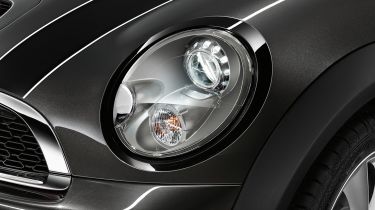 FOR: Brighter than halogens, long-lasting AGAINST: Expensive to replace, confusing legal requirements 
Xenon headlights are very similar to their halogen siblings in the way that they incorporate the use of gases into their design. Instantly recognizable thanks to their characteristic blue hue and bright beam, xenon headlights have mainly featured on high-end luxury vehicles up until recently, where they have been replaced with LED and Laser headlight technologies.
Xenons create their light via an electrical arc between two electrodes. This is made from the xenon gas housed within the bulb and illuminates when an electrical current is passed through it.
The lifespan of a Xenon headlight is roughly 10 years in normal use – compared with just a couple of years for halogens. They are also much brighter than standard halogens, making them a wise option to select if the car that you are ordering offers them.
Are xenon headlights legal?
Many people seek to upgrade their standard halogen bulbs to brighter xenon units, however this is a complicated process due to various legal constraints. Xenon headlights are technically illegal in the UK, however new cars can be fitted with them if they are also sold in and accredited by the EU.
As for retrofitting your car with Xenon headlights, it is illegal to install a xenon bulb into a standard halogen headlight fitting. This is because the correct adjustment will not be possible, meaning parts of the road will not be illuminated and oncoming drivers may suffer glare as you approach.
Instead, drivers must install an entirely new Xenon headlamp unit. This can be a complex and expensive process as there are several strict requirements the fitting must fulfil before it is deemed legal. 
Want a car with all the latest safety features? Check out our list of the safest cars that you can buy
Car technology made simple