What are adaptive and matrix LED headlights?
We explain the ins and outs of adaptive and matrix LED headlights and whether you should specify them on your next car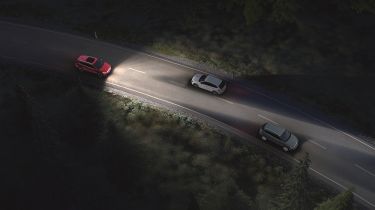 FOR: Brilliant safety benefits, convenient AGAINST: Can be an expensive option, not always fool proof; can glare oncoming cars
As their name suggests, adaptive headlights adapt to the road ahead to ensure the best possible visibility. These headlights can pivot as the road undulates and turns to ensure maximum illumination. Some adaptive headlights also benefit from high-beam assistance. This incorporates sensors in the front of the car which can deactivate the high beams whenever they detect an oncoming vehicle, to avoid dazzling them. 
While the majority of adaptive headlights are LED units, some are available with halogen or xenon bulbs – so make sure to check before you buy.
Matrix LED headlights take this a step further. Using a combination of LEDs, mirrors and a host of technical wizardry, Matrix LED headlights are able to shut off individual parts of their beam. This means that the maximum amount of the road remains illuminated, while small parts are darkened to avoid blinding other drivers.
A new innovation called 'Digital Matrix LED' headlights allows for more precise adjustment of millions of internal 'micro-mirrors'. This setup, as seen on the new Audi A8, is able to project images onto the road, as well as illuminating your path.
Some new cars that come with LED headlights also offer Matrix LED headlights for an additional cost. This can range from a few hundred pounds to over £1,000. Depending on the price of the upgrade in respect to the cost of your vehicle, we'd recommend upgrading to Matrix LEDs as the safety benefits and convenience factors usually justify the price. 
However, we can't quite recommend you specify your car with digital matrix LED lights. While this technology does have a promising future, being able to project information for the driver onto the road ahead, at the moment it remains an expensive gimmick.
Want a car with all the latest safety features? Check out our list of the safest cars that you can buy
Car technology made simple