Used Jaguar F-Pace review: 2016-2021 (Mk1)
Jaguar's first-ever SUV is extremely stylish and excellent to drive
Pros
Sharp styling
A joy to drive
Spacious interior
Cons
Costly to service
Thirsty V6 engines
Patchy reliability
Although late to the prestige SUV party, Jaguar arrived in style in 2016 with the launch of the F-Pace, a mid-sized sporty SUV that includes the BMW X3, Porsche Macan, Audi Q5, Volvo XC60 and Alfa Romeo Stelvio amongst its rivals. The F-Pace immediately impressed with the quality of its driving experience: if previously you've been put off owning an SUV because you imagine it will feel large and unwieldy, then the lofty Jaguar will surprise you by how much it seems like a much smaller saloon when you're out on the road.
With a big boot and comfortable ride, the Jaguar F-Pace is available with a number of engines for you to choose from, both petrol and diesel, all of which perform strongly, if not as economically as those in some rivals. Almost all F-Paces are equipped with an eight-speed automatic gearbox – a six-speed manual can be found only in models powered by the entry-level 2.0-litre diesel engine.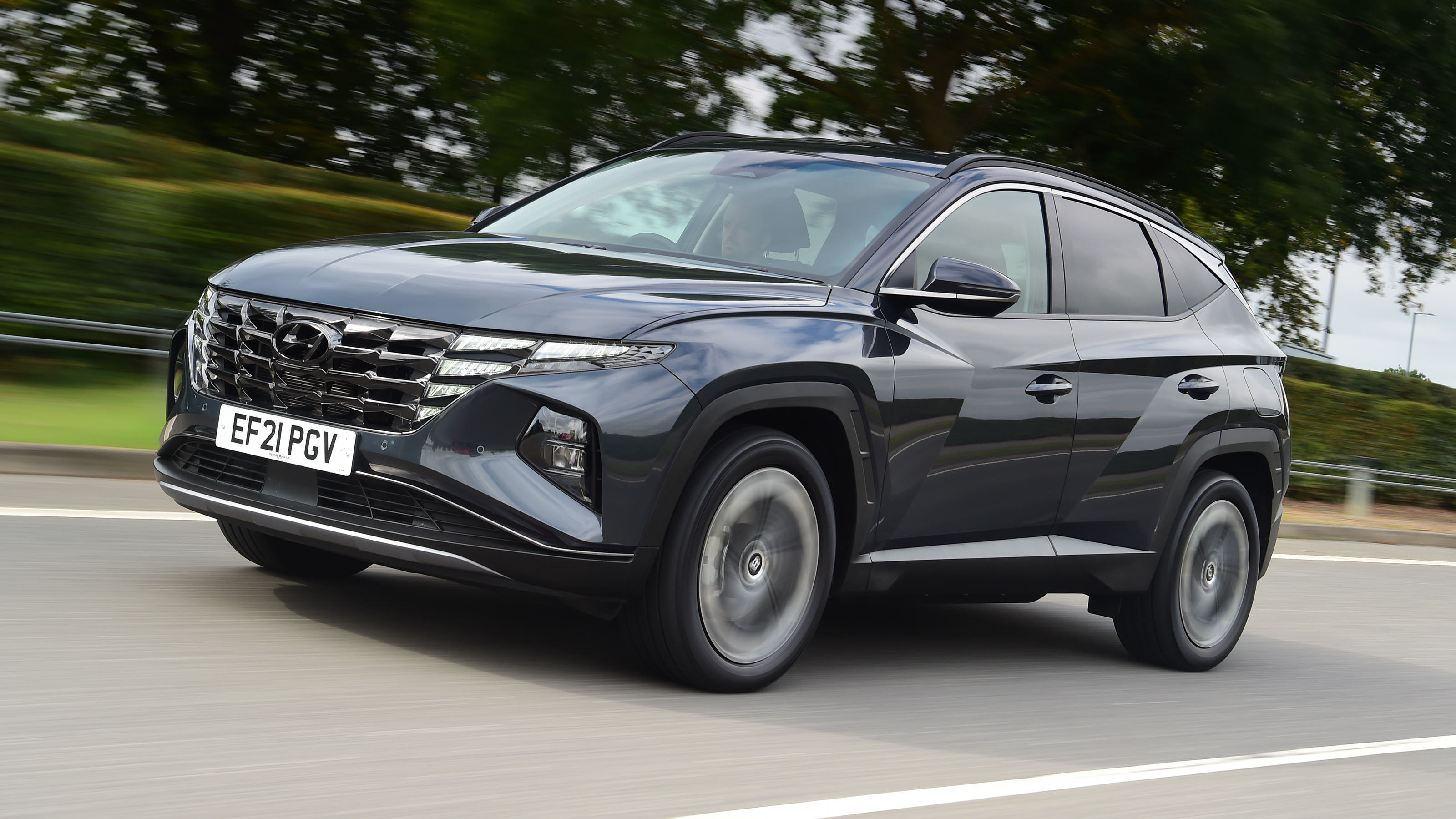 Top 10 best 4x4s and SUVs 2022
Rear-wheel drive was an option for the F-Pace, but most versions feature four-wheel drive, although the car isn't really intended to be an off-roader – the Jaguar's system leaves the car in rear-wheel drive in most circumstances, automatically bringing the front wheels into play only when the car senses there's a loss of traction because of a slippery surface or the way the car's being driven. 
More reviews
In-depth reviews
Road tests
The F-Pace's interior design isn't quite a match for its svelte external styling, yet it's pleasant enough and in the front is split into two cosy cockpits for driver and passenger. The back seat accommodates three across, although if your trio comprises large adults, shoulder room will be at a premium. That said, the F-Pace makes a fine family car, with ISOFIX fittings for child seats and a multi-way split/folding rear seat that brings extra versatility to the already large boot. 
Existing owners typically praise the lively way their F-Pace drives, its comfort and the excellent view delivered by its elevated driving position. They're less pleased with the Jaguar's high running costs – servicing, road tax, fuel – and its reliability record. The former there's no escape from, but the (hopefully) good news for the buyer of a used F-Pace is that the original owners should have fixed any of the niggles that can afflict the car.
What's the history of the Jaguar F-Pace mk1?
Launched in 2016, the Jaguar F-Pace immediately made many friends and picked up several awards from the motoring press and design organisations. It looked fabulous, drove exceptionally well – particularly for an SUV – and was comfortable and fairly well equipped. 
The original engine line-up comprised 2.0-litre and 3.0-litre turbocharged diesel engines and a 3.0-litre supercharged V6 petrol. These engines were later joined by a turbocharged 2.0-litre petrol and two revised diesel engines in mid-2017, plus a hugely powerful supercharged 5.0-litre V8 petrol a few months afterwards.
In terms of trim levels, Jaguar essentially split the F-Pace range into models with a luxury bias and those with sportier intent. The former comprised Prestige and Portfolio, the latter R-Sport and S (the S available only with 3.0-litre V6 petrol and diesel engines). The supercharged V8 F-Pace bore the SVR badge, designating that it had been developed by Jaguar Land Rover's Special Vehicle Operations (SVO) division: it's a true sports car.
When Jaguar introduced the new petrol and diesel engines in 2017 it also treated the F-Pace to numerous other revisions, most notably upgrading the car's safety-related technology but also increasing the car's standard specification, as well as adding new colours, interior trims and alloy wheels.
In autumn 2021 the F-Pace underwent a more all-encompassing refreshment programme, with new front and rear styling, new interior design, more improvements to its in-car tech, and the introduction of a range of 'mild hybrid' diesel and petrol engines, together with a full plug-in hybrid 2.0-litre petrol, all intended to boost full economy and reduce exhaust emissions.
Which is the best Jaguar F-Pace?
If you're looking for the best all-round package then consider an F-Pace powered by the 237bhp 2.0-litre twin-turbo diesel engine – these are badged as a 25d and the engine will sometimes be referred to as the 'Ingenium' diesel. It propels the F-Pace to a top speed of 135mph and dashes from standstill to 60mph in 6.8 seconds, but its real strength lies not in those headline figures but in the sort of easy-going shove that gets you briskly from A to B in everyday driving and makes overtaking a breeze. That mid-range brawn also makes it suitable for towing, although it's worth noting that the maximum weight of a braked trailer that any F-Pace can tow is 2,400kg. Expect fuel consumption of between 30-40mpg.
Should you not be a fan of diesels then there is an 'Ingenium' 2.0-turbocharged petrol engine, too. With 247bhp it's reasonably feisty, although it sounds a bit gruff when you rev it hard. The F-Pace's other two petrol engines – the supercharged V6 and 5.0-litre V8 – are extremely fast and exciting but more expensive to run.
It's always tempting to buy a car with as many bells and whistles as you can afford, and there's nothing wrong with that. However, the F-Pace's entry-level trim, Prestige, has pretty much all the gizmos anybody really needs – alloy wheels, leather seats with electric adjustment and heating for the fronts, dual-zone climate control, front and rear parking sensors, satellite navigation, DAB digital radio, powered tailgate and cruise control. As standard the Prestige had 18-inch alloy wheels which aren't terribly fashionable for a mid-size SUV these days, but do assist the F-Pace's ride quality. Many original owners, of course, will have ticked the option box for larger diameter alloys, so you may struggle to find a car on the 18-inch wheels.
Talking which, if you do end up looking at F-Pace models with higher trim levels, you may find that they are fitted with 20-inch, 21-inch or even, in the case of the limited run First Edition, 22-inch alloys. If so, try to find a car equipped with the optional Adaptive Dynamics Pack. This features electronically controlled suspension dampers that are better able to control the movements of heavyweight large diameter wheels than a conventional set-up, making for a more comfortable drive.
And if your budget can stretch, look for F-Pace models from mid-2017 onwards, labelled in adverts as 2018 Model Year cars. They have the updated safety electronics including automatic high speed emergency braking, cruise control that automatically slows you down to a complete stop in traffic, a driver fatigue warning, and a self parking option.
What are the alternatives?
Premium mid-sized SUVs are thick on the ground, so if the Jaguar F-Pace ultimately doesn't suit you then you won't be stuck for stylish alternatives. The Audi Q5 isn't as spacious inside as the F-Pace and has a smaller boot, but the quality of its interior surpasses that of the Jaguar. The Q5's ride quality is on the firm side, even when the car isn't fitted with sporty S line suspension, but its petrol and diesel engines are punchy and economical.
Another German rival to the F-Pace is the Mercedes-Benz GLC. Good-looking and roomy, the GLC isn't as much fun to drive as the Jaguar, but its engines, especially the diesels, are excellent. Its list of electronic safety aids is also extensive, and its interior design is visually arresting. So too is that of the Volvo XC60, which benefits from a more minimalistic, Scandinavian style. Like the F-Pace, the Volvo can seat three adults in the rear and has an impressively large boot - although it feels like a more practical family car than the sportier Jaguar.
Much less practical than the F-Pace are the Alfa Romeo Stelvio and Porsche Macan, both of which trade interior space – particularly in the rear – for rakish looks and a sporty driving experience. The trouble with the Porsche, however, is that that extremely strong demand means residuals are very strong, so you'll pay more for a used example. The BMW X3 Mk2 also comes close to matching how well the Jaguar drives but is short on rear cabin space.
If you genuinely require some off-road ability from your SUV, then the Land Rover Discovery Sport is king. It's spacious and plush inside, offers the versatility of a third row of seats and is a pleasure to drive. 
Running costs, MPG, CO2 emissions and insurance
You'll need deep pockets to own an F-Pace, but then it is a large, complex SUV, after all
By their very nature, large and sophisticated luxury cars are expensive to maintain and run, and the Jaguar F-Pace is no exception. Despite the lightweight materials used in its construction, the Jaguar still weighs 1.8 tonnes, which impacts its fuel consumption and in turn its CO2 emissions. It also has an effect on how quickly it gets through tyres, brake pads, and other consumables. Because some examples of the F-Pace are only a few years old, you'll feel obliged to have your car serviced at a Jaguar dealership, which in common with every other prestige car maker's retailers means hourly labour rates well into three figures.
A 2.0-litre diesel F-Pace has two year/21,000-mile service intervals, while the other petrol and diesel models need to be serviced annually or every 16,000 miles. In terms of costs, 2.0-litre petrol models are the cheapest to service, with prices ranging between about £420 for a minor service and £1,650 for the most major. For all other versions of the F-Pace, minor services start from around £640 and rising to beyond £2,000 for the 10-year/105,000-mile deep-dive service required by the 2.0-litre diesel – the 3.0-litre V6 diesel turbo needs attention after 10 years but strings out the mileage allowance to 160,000 miles.
How much do used F-Pace models cost?
The F-Pace has been a huge hit for Jaguar and consequently there's no shortage of good used examples sitting on UK forecourts, so it shouldn't be too much of a hassle to find a specification that best suits you. As the F-Pace has been on sale since 2016 there's a very broad spread of prices, starting from just under £20,000 for high mileage cars with the 2.0-litre diesel turbo engine, ranging through to £65,000 for late model SVRs.
If you're able to spend between £25,000 and £35,000 then you'll be able to pick from a great selection of trim packages and engines, and in some cases the cars will have only covered a modest mileage. 
You can check our sister site BuyaCar for the very latest Jaguar F-Pace prices.
What's it like for fuel economy, emissions and tax?
Most economical of the F-Pace line-up are cars fitted with the 2.0-litre turbocharged diesel engines, and it's the rear-wheel drive models that do best, with a claimed return up to 58mpg on the official Combined cycle: four-wheel drive models deliver 53mpg. However, bear in mind that all these figures were collected under the older NEDC official testing rather than the tougher WLTP regime currently in place.
Comparatively good consumption figures bring with them the lowest CO2 emissions of the F-Pace range, the rear-drive cars rated at 129g/km, and the best of their all-while drive counterparts producing 139g/km. As a result, the 2.0-litre diesel models are cheapest for annual road tax, at between £130 and £155. With most of the other F-Pace models, however, you're looking at £490 annually, although a handful of 3.0-litre supercharged V6 petrol derivatives will cost you £340, and a few of the 3.0-litre turbocharged V6 diesels a comparative bargain at £210. 
There are other variables for what rate your F-Pace will be taxed at, so budget for the top rate and if the car you're looking at turns out to be cheaper, call it a good day. 
Returning to the subject of fuel consumption for a moment, official Combined consumption figures for the remaining diesel models is between 47mpg and 49mpg, while the mainstream petrol versions range from 32mpg for the 3.0-litre supercharged V6 up to 38mpg for the early 2.0-litre turbocharged petrol. If you're the least bit concerned about fuel consumption then the 5.0-litre V8 SVR is definitely not the F-Pace for you – its claimed combined figure is 23.7mpg, but the high teens is more realistic, especially if you are tempted (and you will be) into using all its considerable performance.
How much will it cost to insure?
The lightweight aluminium body panels and internal structures that help keep down the F-Pace's weight contribute to bumping up its insurance premiums, because this metal is costly to repair. The Jaguar's general complexity is also a factor, along with the fact that the F-Pace is a comparatively expensive car, even secondhand. It therefore sits in insurance groups 23 to 50 (out of 50).
Reliability and common problems
Problems with early cars undermine the F-Pace's reputation, but with luck most have been sorted out by now. Do check, though…
Many original owners of early examples of the F-Pace were thankful for Jaguar's three year/unlimited mileage warranty, as the car suffered with niggling electrical problems and more serious issues worthy of official recalls. Thankfully, most of those gremlins should have been sorted by now, while Jaguar has also been steadily improving quality over the years. That said, press your seller for an extended test drive to ensure that every piece of equipment in the car works as it should – prod all the buttons, flick all the switches. And don't forget to ask for evidence that recall work has been undertaken by an official Jaguar dealer.
How reliable is the Jaguar F-Pace?
While the F-Pace doesn't have a great reputation for reliability, at least most of its niggles haven't led to complete vehicle failure and a depressing ride home in a taxi. The majority of problems have been electrical rather than mechanical, although there were a couple of recalls to address potential catastrophes, which we'll address in a moment. 
Are there any common problems and things to look for?
The multi-media colour touchscreen infotainment system in the F-Pace was notorious for both its slow operation and for occasionally freezing altogether. Other complaints included the operation and effectiveness of the sat-nav and difficulties pairing smartphones with the system. Its various glitches should have been attended to long ago with software updates, so if you're looking to buy a pre-2017 F-Pace, then make sure those updates have been made.
Some owners of early cars also reported that the parking sensors would go on the blink, bleeping when there was nothing close by and sometimes randomly switching to 'trailer mode' and turning off the rear sensors as well as the optional Park Assist system. Again, this ought to have been fixed by now with a software upgrade.
While mechanical issues with the F-Pace appear to be mercifully rare, some owners report multiple failures with their car's wheel bearings. One owner has complained that his F-Pace suffered a turbocharger failure and required a new clutch with less than 70,000 miles on the clock, but these don't seem to be common problems.
Rattly interior trim has been highlighted on earlier cars, while the fit and finish of some of the body panels and the front and rear bumpers isn't always to the standard you'd expect of a premium car. And although the F-Pace has those reversing sensors, less than brilliant rear visibility means the expensive-to-repair aluminium body panels are vulnerable to damage.
What about recalls?
While the F-Pace has been subject to numerous recalls, it's worth bearing in mind that the potential problems affected a small number of cars only and that the recalls were precautionary measures.
The most serious recalls were for the possible failure of a major internal engine component and two separate fuel leaks with the potential to cause engine fires. Faulty wiring on a batch of starter motors posed another fire risk, while diesel F-Paces built between 9 November 2016 and 5 July 2018 required a software update to reduce CO2 emissions. And some cars were fitted with a batch of digital instrument clusters that required replacement after some stopped working.
What do owners think?
The last time that the F-Pace appeared in our Driver Power satisfaction survey was in 2019, when it finished in a less than wonderful 40th place. Reliability woes, especially of the electrical components, contributed to its poor showing. Jaguar as a brand, however, performed rather better in the manufacturer category, finishing a very creditable seventh.
Engines, drive and performance
A car that drivers will truly enjoy, the F-Pace has a strong range of petrol and diesel engines, excellent roadholding and good ride quality
Jaguar has forged a strong reputation for building cars that combine a great driving experience with refined luxury - and the F-Pace is no exception. The driving experience isn't just impressive for a tall SUV, it's entertaining full-stop. And it's not just the high-performance derivatives that are worthy of praise, every model in the range is able to turn even the shortest trip into a pleasure.
What's the Jaguar F-Pace like to drive?
In common with all SUVs, the F-Pace's elevated driving position gives you a commanding view of the road and scenery around you, and this extra visibility affords you an earlier warning of what the traffic ahead is doing.
Almost regardless of what engine is under the bonnet – the noble exception being the thunderous V8 in the SVR – the F-Pace is refined and quiet on the move, although the 2.0-litre petrol engines can sound a tad harsh when revved really hard. The fact that all the engines have either a turbocharger (sometimes two turbochargers) or a supercharger means that they offer effortless performance at low to middling revs, which is a boon when overtaking and means that you don't have to be thrashing the car to achieve a good pace on the motorway or along country A-roads.
Several factors combine to make the F-Pace such a joy to drive. It has very direct steering which gives you a strong sense of control, and despite being quite a tall car, it doesn't lean too much through corners, so you and your passengers aren't thrown around too much. The F-Pace also has more roadholding than you might expect of such a large and comparatively heavy car. 
Despite delivering this sporty handling, the Jaguar's suspension is also comparatively comfortable out on the open road, though it is a little fidgety at low speeds over poorly surfaced roads. The ride quality loses some of its composure when the F-Pace is fitted with 20-inch or 22-inch alloy wheels, which were popular options when the cars were new and were fitted as standard to some models. Jaguar's 'intelligent' adaptive dampers can smooth things out, but you'll need to find an F-Pace fitted with the optional Active Dynamics Pack to benefit from this technology.
What engine should I choose?
Unless you're chasing outright performance, pretty much any of the F-Pace's 2.0-litre petrol and diesel engines should serve you well, dishing out decent performance and reasonable levels of refinement. The exception is the entry-level 161bhp diesel, which feels a little underpowered in a car this large and heavy, The 177bhp version feels considerably more lively, while the 238bhp derivative is properly vigorous, able to accelerate from zero to 60mph in a sprightly 7.2 seconds yet still claiming a frugal 49mpg at the pumps. 
The F-Pace's brace of 2.0-litre turbocharged petrol engines produce more power than the diesels and deliver greater performance. The 247bhp 25t claims 0-60mph in 6.8 seconds, while the 296bhp 30t slashes this time to 6.0 seconds. That said, you need to work these units harder than the diesels to take full advantage of their superiority. It's not exactly a hardship because both versions rev easily and quickly, but the muscular diesel engines feel every bit as fast where it counts, but are more relaxed in their delivery.
Fastest of the diesels is the turbocharged 3.0-litre V6 with 296bhp. Its top speed is 150mph but it's the effortless and rapid acceleration in the 30-80mph range that really impresses. That's also the story with the 376bhp supercharged 3.0-litre V6 petrol engine, although its ability to polish off the yardstick dash from 0-60mph in 5.5 seconds puts it in genuine sports car territory. Both these V6s sound great and propel the F-Pace as quickly as anyone really needs to go on British roads.
Even so, there is an even faster F-Pace, the 543bhp supercharged 5.0-litre V8 SVR. It has a top speed of 176mph, does 0-60mph in 4.2 seconds and makes a spectacular – and very loud – noise as it bellows along. Even if you're not a car enthusiast, a drive or even ride in one is likely to make a lasting impression on you because of the sheer force of its acceleration and the drama of the whole experience. 
Interior, comfort and safety
An excellent safety rating, comfortable seats and a luxurious ambience help make any journey the F-Pace a moment to savour
Compared with rivals such as the Audi Q5, the F-Pace's interior design looks a little dated – and the cabin certainly isn't as solidly built – but in isolation it feels luxurious enough that you're unlikely to feel short-changed. Leather upholstery is standard on  all models and even the entry-level F-Pace Prestige has dual-zone climate control, eight-way adjustable electric front seats and a powered tailgate. 
What's the Jaguar F-Pace like inside?
You sit high in an F-Pace with a commanding view of the road ahead and the area all around. Well, perhaps not quite all around as visibility through the very small rear window is limited – thankfully front and rear parking sensors are standard.
The front seats are supremely comfortable and have powered eight-way adjustment to help you achieve just the right driving position:. Better still, they're heated too, helping take the sting out of the winter months. 
A substantial centre console, with distinctive grab-handles, divides the front of the cabin into a pair of cosy cockpits and is also home to a couple of cupholders, a lidded storage area that doubles up as as an armrest, and the selector for the F-Pace's eight-speed automatic gearbox. The gear control is a rotary dial that rises theatrically from the centre console when you start the car – a quirky, entertaining feature, it has been replaced by a stubby lever in the latest updated versions of the F-Pace.
A host of buttons are housed on the horizontal spokes of the leather-trimmed steering wheel, allowing you to control various functions of the stereo system, answer phone calls and operate the cruise control without moving your hands away from the wheel. Sited between the speedometer and rev counter dials is a small digital screen that displays vehicle information and basic sat-nav instructions.
Neatly integrated into the centre of the dashboard is an eight-inch touchscreen infotainment display. Called InControl it houses the sat-nav, smartphone integration, DAB radio, Bluetooth connectivity and Wi-Fi hotspot. There's also the optional InControl Pro, which features a larger touchscreen, a more sophisticated sat-nav and a 10GB in-built hard-drive for data storage. A further upgrade was the premium Meridian sound system, which is worth seeking out on any used example.
Some F-Paces are fitted with a large glass panoramic sunroof either as standard or optionally. It makes the cabin feel extremely airy but does slightly reduce headroom for taller occupants, especially those sitting in the back.
What's on the equipment list?
The F-Pace's hierarchy of trim levels begins with Prestige, which sounds so much more upmarket than referring to an 'entry-level' model. Leather seats are standard, along with dual-zone climate control, cruise control, powered eight-way adjustable front seats, a multi-media infotainment system with smartphone integration, adjustable multi-colour interior lighting, and a powered tailgate. Externally, the Prestige has 18-inch alloy wheels (the smallest diameter of any F-Pace, but better for the ride quality), satin-finish roof rails and chromed exterior trim.
Next model up is the Portfolio, which features 19-inch alloy wheels, door mirrors that fold in electrically when you lock the car, and xenon headlights. Keyless entry and a panoramic glass sunroof are standard, as is a reversing camera, the Meridian premium sounds system, 10-way electrical adjustment for the front seats, and a plusher grade of leather upholstery (called Windsor, no less).
R-Sport trim gives the F-Pace a racier appearance, thanks to body styling enhancements, satin black exterior trimmings and gloss black roof rails, while inside it features sports seats. 
The S badge is reserved for the V6-engined F-Pace models. In addition to all the equipment you get on other models, the S features 20-inch alloy wheels, larger front brakes with red brake calipers, and the Adaptive Dynamics Pack which automatically controls the behaviour of the suspension for the best balance of comfort and handling. 
The Adaptive Dynamics Pack was available as an option on other models but was quite expensive at the time so isn't commonplace. If you can find a used F-Pace that has it then it's worth considering as it further improves ride comfort, especially on cars with the largest alloy wheels.
In its position as range-topper for the whole F-Pace line-up the super-powerful SVR lacks for nothing in terms of equipment. Its interior is distinguished by deep bucket sports seats with quilted leather upholstery, while the dashboard is also leather-trimmed.
How safe is the Jaguar F-Pace?
In the Euro NCAP accident safety tests the Jaguar F-Pace emerged with a full five star rating. This includes a 93% score for adult occupant protection, 85% for kids, 80% for pedestrians outside the car, and 72% for the Jaguar's safety assistance systems.
Amongst those safety assistance systems are lane-keeping assist to help you stay in your own lane, autonomous emergency braking that alerts you to potential danger and automatically applies the brakes if you don't respond, and a traffic sign recognition system linked to an 'intelligent' speed limiter to slow you down should you not spot, say, a 30mph sign on the approach to a village.
Other safety-related equipment includes automatic headlights, rain-sensing windscreen wipers, automatically dimming rear view mirrors to prevent you getting dazzled at night and a system that stops your F-Pace from rolling backwards when you're moving away from a standstill on a hill.
Practicality and boot space
A large boot and spacious cabin mean that the Jaguar F-Pace is as family-friendly as it is luxurious
Given its reasonably large external dimensions, the F-Pace has a very roomy interior and a particularly large boot. Fold the rear seats flat and the already cavernous boot delivers a van-like capacity that makes it one of the most versatile models in its class.
How big is the Jaguar F-Pace?
The F-Pace is the longest and widest car in its class, although even at 4,731mm in length it ought to fit into your garage, while its 1,664mm height allows for ample clearance in most multi-storey and underground car parks. 
How much space is there for passengers?
For those sitting up front, the F-Pace's interior is dominated by the car's large centre console. Yet despite its size you never feel cramped, while the cocooned feel it creates adds to the Jaguar's sporty appeal. The rear seat will accommodate three adults – once they've clambered over the slightly intrusive rear wheelarches - although shoulder room will be tight for bigger adults. Either way, legroom is generous and with just two occupants in the back the Jaguar is extremely spacious and comfortable.
Cars fitted with the glass panoramic sunroof have reduced headroom, which isn't so much of a problem in the front where the seats can be adjusted downwards, but may create difficulties in the back. If you frequently travel with tall passengers, take them along for the test drive when you're checking out a used F-Pace with a sunroof.
As for storage space, the F-Pace has just about enough space to cope with the usual odds and ends. The front centre console has a pair of well-sized cup holders, a large lidded cubby space and upright storage slots for your smartphone, while the front door bins are big and have a dedicated space for large drinks bottles.
How big is the boot?
The F-Pace eclipses its rivals when it comes to boot space, its 650 litre capacity with the rear bench in place is almost as big as the BMW X5 from the class above. Fold the back seats flat and the available space swells to 1,740 litres. Adding to the versatility is a handy 40:20:40 split fold rear seat that allows you to carry longer loads while also retaining space for a rear passenger.
Jaguar has thoughtfully fitted luggage tie-down hoops throughout the boot to make it easier to strap down loose loads, while the removable boot floor panel is two-sided – one side is carpeted, the other covered in a washable rubberised material so that you can wash it clean after hauling mucky loads or muddy dogs.